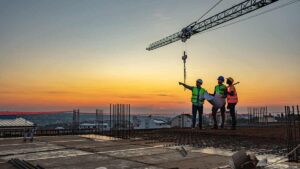 Image credits: Joe A. Mendoza ©2017 Colorado State University
Every construction project relies on the expertise of key industry professionals who work together from planning to closeout. This requires the right leaders for the job to guide the project and construction crews successfully, and leadership in construction extends to both office and jobsite environments. Construction management and construction engineering are two such leadership roles with quite a few similarities as well as major work differences. Usually, construction managers and construction engineers collaborate on the project from its inception, taking care of the essentials to help it take off and stay geared toward the deadline. Here is a closer look at construction management vs construction engineering to understand both roles better.
What Is Construction Management?
Definition
Construction management is a performance-packed job that includes managing a project from start to finish based on its owner's expectations.
It tackles core construction areas like scheduling, budgeting, cost management, time management, quality assurance, safety compliance, and procurement. Construction managers are hired by project owners and work directly with them, so they are responsible for executing projects in a way that fits schedules, sticks to budgets, and meets deadlines. This makes them key construction leaders too, as they are the ones setting the roadmap for all the activities to take place.
Education And Certification
Most construction companies require candidates to have a bachelor's degree in construction management, construction sciences, or similar majors if they are applying for this job. Additionally, you will need relevant certifications like:
The Certified Construction Manager (CCM) certification from the Construction Management Association of America (CMAA)
The Associate Constructor (AC) and Certified Professional Contractor (CPC) certifications from the American Institute of Constructors (AIC)
Key Skills
Construction managers work on projects as well as with people, so they need skills diversity for the job. This includes skills for good leadership, effective communication, interpersonal strengths, problem-solving, time management, software proficiency, contract management, budgeting, decision-making, and so on.
Job Responsibilities
Construction managers have a special interest in managing multiple, challenging projects. It is an ideal job for those who prefer the complexity and unpredictability of this role, as each project is different and brings something new to the table. You will mostly work from the office when it comes to the administrative part of construction management, which means that you will frequently use relevant software tools. However, you might be required to visit the site from time to time to oversee the work and make firsthand assessments. All construction projects start with good management whether they are residential, commercial, industrial, agricultural, or civil works. As a construction manager, you will represent the project owner's perspective and goals for the structures being built.
Depending on the company you work for, you will have more or less the following job responsibilities:
Managing construction crews.
Setting and tracking schedules.
Planning timelines.
Working on estimates.
Measuring feasibilities.
Ensuring code compliance.
Implementing safety rules.
Allocating materials, tools, equipment, and other resources.
Collaborating with architects, engineers, consultants, contractors, supers, and owners.
Managing contracts, drawings, specifications, permits, approvals, and change orders.
Hiring the right employees.
Working on risk management features.
Organizing inspections and site investigations.
Monitoring progress and identifying bottlenecks.
Communicating instructions.
Providing closeout information to owners.
Using relevant construction management software (like Procore).
Since construction managers are hired early on to initiate work, they are the key stakeholders of the project and have a say in every aspect from preconstruction to closeout – especially when it comes to increasing the value of the project, minimizing risks, and choosing alternatives.
What is construction engineering?
Definition
Construction engineering is all about physical infrastructures and buildings. It tackles the development and management aspects of roads, bridges, dams, houses, institutions, airports, and similar structures. This job is quite similar to civil engineering if we talk about the infrastructural focus of both roles.
However, construction engineering takes a more managerial perspective for supervising and building projects, so it walks the fine line between construction management (which we met above) and civil engineering. It also brings other engineers on the site together for collaborating on mutual goals. Compared to the more office-based construction management which works behind the scenes, construction engineering is a frontline job that requires you to be onsite.
Education And Certification
Construction engineers need a bachelor's degree in construction, civil engineering, or management majors, and they can opt for a master's degree in similar fields (including business administration) for better career advancement options in the future. In addition, ongoing certifications are recommended, such as:
The Construction Engineering Certificate Program by The American Society of Civil Engineers (ASCE)
OSHA certifications
The Engineer In Training Certification (EIT)
Construction engineers are also required to obtain a professional engineer (PE) license, for which getting a degree with relevant work experience is a key prerequisite. Licensed engineers have better chances of getting hired, so apart from the minimum education and certification requirements, obtaining a license is crucial (something that construction managers do not have to worry about).
Key Skills
Considering the engineering and managerial aspects of this job, construction engineers need competitive skills in math, science, business, software, leadership, time management, communication, and problem-solving.
Job Responsibilities
As a construction engineer, you will work in both offices and jobsites – mostly in jobsites for direct management duties. This is also a key leadership role in construction and comes with a range of responsibilities depending on where you work.
In general, you will be in charge of designing and completing various structures like buildings, large facilities, electrical infrastructures, mechanical systems like elevators, roads, highways, and so on. Since you will be directly involved with buildings and infrastructures, you can expect the following duties every day:
Evaluating work sites.
Conducting or attending meetings.
Overseeing construction activities.
Designing and implementing building and infrastructure plans.
Ensuring code compliance.
Communicating with other stakeholders.
Ensuring good quality, safety, and cost efficiency aspects.
Collaborating with other engineers.
Coordinating procurement.
Assembling tools, materials, and equipment.
Using relevant software, BIM tools, etc.
Managing costs and budgets.
Conducting surveys.
Overseeing the construction and removal of temporary site structures.
Coordinating site-to-office updates.
Reading and managing construction documents like blueprints.
Conclusion
Both construction management and construction engineering are fast-paced and rewarding careers for those who enjoy challenges and have sharp skills for working with people and project differences. While construction management looks at the big picture (and also zooms in on details), construction engineering does the physical work that builds the structure by following the roadmap presented by the managers. Together, both roles are important for driving a project to its completion.