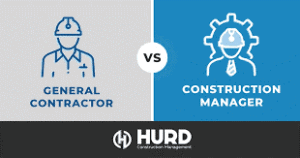 Image credit: Hurd Construction Management
Construction projects involve multiple roles and responsibilities from start to finish. Most projects have several professionals working from different departments, but if the responsibilities overlap with each other, one individual can represent multiple roles – especially in smaller projects that need just a few team members. Regardless of the crew size, the work begins with project leaders who shape and guide the construction roadmap ahead, two of which include a construction manager and a general contractor. Both are head contractors in construction and may have some similar project standpoints. At the same time, there are some key differences in their contributions to the project, their relationships with project owners, the construction phase in which they get hired, and their work environments. In this article, we will talk about how both of these roles unfold in a project to help you – the owner – make the right decisions while building your team.
Construction manager vs general contractor
The construction manager (CM)
Construction managers are either individuals or groups of people hired directly by project owners right from the beginning – which is the predesign stage, and this means that CMs join the team early on before any design or plan is formed. They need a bachelor's degree in a relevant construction major with considerable experience in managing different projects. Your chosen CM will represent your interests and be directly involved with you during collaborations and planning because he or she is responsible for following your rules to perfection – and ensuring that your project is built exactly as envisioned.
The CMs' early-bird participation in construction projects makes them a key liaison between the owner and the contractor, connecting both parties for mutual communication.
Construction managers are hired based on their experience and credentials, so this depends entirely on what you expect from the structure you want to build or renovate. They charge a fixed fee for their work, which means that even if you go over budget, your CM's fee will remain the same. In terms of their work environment, construction managers have a more supervisory and administrative role in each project, as they are responsible for overseeing the complete timeline and focusing on the big picture ahead. So, their job is mostly office-based and does not require much jobsite presence.
Here are some of the key responsibilities of a construction manager:
Help the owner set realistic goals that minimize risk and boost value.
Work closely with the owner and ensure that all specifications are met.
Plan realistic schedules, budgets, and timelines.
Help with cost estimation, forecasting, and negotiation aspects.
Break down the project scope into the different trades required on board.
Leverage contractor and subcontractor skills and allocate tasks.
Manage and check for applicable permits.
Implement effective error detection and risk management techniques.
Work on backups to limit rework and delays.
Oversee a project from predesign to closeout.
Collaborate with designers, architects, and project managers during the design stage.
Manage schedules, costs, progress, budgets, subcontractor work, etc.
Ensure site safety, code compliance, and worker safety.
Plan regular quality assurance.
Manage and track procurement aspects.
Schedule inspections.
Report updates to the owner and the relevant stakeholders.
Review and follow up on construction documents like change orders and drawings.
Meet or surpass the owner's expectations.
The general contractor (GC)
In comparison, a general contractor can be an individual or a company specializing in services like framing or masonry work. GCs are hired right after the design stage based on a bidding process in which the owner creates bids for a project and hires the GC offering the most competitive price for their services. This makes your GC a third party in this whole project agreement. GCs take their directions from construction managers, so their main focus is to follow exactly what the CM says (who in turn follows exactly what the owner says).
General contractors do not necessarily need a degree, but they do require significant construction experience to get hired. They work primarily on the site and have their own team of superintendents, foremen, and subcontractors. Your GC is responsible for actually building the structure you want and making sure that everything is constructed as advised by the CM. This gives the general contractor a very hands-on and jobsite-specific role, which puts them at the frontline of every construction project, as only a GC will know the ins and outs of everything related to the jobsite. Unlike construction managers who look at the bigger picture, general contractors focus on day-to-day activities and zoom in on details for each stage.
General contractors also need to manage their own payments as well as those of their subcontractors, meaning that they must check for timely payments for everyone working under them. Sometimes, owners who work frequently with the same GC might choose to hire them as construction managers for future projects. In this way, general contractors can also work as construction managers if they have a good history of repeat projects and are trusted by the owners.
 Here are some of the main responsibilities of a general contractor:
Take instructions from the CM.
Approve and hire the right workforce for the jobsite.
Report updates regularly to the CM and owner.
Manage and supervise day-to-day site operations.
Collaborate with engineers, architects, designers, etc. when needed.
Build structures to the owner's specifications.
Keep the flow aligned with schedules and timeframes.
Make sure that the project stays within budget.
Ensure site safety, quality assurance, and code compliance.
Conclusion
To sum up, your construction manager will create a roadmap for your general contractor and subcontractors to follow. Your GC will then build the actual structure you need. Both professionals are accountable and answerable for the success, quality, and safety of your project, so it comes down to trust and confidence during the hiring process. Note that a general contractor can work as a construction manager but not vice versa because of the difference in job coverage between both professionals.
GCs both work on the site and manage their activities, so their tasks often overlap with some management areas, and this makes them capable of performing both roles. CMs, on the other hand, are limited to their office setting and administrative focus, so jobsite work is usually out of their radar. If you have worked with the same GC over time and trust the company for its services and expertise, you might want to enlist their help in construction management for future projects. It will save the hunt for reliable CMs down the road, especially if you have a busy schedule and not enough time to browse portfolios.