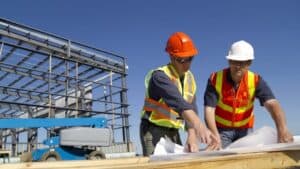 Image credits: Triangle Associates, Inc.
Construction superintendents have a very specialized and fast-paced job that demands skills in multiple areas of a project. It takes them years of onsite dedication to become eligible for the role, and this necessitates getting the right construction superintendent education first. The career path for construction supervision and management begins with relevant degrees and continuous education programs – all of which allow aspiring candidates to learn the ropes more efficiently once they get to apply their knowledge and skills in the field. Here is a short guide explaining the educational routes you can take to start your construction superintendent journey.
Construction Superintendent Education
Degrees
While some construction firms hire supers with just their high school diplomas (backed by generous field experience), those with construction-related degrees always have better salary prospects and more chances of winning high-end projects. An associate degree or a bachelor's degree is the preferred minimum educational requirement. Here are some of the top construction majors you can opt for while planning your degree:
Construction management
Construction sciences
Building sciences
Mechanical engineering
Civil engineering
Automotive technology
Architecture
Business
These majors focus on key construction modules such as building methods, construction laws, design, estimation, code compliance, safety, and construction technology. Studying degree courses from the above options allow candidates to build just the right academic perspective – or the "educational blueprint" – to fully understand what lies ahead. So, when they actually start their first day on the site as an intern or an employee, they can count on their acquired skills and be better prepared for the role. You will not become a construction superintendent right out of college; however, these degree options will make you better equipped for various construction jobs in specific trades and management areas. Eventually, you will be able to apply for assistant roles like assistant superintendent or manager, after which you can be eligible for the main super journey.
Some construction professionals who are enroute to becoming supers also plan to pursue a master's degree if they intend to climb higher up the ladder. This is particularly useful for effective career advancement plans, as getting a master's degree opens doors to new, post-super pursuits in lead management and executive roles. In addition, large construction companies with tough hiring criteria look for superintendents with a master's degree, so your decision should entirely depend on your dream company and its hiring expectations. You can pick similar construction majors as your bachelor's degree and even tap into construction finances, agriculture, or project management.
University Options
Some of the best universities that offer construction-related majors include Southern Connecticut State University, Ohio State University, Arizona State University, Texas A&M University, Johns Hopkins University, The University of Texas at Tyler, and the University of Houston. You can always enroll in your local community college and apply for distance learning programs with universities that provide such an option.
For majors like construction management and construction sciences, these top universities have the following courses within their curriculum:
Structural design
Procurement
Mechanical and electrical systems
Cost estimation
Labor relations
Construction laws
Document interpretation
Business relations
Digital technology – both hardware and software
Scheduling
Planning, design, and management phases
Residential, commercial, and industrial focus
Sustainability in construction
People management
Geotechnical engineering
Such far-reaching construction modules cover all aspects of this industry, so this is one key benefit of pursuing a degree in construction if you want to become a field super. Universities have a well-curated and career-conscious study plan that will help you both secure your professional eligibility and acquire relevant licenses (like an engineering license). In addition, with the role of technology in shaping today's construction world, universities are increasingly updating their curriculum to shift the academic focus on technological solutions used in jobsites, offices, administrative aspects, management areas, remote working options, and so on.
Certifications
Apart from the minimum construction superintendent education, it is important to refine your skills and knowledge continually down the road.
Your qualification will not end at a degree, so in order to update your skillset, various construction certifications are designed to address gaps, acknowledge competence, validate continuous learning efforts, and bolster field expertise. These certifications can be achieved along with your job as a super, so you can study online, register for official training, or attend institutes depending on your preference. Here are some key construction certifications you can sign up for:
Associate Constructor program from the American Institute of Constructors
Certified Professional Constructor program from the American Institute of Constructors
Certified Construction Manager program from the Construction Management Association of America
OSHA certification
Certified Safety Professional program
Construction Health and Safety Technician (CHST) program from the Board of Certified Safety Professionals
Construction Superintendent Certification Program by the National Center for Construction Education & Research (NCCER)
You can also enroll in Coursera and Udemy certifications for courses like construction management, OSHA, contracts and laws, and sustainability in construction. All of the above credentials focus on various skills for AutoCAD, MS Office, construction management software, site supervision, building codes, etc., so this is a smart way of bridging potential gaps in your skillset.
Conclusion
And that was your construction superintendent educational route at a glance! And no, you will not be seeing the end of exam papers anytime soon, so if you were celebrating your graduation a little too much, here is a plot twist that we all share as construction professionals. Not everyone will land consecutive field jobs that count towards verifiable experience to compensate for the lack of a degree, which is why taking the educational route is so important. Once you graduate – or while you are studying – you can apply for internships to gather side-by-side field experience. This includes being a part of apprenticeship programs and in-house training opportunities that give you relevant exposure to supervisory and managerial roles in construction.
Lastly, keep an eye out for the role of assistant supers so that you can work directly under the main construction superintendent for the project. Quite a few supervision and management tasks are delegated to assistant superintendents, making this a key job role in shaping your career perspective. Remember, it might take between 5-10 years from the day you graduate to the day you become a construction superintendent, so make sure that you enrich your portfolio as much as possible during this time span.