Image credits: eSUB
Construction projects are typically divided into two separate work environments – the jobsite and the office. While offices focus on the administrative aspects of construction such as project management, the jobsites are where we see things in action, so both work environments have separate experts to lead their end of the project. Jobsites are assigned to construction superintendents, and these professionals have the major responsibility of supervising and managing the onsite workflow. They might have their own offices to use for conducting meetings and working on their computers, however, they spend most of their time outdoors with the rest of the jobsite teams – managing the construction of homes, schools, hospitals, stores, museums, landmarks, and so on.
Since this is a very specialized and multifaceted role, there are certain construction superintendent education requirements that every potential candidate is expected to fulfill in order to qualify for the job. A good construction superintendent should know how to conduct this busy orchestra from start to finish, so there is a huge emphasis on getting the right education that prepares you for the role. Here is a quick guide to help you understand what your educational journey will look like.
Construction superintendent education requirements
Field supervision or jobsite management is a very qualified, frontline construction role that prioritizes relevant education as well as years of experience before you actually get to Day 1 of your superintendent career. Since the world of construction quickly reflects technological changes, economic volatility, legal standpoints, and real estate trends, it is crucial for construction companies to hire someone truly eligible and capable for the position of a superintendent. So, yes, there is a ladder you are going to climb, and it will start with something truly intimidating: academics.
1. Get a relevant construction degree
Although some construction firms require just a high school diploma – with years of field experience ahead – it is increasingly recommended to pursue a degree in any construction-related major. So, if you thought you had seen the last of books and exam papers, we are here with a humble reminder that your celebration was short-lived, and there is a lot more to come ahead. Both associate (2-year) and bachelor's (4-year) degrees are acceptable, so you can work towards either path to complete your minimum education requirement from your choice of a community college or accredited university. Some of the popular construction majors include:
Construction management
Construction sciences
Engineering
Architecture
These majors focus on various construction disciplines that arm you with the knowledge and skills required for successful field management. You will find courses like cost estimation, building codes, quality control, procurement, mathematics, construction laws, safety, budgeting, design, construction documentation, and much more. Therefore, by gathering university credits, you are actually providing proof of time and effort invested in studying the construction world and shaping your initial perspective. Due to the ever-competitive construction dynamics, candidates applying for the role of a superintendent need to check some major eligibility boxes, and it usually comes down to the minimum degree you have.
This does not mean that degree-holders are always winners – anyone with a high school diploma along with verified, competitive, and diverse field experience is equally likely to get the job. However, by today's workforce standards, getting a bachelor's degree as your minimum qualification improves your job prospects, makes you more eligible for the role of a construction superintendent, and aligns your career trajectory more confidently.
A lack of a degree calls for significant jobsite experiences to compensate for the missed education, so unless you land consecutive jobs in relevant trades, you cannot qualify to become a super. For this reason, an associate or a bachelor's degree bridges such career gaps and gets you enroute towards your super journey.
2. Stay updated with ongoing certifications
We did warn you that there will be more books and papers. After getting a degree, you will not immediately start working as a construction superintendent. Depending on your chosen career path, you will have to climb several rungs – often spending a number of years on each – before you actually make it to the super's role. It is possible to have a relevant trade job as you acquire a degree, which will count towards your work experience. So, you might start off as a carpenter, a roofer, a technician, and so on before becoming an assistant superintendent and then eventually qualifying for the main super.
This means that there can be 5-10 years stretching between the day you graduate with a degree to the day you become a superintendent. So, it is no longer sufficient to have a college degree as the only acquired education on your resume. Your hiring company would like to know what else you did to keep your knowledge updated, relevant, and competitive during all these years. This is where ongoing certifications – your main educational add-ons – will help you out. Regardless of the job you are doing at present, you can enroll in various training programs to get certified for specific construction-based skills, and this becomes your evidence for continuous improvement.
You might want to apply for internships, and some universities integrate your internship experience with your degree credits – so that is a huge plus. You can sign up for apprenticeship programs to learn how to become a construction superintendent. Quite often, construction firms organize in-house training certifications for their employees, so you want to keep an eye out for these as you build your educational + work portfolio.
Basically, any certification that elevates your construction education should be within your radar, and this can also mean learning a new software, improving your Microsoft skills, working on correct documentation, and so on. In order to take your construction superintendent education requirements a step ahead, you can enrich your skill set with one or more of the following specialized certifications:
Occupational Health and Safety Administration (OSHA) certification
Certified Construction Manager (CCM) credential
Associate Constructor (AC) certification
Certified Professional Constructor (CPC) certification
Certified Safety Professional (CSP) certification
Construction Superintendent Certification Program by NCCER
These certifications are all applicable to leadership roles like construction superintendents and managers. They are designed to help you accumulate key construction skills like time management, risk management, CAD/Microsoft or construction management software proficiency, scheduling, OSHA awareness, budget allocation, jobsite safety, equipment handling, etc. It is not mandatory to acquire such certifications. However, as we saw earlier, you do need to update yourself during the 5-10 years you spend collecting relevant work experiences. This is why it is better to obtain certifications at different stages throughout your career path compared to halting your education at just a degree. By doing so, you get to work on credentials that are accepted and approved nationwide, which helps with career advancement and opens doors to new opportunities.
Such credentials also add a competitive edge to your resume. They recognize your eligibility for effective construction leadership and simply indicate that you know your way around a jobsite – which checks the main box for construction superintendent education requirements. Some of these certifications require a bachelor's degree as the main prerequisite, so in case you were hoping to fast-forward your career track, we are here to burst your bubble again! In addition, since these credentials have a nationwide reputation, you will be expected to renew them every year in order to keep your status. It does require a lot of hard work, but the results are truly worth it for someone aiming to become a super and go even higher.
3. Consider a master's degree
Where next? To the master's class, of course! Now, before you panic, a master's degree is not essential to become a construction superintendent. It is sometimes preferred by large construction firms with tough qualification criteria, so candidates who want to get into these companies aim for a master's degree as well. Also, once you become a super, having a master's degree ensures further career advancement if you are planning to move up the tiers. This helps you realign your trajectory to include future roles like manager and director. Related majors for post-graduate pursuits include Construction Sciences, Construction Management, and Construction Finance.
Construction super job posting snippets
To understand the hiring criteria based on educational qualifications for this role, here are some snapshots of popular job postings showing only the construction superintendent education requirements.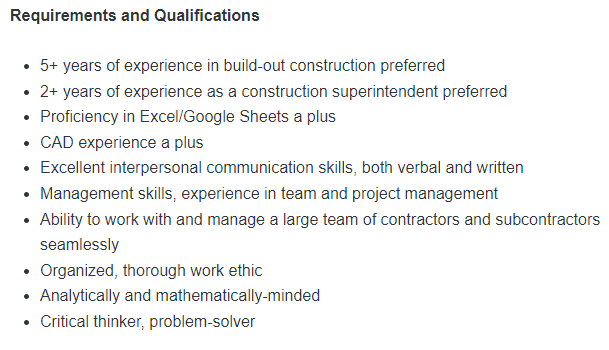 Image credits: ZipRecruiter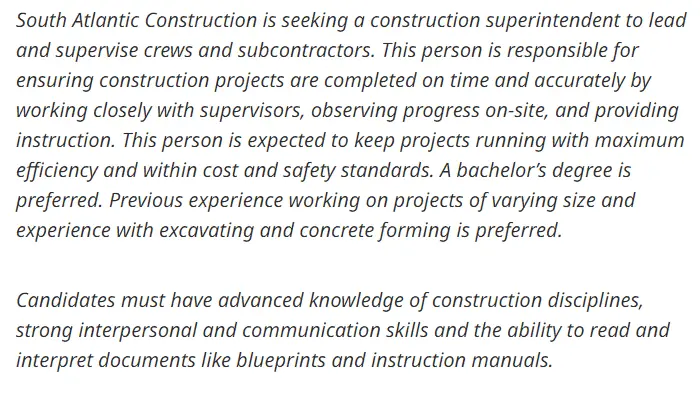 Image credits: Indeed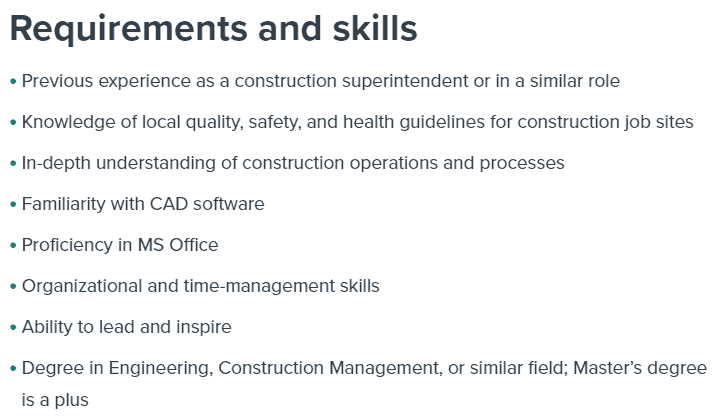 Image credits: Workable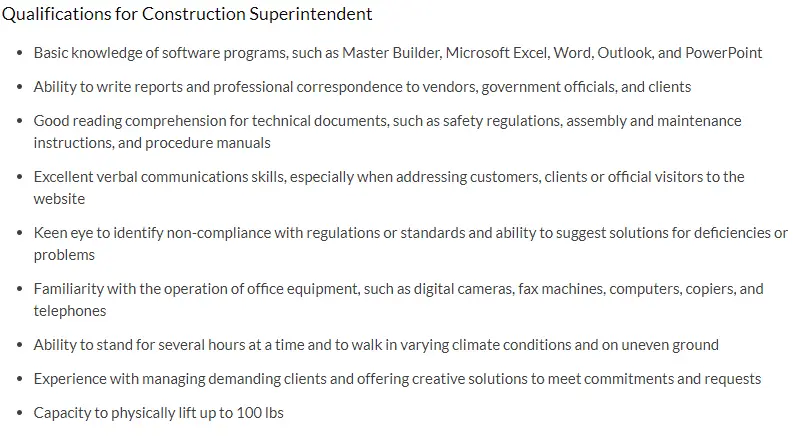 Image credits: Glassdoor
Image credits: LinkedIn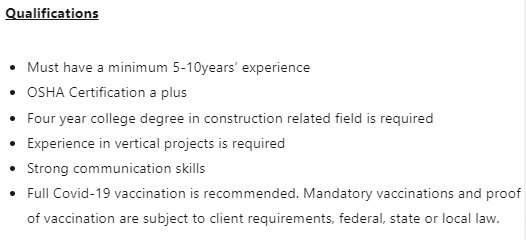 Image credits: LinkedIn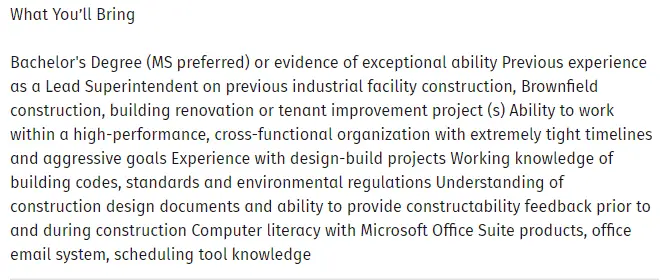 Image credits: SimplyHired
From graduation caps to hard hats
And that was the end of our educational guide to becoming a construction super! The degrees, certifications, training, internships, and work experiences you accumulate will all help you build your construction portfolio, so make sure to keep your resume well-updated to reflect each milestone. Both your educational and work history should stand out to potential employers, so it is important to represent your achievements as best as possible. The construction "conveyor belt" always keeps moving, so the most qualified and efficient minds today are likely to reach a burn-out soon, which is what necessitates updated education for future leaders. After all, with "super" power comes super responsibility!