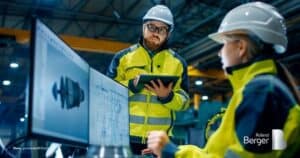 Image credits: Roland Berger
Artificial intelligence (AI) has become widespread within the construction industry. Companies are looking for ways to digitize or automate their processes as much as possible. This allows them to reduce error frequencies and develop more reliable construction project management systems. For example, an intelligent search tool for construction superintendents can be used to simplify various jobsite responsibilities. If you are a construction superintendent, you can use AI search tools for accurate data retrieval, faster search results, and more efficient site management. AI solutions boost productivity in different sectors and allow construction professionals to make more informed decisions. While artificial intelligence itself can be quite vast, you can narrow it down to construction-specific activities by using purpose-built software applications for this industry. Here is a glimpse into construction AI through the use of intelligent search tools that make various site tasks easy for professionals.
Intelligent search tool for construction superintendents
What is meant by intelligent search?
In the field of construction, intelligent search allows superintendents and project managers to eliminate confusion by quickly locating relevant project data.
Various AI technologies work behind the scenes of these intelligent search tools. Databases are extensively used to power the tools, so a lot of database navigation and document management can be expected within a single search. All of this happens in the blink of an eye to bring you instant search results for your entered query. You can use a search tool to find project information quickly and easily from any department. Intelligent search is also known as AI search and AI-powered search, and it has the primary function of displaying relevant and applicable construction data results.
How does it work?
Construction companies cannot always use search engines like Google to find information that is specific to their jobsite operations. So, intelligent search tools have a more custom role to play as they can be tailored to your company's specific management systems, inventory control, employee data, and so on. This also means that intelligent search tools work very similarly to ordinary search engines. The tools can adapt themselves to understand your query patterns, learn document structures, and predict your information requirements. This makes them a more "self-learning" system powered by machine learning technologies designed to boost data automation, problem-solving, and pattern recognition. As a result, an intelligent search tool will know which headers, footers, and metadata to browse to locate your required information, generally through indexed data and keywords.
For example, if you are searching for a specific construction document like a contract, the tool will follow relevant digital breadcrumbs that lead to the stored database file and display the result at lightning-fast speeds. These tools can also offer search filters to help you reach your required data that much faster using only the parameters that apply in this context. Artificial intelligence and machine learning algorithms are popularly used to increase the efficiency of an intelligent search tool by making it categorize data into options like employee, material, labor, equipment, company, etc.
Why is it used?
Construction superintendents rely on intelligent search tools for their data accuracy and efficiency features. By implementing machine learning algorithms, construction companies shift to AI technologies to automate mostly office-based work.
AI robots are also used to automate the actual construction processes, but if we are strictly speaking about intelligent search, the role of artificial intelligence is limited to administrative management. A good AI search tool will help you receive better insights into the project, evaluate progress, track changes, identify red flags, and take timely precautions. This allows professionals to enhance their risk management strategies by identifying potential risks early on and implementing the required solutions.
You might want to quickly learn about updates on equipment downtime, weather forecasts, material shortages, labor unavailability, etc. to have a better jobsite perspective using one simple tool. This eliminates the need to manage multiple software apps, as intelligent search tools support integrations with other construction platforms you might be using. Each construction project generates massive amounts of data throughout its life cycle, so having a search tool that can reach out everywhere will save a lot of time and reduce the chances of human errors. It will identify both high-efficiency and low-efficiency areas of the project, which is important while planning resource allocation. Since AI tools are designed to self-learn and adapt, they can predict the outcomes of a project milestone and alert the construction superintendent. This is because machine learning systems already have a synchronized platform to handle updates from all areas, making your job as a construction superintendent quite streamlined and better organized. Some areas improved by the use of intelligent search tools include:
Real-time inventory data management
Optimized procurement
Consolidated construction documents
Safety updates
Schedule tracking
Finance management
Benefits of a good AI search tool
Feasibility predictions
As we saw earlier, intelligent search tools are built to learn and recognize data patterns. This is actually what forms their automation and self-learning potential. They can predict cost overruns using factors like project size, historical data, schedules, completed milestones, and so on.
Project timelines can be tracked to follow real-time updates and alert construction superintendents accordingly. This makes it easy to determine if the project milestone will be feasible or not and whether it requires a change of plan.
Risk management
Intelligent search tools allow construction superintendents to understand large projects much better by following associated risks closely and accurately. Construction projects are prone to various risks in terms of quality, safety, and finances. By using a search tool, you can find out the current status of any given project and zoom in on key details. Machine learning is useful for managing risks in this way as it automates data mining processes to bring you the most relevant information at your fingertips.
Construction supervision
Some construction companies use AI robots and drone technologies to automate site inspections and similar jobsite tasks. These AI systems capture real-time updates into the system, allowing superintendents and managers to track operations more effectively. Also, such innovative technological integrations come with their own set of software tools that you can use for different purposes. For example, an intelligent search tool in this case will help you find out which jobsite machinery is broken, how many active equipment are there, or which machines are sitting idle. With most of the on-site work covered by AI, you can easily focus on remote supervision and have a bird's eye view of all processes.
Another example is the use of drones, facial recognition, and similar smart systems that automate supervisory roles. You can look up where your employees are to determine labor productivity without ever visiting the jobsite – which has become the new norm ever since the pandemic began. Moreover, intelligent search in these scenarios can help superintendents review captured photos/videos to determine how employees adhere to safety rules while working. They can easily tell who does not wear the hard hat or ignores different site safety protocols. Artificial intelligence can work to make important correlations between the captured photos and jobsite hazards, giving you everything you need to supervise safety aspects. Overall, the use of sensors, drones, and cameras is important to make key observations, detect red flags, analyze employee behavior, and reinforce safety procedures.
You cannot be everywhere at once, so intelligent search tools bridge a lot of those gaps.
Examples of intelligent search tools
The IBM Watson Discovery search tool is one of the best examples of AI search systems. It is designed to help construction superintendents and other professionals find answers to important construction questions. The tool uses AI-powered technology to retrieve accurate and relevant information based on your query's keywords. The reason why it is so popular is that it can be customized to understand the unique industry language specific to construction. This helps overcome "language barriers" when communicating with the search tool, as it is equipped to be on the same page as yours.
The Oracle Construction Intelligence software is another leading example. With the help of artificial intelligence, this tool helps you make proactive construction decisions to ensure timely and successful project deliveries. It integrates data from all project portfolios to curate predictive insights that you can use to identify risks, make better decisions, and accomplish jobsite productivity.
DADO field document management is an intelligent search tool for construction superintendents. It provides instant access to field data and eliminates confusion caused by miscommunication. The voice-driven app finds the information that you need, so all the relevant data comes to you rather than the other way round. This is an important solution for document management where keeping a track of each construction document can be time-consuming, disorderly, and often impossible. With the help of the DADO document management search tool, you can locate the required file, find a specific project, check submittals, and derive field data quickly.
VETA Intelligent Construction is a map-based tool that superintendents can use for accessing geospatial data. It is basically a data management software that provides real-time field insights for various purposes like supervision and reporting. This allows superintendents and managers to focus on quality control and track reported issues more efficiently.
Conclusion
To summarize, artificial intelligence and the Internet of Things both play a huge role in redefining construction management. AI solutions like intelligent search tools improve jobsite safety, track real-time performance, capture red flags, and alert superintendents promptly to take the required action. This helps them reduce errors and boost productivity. While the term "artificial intelligence" might seem intimidating at first, it is important to remember that AI is not just restricted to the use of robots like science-fiction movies portray. It is in fact a broad system of interconnected programs that computer experts build upon to create a set of algorithms. So, AI could be as simple as using a search tool to locate an employee and as complex as coordinating robotic arms to move materials.
Construction companies should invest in software solutions that cater to their specific requirements. This can be done by identifying areas that have more potential for AI optimization. Intelligent search tools for construction superintendents are the best examples. They are simple, effective, and valuable tools that make jobsite supervision easy and put field data right at your fingertips – as a superintendent, it does not get any better than this!