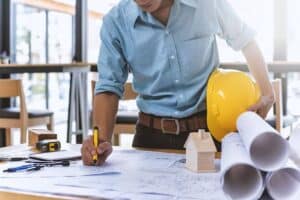 Image source: Centennial State Insurance Agency
Independent contractors need to follow insurance requirements based on their states, and Colorado has its own set of construction policies. They are organized to help you secure yourself and your company against litigation and financial impacts from project failures. Without a proper insurance plan, any type of construction you undertake will be prone to lawsuits in the face of accidents. Like a house of cards, things can tumble down at the slightest mistake, making you accountable for personnel injury, material loss, equipment damage, etc. Colorado contractor insurance creates the necessary buffer against such unforeseen events and covers the relevant costs. These failures might result from the contractor's negligence and a lack of professional supervision on the site. Also, contractors can be falsely accused of others' mistakes; the project leader does become an easy culprit. In either case, insuring yourself beforehand gives you protection from future liabilities, as the insurance company takes care of all compensations.
The trades you specialize in will determine the kind of risks you can be exposed to on a daily basis. Choosing the right Colorado contractor insurance avoids financial obligations associated with those risks. The legal coverage you get will support all the medical help for the affected audiences, replace damaged assets, and allow the project to resume accordingly. You can discuss the latest Colorado laws with an experienced insurance agent to pick the right coverage plan.
This will help you measure potential risks you and your teams can face, and you can decide which policies meet your insurance budget. For example, liability insurance is very popular in Colorado, and various affordable packages allow you to purchase this coverage against physical, property, and advertising harms. With sufficient coverage from the right insurance company, you get to evaluate risks and meet your contractual requirements as transparently as possible.
Colorado contractor insurance
Types of contractors
Contractors work in different trades, and insurance companies can secure them all – in addition to every other construction expert. Colorado contractors may specialize in:
alarm installation
fencing
building restoration
fire suppression
general contracting
HVAC installation
masonry and carpentry
insulation and flooring
remodeling and painting
plumbing
commercial cleaning
Types of insurance
1. General liability:
A general liability insurance policy should be your first priority as a Colorado contractor. If you delegate tasks to subcontractors, then you must also confirm their own general liability insurance. This is because your insurance might not secure you from the subcontractors' mistakes. In the aftermath of any failure due to the subcontractor's negligence, you can easily be held responsible for injuries, equipment damage, and material loss. Your general liability coverage handles both physical and property damages on your part; the subcontractors' coverage works similarly.
Workers who get injured while constructing can receive financial help to cover medical expenses. If your actions cause any harm to the client's property, the insurance policy compensates for the associated damages. Construction activities expose workers to daily risks on the job site, and so you want to safeguard your business against third-party lawsuits arising from unforeseen events. General liability makes a key Colorado contractor insurance policy to cover hospital charges and property repairs – this even extends to visitors who might get hurt or have their belongings damaged from the site activities. Heavy construction tools and equipment are used throughout the site, so accidents from any faulty machine can happen in the blink of an eye.
2. Errors and omissions (E&O)
Errors and omissions coverage is also known as professional liability insurance. As a contractor, you might offer consultation services as a part of your job. It is important to insure yourself against any consequences your clients may suffer because of your advice. This type of insurance keeps you safe from potential claims of errors and omissions in your consultation. If your mistakes cause the clients any financial damage, the insurance takes care of that loss. Otherwise, you will end up paying from your personal finances. Professional liability coverage is also applicable if you hire a subcontractor who handles consultation services for you. The professional advice you or your subcontractors provide could be related to interior design, electrical frameworks, plumbing, material choices, HVAC efficiency, etc.
3. Worker's compensation
As a contractor in Colorado, you should seek worker's compensation insurance to cover hospital bills and other allowances in case you get injured on the site. Ideally, you must cover your employees under your own insurance wing to keep them financially buffered if things go wrong. They should not pay for treatments that emerge from job accidents on the site. Your responsibility includes reinforcing the subcontractors' separate insurance to confirm that they will be compensated by their respective insurance companies. In doing so, you can be confident that any workers employed by the subcontractor will also receive the same protection – and this will not be your headache. Worker's compensation takes care of the missed salaries during a medical leave to help employees recover from a construction-related disease or injury. Until the workers receive a clean bill of health, they will require medical support and additional, personal allowances.
Wage reimbursement makes this insurance one of Colorado's most sought-out plans for the benefit it offers a recovering employee – and the avoided lawsuit on your part!
4. Tools and equipment
Insurance for your construction tools and equipment protects valuable resources like generators, pneumatic tools, and all expensive machinery. Site failures can cause tools to malfunction and stop working, and they might also face irreparable damage from logistical accidents. Your equipment needs to be protected both on-site as well as in transit. Loss of tools and equipment can be a very costly mistake to recover from, so a good insurance policy that keeps them covered is essential. Damaged tools cannot be used for the daily construction activities, calling for the need to replace them and buy new units to resume the work. The tools and equipment insurance applies to both rented and purchased assets for maximum coverage against theft and damages.
5. Commercial auto
Speaking of logistical disasters, it is also important to insure all kinds of construction vehicles that you and your teams use on the site – including the company vehicles driven to go to work. Your personal auto insurance will not extend to commercial automobiles, so the relevant policy that protects you financially is important. Colorado contractor insurance for commercial auto can minimize liabilities on your part, cover any number of vehicles you want, and insure every construction driver who works for you. This allows you to add personal cars, pickup trucks, contractor vans, and other vehicles to the insurance radar. A complete vehicle coverage also means that the insurance company will pay for damages during accidents – both on your car and those inflicted on other vehicles. As discussed under tools and equipment, the transported tools in a vehicle are prone to damages from accidents. Commercial auto insurance pays for all such material loss as well as any medical support for the affected people.
Colorado contractor insurance companies
1. Centennial State Insurance Agency
Centennial State Insurance Agency is based in Bailey, Colorado. You can request a quote for your contractor insurance options and work with this agency to receive maximum coverage.
Its contractor's insurance Denver policies help insure all kinds of independent contractors like electricians, carpenters, landscapers, plumbers, painters, repair teams, etc. These policies protect them from construction liabilities and disasters by providing the necessary coverage for associated risks. You can purchase insurance packages for general liability, contract liability, property damage, completed operations or products, business income, and commercial auto. Using the agency's website, you can receive online quotes and advice before making a final decision – so the process becomes quite streamlined.
2. Business Insurance USA
Business Insurance USA offers nationwide coverage for all contractor trades. You will receive custom insurance to meet your specific trade and protect the kind of operations your business handles. The insurance agent can help you understand which policies work best for you, your employees, and your company. It provides tailored advice to all construction professionals, so you can request an insurance quote accordingly. Colorado contractor insurance from this company focuses on general liability, tools coverage, auto insurance, and worker's compensation. The website allows you to request online quotes by choosing the type of insurance you want along with its price range.
Under the insurance umbrella
Colorado's construction industry is fast-paced, adaptive, and truly dynamic. Urbanized potential is increasingly marking its commercial footprint everywhere – as diverse as the state's vibrant natural color palettes. Various inherent risks are always connected to this labor-intensive field and can put humans, natural landscapes, wildlife, materials, and equipment in danger. For example, construction projects and buildings near wildfire areas require suitable insurance to brace themselves for such disasters. Choosing the right Colorado contractor insurance helps you transfer these risks to the insurance agency. Commercial contracting needs differ between businesses, so each insurance package is crafted to meet your specific coverage goals. Any resulting financial turmoil can directly jeopardize your contracting career. A good insurance plan addresses both financial and contractual side effects of the job so that the risks you take as a contractor can be better managed – allowing you to shoulder the blame for your mistakes and seek professional compensation for the affected audiences.