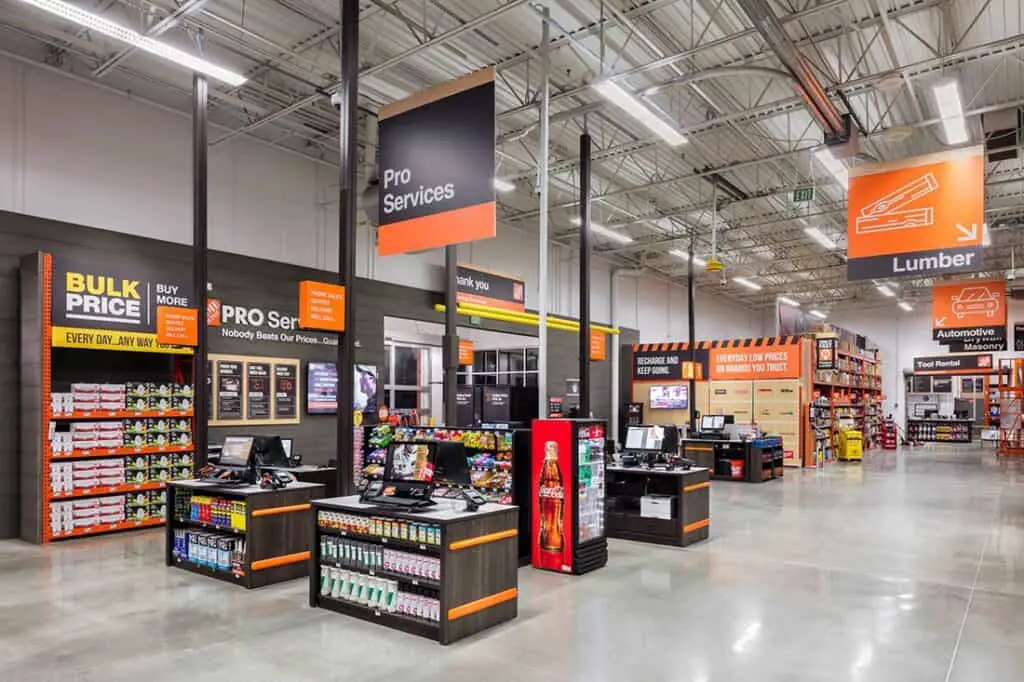 Home remodeling stores are a great option for homeowners who want to give their homes a makeover as well as for a handyman or contractor starting a remodeling businesses. These retail outlets have a wide variety of hardware, including building and furnishing supplies, lumber, and tools. You can visit these stores and browse their items to finalize the décor of your home. The prices of the items will assist you in guesstimating the cost of remodeling. Here are some of the most popular home remodeling stores across the USA.
Home Depot
Home Depot is the largest retailer among home remodeling stores in the country. It has been in operation for over four decades. It has a wide variety of construction products and handyman tools that may be required for home improvement. Home Depot has more than two thousand stores across different states of the USA. Its collection includes items from its in-house brands such as Glacier Bay, Husky, and Workforce, as well as independent brands like Homelite, Behr, Chem-Dry, Ryobi, and Ridgid.  Home Depot is known for being used by professional contractors (in lieu of homeowners) as their staff is not quite as numerous as the other top home improvement stores so you won't quite get as much customer service as the other locations.  However, for some contractors (or homeowners like me!) if you visit Home Depot frequently enough you tend to know your way around the place!  Their contractor services and delivery service is great for contractors and pricing is difficult to beat. 
Lowe's
Lowe's is the second largest home improvement store chain when considering home remodeling stores in the United States. It is a retail hardware chain that specializes in home improvement items. The chain has more than twenty-three hundred stores in the North America region with a vast majority of them being located across different states in the US. Lowe's has a large collection of building supplies, hardware, electrical items, plumbing fittings, wall panels and, planks for all your remodeling needs.  This is purely a personal observation but it seems like they have a few more knowledgeable people around the store when you need help and their stores are setup to be a little more "public consumer" friendly.  Their pricing is pretty much on par with Home Depot and seem to offer just as many products as well.  They have a more robust "home furnishings" department than Home Depot does to bring out the "home decorator" in us all!
Menards
When it comes to home remodeling stores, Menards is the third-largest chain in the country. The company has more than three hundred retail outlets across fourteen states in the USA. It has been around for almost six decades. Its remodeling products include building materials, doors, windows, electrical supplies, hardware, handyman tools, paint, plumbing supplies, and wallpapers, among others. You can visit Menards if you are going to refurbish your home or will give it a makeover.
Floor & Decor
If you are looking for home remodeling stores that sell flooring, then visit your nearest Floor & Decor outlet. It is a retail chain that specializes in hard surface flooring and related accessories. Its collection includes laminate, stone, tile, and wood flooring in a variety of colors, finishes, and designs. Floor & Decor sells to individuals, handyman professionals, and commercial businesses. The company operates more than one hundred stores across twenty-eight states of the country.
Empires Today
Empires Today is another specialty retailer of flooring among home remodeling stores in the USA. It has a presence in more than seventy metropolitan areas of the country. Its product lineup includes ceramic flooring, hardwood flooring, laminate flooring, and vinyl flooring as well as window treatments. Empires Today is considered one of the best specialty flooring retailer in the country.  Their specialty is sending their reps out for "home visits" to assist you in selecting flooring.  They are probably most well known for their TV commercials that haven't been updated since 1985 (and they better not update them either!).  
True Value and Ace Hardware
When you see a True Value or Ace Hardware branded hardware store around, it most likely an independent, locally owned hardware store.  The brand are both hardware "cooperatives" that give independent hardware store owners a brand and buying power to try and compete with the bigger national brands such as Home Depot or Lowe's.  True Value is a wholesaler of hardware and has more than forty-five hundred branded stores across the globe with a large number of them being situated in the US.
True Value and Ace Hardware stores sell building materials, home improvement products, household hardware, lumber, plumbing supplies, paint, and handyman tools. The products are from their in-house brands as well as other independent brands.
True Value and Ace Hardware stores are very dependent on the local owner and management team but many times these locally owned stores provide a level of customer service that just can't be matched by the national brands. If you ever drive by one stop by and check it out as they each have their own "style" and "specialty".  Most are known for being plumbing (or other) specialists, and really focus on what they are good at.  The only disadvantages is that you are going to pay slightly more to shop at these stores and if they do not specialize in a particular trade availability of materials is going to be slightly less than a Home Depot or Lowe's.