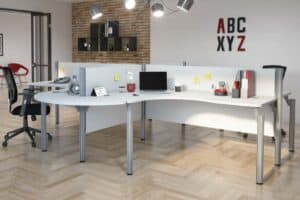 Image credit: Pro-Biz Collections via Bestar
Natural light and wall-length windows are top office design trends around which the rest of the décor orients itself to create a warm and inviting workspace. For offices that do not have windows – usually home offices, makeshift corner offices, workstation layouts, and other corporate arrangements – it can be challenging to plan sufficient lighting that both illuminates the room and balances aesthetics. Lighting for an office with no windows requires the right combination of artificial lights to make up for the lack of natural light inside. Dim lighting can create issues like headaches and eye strain, so you want to build an adequately-lit office both for yourself and your employees. There are many ways to do this, and you can achieve both functionality and décor with the right choices. Here is how you can go about it.
Ideas For Lighting Up Windowless Offices
Use Cove Lights
Depending on the size of your windowless office, you can use cove lights to create subtle interior lighting.
Cove lights can be installed in seamless, recessed arrangements – preferably on reverse tray ceilings – where the main fixture remains hidden while lighting up the general area, creating an adequate and pleasant ambiance. Such lights offer both primary lighting and aesthetic results where the ceiling forms the main focal point for décor purposes, usually in small offices and long conference rooms.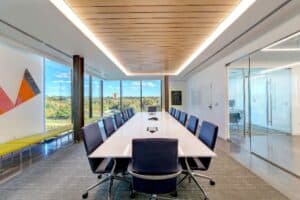 Williams CX continuous cove ceiling light
You can install cove lights in other configurations as well to avoid the direct visual disturbance caused by most lighting options, which makes them ideal for offices with no windows because you do not want something glaringly bright to dominate the room – considering there are no windows to balance the effect. You can also use cove lights on specific areas like dark office corners and desk edges. They look effortless when used as standalone lighting even when the fixtures are visible.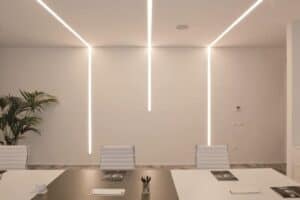 Light & Green cove lighting for offices
Install LED Strips
Another idea for hidden lighting in windowless offices is to use LED strips, and these are excellent for bias lighting where you just want to illuminate the immediate vicinity of your target object – usually a monitor or a desk. It is important to install them strategically and avoid going overboard. LED strips make versatile mood lights that are more aesthetically meaningful for different home offices as well as casual corporate office interiors. They might not be sufficient as primary lights depending on the size of your office, so you can use them for adding pleasant accents to create a more visually interesting workspace. These strips are generally installed where they can hide from plain sight, like the back of your computer screen, under the shelves, or the edge of your desk.
The LIFX Lightstrip is a good example. It is a smart, voice-enabled LED strip, featuring a 6.6′ smart light strip kit that you can cut and resize as needed.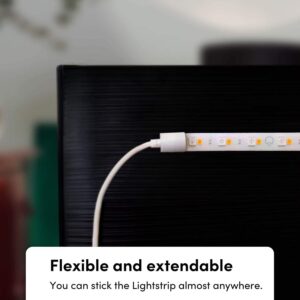 LIFX multipurpose Lightstrip for home offices
It is flexible and creates subtle lighting results within windowless offices, especially if you have a cozy home office where you can use soft color tones or even multicolored settings thanks to the Polychrome Technology LIFX uses. The light strip provides bias lighting that is both customizable and interactive as you can use voice commands and gestures to operate it.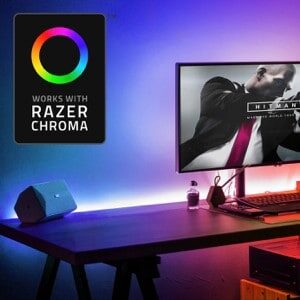 LIFX Lightstrip at work
Invest In Faux Skylights
Faux skylights are artificial skylights available as panels that mimic the natural effect and illuminate a windowless office spectacularly. They are LED lights equipped with smart technologies and panels that replicate daylight vibes and create a visually impactful office interior. PeseTech's artificial skylight LED panel is a great choice. It comes with a smart dimmer to help you adjust the light's color and brightness and features a seamless flush-mount design that looks and works just like a real skylight.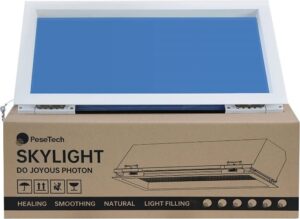 PeseTech artificial skylight smart blue LED panel
You can easily install this panel into the ceiling to form a recessed source of light and brighten up your office with a soft, diffused ambiance. It makes a very neat and adequate primary lighting option for small offices with no windows and reduces the number of fixtures you place in your room – which cuts down the visual clutter in general.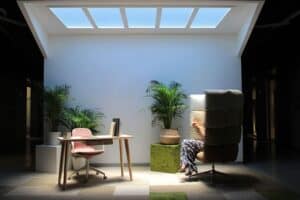 CoeLux High Tech 25 artificial skylights
Use Fluorescent Light Filters
Fluorescent lights in offices are usually panels of lights installed in drop ceilings. The original light from these panels can be quite glaring and cause eye strains, especially if there are no windows to balance the artificial and natural lights. So, one way to optimize this source of office lighting is to use fluorescent light filters or covers on the main panels to soften the glare and provide a more pleasant ambiance.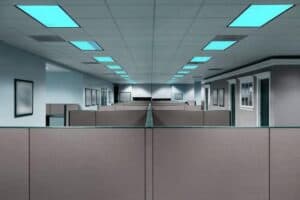 Shade Magic Covers fluorescent light covers for windowless offices
Both clear and patterned options are available, so you can choose wisely and plan your lighting plus décor aspects in one go. For example, the Lorougei fluorescent light filter has a pattern of green leaves, and a combination of strategically placed light filters can turn any dull office drop ceiling into a visually dynamic setting. The filters also tone down the bright light into a more natural spectrum light, so it feels like your office is lit up by the sunlight itself.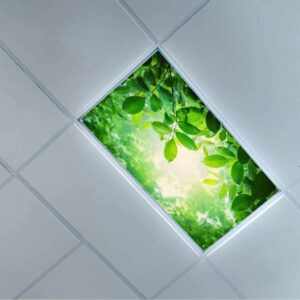 Lorougei fluorescent light filter
Don't Forget Desk Lamps
Apart from adequate overhead lighting, it always helps to keep a desk lamp nearby to light up your main work area. Desk lamps can be switched on or off as needed, while the main overhead lights remain on for everyone in the office. Also, they simply complete the look of an office desk! You can use different types of bulbs including energy-efficient ones for a more targeted light source on your desk in a windowless office. An example of a good office desk lamp is the Newhouse Lighting Oxford classic desk lamp. It comes with an LED bulb and features a flexible neck, a metal base, and a lampshade. Overall, this lamp has a small footprint that looks great on any table and makes a smart addition to your workspace.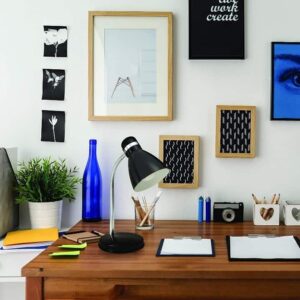 Newhouse Lighting Oxford classic office desk lamp
Consider Floor Lamps
Another important idea for lighting up an office with no windows is to place a floor lamp for targeted lighting for your desk, corner, couch, armchair, and so on. The Globe Electric floor lamp is one example. It measures 58 inches in height and has a matte black stand with a white linen shade, featuring a very minimalistic style that is both functional and elegant for office settings. The shade creates diffused lighting which is just perfect for windowless offices. You can place this lamp in different locations depending on the amount of primary or secondary lighting you need.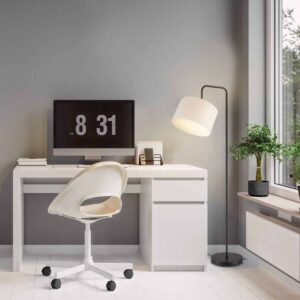 Globe Electric floor lamp for offices
Put Up String Lights
This is more applicable for home office settings. You can get creative with string lights as decorative elements that make your windowless office stand out. They are usually lined along shelves and photo frame walls to create stunning focal points in the room. Bulbrite LED string lights are popular and can be wrapped around furniture and other items for visual effects. Just plug them into a socket, and you will have continuous soft white lighting for as long as you want.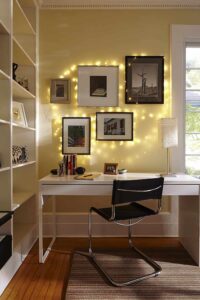 Bulbrite LED string lights for home offices
Invest In Pendant Lights
Pendant lights are great for offices with high ceilings, as they help the room come together and serve both lighting and décor purposes. They are available in a range of sizes, designs, textures, and colors, so you can choose pendant lighting for your windowless office based on the overall design you have planned. Nathan James pendant lighting, for example, features an oversized clear glass shade supported by a vintage brass fixture. It makes a thoughtful addition to an office with no windows because the glass shade emphasizes the main source of light and creates an overall open and minimalistic vibe. The whole design works perfectly in monochromatic offices that have neutral-color walls and furniture (preferably with brass fixtures). When combined, you have a charming office space where the fixtures do the talking.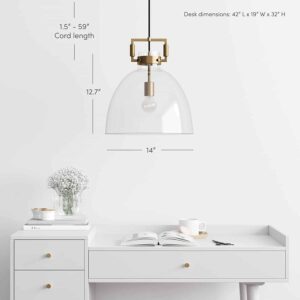 Nathan James office pendant lighting
Helpful Side Tips To Remember
Now that we know how to light up an office with no windows, it is time to consider some design tips to create a space that is both well-lit and well-though-out:
Avoid central lighting as the only source of light in a windowless office because this will direct most of the light in the center, leaving the rest of the office in the dark. Remember to pair it with additional lighting such as lamps and LED strips.
Choose neutral or pastel wall colors to reflect the artificial lights better and create an overall bright and welcoming office. You can also pick bright wallpaper colors that will complement your choice of artificial lights. Similarly, light-colored furniture will add to the effect and allow your general office ambiance to look great.
Avoid carpeting if your office flooring has a lighter color – you don't want to cover up something that enhances the overall office lighting. However, if your tiles are dark, you can place a neutral-color rug or carpet to make the room feel more spacious.
Add something reflective like a mirror to enhance the lighting effect in your office and give it a new depth. A wall-length mirror and reflective copper pendant lights are good inspirations. You need to plan strategic placements for your chosen reflective item so that it is just right for your interior lights. Too many reflective elements will be a disaster – you don't want your office to be a room of mirror optical illusions!
Conclusion
Investing in relevant and meaningful interior lights can help you boost workspace productivity and create a welcoming environment for yourself and your employees. There are so many ways to transform a dull, windowless office into a visually inspiring workspace, but it is important to choose only the elements your office needs to avoid design overkill and maintain authentic brand vibes. Make sure to choose strategic combinations of artificial lights that illuminate your office, complement its décor, and promote good workplace ergonomics.
_____________
"Happiness can be found, even in the darkest of times, if one only remembers to turn on the light."
– Albus Dumbledore