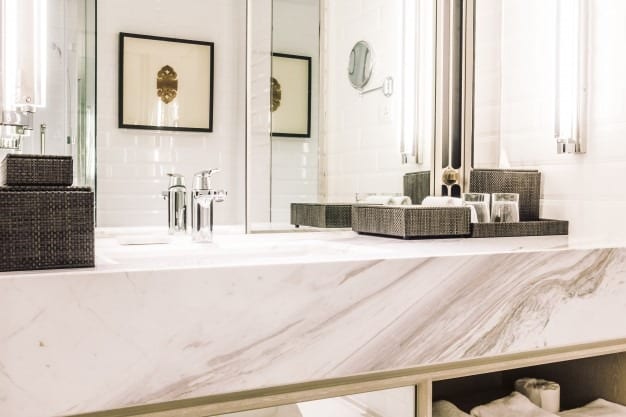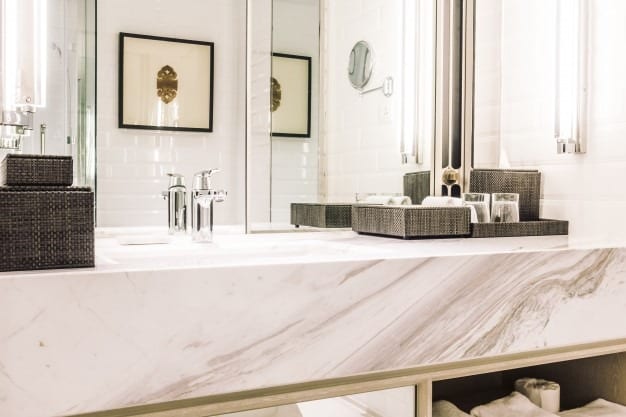 Whether you just purchased a new house or have lived in the same house for years, you may often consider remodeling your bathroom. The first question that might pop in your head is – 'How long does it take to remodel a bathroom?". We can determine the answer by going through the bathroom remodeling process. We will do this by splitting up the process into each step required to make your  bathroom into a new space.  As you can tell by the different timeframes the durations will vary according to your specific situation but hopefully this will give you an idea of what to expect for a project like this.
Pre-Construction – 2 to 5 Weeks
Before you begin remodeling your bathroom, you will have to solicit bids and hire a contractor. If you want a designer bathroom, you may consider hiring an interior architect or designer for creating a design plan for your bathroom. Your designer will inquire about your preferences and make a design that suits your taste. They may ask you to review the design multiple times until you give your final approval. The design process can take a week or two on an average.
Once the designer prepares the design plan, you can approach multiple contractors and tell them your requirements. They will visit the site, gauge the scope of the project, and understand your needs. After the site visit, you can expect them to take anywhere from a few days to two weeks before they submit their bids. Once you have bids from multiple contractors, you can hire the one that best fits your requirements. You can complete the paperwork and discuss the schedule. It may take up to a couple of weeks for you to review the bids.
Approvals and Permits – 2 Weeks to 90 Days
You will need to obtain the required approvals and permits before you can begin remodeling your bathroom. You will have to apply to your local governing body for obtaining the required permissions. Your contractor may assist you in filing paperwork for the approvals and permits to the respective authorities. The approval process may take anywhere between two weeks to ninety days, depending on your local body. If you live in an apartment, you might also have to obtain approval from your building board. Tenants may need permission from their landlords as well.
Construction Work – 4 to 6 Weeks
The construction work can begin once all the necessary approvals and permits have been granted. Your contractor will order the required equipment, materials, and supplies. Remodeling work will begin as soon as they are delivered. A detailed timeline can be chartered for the construction work depending on the activities undertaken. While the timeline takes into account workdays, there will be weekends in between that must be considered as well to calculate the expected total time for remodeling a bathroom.
Demolition – 1 to 3 Days
The first step in remodeling is the demolition of the existing bathroom. Workers will remove the current hardware, and demolish walls and floors if required. It may take anywhere from one to three days, depending on the size and location of the bathroom.
Underlying Structure Repairs – 1 to 3 Days
If your underlying structure requires some repairs or carpentry work, the contractor will undertake it after demolition. The process may take one to three days depending on the extent of repairs needed. In quite a few cases, repairs will not be required, and the contractor will skip to the next step.
Plumbing and Electrical Supplies – 2 to 4 Days
The contractor will install the required plumbing and electrical supplies next. They may allocate a couple of days for installing plumbing supplies and another two days for electrical wiring. It will be a rough-in, and the final fitting will be undertaken later.
Initial Inspection – 1 Day
After the plumbing and electrical supplies have been installed, an inspection will have to be carried out by the concerned officers of your local authorities. They will determine that everything complies with the rules and regulations. While the inspection itself will take a couple of hours, scheduling an appointment can be an issue which may delay the bathroom remodeling project by a few days or weeks.
Insulation – 1 Day
Once the inspection has been completed, your contractor will proceed with insulation installation. The process is fairly quick for a bathroom and will take no more than one day.
Drywall Installation – 2 to 3 Days
The process of drywall installation may begin on the same day as insulation is completed. The workers will hang drywall and then apply a joint compound. It will be allowed to dry for a few hours before sanding begins. Drywall installation will be completed in two or three days.
Tiles and Flooring – 2 Days
If you are redoing your bathroom flooring and installing tiles, it may take another couple of days. The tiles will take one day to install and another day to dry completely.
Paint – 1 Day
After tiles and flooring, the bathroom will be painted by the contractor. It shouldn't take more than one day. Sometimes, it may be done before installing tiles.
Final Inspection – 1 Day
A final inspection will be carried out by the city officials who will inspect gas and water pipework and electrical installations. Again, the inspection takes only a few hours, but scheduling can be a hassle.
Hardware Installation – 1 to 2 Days
The contractor will begin installing hardware after the final inspection and approval. It will include bathtub, toilet, sink, lighting fixtures, and cabinetry. The workers will finish it in a couple of days.
Clean Up – 1 Day
Finally, the crew will clean the place and remove any dust, debris, or waste materials. Although you should consider hiring professional cleaners as well.
Post Construction – 1 Day
After the bathroom remodeling work has been completed, you will get a day to inspect the work with the contractor. Your interior designer or architect may accompany you. Any issues found may be tackled on the spot or a scheduled date in the future. If one of the items is out-of-stock, it may be a few days before it can be installed. After everything is complete, you can make the final payment to the contractor.