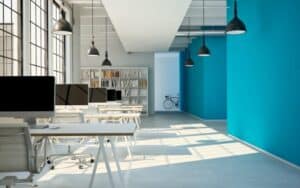 Image credits: Petrusse-Norris Painting
Commercial painting is one of the best ways to update the look and feel of your company. Your commercial color palette paints your brand image, sets the first impressions of your place, and simply creates a visual reference to help others remember your company. Commercial painting also allows a business to refresh its aesthetic appeal without undergoing large-scale overhaul projects. Whether you are painting your space for the first time or applying a new coat of paint, you need to first find out how much do commercial painters charge per square foot – and this is what we will explore in this article.
Commercial painting costs per square foot
In general, commercial painters charge anywhere from $0.8 up to $6 per square foot, with the average hourly rate being $60 – $100 per hour. The costs for your specific project will vary depending on applicable factors that can influence your budget – such as material costs, labor charges, size of the paintable area, and project complexities. The typical rate for interior commercial painting is around $1 per square foot, with exterior painting costs ranging just under $1 per square foot.
Quite simply, the more complex your project is, the more labor-intensive skills it will demand, and the higher the costs per square foot. In the best-case scenario, you might have to apply just a single coat of standard paint on a perfectly smooth wall surface that does not require much prep work, so your total cost would be around $0.5 – $1 per square foot. On the other hand, if you have major prep work involved before applying double coats of high-quality paint, you can expect your budget to go up to $6 per square foot. Following are some key factors that determine such cost fluctuations in a commercial painting project. Before hiring your commercial painting team, make sure to understand the factors that apply to your specific project so that you can work out an initial estimate for a more efficient quote comparison and contractor selection.
Cost-influencing factors
Total paintable area
Commercial painting works with the wall square footage as opposed to the floor square footage, and this might include the ceiling and other structures that you want to paint. The total size of your commercial building is an important factor. This is strictly the paintable area of your building, so you will have to rule out obstacles like doors and windows and consider wall-only surfaces. Larger buildings require extra labor, more time, and definitely more paint, so commercial painters charge higher per square foot in this case – and vice versa.
In order to calculate your total paintable area, just multiply the height and the length of each wall and ceiling to get the individual areas and add them together to obtain your total square footage. Then work out the total non-paintable areas for obstacles like doors and windows and subtract this value from your total square footage – and you will be left with just the total paintable area for your commercial building.
Amount of paint needed
Based on the total paintable area of your commercial building, the second most important cost-based factor is how much paint you will need to cover this area. Larger buildings require larger volumes of paint, so the costs go up proportionally per square foot. You do not want to under or overestimate your paint volume, as both insufficient paint and too much leftover paint contribute to expensive mistakes as a business.
Still, a little extra paint is not a bad idea just in case you decide on minor touch-ups, so having an accurate total paintable area and the corresponding amount of paint you need are equally important. Usually, one gallon of paint is enough to cover between 200-400 square feet depending on the brand you choose. So, for a total paintable area of 2,000 square feet, you will need about 10 gallons of paint. Your total paint volume will also depend on the number of coats you want to apply, so make sure to clarify your single and double-coat paint options with your commercial painters to understand your overall costs based on the ideal coverage.
Paint type
This brings us to the next cost-influencing factor – the type of paint you will use. Commercial paints are available with different features that you can choose from depending on your building's aesthetic requirements. You will find waterproof, moisture-repelling, long-lasting, peel-resistant, electrostatic, protective, primer, latex, and other paint types. In addition, creating textured finishes will increase the overall amount of paint your project needs based on the level of detail you choose. The higher the quality of your premium paint, the higher your commercial painting costs. High-quality paints are quite durable and retain their color for a long time, which gives your interior an effortlessly neat look. One gallon of any premium, high-quality paint costs $35 to $70 and will last around 8 years. If you have a total paintable area of 2,000 square feet, you will need about 10 gallons of high-quality paint, which makes your total paint costs range between $350 to $700.
Painting materials and tools
Based on the type of paint and detailing you want, your commercial painters will require specific materials and tools to work with – and this calls for professional expertise to get the best results, so make sure you work with someone reliable. In general, your commercial painters will charge you per square foot also according to the painting resources they will use for the interior or exterior surfaces. Some examples are:
Brushes
Rollers
Trays
Drop cloths
Tarps
Spraying tools
Ladders
Scaffolds
Prep work materials
Commercial painter rates
The labor costs for commercial painting differ based on the required inspection service, the amount of prep work, and the painting complexity itself. As we discussed earlier, the more difficult it is to paint your building, the higher the commercial painters will charge per square foot. This is because both time and effort are being invested from the painters' end, so that reflects in your total cost. Generally, commercial painters can paint around 200 square feet in one hour, which means that they typically use one gallon per hour. The average labor rate is between $55 – $100 per hour. Converting from per hour to per square foot, this gives you around $0.28 – $0.5 per square foot for just a single coat. If you are aiming for double coats of paint, the range will double to give you $0.56 – $1 per square foot.
Let's say that a 2000-square-feet wall space needs to be painted. We know that a painter takes an hour to finish 200 square feet, so in this case, the project will take around 10 hours to be completed. Using the labor rate of $55 – $100, this gives you between $550 – $1000 in total just for labor costs. Since labor costs are usually expressed as hourly rates, you will need to know the total number of hours your commercial painters will need to finish the work. Small-scale painting usually takes one day to finish, whereas large-scale painting might last a week or more and will require more painters to do the job. Here is a list of the key prep work and painting services that add to the overall manual work:
Sanding
Caulking
Taping
Wall repairing
Priming
Power washing
Setting tarps and drop cloths
Final clean-up
If you require your commercial painters to work in a way that reduces disruption and business downtimes, this can also increase the labor rates for your project. For example, if the painting crew has to work outside the standard business hours to minimize disruptions, you will be charged more per square foot, as the hourly rate will go up to $90 per hour.
Cost summary
To bring it all together, here is a commercial painting cost summary using the numbers discussed so far for a 2000-square-feet wall area.
Obtain the total paintable area (height x length): 2000 square feet
Work out the amount of paint needed (2000/200): 10 gallons
Add up the paint and material costs: about $700
Add the labor costs: about $800 for a total of 10 hours
Calculate the total cost ($700 + $800): $1500
Calculate the cost per square foot (1500/2000): $0.75 per square foot
You can also use an online estimator to figure out initial costs for finding a negotiable number to discuss with your commercial painters. The Business Hue commercial painting cost calculator is a good example.
Conclusion
Before hiring a paint contractor, make sure to check for their licenses and portfolios to determine whether or not they have the required expertise for your project. A reliable commercial painting company will know how to respect your commercial space, minimize disruptions, and deliver quality results. Such a project is not just about picking your corporate colors. You have to be careful about the painting crew you choose because every commercial painting project requires certain techniques and equipment that only a professional can work with – as "coloring within the lines" applies tenfold in this case!