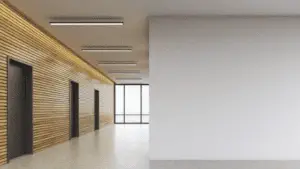 Image credits: Moloney Painting
Interior commercial painting projects can either be a part of the original build-out process after which you move in for the first time, or they can be planned as ongoing renovations to keep your space updated. They set the tone for your building's interior design, so your choice of commercial palettes can paint both your brand image and scopes for workspace creativity. By hiring professional painting services, you can address the aesthetic needs of your office, restaurant, café, gym, school, or store in terms of paint quality, surface texturing, and protective treatments. The cost per square foot to paint interior commercial buildings depends on various factors that decide how straightforward or complex your project is going to be, as we will see below.
Interior commercial painting costs
The average costs to paint commercial interiors can range around $0.5 – $2 per square foot depending on the size and complexity of your specific project. The main elements that make up the total cost include:
Professional painter rates
Total paint quantity and costs per gallon
Total paintable square footage
Professional painter rates
Professional painters usually charge around $55 – $100 per hour – so that is your general labor rate. This covers services like the required prep work for tough structures, ability to use premium paint quality and materials, experience with special tools and equipment, and so on. Basic paintwork with standard finishes will cost much less than custom paintwork with extensive wall repairs and touch-ups, so the more the prerequisites, the higher the cost per square foot. Professional commercial painters can paint around 200 square feet of the interior space within an hour. Assuming the labor rate to be $55 – $100 per hour, this means that painting the 200 square feet will cost $55 on the low end and $100 on the high end – which converts into $0.28 and $0.5 per square foot respectively for only the first coat of paint. So, if your painters decide that they need 24 hours to cover the interior, your estimates will be:
24 x $55 = $1320 for low-end labor charges (x2 for double coats = $2640)
24 x $100 = $2400 for high-end labor charges (x2 for double coats = $4800)
Paint quantity and costs
According to an example from Painters Inc., assuming that 1 gallon of paint covers 300 square feet of your interior commercial building, you can expect to pay around $40 – $60 per gallon, which converts into $0.13 – $0.2 per square foot of the paintable surface area. For context, a 2400-square-foot surface that needs 2 coats of paint might use around 16 gallons. So, considering the above ranges:
In terms of square footage, this means $0.13 x 2400 = $312. Since 2 coats are required, multiplying this by 2 gives $624 for low-end paint costs.

$0.2 x 2400 = $480, and when multiplied by 2 for the double coat, this gives $960 for high-end paint costs.

In terms of gallons, this means $40 x 16 = $640 in total for the low end, and $60 x 16 = $960 for high-end paint costs.
Total paintable square footage
The paintable surface area is only the area of the walls + ceilings + other structures that you want to paint, excluding anything that should be left out.
This can be the total wall surface area minus the windows, for example. Following the above scenarios for a 2400-square-foot building, the total costs to paint this interior surface area with double coats will be:
| | | |
| --- | --- | --- |
|   | Low end | High end |
| Labor | $2640 | $4800 |
| Paint and supplies | $640 | $960 |
| Total costs | $3280 | $5760 |
| Costs per square foot | $1.4 | $2.4 |
Here is a clever breakdown of interior office paint costs by Painters Inc. for another perspective. In general, you will work with labor rates, paint quantities, and other supplies as we saw earlier, so these elements form the basic cost breakdown for any interior painting project without considering external factors – that will follow soon below.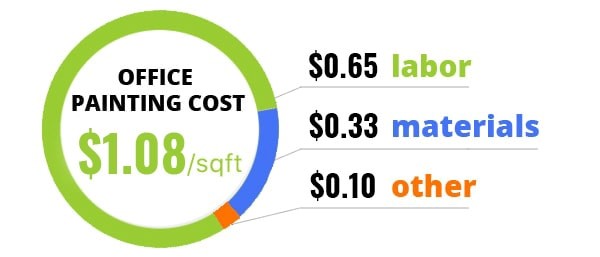 Interior painting cost calculator
We were also impressed by this Painters Inc. painting cost calculator that makes a simple tool for quick estimates. The calculator factors in updated labor and painting material costs. It displays both a total value as well as a cost per square foot based on your entered details. You will be required to choose/enter the following details:
Interior or exterior painting requirement.
Total paintable square footage.
Repairs for wall imperfections – scope of prep work before painting.
Need for extensive cleaning.
Total number of paint coats.
Quality of paint – basic or premium (stain-resistant, durable, etc.).
Need for specialty paint coatings (for better heat/humidity resistance, easy cleaning, antimicrobial protection, etc.).
Standard working hours or minimal-disruption hours.
The cost calculator will display your interior painting estimates like this: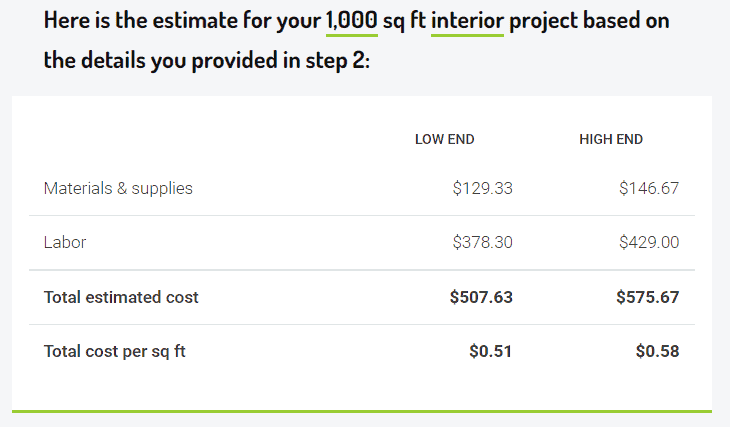 Image credits: Painters Inc.
What makes these costs go up?
Surface flaws
In a best-case scenario, your total paintable surface will be entirely smooth with no irregularities or imperfections that need to be repaired. Your commercial painters can then go about the basic prep work before applying the paint, and you will have your space ready to use in no time. However, to be realistic, most projects require some level of structural fixes for surface flaws in order to preserve the aesthetic appeal of fresh paintwork. The more labor-intensive these repairs are, the more you will pay per square foot to paint your interior commercial building. Longer prep work adds extra hours for the labor to cover, which increases your estimates. In general, labor rates can increase in response to project complexities like:
Restricted access for hard-to-reach areas.
The required scraping, caulking, surface priming, and cleaning to be done.
Additional services like floor cleanups after the repair work.
Larger paintable areas
Larger interior surfaces will be more expensive to paint per square foot because you will have a big painting crew for the job, and the use of technical equipment can add to the final estimates. The longer your team spends on painting the interior, the more you will pay to have the complete space painted within the stated duration.
Non-standard work hours
Professional painters typically charge up to $100 per hour if they have to work outside the business hours – like on weekends or in the evening. This usually happens if commercial building owners want to minimize disruptions to their everyday workflow and prefer keeping the building occupancy separate from the painting hours.
High-quality paint and special supplies
The use of special materials, spraying equipment, and relevant tools for the repairs AND paintwork will increase your overall costs per square foot to paint the interior. Additional services like power washing require specific equipment, and if you have chosen this as a cleaning prerequisite, some painters might charge extra for the job – since power washing will be counted under prep work. Higher quality and special paint types also cost more and require professional handling, so apart from basic primers and latex paintwork, your add-on requests for the following areas will increase your budget:
Textured detailing
Electrostatic painting
Protective antimicrobial coating
Decorative designs
Conclusion
Before hiring professional commercial painters, make sure to receive detailed quotes from potential teams so that you can compare the offered services at the given price range. This will also help you find out who is willing to offer extra services like free interior evaluations or final cleanups. Choosing the right paint quality, equipment, supplies, and painters can help you add a unique personality to your commercial interior, especially if you are using creative color palettes. While professional painting focuses on "coloring within the lines", it also inspires you to think outside the box as a growing business!