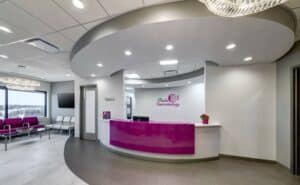 Image credits: Apex Design Build
Let's be honest, we all dread going to the doctor's office. You know the drill – it always starts with some low-key anxiety that takes the shape of "How bad can it be?" before calming you with a false sense of security. Then comes the "What if it really is that bad?" plot twist, and – admit it – we all have tried to disguise our fight-or-flight instincts to make them appear more socially acceptable. Visiting a medical office is never an easy task not only because you feel scared about your diagnosis but also because the all-white and bustling environment can be very overwhelming.
It is said that the environment you work in or stay in has a huge impact on your psychology, which is what forms the basis of most construction projects, as people aim to build a healthy and inspiring interaction with their immediate surroundings. In the world of medical offices, this seems to be 10 times more applicable simply due to the direct influence the interior has on its patients. Therefore, it is important for medical tenants to invest in friendly and visually-calming spaces that allow patients and visitors to feel at ease – and this is where medical office build outs play their role. In this article, we will take a look at medical office build out costs along with some key project considerations to help you plan a patient-conscious build out ahead.
Medical Office Build Out Costs
Average Figures
A medical office build out refers to all the improvements you want to add to your leased space in order to make it better equipped for your healthcare services. Each medical office build out can be very different based on the type of services you provide – such as dental or dermatology services. Medical offices generally cost more than corporate offices because they have very specific technical – or specialty – requirements, including medical equipment and storage. On average, your medical office build out costs can range from $50 – $250 per square foot.
Depending on your level of customization and details, your actual costs can be lower or higher, which is why it is important to work with contractors who specialize in such projects. The right medical build out team will help you plan a more relevant project that fits your budget, focuses on good quality, and creates a space that makes things less stressful and more streamlined for patients.
Key Considerations
Your medical office should reflect your particular style and healthcare vision, so it needs to be both purposeful and aesthetically appealing. Well-planned offices feature good designs, architectural creativity, and clever use of the available space. Proper space planning and optimization are important for building a medical office that feels roomy and airy rather than constricted – and managing the foot traffic is one way to go. Here are some other key considerations and inspirations for such a project:
Plan an interior based on the type of medical services you offer – like ENT, dermatology, dental, pediatrics, etc. In the case of pediatric offices, your design should focus on visuals and colors that appeal to children and make the space feel less intimidating to them. You might want to add a creative play area and a reading nook where kids can have fun or read as they wait for their turn. A TV room will be useful for diverting the early-age kids' attention toward cartoons. The main office or clinic itself can also have a dynamic and themed interior to add a bit of adventure for the kids – so the build out does not have to be limited to a strict "waiting room + examination room" in this case.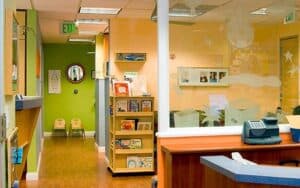 Image credits: Boulevard Pediatrics
Decide on the actual "rooms" you want in the office – such as individual clinics, a vitals room, a pharmacy, a lab, imaging rooms, a cafeteria, nurse stations, exam rooms, surgery rooms, private administrative offices, a staff lounge, ADA-compliant restrooms, and so on.
Consider the level of technical and infrastructural upgrades based on your building's condition. Shell spaces will first need to be configured based on building codes for the type of imaging equipment you might use. The plumbing specifications also vary accordingly, as do the flooring requirements and wall structures. Planning for all such improvements in advance is crucial because you want these behind-the-scenes details to be covered early on to prevent project reworks and extended budgets or deadlines.
Confirm the material types for your medical office build out. If your focus is on design aesthetics, your preference for high-end materials can push your costs to the top range. You want to think about the reception area materials like marble or quartz countertops, laminate desks, waiting area lighting, millwork options, glass panels, paint/wallpaper, and similar aspects.
Remember to future-proof certain design and functional elements by using modular or prefab structures where possible. Using adaptable and updatable features and technologies will help you accommodate future improvements without having to tear down anything or start from scratch. This is particularly important for long-term tenants who will most definitely need to update their medical space after some time.
Make the best out of your small office space by rethinking the overall layout and staff allocation. For example, instead of cramming in a reception area, you can install self-check-in kiosks to optimize foot traffic and increase workflow efficiency. In this way, you can cut down your medical office build out costs and still have a productive and thoughtful interior for your patients.
Contractor Selection
Choosing the right contractor is absolutely important to get your project completed successfully and on time. Before hiring a team of contractors, architects, and designers, make sure to have the following questions answered:
Are they a licensed company with verifiable portfolios?
How well do they understand medical permits and code compliance?
Do they specialize in medical build out projects? Can they offer tailored services to match your healthcare field – such as dental or pediatric?
Can they deliver design creativity that highlights your healthcare principles, or do they only offer cookie-cutter options?
What do they know about your choice of medical equipment and technologies that you want for your office?
Can they meet the given deadline and budget?
A bitter pill to swallow
Quality healthcare should be at the core of all medical office build outs. Since your patients trust you with their health and safety, you have the added responsibility of making the overall patient experience as welcoming and stress-free as possible. This includes building out a space with features that really interact with human psychology – such as nature-inspired color palettes and creative, open layouts. By choosing high-quality materials, design diversity, and a patient-centric approach, you can add value to every square foot of your medical office. While no level of aesthetics and treats can make anyone look forward to visiting the doctor, at the very least, the overall experience will be less frightening and more bearable.