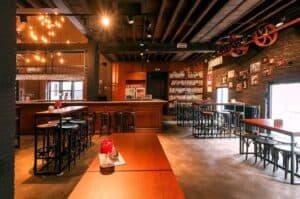 Image credits: Advanced Commercial Interiors
Before you can run your food and beverage establishment, the leased space will first undergo various improvements to become better adapted for your business. Restaurant owners have different expectations for space, aesthetics, and functionality, so the scope of a restaurant fit out also differs accordingly. One of the most important considerations in this case is the total cost for the project – usually referred to as the restaurant fit out costs per square foot. Depending on the condition in which your to-be restaurant is leased to you, your project can range from simple upgrades to full-scale improvements, so this determines your overall budget. In this article, we will explore some average numbers as well as associated factors that increase or decrease your initial costs.
Restaurant Fit Out Costs Per Square Foot
Definition
A restaurant fit out refers to all the functional and aesthetic improvements you add to your leased space with the help of a commercial contractor. These physical changes help the building develop a much better restaurant standpoint, which allows you to safely use the available space for both kitchen and dining purposes.
Restaurant fit outs can include everything from utility updates, HVAC installations, and custom branding to kitchen improvements, interior design, and layout changes. Therefore, while setting your budget, you will be working with restaurant fit out costs per square foot to accommodate all such improvements based on the total square footage of your restaurant. The cost per square foot calculation will also accommodate the materials required throughout the fit out process. So, by breaking down costs like this, it becomes easy and more streamlined to monitor your budget as the project unfolds – and using average numbers as your initial estimate is a good starting point.
Average costs
On average, you can expect your restaurant fit out costs to range between $150 – $750 per square foot depending on a number of factors like your location and design goals. This creates a single average of $450 per square foot. Restaurants typically have sizes between 1,050 – 10,000 square feet – or even more for bigger establishments. Therefore, your total budget can be anything from $150,000 to $7,000,000 based on your specific project requirements.
Key cost considerations
Building condition
The current condition of your leased restaurant space will decide whether your budget falls on the lower or the higher end of the range. In general, fit outs can be categorized into:
Shell and core fit outs
Category A (Cat A) fit outs
Category B (Cat B) fit outs
If you are starting with a shell and core building condition, you only have the bare minimum infrastructure without any usable amenities. Therefore, this type of restaurant fit out is usually the most expensive because of the level of improvements required to first bring the building to a workable standard before adding your custom finishes. Cat A fit outs are a step ahead – the shell and core structure is already transformed into a blank canvas, so you only have to add minor touch-ups here and there, which gives you a friendlier budget.
Cat B is another level up from Cat A fit outs. Since most of the work is already done, the restaurant space is ready to occupy as soon as you move in your furniture or update the branding as needed – making this the most affordable category of restaurant fit outs out of the above three options. The greater the work, the higher the fit out costs per square foot, which is what makes the building condition a key cost-influencing factor on our list.
Design scope
The design aspect of your restaurant fit out can cost anywhere between $25,000 to $500,000 or more in total depending on how simple or elaborate your design ideas are. Here are some examples of design elements that you will consider with your interior designers and contractors:
Space planning. You have to come up with a relevant and practical floor plan for your restaurant in order to accommodate the dining area, storage, waiting area, and alfresco options. This requires a well-planned, optimized layout that streamlines the foot traffic and improves the work efficiency of your restaurant staff.
Kitchen planning. You can expect a considerable portion of your total costs to go into kitchen improvements. This area of restaurant design focuses on allocating sufficient space to your required kitchen equipment like ovens, refrigerators, waste disposal, and even cold storage rooms. In addition, your restaurant will need careful planning for its kitchen HVAC systems and utilities as well as the staff foot traffic around the kitchen.
Décor. Interior designs and themes create the first-impression visuals for your restaurant. This is where culinary meets creative, so your design investment is what sets the tone for the look and feel of your dream establishment – as this is how your customers will remember both your food and the experience they had eating it.
Location
Another important consideration for your restaurant fit out costs per square foot is your choice of location. You want to open your restaurant in a promising location with the right food interests in your menu, especially if you are pursuing a specific cultural cuisine. This will ensure regular foot traffic and boost your profitability as a business. In terms of costs, locations can directly influence factors like material and labor availability which are both essential for any fit out project.
You will naturally have higher costs per square foot in bustling cities like New York, so it is important that you play to your geographical advantages in terms of both the total costs and the customer potential before leasing your restaurant space.
Applicable permits
Location also has a lot to do with the applicable permits for your restaurant fit out. Your planned improvements will first need to be approved for safety and building compatibility, so code compliance is a huge safety and legal determiner. The costs for these approvals can vary based on region and the number of improvements you are adding – you can expect to allocate around $5,000 or more to the permit aspects. The reason why it is important to get this covered is that the permits or licenses will state exactly what the building can be used for – so this lets you know whether or not you can safely open a restaurant there, run a commercial kitchen, install specialty equipment, use large-scale HVAC, update the existing mechanical/electrical/plumbing (MEP) utilities, and so on. Suppose your location is not approved for restaurant purposes. In that case, you cannot fit out the building to use it as a restaurant, and violating this can put you immediately under the legal spotlight for blatantly ignoring safety rules for people and property.
Restaurant fit out cost breakdowns
The following are 2 examples of a restaurant fit out cost breakdown, and you can request for similar breakdowns from your restaurant contractor while discussing the budget. Here is one restaurant fit out the budget breakdown for a 2,000-square-foot restaurant in New York City by Sweeten.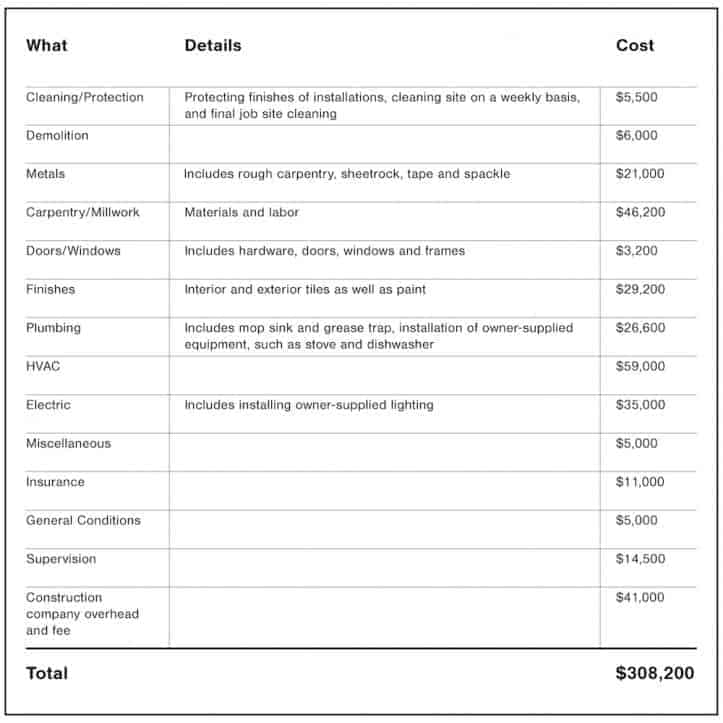 Image credits: Sweeten
This is another example of a restaurant fit-out cost breakdown from RSMeans Data

Conclusion
You can also request for cost breakdowns similar to the above 2 examples during the bid approval process. This will help you find and hire contractors who know their numbers well and can help you put together a crystal-clear budget. Hiring licensed and professional contractors is crucial for restaurant owners also because restaurants have the key responsibility to ensure food hygiene and people safety, so there is a lot of focus on features like proper refrigeration, food storage, waste disposal, accessibility designs, etc. Therefore, before embarking on your culinary journey, take a step back and imagine what Gordon Ramsay would say about your restaurant, and you will know exactly which way to adjust your sails!