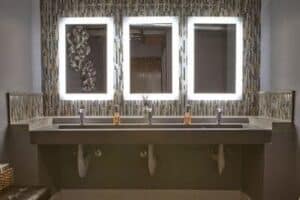 Image source: Houzz
Bathroom renovations do not always top the list of priorities for commercial building owners, as they would rather focus on the main attraction of their businesses – like a restaurant's dining area or an office's décor. However, as an owner, the reason why you should consider a commercial bathroom remodel is that it completes the overall modern and well-maintained look of your building. Updated amenities, design, optimized layout, cleanliness, and cosmetic improvements speak volumes about your respect and consideration for visitors and employees. They add to the good first impression created by the rest of the commercial building. Most importantly, your attention to bathroom improvements reflects your company's focus on hygiene and customer comfort – particularly as a pandemic-conscious business.
Working with experienced commercial bathroom remodeling contractors is very important. They help you optimize the existing space and layout by considering factors like the number of bathroom stalls or sink placement. This also includes the size of your commercial scenario. Depending on how big your restaurant is or how many clinics line up on the same hospital floor, your remodel project can vary in budget and timeframe. The contracting company should ensure design cohesiveness with the rest of your building. Such remodeling projects are quite common in university campuses, dorms, hotels, corporate offices, and assisted living environments. This article explores some popular bathroom remodeling ideas for various business settings.
Elements of a commercial bathroom remodel
Businesses can have various reasons to renovate their bathrooms. From design aesthetics and modern fixtures to code compliance and water usage, you can upscale the existing condition as required. This includes installing multi-faucet sinks as well as motion-sensor or touchless faucets. A professional contracting company will make sure to use quality products for durable flooring and utilities. Less is always more for bathroom remodels, and simple yet effective décor works like a charm. It makes the bathroom look uncluttered and minimalistic, and your contracting team can instead focus on better functionality, as discussed below:
Bathtubs
Hotels, bed and breakfast, and college dorms require various upgrades to their bathrooms all year round. Bathtub upgrades are an example. Your contractor can repurpose and refine the existing bathtub or install a new one if needed. Bathtub installation can be quite expensive depending on the size of your commercial project. It involves demolition and changes to the floor and walls, with inevitable damage to finishes. The water pipe layout might also be affected. This is why bathtub restoration is more common than new installations. If the existing condition can be improved, it saves you a lot of rebuilding costs. Refinishing and re-glazing old bathtubs make use of epoxy, coating, and polishing materials for adding cosmetic touch-ups and updating the look. Another cost-saving option is to use an add-on acrylic liner on top of the old bathtub. This creates a new, high-gloss, and durable surface that saves you the hassle of a complete overhaul. Acrylic bathtub liners greatly simplify large-scale renovations in the commercial world.
Wall surrounds
Wall surrounds refer to the finished and waterproof materials that line the 3 walls around shower/bathtub areas. They are installed to protect the immediate walls from moisture build-up and damage. A commercial bathroom remodeling project benefits from using wall surrounds to extend the lifespan of the shower/bathtub walls. Various stain-resistant, marble, granite, and nonporous options are available. These materials go right onto the existing wall tiles and can stay there for decades. The acrylic wall surrounds are quite popular for their ease of installation and maintenance, making them ideal for hotel and hospital ward bathrooms. They are easy to clean and add an improved finishing touch to the overall space.
One-piece, seamless wall surrounds work even better and speeds up cleaning, as no grout gets in the way.
Entrance and exit
Commercial bathrooms in restaurants and cafes need well-executed layouts to minimize crowds at the door. If you are planning to remodel the entrance, you should definitely consider potential queuing issues – and how they can be eliminated. A single-use, lockable bathroom would cause people to line up outside the door. For this reason, labyrinth-style bathrooms are common in commercial public areas. They incorporate more bathroom stalls, multi-facet sinks, soap dispensers, sanitizers, etc. behind the same door. This effectively isolates the whole bathroom corner from the main dining, and no one needs to queue up outside the door. The labyrinth entrance and exit styles optimize the commercial bathroom layout with added space – and they often allow separate doors for entrance and exit.
Fixtures
All commercial bathroom remodeling projects look better with modern fixtures, especially if they are well-coordinated with the overall design. They help accessorize the space with both amenities and aesthetics. Choosing durable, high-quality materials is crucial for mass renovations around your commercial property. Expert installation and strategic placement are equally important, as they affect the functionality of your bathrooms. Various high-grade and damage-resistant materials are available to create durable vanities and partitions. You can install energy-efficient light fixtures for better sustainability. Bathroom remodeling is the best time to update your hotel rooms' faucets, towel racks, hooks, showerheads, curtain rods, doorknobs, etc. Assisted living environments require safety accessories like shower seats and grab bars to help people with limited mobility. Contractors also work on projects like cruise ship stateroom remodels to upgrade bathroom fixtures in mass renovations – within the same day!
Touchless options
Another trending category of commercial bathroom fixtures is the touchless type. Various resource and water-saving technologies are used to promote environmental friendliness. These include touchless or motion-sensor faucets, toilet flush systems, hand dryers, paper towel dispensers, soap dispensers, and sanitizer dispensers.
Motion sensors are also used to control the lights based on movement detection. These technologies save up resources by eliminating wasteful consumption of water and electricity. The touchless feature easily promotes a COVID-proof environment, making motion-sensor accessories a widespread pursuit for the bathroom remodeling. Minimized contact reduces the risk of cross-contamination, especially in easily vulnerable places like hospitals. For this reason, touchless fixtures have become a commercial norm to ensure the safety of people in public areas.
The before-and-after moment of truth
Like all renovation projects, commercial bathroom remodeling requires the expertise of skilled contractors. They should have versatile portfolios in the industry to showcase relevant experience in commercial as well as community housing sectors. Bathroom renovations allow businesses to upgrade to new codes, install resource-saving technologies, improve sanitation, and increase personnel comfort. Hiring trusted and licensed professionals for the job keeps your investment in the right hands from the beginning – allowing the grand reveal to speak for itself!