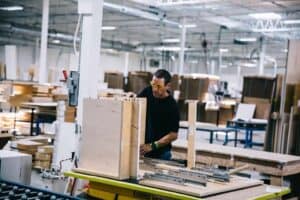 Image credits: Metropolitan Cabinets and Countertops
Good cabinet manufacturers easily stand out in their cabinet designs because of high-quality details that are consistent throughout the product lines. You can tell that a certain cabinet set has been manufactured by someone popular just by looking at the finishes, neatness, and overall aesthetic appeal. Apart from machined precision, there is also some level of handcrafted touches for adding artisanal vibes to any interior. Most in-house cabinets are manufactured as framed and frameless designs that go well with kitchens, bathrooms, laundry rooms, offices, storage options, etc. So, a reliable company should be able to offer multiple cabinet styles for your choice of interior design, functionality, and cosmetic appeal. To understand how to find cabinet manufacturers for your specific project, you need to first decide what you are looking for.
Some people might want replacement cabinet doors or other parts for preinstalled cabinets that were already present in their full-furnished home. If this is the case and you are not sure who manufactured those cabinets, you will have to look for clues before contacting the manufacturer for compatible replacement parts. Likewise, you might be planning to order brand new cabinets for your kitchen remodel and need to find a good cabinet manufacturer. In this article, we will discuss both possibilities and also explore some of the best cabinet manufacturers you can work with.
How to find cabinet manufacturers for preinstalled cabinets
In this scenario, we will assume that you have a set of preinstalled kitchen or bathroom vanity cabinets in a furnished home/apartment. The cabinets were already there when you moved in, and since you did not order them, you might not know the manufacturer either. If you are planning a remodeling project and would like to preserve the same cabinet style, it is important to reach out to the correct manufacturer who will send matching and compatible doors, hinges, mounting systems, etc. This will also help you maintain cohesiveness in terms of color and finishes if you are replacing only a part of the entire set. Here are some ways to find out who manufactured your cabinets.
Search for logos, stickers, and labels
The easiest and most obvious place to start is by searching for the manufacturer's name on your cabinets. You can identify the brand through any printed stamp, logo, sticker, label, or plate somewhere on the cabinets or drawers. Cabinet manufacturers can place their names on different areas of the cabinet or drawer during the manufacturing process. It can be time-consuming to locate the logos if they are not already placed somewhere visible and easily noticeable – and this lack of self-acknowledgment is still a mystery to us! Brand stamps are essential just like an artist's signature on a painting. When a cabinetmaker is identified easily, people who like the cabinet designs will actually know where to go and place an order – cue future projects for the company! You can start by searching the drawer sides, edges, cabinet sides, and shelves for possible logos. You might find a sticker or a label on the cabinet doors, behind the cabinet box, or even at the bottom. Some manufacturers choose to emboss their logo or brand name on the metal hinges and other mounting hardware, so you might get lucky here if there is no sign of a sticker anywhere else. Quite often, it is easy to spot the engraved name outside the drawer or cabinet box – the edges are common places for brand stamps.
Scan QR codes
If there are no brand logos on the cabinets, try searching for any QR codes on the panels, doors, and drawers – including the insides of the drawers. Modern cabinets that are installed just a few years ago are more likely to have a QR code hiding somewhere compared to older cabinets, so the age of your cabinets will be a helpful clue.
You can scan the code using a QR code reader app, and it should take you to the manufacturer's website – hopefully, they are still in business!
Check for the KCMA seal
Another major clue for tracking the manufacturer is through a Kitchen Cabinet Manufacturers Association (KCMA) seal. It is only there to indicate the cabinet's certification, so you might ignore it at first glance. However, if you look closely, there should be a code or a manufacturer's name underneath the KCMA logo. These stickers can be found on the sink base cabinet doors or even on other sides. Cabinet manufacturers in the US that pass the approval and testing standards of KCMA will receive such certifications. So, the seal indicates that these KCMA-certified cabinets are verified for durability and professional results. The cabinets are quality-tested, while the manufacturing facilities are inspected and approved for sustainability (if applicable), which is a great option for those who prefer green manufacturing. The KCMA seal with its code and company name should look something like this: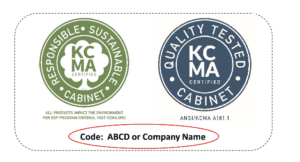 Image credits: KCMA
KCMA is not a cabinet manufacturer on its own. It is a certification authority that represents all trusted manufacturers in the US and has set the benchmark for cabinet industries to follow. If your cabinet is indeed KCMA-certified and includes the seal, it will make your job easy to find the manufacturer. You can locate the right company by visiting KCMA's Manufacturer Look-up Tool. Just enter the code or company name mentioned on the seal, and the webpage will display the relevant manufacturer. In this way, you can find who manufactured your preinstalled cabinets and finally place orders for compatible replacement parts, doors, panels, hinges, etc.
Assuming that at least one of the above clues works and you find a name, congratulations! Go ahead and browse their social media pages or websites for more information.
If none of the above options work, and you cannot find any clues to trace the manufacturer, you are only left with visiting a local store as the final resort. Consider taking a panel or a door of the old cabinets with you to the store if you want to replicate the style for your kitchen remodel. This will also help if the current cabinets were custom-made and are not available off-the-shelf in any store. Custom cabinetry will have tell-tale signs like high-quality finishes, fine detailing, superior craftsmanship, hardwood construction, specialized storage, and all-metal hardware. So, even if you cannot find who made them, you can always improvise with the available local options. The following section includes some tips for finding a good company.
How to find a good cabinet manufacturer
Get your specifications right
Before you even begin searching for good manufacturers, make sure that you understand your own cabinetry needs in terms of assembly types, materials, door styles, storage requirements, finishes, and price ranges. Cabinets can be built in different types like custom, semi-custom, and ready-to-assemble (RTA) cabinets, with custom cabinetry being the most expensive depending on the high-end options you pick. You can choose from a variety of materials like solid wood, engineered wood, plywood panels, veneers, etc. Cabinets can also be manufactured as framed or frameless designs. The frameless style is very seamless and looks great in updated modern kitchens and bathroom vanities. This brings us to the overall design you prefer. Consider what kind of cabinet aesthetics appeal to you: traditional, contemporary, vintage, and so on. If you want to add optimized storage solutions like roll-out trays to your cabinets and drawers, add those expectations to the list.
Use the KCMA search tool
Once you have all your cabinet requirements ready, you can visit the KCMA website to find KCMA-certified cabinet manufacturers. It is an efficient way to narrow down your search and locate only certified companies. You can also search for sustainability-approved manufacturers with an Environmental Stewardship Program (ESP) seal. The search tool will make your work simple by displaying approved, verified, and certified names that you can trust. Only reliable manufacturers will guarantee good-quality results that last a long time. They will also have the required experience to meet your custom specifications for design and storage, which in turn means that they can deliver everything on time and within budget!
Follow social media breadcrumbs
Once you have shortlisted your potential cabinet manufacturers, you can visit their websites and social media pages to find out more about their work popularity. If a company is active on Facebook, Twitter, Instagram, Pinterest, or YouTube, it is willing to share all the completed work so far to help viewers understand the services better. Only a passionate and thriving company will want to showcase its efforts and reach out to the public to build a reputation. This should give you a proper glimpse into the manufacturer's portfolio, which speaks volumes about the company's transparency. Check whether the manufacturer is licensed and builds cabinets that are KCMA-certified (their websites should have a KCMA seal). If you have picked a company from the list of KCMA-approved manufacturers, then this is all the assurance you need. Customer reviews and ratings are other crucial metrics, so make sure you read what the past clients say about their experiences with the company. You can always ask your friends, families, or neighbors for referrals, especially if you like their cabinet styles and want to contact the manufacturers for your upcoming project. When you contact the company, do confirm their offered services, and find out if they have the relevant expertise for your project. Ask them if they can deliver what you have in mind within the given budget and timeframe. With all the quotes from potential manufacturers, you will be able to make a more confident decision.
Schedule a visit
A good cabinet manufacturer should look forward to collaborating with clients and helping them figure out the best possibilities. This includes being ready to welcome customers to the showroom or workshop. In most cases, the websites will have a "Locate A Dealer" option to help you out. You might want to give them a virtual tour of your kitchen beforehand to discuss the available choices when you meet in person. People prefer face-to-face meetings to be able to evaluate the place and decide if the teams are professional, transparent, and easy to communicate with. If they are being too biased and unaccommodating, this is a huge red flag for homeowners looking for long-term collaborations.
Best cabinet manufactures
Now that you know how to find a good cabinet manufacturer, here are 3 of the best companies that meet the criteria.
We think that they check all the boxes for a good manufacturing company and will make a great reference point if you are not sure where to begin.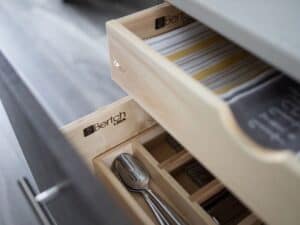 Customer-oriented
Located in Waterloo, IA, Bertch has been around since 1977. It is one of the leading cabinet manufacturers in the US because of its family/customer-oriented approach that speaks to the people. You can easily find a showroom near you by entering your zip code on the website. All the Bertch dealers and associates are known for their passion, professionalism, and collaborative zeal. Most importantly, the manufacturer delivers quality craftsmanship in all of its cabinets. It also has a well-established social media presence on Facebook, Instagram, YouTube, Pinterest, and Houzz. Quick trivia: you can easily locate the Bertch logo and name inside your drawers!
KCMA-certified
Bertch is a KCMA-certified cabinet manufacturer and has the Environmental Stewardship Program (ESP) certification for its sustainable practices. The company focuses on reforestation, recycling, and giving back to the environment. It produces its own components, so the reduced outsourcing keeps the overall carbon footprint under control. Bertch is also re-certified each year to renew its KCMA status through testing and inspection. Thanks to the brand's environmental consciousness, all the cabinets manufactured at its facilities are free from Volatile Organic Compounds (VOCs) – so no toxic fumes sneak into your home's indoor atmosphere.
Portfolio-rich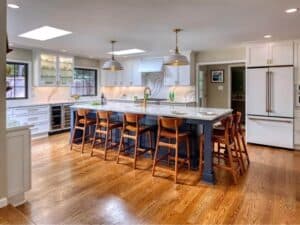 Bertch has a photo gallery for all of its cabinet types and storage options. You can also browse its portfolios on social media pages. You will find kitchen cabinets, bathroom vanity cabinets, organizer drawers, optimized storage options, cutlery trays, and many more varieties. There are also multiple wood finishes and styles to help you customize the right cabinet outlook for your space.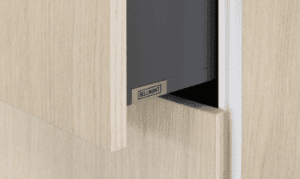 Family-owned
Bellmont Cabinet Co. is located in Sumner, WA, and was established in the year 1988. The family-owned company is a leading cabinet manufacturer for frameless cabinets. It has independent dealers that you can locate easily on the website for nearby options. We like that the company sends custom samples of chosen cabinets and hardware to give you a better look and feel of the actual product. Just a heads-up, look for the Bellmont plate on drawer edges!
KCMA-certified
Thanks to Bellmont's eco-friendly ethics, the manufacturer has been awarded KCMA's ESP certification for environmental sustainability. You will find affordable and eco-friendly cabinets that are made using sustainable materials and processes. This also highlights the company's energy efficiency and waste management practices – which makes it an overall responsible manufacturer that cares about what goes back into the environment.
Versatile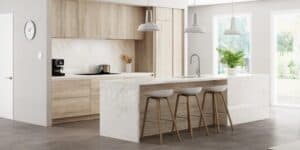 Bellmont is a truly versatile manufacturer with a vast portfolio to back its experience in this industry. The facilities use the best automation tools combined with artisanal touches to build durable and elegant cabinets for both kitchens and bathrooms. You will find multiple styles, frameless doors, high-quality finishes, and creative storage ideas. There is better product value in these catalogs for people who have limited timeframes and strict budgets. The cabinet construction itself is quite dynamic and meets the standards of traditional, modern, or a mix of both trends. Bellmont's Color Select Program is available to help you decide on your color palette.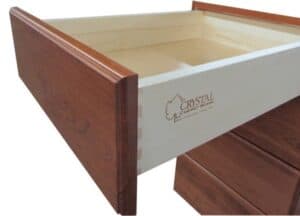 Long-standing
Crystal Cabinet Works dates back to 1947 and is a family-run manufacturing company in Princeton, MN. It has independent kitchen and bath dealers that supply the company's top-quality cabinets. This cabinetmaking endeavor started out from a garage and is now a massive competitor in the industry. Apart from building custom cabinets, the manufacturer values its collaboration with people and keeps all the staff and customers at the heart of its success. You can follow the brand on Instagram to explore its ready-to-share portfolios, which are also showcased on Facebook, Houzz, and YouTube. A company that is driven by hard-working people keeping the tradition alive for so long has got to be on our list of the best cabinet manufacturers – who also make the effort to leave the brand logo in plain sight!
KCMA-certified
Crystal Cabinet Works is KCMA-certified under the ESP category for sustainability. The manufacturer reduces waste, uses green products and processes, and increases energy efficiency for all operations. It has an award-winning dust collection system that reduces dust emissions and keeps the air cleaner. This means that each cabinet that leaves the manufacturing facility has been made with the least harm to the environment and remains eco-friendly throughout its life cycle. The non-emitting coating is one example of how safe the cabinets will be once installed in your home.
Competitive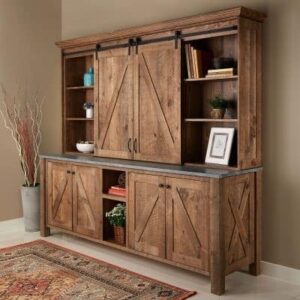 Cabinet construction at Crystal Cabinet Works features the finest details, finishing touches, and craftsmanship by the company. These cabinets are built to last, so they make a worthy investment for new homeowners looking for all types of kitchen/bathroom/living room cabinets. You can choose between affordable custom and premium custom cabinets, both of which offer a variety of door styles, finishes, and specialized storage options at their respective prices. You will find framed/frameless cabinets, rollout shelves, cutlery trays, spice drawers, appliance storage cabinets, blind-base cabinets, and many more choices.
Conclusion
That was the end of our guide on how to find cabinet manufacturers for different purposes. The key takeaway is that you should hire a company with the right expertise to make the kind of cabinets YOU want. It should meet the given deadline for the kitchen renovation, bathroom remodels, etc. This is because the cabinets need to arrive on your doorstep just in time for the installers to assemble everything together, place the countertop, and move on to the next deliverable. Otherwise, the subsequent stages might collide and damage your project timeline, especially if it is a large-scale project.