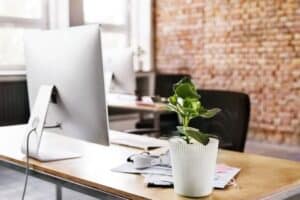 Image credit: Westend61 via Getty Images
Indoor plants make great additions to office décor and are often incorporated into the main design elements of the interior space. Most indoor plants thrive well in sunny rooms, but there are others that rely on just the ambient, artificial lighting from LEDs, which are excellent for windowless offices (both professional and home offices). When it comes to choosing the best plants for an office desk with no windows, you need low-maintenance options that are easy to care for and can survive in low-light conditions.
They should look neat and presentable on a desk, so you might want to avoid plants that grow too fast or start trailing downward – depending on what kind of office you work in. In this article, we will focus on indoor plants that meet 2 key requirements: can be used in windowless offices AND look great on a desk.
Best plants for office desks with no windows
Snake Plant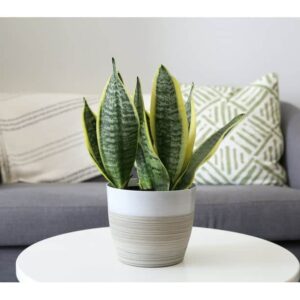 Costa Farms live indoor 14-inch tall green snake plant
Snake plants – or sansevieria – are native to Africa and make very desk-friendly indoor plants thanks to their tall, upward growth. They are easy, low-maintenance plants that you can use in windowless offices because they do not need bright sunlight to grow. Snake plants use less water than most indoor plants and do not require frequent re-potting, so that is a huge plus for office settings. They rely on bright indirect lighting from your office LEDs for healthy growth and go well with ZZ plants, pothos, and aglaonema – we will meet these plants below! You can use a neutral-color pot to let the dense shade stand out and add a pop of green to your office desk.
Devil's Ivy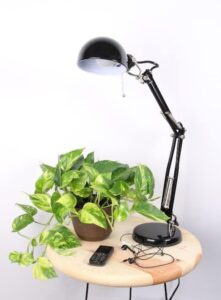 Costa Farms live indoor 10-inch tall green devil's ivy
The devil's ivy is also known as pothos, and it is a lovely trailing plant that looks better on private office desks for those who like a bit of green trailing down one side. You might not want to use this on workstation desks because it can get in the way and look messy. The devil's ivy has heart-shaped leaves that thrive on low, indirect light and need minimal watering, making them an excellent choice for windowless offices. Native to southeastern Asia, Australia, and the Pacific, they are one of the easiest, beginner-friendly indoor plants that you can simply place on one corner of your office desk and let them do the talking!
Chinese Evergreen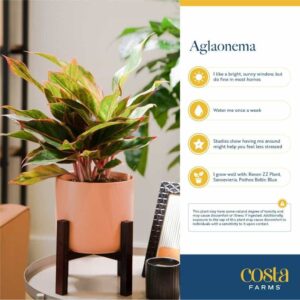 Costa Farms live indoor 24-inch tall multi-colored Chinese evergreen
Chinese evergreens are also called aglaonema, and they are one of the best plants for office desks with no windows. Native to tropical Asia and New Guinea, you will find both green and variegated leaves that grow under low to medium indirect light. They add an effortless pop of color to your desk space if you use the red and pink varieties. Chinese evergreens also grow upward and have a neat, symmetrical feel about them that looks great on office desks.
The best part is that these leaves (especially the green ones) can grow well under artificial lighting, so the light from your desk lamp or even your office's ambient lighting will be sufficient to help them thrive. Direct sunlight can burn and damage Chinese evergreens, which is why they are so popular in windowless rooms. You can water them once a week – the leaves are one of the easiest to care for and maintain among indoor plants. You can even combine Chinese evergreens with snake plants, devil's ivies, or ZZ plants for adding a more upbeat, tropical touch to your office desk.
ZZ Plant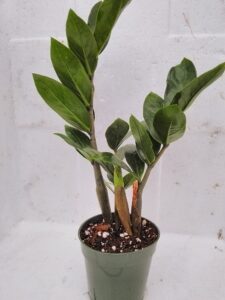 The ZZ plant is another desk-friendly option for offices with no windows. Its upward, symmetrical foliage makes it ideal for office desks, which is great if you do not like trailing leaves or messy clusters at work. Native to eastern Africa, the ZZ plant is also known as the Zanzibar gem and requires moderate watering and low-light conditions to grow. It can tolerate a lack of sunlight, so having no windows is not a problem at all. Your fluorescent office lighting will be enough to keep the plant healthy. ZZ plant leaves are pretty shiny and spotless. They make great standalone design elements in an office – you can use a simple, neutral-color pot to highlight their rich green color.
Peace Lily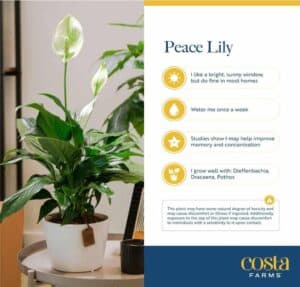 Costa Farms live indoor 15-inch tall white peace lily
While peace lily flowers grow best under moderate sunlight, their leaves can thrive in artificial lights quite well. This makes them one of the easiest, low-maintenance plants for windowless offices where the ambient fluorescent lighting is enough to grow them – direct sunlight will, in fact, burn the leaves. The dark green foliage looks wonderful on desktop corners and has a funky vibe to it that owns the space. Peace lily is native to South America and grows well with devil's ivy, so you can mix and match if your office layout allows for some trailing plants without looking messy.
Dragon Tree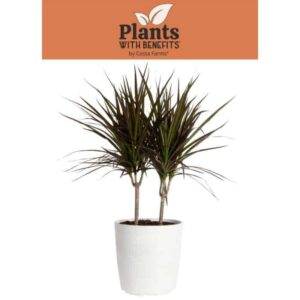 Costa Farms live indoor 36-inch tall multi-colored dragon tree
Dragon trees do well in filtered low-light rooms, and they never prefer direct sunlight as too much sunlight can burn the leaves. This makes them one of the best plants for office desks with no windows. Native to the Canary Islands and some African regions, dragon trees have longer and more visible stems with spiky leaves. They add a very structured and purposeful vibe to office desks and are quite easy to grow. The upright foliage often includes bright green leaves with red or pink edges. On the whole, it makes a trendy choice to place in home offices, workstations, and private offices.
Arrowhead Plant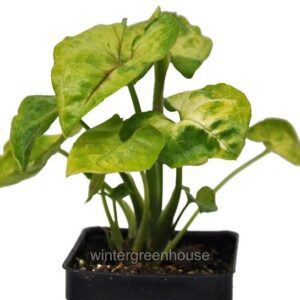 Winter Greenhouse arrowhead plant
Arrowheads grow well under fluorescent lighting and are popular plants for windowless offices. They have arrow-shaped leaves that grow vines, but these can be guided upward or along your workstation panel with the help of a post – arrowheads are conveniently adaptable plants that take the direction you give them! You can also trim the vines regularly to keep a short plant that looks neat on your desk. Arrowhead plants often have variegated leaves and brightly veined patterns. They make excellent green companions for office employees and can thrive in any environment. Native to Central and South American rainforests, arrowheads are the go-to indoor plants for most people because they are easy to look after and can grow into different arrangements.
African Violet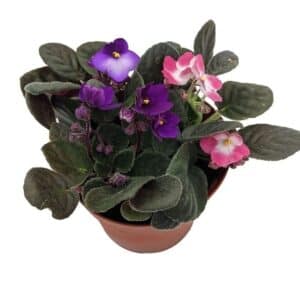 Hirt's Gardens novelty African violet
If you want to add a pop of color to your desk, then consider buying African violets. They bloom beautifully, grow well under a fluorescent lamp, and are easy to maintain – which makes them the best plants for office desks with no windows. Direct sunlight is harmful to the leaves, so having no windows will not be an issue at all. African violets can bloom all year round, with colors varying depending on the season. They look simply stunning as a cluster of violets sitting in the middle of oval green leaves, forming a standalone décor element even in small workspaces like confined home offices and workstations.
‍Lucky Bamboo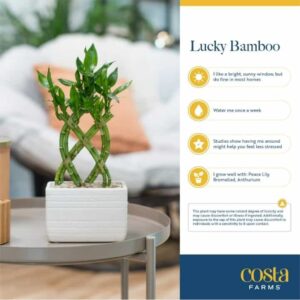 Costa Farms live indoor 10-inch tall green lucky bamboo
Lucky bamboo is a beautiful, versatile plant that can thrive under artificial lights. It has slow-growing leaves, which makes it an easy desktop companion with minimal maintenance. You can also twist the stems into various shapes like spirals and hearts for a patterned look, and now you have an indoor plant with a sense of style! Lucky bamboo is native to Central Africa and grows well with peace lilies. It can grow in both soil and water environments and is quite beginner-friendly. Overall, lucky bamboos make excellent plants for windowless offices and look simply charming on a desk.
Dwarf Umbrella Tree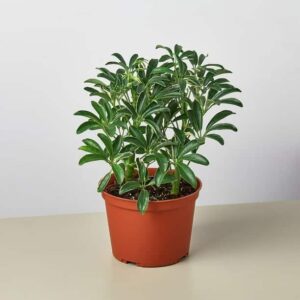 House Plant Shop dwarf umbrella tree
The dwarf umbrella tree plant is quite visually creative on its own. Each stem has 7 to 9 leaves arranged in a circle – like the petals of a flower – so this is a refreshing change from simple, tall, or rounded leaves in offices. The leaves of this plant are glossy and easy to look after. It is the perfect desktop plant for windowless offices because it easily adapts to your existing office lighting and grows towards it. You might have to turn your dwarf umbrella tree plant more often to help each cluster face the light source evenly.
Tapping Into Hydroponics
We cannot talk about growing plants in a windowless office without mentioning hydroponics. A hydroponic system uses water instead of soil to grow various plants like flowers, herbs, and vegetables. Most indoor systems come equipped with LED grow lights to aid and maximize photosynthesis using just the right wavelengths the plants need. In this way, you can grow your plants anytime, anywhere without relying on sunlight. Different desktop designs are available in a range of sizes to suit your office setting, and you will find hydroponic systems with small footprints for limited spaces as well as medium to large units for more spacious offices. You can easily grow peace lily, freesia, lucky bamboo, devil's ivy, Chinese evergreen, and several other plant types in your hydroponic garden.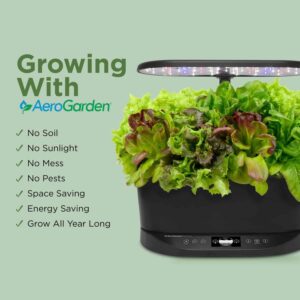 AeroGarden hydroponic system with LED grow lights
AeroGarden hydroponic systems are great examples. They feature a sleek and desktop-friendly design that includes a touchscreen control panel, overhead LED grow lights, a pump, and a plant bed. You will also receive a seed pod kit with your hydroponic garden.
The system can be automated for lighting levels and plant food reminders, and you can grow up to 3 different plants at a time. AeroGarden also offers narrower designs that look great on confined office desks with no windows. They are an efficient way to grow your favorite plants at work and add some life to your workspace. Thanks to their low-noise designs, both you and your plants can co-exist peacefully!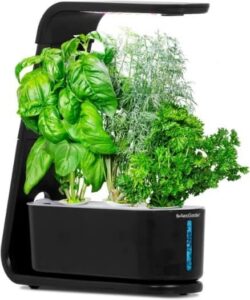 AeroGarden Sprout hydroponic system
The best part about hydroponics is that the system is very beginner-friendly and anyone can grow a hydroponic plant with zero gardening skills. These units have varying LED light levels to suit flowers, herbs, and vegetables, so you can choose the right level of brightness depending on what you are growing – in the case of offices, it must be a flower for sure!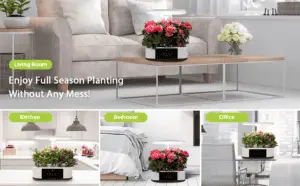 KIMORE hydroponic garden for offices
Overall, hydroponic plants check all the boxes for workspace convenience:
Minimal upkeep
Year-long growth
No need for windows
Desktop-friendliness
Suitable for different plants
Whether you want a simple setup or a more elaborate indoor garden, there is always something you can find in the world of hydroponics to celebrate your favorite plants and watch them grow at work.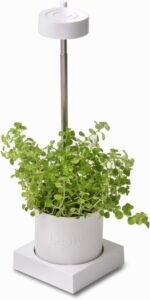 Spruce Up Your Desk With A Bit Of Green
Adding plants to your workspace has tons of benefits. Plants offer a decorative element to your office, help to boost your mood, and simply create a visually interesting desk where you feel inspired to work. Thanks to the plants that can adapt to artificial lights – and to the magic of hydroponics – it is possible to grow your favorite plants in offices with no windows. We discussed some of the top indoor plants that fit this category to help you buy the right varieties for your office desk. We have spared you their botanical names for simplicity, so don't get alarmed if you come across names like Dracaena trifasciata (snake plant) or Spathiphyllum (peace lily)!
While buying live plants online, make sure to read the reviews left by previous buyers. Brands like Costa Farms are popular among nature lovers for key benefits like excellent plant packaging, perfect plant condition on delivery, and sufficient care instructions. You need crystal clear details on how to care for your ordered plant, and a reliable seller should provide all these details for you to see – such as light duration, amount of water, soil-changing frequency, and so on.
You also need to watch out for plants that might have poisonous sap and can be toxic to touch or be around, often leading to allergic reactions. Some examples include devil's ivy, snake plant, and peace lily. If you have pets at home and need a plant for your home office desk, make sure to avoid plants that can be toxic to your pets. For these reasons, it is always worth doing some research on your chosen plants and reading the comments sections online before placing an order.
Finally, the right indoor plant for windowless offices should be easy to care for and look wonderful on its spot – no green thumbs required – with a solitary reminder: If I can, so can you!