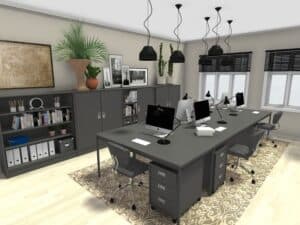 Good planning is important to create an office design. A well-planned office design enhances productivity and plays a part in the well-being of your employees. When it comes to project the layout of your office, many people turn to architects or interior designers for professional advice. As a general contractor I have experienced companies trying to get a layout back from a designer and from my experience I can tell you two things: 1) designers are not cheap and 2) designers are usually pretty busy. So when a designer is brought into the fold you usually have to pay a lot of money to get something later than you want. Since your office design should reflect your company and the way you like to work internally and with your customers, you may like to design the layout of your office and its surroundings yourself. If you are in a hurry here is a table of our favorite office design software:
| Title | Why We Like | Rating | Free Trial/Version | Price | |
| --- | --- | --- | --- | --- | --- |
| RoomSketcher | Best Overall | | Limited Use | $49/Year | Check Price |
| SketchUp | Best Free Version | | Limited Use | $119/Year | Check Price |
| CAD Pro | Best Value | | No | $99 - One Time Fee | Check Price |
| AutoCAD | Most Powerful | | Yes - 30 Days | $1,775/Year | Check Price |
Now, this is probably just me being part of the industry and thinking that we are "experts" but just as a warning there is SOMETIMES a lot that goes into planning an office layout. If you have never done it before and there is a new, wide open space that you have to plan, or if you are looking at a number of unique potential office spaces to lease, and you don't have a really good idea about what to do, then I will always suggest hiring a professional. That can mean either an interior designer, or an architect, or a general contractor. Ultimately the person making a final layout (in most cases) will end up being a professional architect or interior designer. I will tell you one advantage of calling a general contractor is that we usually perform the service for free and we can also give you an idea of how much the overall construction or furniture project will cost, which is always the most expensive part of an office layout. If this doesn't scare you and you still want to get started finding the best office furniture layout design software then great! Here is what I look for in a good office design software!
Things to Look for In Office Design Software
Ease of Use
I have been in the industry long enough to know that one of the most important things about laying an office out for someone is that it needs to be done fast! A company who needs layout information is either in the middle of deciding on a space that they are about to buy our lease, or they are outgrowing their current space and needs to figure out how to fit more people into the same about of space (we call this "compressing" in our industry, sounds cute, right?). I can assure you that none of these situations allow you to take your time in finalizing the layout. Along those same lines the last thing you are going to want to do is learn a new complicated software before you dig into your office layout, so ease of use is certainly something that you want to keep in mind when deciding on an office layout planner software.
Accuracy
Right behind "ease of use" is going to need to be accuracy. I can't tell you how many times I have seen a layout done that is using inaccurate portrayals of a desk or table and then after we do the final design of the space our client saying "I thought this was going to be bigger/smaller/different, etc…" When doing a design for an office you need to worry about a few things: the flow of people and proper use throughout the office, the layout of each private office or workstation (if you are building an "open office"), and meeting building code for your local jurisdiction. All of these aspects require pretty good representation of exactly how big your overall office space is, and how big everything is that you are putting into it.
Appearance
This is probably less important to me, but I am guessing whoever is reading this – whether you are the company owner, the CEO's assistant, the "director in charge of office layouts", or an interior designer or general contractor – you are probably presenting this information to someone who considers you to be a professional, so you are going to need a professional looking floor plan at the end of the day. Now, I like a nice hand sketch on a good piece of graph paper just as much as the next guy, but unfortunately I haven't pulled my pad of "graph paper" out for years, mainly because anything I do by hand can't be read by anyone other than myself and some of my long-term employees who work for me. For that reason we are going to review exactly what the "end product" looks like that you will ultimately share with others to make sure that it looks clean, it presents the information clearly, and it doesn't cause a lot of confusion when someone else other than you look at it.
Price
I am not going to lie, design software can be "insanely" expensive. There aren't a lot of major players out there, especially good major players, so some of the firms definitely take advantage of the lack of competition. Luckily a lot of software companies understand that no one is going to throw down hundreds of dollars for software before they make the purchase. So we are definitely going to pay attention to how much the office design software is ultimately going to cost if you buy it "permanently" but also look at if a trial period is offered to use the software, and how much time does the trial period last for the office design software?
Office Furniture Layout Software Options
Fortunately, there are are a myriad of design layout software available online that can be used to design the layout of your dreams. These free online design layout software require minimal training and feature easy to use interfaces. You will be able to create simple designs and 3D programs in no time. Here is a list of some of the most intuitive, easy to use and popular software that will help you to add value to your office layout.
RoomSketcher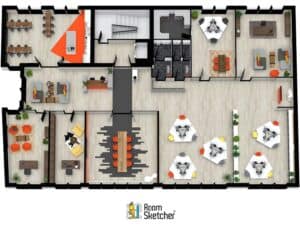 RoomSketcher is high on the list of providing easy to create office design layouts. It features a RoomSketcher App which comes as an easy to use floor plan along with home design software that allows you to design your office layouts online. It offers one of the most approachable and easy ideas to create office layouts, furnish and decorate, and then see these office design in 3D. Whether you have never drawn a floor plan before or you are an office design professional, you can draw a floor plan for your office in a jiff or if you don't have that much time you can easily order a floor plan from RoomSketcher's floor plan services. It is equipped with a plethora of designs and offers versatile ideas to meet your office design software needs. Whether you are planning an office remodel, an office move, a new office furniture layout, or you are giving office designs for clients, RoomSketcher covers it all.
SketchUp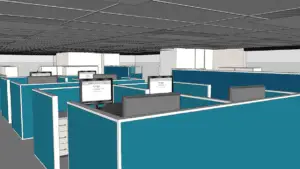 SketchUp is an intuitive online software that enables users to design custom 3D layouts in no time. It was originally created by Google but has since been purchased by Trimble so I can only imagine that they continue to improve it's accuracy and ability to model your space. It features a vast 3D inventory that is exceptional for creating your desired look. It allows office furniture and break room appliances symbols to be customized in order to perfectly fit your model. At the same time, the layout building commands are easy to use as well. Because of these reasons, you will be able to design an office floor layout with just a little practice. This software allows you to create 2D drawings, 3D floor plans, and customize each layout unless you have achieved your desired look. It is free to use for personal purposes, however commercial customers need to purchase a license for it. The large number of options SketchUp offers makes it one of the best software for office layouts in the market. Additionally, its PRO version allows you to export the drawing files in image files, PDF, or CAD for more convenience.
I have used Sketchup for many years – even when I have had access to AutoCAD through our company, and I can safely say that Sketchup is AMAZING. You can nearly do everything in Sketchup that you can through a full CAD design program. Although Sketchup is slightly less accurate than AutoCAD or similar we are talking only fractions of an inch and the ease of use and abilities of Sketchup more than make up for the lack of accuracy. When you are laying out an office who cares about 1/4″ when you can drag and drop nearly any piece of furniture that you want. The vast library of user generated furniture and wall models are really what sets Sketchup apart from the rest because the options that you can add to your office are nearly unlimited and give you the ability to quickly place and relocate any piece of furniture that you want. Be careful because you may find that you are having too much fun while using Sketchup and you may not be able to stop!
CAD Pro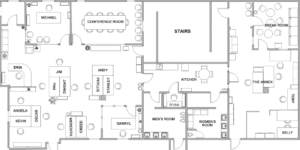 CAD Pro creates precise and professional office designs for your home offices, commercial office spaces, dental and medical offices, cubicle layouts and plans, warehouse designs, seating charts and much more. It allows you to incorporate voice instructions into your office layouts and designs. You can also add pop-up photos, pop-up text memos in order to support areas for specific detail and transform office layouts that can be visualized. CAD Pro features a plethora of symbols and clipart free and allows you to design your symbols or clipart as well that can be saved for quick placement in your office designs. It also allows you to scan any of your sketched office designs which become a traceable template that can be easily modified according to your desire. Moreover, you can also share your drawing with clients using Google Drive, Dropbox, OneDrive, Facebook and SharePoint, and also export those designs to Microsoft Word, PowerPoint, Excel, and PDF through a single click.
Autodesk AutoCAD (or Revit)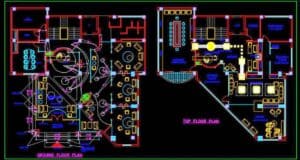 In the architectural design and construction industry Autodesk's AutoCAD or Revit (3D) is considered to be "best in class" in terms of design software. AutoCAD has been around longer than a lot of architects and interior designers (1977) and really became the industry "standard" around 1986 when it become available for use on personal computers rather than mainframe computers. A lot of CAD software companies from back then have since gone by the wayside but Autodesk has remained on the forefront of CAD design software since then and remains to be the industry leader (by a long shot) for architectural and interior design.
What does that mean for you as the designer of an interior office? AutoCAD is a very powerful tool, and it is capable of designing nearly anything from an office or building perspective. However, since it is so powerful and so customizable it essentially takes months to learn the software properly. I personally haven't bothered to learn the software because I don't dabble in design enough for it to be worth it to me and for me to retain enough user knowledge about the software to keep up with it. For me I think it's a pretty easy decision in regards to AutoCAD: If you already know the software well then you can't beat it. If you have long term aspirations to become a designer (interior designer or architect) and are passionate about design and you want to gain access or already have access to the software then it's a no-brainer, get the best software in the industry. If you don't want to dive head first into the design world and just need to cram an office design out quickly? Then don't go down this rabbit hole!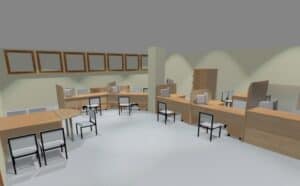 PRO100 is an easy to use software to design office layout that can be used by retailers, manufacturers, consultants alike. This professional 3D sales tool provides a visual 3D presentation or any other view the prospects would like to see. You can drop and drag pieces to place them wherever you like and try different textures and colors on the fly. PRO 100 offers you to layout standard offices, cubicles, or home offices. Moreover, it can be used to design layout of office furniture, office library, office room design, convention plan, hotel floor, apartment floor design, building plan software and even more. You can design the layout with panels, doors, windows, partitions, etc. PRO 100 does not require any artistic skills as it does most of the work for you. You can shorten the sales cycle by making use of this good office layout design software to engage customers in planning their offices and by allowing them to see the solution, you can close more sales faster.
After using PRO100 for a few days now we can definitely see that it's easy to use. It does seem to be geared more toward a single room layout or a cabinet design layout so it that is your main goal in your project then this will be a great software program for you. However, if you are looking more for an overall office space plan with many different rooms then I think there are some software programs that will be a little bit more geared toward that end goal.
Planner 5D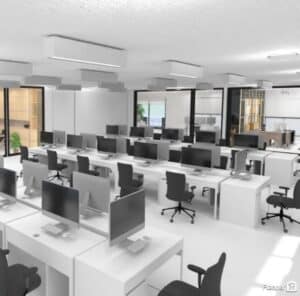 Planner 5D is another excellent software to design office layouts online. It is also one of the most extensive in this regard as it allows you to not only create almost any of the interior layouts but it also lets you create 3D and 2D floor plans for offices, homes, or outdoor additions. Planner 5D is available for Android, iOS, OS X systems in order to meet the needs of all users. Moreover, it features a vast database of design ideas for garages, storage spaces and a choice to transform your layouts into outstanding HD 3D renders as well.
PlanningWiz Room Planner 3D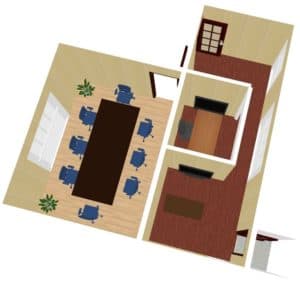 PlanningWiz is a high-quality software that offers a bunch of ready to use 3D designs and many other interesting features. Planning Wiz Room Planner 3D offers you to choose if you want to start a plan from the beginning or start with a room of desired dimensions. You can even start with a pre-designed template or upload an image of the office floor plan you want to use, in case you need any help. Planning Wiz is one of the most efficient and complete free software that is available on the web to design office layouts but you will be required to get a bit familiar with it before designing a layout of your dreams.
PlanningWiz appears to be a little more geared toward home planning rather than office planning but it appears that it can still do the job that you need. It may be a little more difficult to produce a legible floor plan with this software but if you are looking for something that looks great on a computer screen and easy to move furniture around within the software then this is the office layout planner software for you.
SmartDraw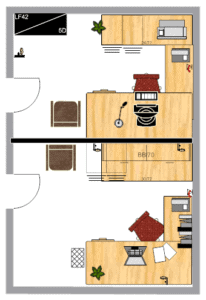 SmartDraw office design software is easy to use and comes with an extensive library of design tools. It has built-in office design templates that you can pick and customize using drag-and-drop symbols for walls, windows, doors, furniture, etc. The software helps you add colors and textures to your design for improved appearance, so it definitely checks the boxes for ease of use and good appearance. You can use it on computer, mobile, and online platforms such as Windows, Mac, Android, and iOS. SmartDraw is increasingly compatible to support quick collaboration with your teams, which allows you to share plans via Dropbox, Google Drive, Google Workspace, OneDrive, SharePoint, and email. Office designs can be exported as PDF and PNG files, and you can always insert them in Office applications like Word. The software provides easy measurement options and ways to customize your office layout.
For example, SmartDraw office layout planner is a comprehensive tool that appeals to beginners and experts alike. You can create readable and customizable plans on any device using quick-start templates and ready-made symbols. There are also symbols to represent wiring, plumbing, security, HVAC, and other technical details. It makes a great software to design office layouts, building plans, office floor plans, store layouts, and even restaurant plans.
Live Home 3D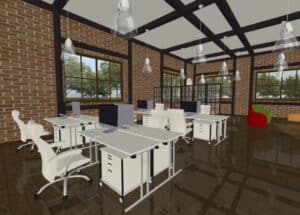 Live Home 3D by BeLight Software is a home and interior design software with multiple fields of use such as office design, landscape design, augmented reality, and virtual reality models. The app offers all the required tools to create 2D and 3D office designs on platforms like Windows 10, iOS, iPadOS, and macOS. It includes pre-designed office templates to build your layouts quickly, and you can also start from scratch to fully customize your space. The software's design tools include various office symbols, blueprint tracing, dimensions, color coding, and floor annotations. You can seamlessly switch between 2D and 3D and continue editing your designs; working in 3D offers a better approach for planning realistic layouts and furniture placements. Live Home 3D supports team collaborations on the same design using export capabilities with JPEG, PDF, PNG, BMP, and TIFF files. You can create 3D video and AR walkthroughs of your office, share 360° videos on YouTube and Facebook, and generate 3D models as well.
Advice on working with a designer
Software apps like those discussed above can be downloaded or used online as cloud-based platforms. The main benefit of using them is that you are in charge of all the layouts and plans and are free to customize them to your liking. If you do want to collaborate with a professional designer, here is a good example of the services you can receive. UPLIFT Desk space planning is a complimentary service provided by the company to help people design creative and custom office layouts. It primarily designs its own office furniture, accessories, and storage options to promote ideal workspace ergonomics. Using these products, UPLIFT Desk offers design and planning services that feature spatial optimization. So, this will be a great choice if you also want to furnish your office using ergonomically built desks, chairs, partitions, etc.
UPLIFT Desk uses an industry-leading software to create professional plans and designs. It has a range of flexible configurations you can choose from. The designs are approved by the company's Certified Professional Ergonomist, so you can visualize the layout with your chosen furniture and accessories by the store before confirming the plan. It is a creative and workspace-conscious way to reimagine workstations and offices using a unique human-centered design for maximum comfort and productivity. UPLIFT Desk has designers who can help you out based on your specifications. The best part is that UPLIFT Desk 3D files and product libraries can be used on platforms like Revit, SketchUp, CET Designer, and other software.
Another benefit of working with this office space planning company is that it provides mobile and acoustic panels to create socially distanced workstations – so you will never have to struggle with permanent installations during reconfiguration stages. These services make the brand a one-stop choice for designing office layouts AND furnishing your space at the same time (you typically only have to pay for the products you purchase, as the layout planning is free or discounted). All in all, if you are seeking the help of a design company, make sure to look for other services and products that can benefit your space in the long run.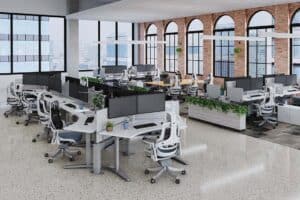 Best Office Design Software – In Summary
There are a lot of software options out there that you can use as an office layout planner. Some office design software is quick and easy to use like PRO100 or Roomsketcher is quick and easy to use, but definitely not as powerful as other software, so it may not fit all of your needs. Some other software such as Sketchup or AutoCAD is VERY powerful, but there is certainly a learning curve associated with it. At the end of the day I am glad that there are many options available to you and I hope that this article can help you to pick the best office furniture layout software for your situation!