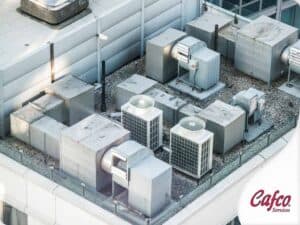 Image credits: Cafco Services
Commercial buildings rely on a good HVAC system that is customized to meet their temperature and indoor air quality standards. A tailored HVAC solution is equipped to create a comfortable workspace for employees by taking care of optimum heating, cooling, and ventilation settings. At the same time, it ensures the right ambient temperature for various commercial operations, equipment, and machinery depending on what type of business you run. Since such projects are long-term investments for a business, it is always recommended to understand your HVAC scope as fully as possible before any work begins – which means that it is time to take your calculators out and get right down to the world of numbers. The overall commercial HVAC unit cost will include both unit prices and installation charges as the primary cost metrics – in addition to other factors that we will visit in this article.
Average commercial HVAC unit costs
On average, commercial HVAC systems can cost between $5,000 – $40,000 or more depending on your project's specifications and complexities. Large HVAC units that require updated ductwork are more expensive to set up compared to small, ductless units. For installing a brand new HVAC unit with ductwork, your costs will average around $12,000 if we are strictly speaking of only unit, installation, labor, and ductwork charges.
For HVAC unit replacement, the project should average around $8,000 – again, without counting in other influencing factors. First-time HVAC unit installations are generally costlier than unit replacements, as configuring the HVAC framework with electrical, plumbing, and duct layouts is more labor-intensive. The following are some key breakdowns of commercial HVAC unit costs based on linear/square footage and hourly rates. The more complex your project becomes, the higher the average costs will be.
Office HVAC unit installation: around $30 per square foot
HVAC unit replacement: $25 and above per square foot
HVAC ductwork replacement: up to $25 per linear foot
Labor charges: around $100 per hour
To fully understand the cost distributions for your specific project, make sure to request a breakdown of associated items that form the final cost. This straightforward cost checklist by Sanalife is a good example, and you can ask for similar breakdowns from potential commercial HVAC contractors while receiving quotes. It will also help you set the budget for standard HVAC units and energy-efficient units based on individual factors like labor and maintenance.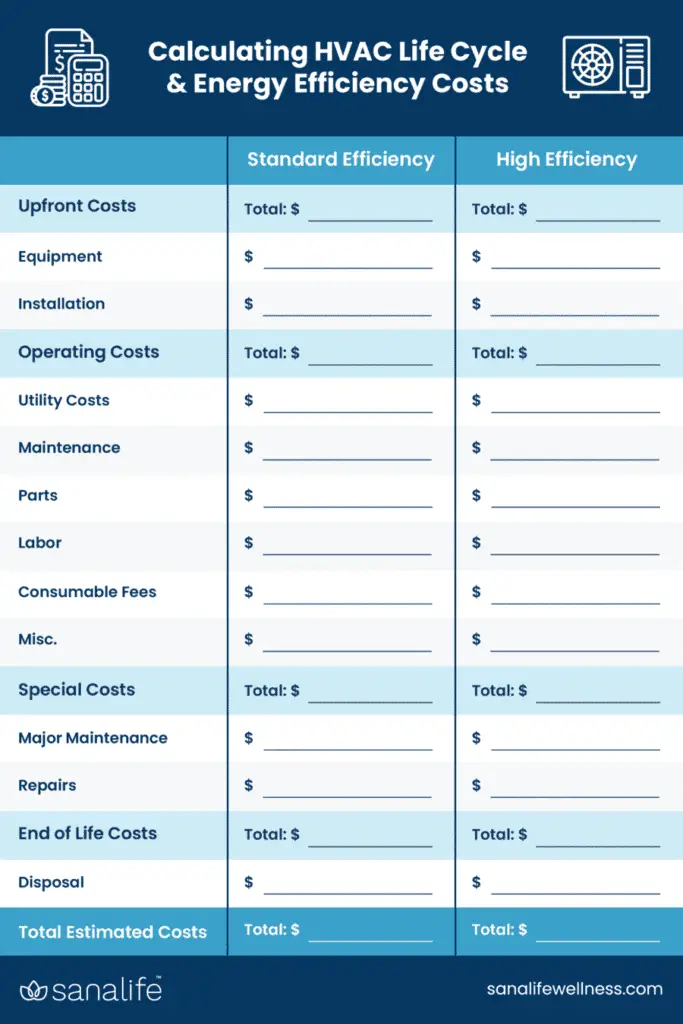 Image credits: Sanalife
Factors that affect these costs
Commercial HVAC unit costs are driven by various project-bound factors that differ for all business types. In general, anything that makes the work more difficult or time-consuming will increase the final cost. For example, materials and labor that are hard to access will make your project more expensive – as will outdated building structures with no proper ductwork already in place.
Different commercial buildings have different HVAC demands in terms of the total space they want to heat or cool, the occupancy levels of each room, the building's insulation scope, and so on. Here are some of the main influencing factors that you will encounter as a commercial business owner planning for the right HVAC solutions – and you can use these as cost elements for detailed breakdowns during the hiring stage.
Unit brand
The first major consideration for HVAC unit costs is the brand itself. Leading HVAC brands such as Lennox, Carrier, and Trane offer top-tier HVAC units, so their costs are also on the high end. You might find a commercial HVAC contractor that partners with such brands to offer more tailored and professional installation services based on equipment, parts, energy efficiency needs, automation, and building retrofits – which is why choosing the right company is so important. The following cost comparisons in terms of brands and unit types from HomeGuide will make an excellent reference point.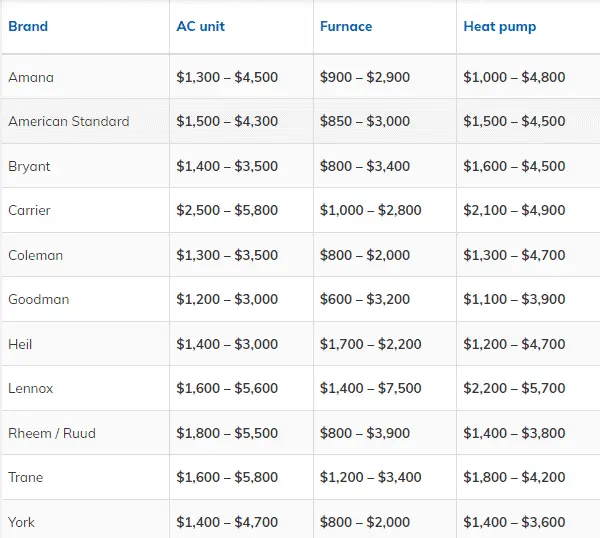 Image credits: HomeGuide
Unit type
The above table also hints at how commercial HVAC costs can differ based on the type of units you want to buy for your building. Your commercial HVAC contractor will help you decide the relevant systems you should install for optimum results, so the unit type, as well as its associated technologies, can factor into the final costs. For example, Variable Air Volume (VAV) systems are designed for better energy efficiency through adjustable airflows based on the ambient temperature, whereas Constant Air Volume (CAV) systems only offer on and off settings at the same programmed temperature. CAV systems include single-split and multi-split units that are ideal for various commercial spaces, however, they have major drawbacks like reduced efficiency and increased bills.
Likewise, installations for rooftop units (RTUs) have technical differences to support features such as HVAC zoning and better coverage. Rooftop units are fully assembled systems that house every HVAC component into the same, all-in-one unit – ready to be installed on the roof. So, they also need to be weather-proofed for extra durability and can have a lengthy installation process. Rooftop installations require a crane, which will add to your equipment charges and is another example of how individual complexities can drive up commercial HVAC unit costs. Apart from choosing compatible unit types, you will also have to think about other cost-driving HVAC aspects like:
Boiler and chiller capacities
Air handling requirements
Unit size for proper heating/cooling coverage
Parts such as tanks, valves, pipes, connectors, sheet metal, ductwork, vents, HVAC insulation, etc.
Building permits
Certain types of commercial HVAC units often need to pass building permits and approvals before being installed. This is because your chosen units should match the building's electrical and plumbing configurations to ensure safety and compatibility. Permit fees can range around $100 for HVAC unit replacements and go up to $1,000 for new installation projects, so it is crucial to get these covered before any work begins. More technical demands in the form of automation controls introduce a whole new range of permits that need to be cleared, especially if your building is quite old and not equipped to handle technology upgrades. In this case, various renovations are planned to first bring the building structure to a technologically acceptable standard before adding the required utilities – followed by a final inspection that gives the HVAC teams their official green light.
Building size and HVAC unit size
The size of your commercial building, as well as the size of your HVAC unit, are both important factors. Choosing compatible unit sizes based on how big or small your building is will help you make the best out of your heating, cooling, and ventilation requirements. You do need expert advice for this part of the project too, so gear up for a detailed consultation with your HVAC contractor before making any purchases.
A unit that is too small for the given space cannot heat/cool the area efficiently and will only end up overworking itself – which also increases the utility bills.
Similarly, a unit that is too large for a commercial space will repeat the heating/cooling cycles more often – which is not very efficient either, as it leads to unit failures down the road. Having an expert connect the dots in this case will help you find units that are compatible with your building's size, offer ideal HVAC coverage, and last longer with optimum usage. Other size-related factors here are the building occupancy and commercial activity for your business. Heavily occupied buildings with more foot traffic – like restaurants and hospitals – will have greater HVAC loads compared to offices and small retail stores. As a result, their requirements for HVAC unit sizes and capacities will differ accordingly for the same square footage.
Labor charges
The labor charges for commercial HVAC unit installation depend on your project's complexity. We mentioned earlier that the overall costs can go up based on how complex your project is, and this has everything to do with the actual workforce responsible for the installation. Old commercial buildings with outdated infrastructures should first be retrofitted in order to become HVAC-friendly, so this adds an extra level of work before the actual units are installed. Quite often, older buildings lack a compatible ductwork layout that can support your choice of HVAC units, causing the installation team to focus on ductwork essentials as well.
Ductwork condition
We have only brushed over the ductwork aspects until now, so here are some key insights into HVAC costs based on the condition of your ductwork. Checking the ductwork status is important before installing any HVAC unit, as your system's energy efficiency and durability can slip through the cracks along with all the escaping heated/cooled air. Your commercial HVAC teams will check the overall condition of the existing ducts, and if any upgrades are needed, these will be incorporated before the installation stage. Faulty ductwork can be too taxing on the installed units because they will have to overwork to compensate for the lost air, which eventually leads to increased bills, inefficient heating/cooling, poor indoor air quality, damaged parts, and unit shutdowns. As a business owner, you might be planning for custom ductwork to go with specialty commercial HVAC units, so now is the time to explore your options with the contractor.
You might as well choose to install ductless units based on your contractor's evaluation, which will reshape your initial budget accordingly. Although HVAC unit installations with new ductwork are quite expensive in terms of the initial upfront costs, they have the long-term benefit of improved efficiency and durable setups that will not need as much maintenance.
Now that we have explored both labor and ductwork factors, here is a simple cost breakdown by HomeGuide that puts the unit-labor-ductwork triangle into perspective: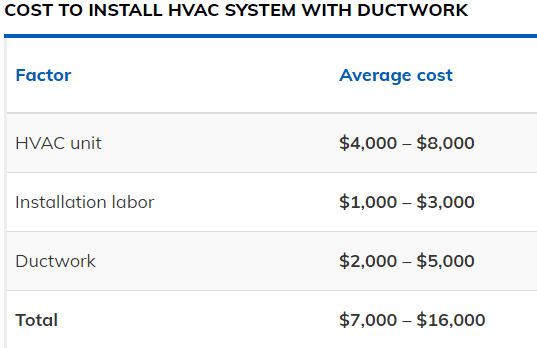 Image credits: HomeGuide
Automation
Commercial HVAC unit costs are also influenced by your choice of automation technologies and thermostat controls. This includes aspects such as smart thermostats and customizable HVAC zones for different users. The "smarter" your HVAC amenities, the higher the costs. Automation features allow businesses to keep a check on their energy usage and plan more efficient management strategies, so this is ideal in terms of going green as a business. Smart HVAC units, parts, and thermostats used along with apps can help you track your carbon footprint, create maintenance alerts, and monitor the status of each installed unit. Usually, smart HVAC integrations of such kind require specific electrical and mechanical frameworks within the building, including special permits that are important to clear for safety purposes. So, if your commercial building is outdated, you should leave generous room in your budget plan to accommodate pre-installation stages like electrical optimization, code compliance for smart technologies, and relevant ductwork considerations.
SEER rating
Last but not least, the Seasonal Energy Efficiency Ratio (SEER) is the main cost-influencing factor for energy-efficient HVAC systems. Commercial HVAC units with higher SEER ratings are more energy-efficient and also cost more than standard HVAC systems. You should consult with certified SEER experts who can guide you based on your specific HVAC needs if you are planning to install SEER-positive options. In general, the initial costs to install such a system are high, but they are offset by the energy savings you accumulate down the road.
Conclusion
While we have discussed some average numbers in this article, it is hard to pick just one quick number to represent a commercial HVAC unit cost. This is because you will not just pay for the unit alone. You will also pay for a range of associated factors like labor and building conditions, which is why project estimates differ massively for each business. Whether you are installing a new commercial HVAC unit or replacing an old one, make sure to request a detailed cost breakdown that includes everything from unit costs to future preventive maintenance services. Commercial HVAC contractors often include ongoing and future maintenance charges within their quotes, so this should help you narrow down your contractor pool.
A tailored maintenance plan is a smart backup for preventing costly red flags like unit failures that can cause business downtimes, prolonged repairs, and additional overheads. If you are installing new commercial HVAC units, you can limit the need for unit replacements by planning regular maintenance programs during different times of the year. This will ensure that the expensive setup pays for itself, lasts longer, and meets the heating/cooling requirements of your commercial space.