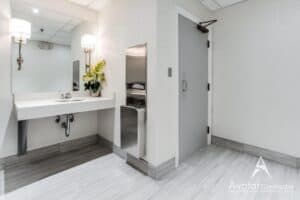 Image credit: Avatar Contractors
A commercial bathroom remodel is as important as updating any other part of a commercial building. From simple design refresh to a complete makeover, remodeling your commercial bathroom can help you add value to your property and maintain an overall functional, neat-looking space that is comfortable to use. Quite often, bathroom renovations are pushed further down the list of priorities when it comes to improving commercial spaces. However, if your bathrooms are outdated and show a general lack of maintenance, they can damage your company's reputation because this points to owner irresponsibility and disregard for people's well-being. It also does not create the best first impression of your brand on visitors and clients. Here is why you should consider remodeling your commercial bathroom and call in experts as soon as you can.
Commercial bathroom remodel services
When you hire commercial bathroom remodeling teams, you can receive tailored services for your bathroom's needs including fixture installation, partition replacement, countertop upgrades, lighting improvements, flooring renovations, and so on. The following are key services that you might require to give your commercial bathrooms an effective redo.
Tile and grout replacement
Foot traffic and lack of repair can quickly cause your commercial bathroom tiles to develop visible flaws like cracks and stains. An important part of commercial bathroom remodels is to replace broken and damaged tiles while also renewing grout to completely update your bathroom's flooring. This is also the perfect chance to use new flooring materials for enhancing design aspects.
Stall upgrades
Outdated bathroom stalls need to go for sure, and sometimes this is crucial for replanning your bathroom's layout to ensure easy foot traffic. A bathroom remodel is a great opportunity to replace damaged stalls and improve privacy while making the space appear as good as new.
Vanity improvements
Vanities make the main focal point of a commercial bathroom, so it is important to include them in your remodeling plan to ensure design and color compatibility with the rest of your bathroom's makeover. This will also allow you to install new mirrors and opt for modern vanity lighting for better aesthetics.
Hardware replacement
Fixtures, toilets, and urinals may require complete replacement if you want to improve the functionality, water efficiency, and cleanliness of your commercial bathroom. This is a key remodel service for old and outdated bathrooms that have not been maintained for a long time.
ADA compliance
If your existing commercial bathroom is not ADA-compliant, make sure to use your remodeling project to conform to applicable ADA guidelines and build bathrooms that are accessible by disabled people. Your commercial remodelers will add the required ADA improvements and space reconsiderations so that the existing bathroom gets modified accordingly to meet ADA standards.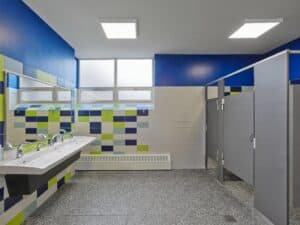 A commercial bathroom remodeled by Souder Brothers Construction
Touchless upgrades
Commercial bathrooms increasingly use touchless fixtures because of their multiple benefits like improved hygiene, automation, water efficiency, and 100% contact-free convenience. Most of these systems use motion sensors to enable touchless functions. You can replace your existing fixtures with the following alternatives:
Toilets and urinals with hands-free flushing – just wave your hand to activate the feature.
Touchless faucets – they can sense your hands automatically and save more water per use.
Touchless dispensers – both for soap and paper towels.
Touchless lighting – mostly via occupancy sensors for automatic on/off functions.
Foot-operated doors – so you do not have to use your hands!
While employing such a service for bathroom remodels, make sure to discuss the best options for fixture durability with your commercial team. You want to install long-lasting touchless features with efficient water usage that is automated. So, while this does improve the aesthetic appeal of your bathroom, the focus is to achieve the right functionality and water reduction without costing too much.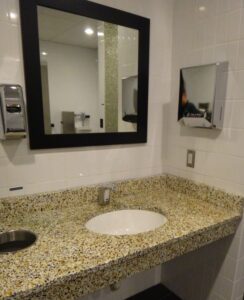 Touchless fixture installation from Litchfield Builders
Advice for a good commercial bathroom remodel
Use durable flooring.
High foot traffic can eventually wear out your bathroom tiles, so remember to use durable and affordable materials that will last long and not require frequent replacements.
Invest in touchless fixtures.
As we saw earlier, touchless hardware uses motion sensors to promote 100% hands-free convenience and automation to control water usage. This makes a valuable investment for a business owner who cares about employee health, water efficiency, and an overall well-maintained environment.
Go for a new theme.
If your bathrooms are old and dull, use remodeling as an opportunity to update your bathroom colors and even match them to the rest of your commercial palette. This adds a more cohesive and visually interesting design that boosts the look and feel of your bathroom spaces.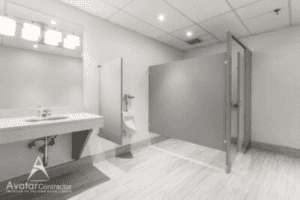 A commercial bathroom remodel by Avatar Contractors
Don't underestimate the lighting.
Good lighting can easily enhance the look and feel of commercial bathrooms, so you can incorporate different lighting options like wall sconces, pendant lights, track lights, etc. to make all the difference.
Benefits of commercial bathroom remodel
Functionality upgrades
Remodeling your commercial bathroom makes it more functional, as you get to replace old fixtures and damaged hardware and also add touchless upgrades. This improves the layout and overall usability of a bathroom in addition to keeping things safe for your employees.
Rebranding convenience
With new lighting, paint, and flooring, you can update the aesthetic appeal of your commercial bathroom. This comes in handy for rebranding purposes as well, so you can extend new themes and designs to your bathrooms and let them match your redefined brand identity.
Added value
Remodeled bathrooms increase property value and can target more commercial audiences depending on the amenities you add – such as touchless fixtures and new countertops.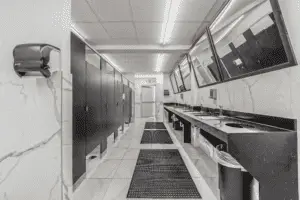 A remodeled commercial bathroom from Smart Remodeling, LLC
Water and energy efficiency
Touchless technologies reduce both water and electrical consumption in commercial bathrooms. For example, touchless faucets and flushing systems prevent water wastage by regulating the amount of water you use. Similarly, lighting triggered by occupancy sensors allows more energy savings by turning on the lights only when the bathroom is occupied. You can also use your remodel project to abandon old lights and install energy-efficient options. In this way, commercial bathroom remodeling offers huge savings in terms of water and energy.
ADA compliance
Older commercial buildings lack the current code compliance they require for safety standards, which includes ADA compliance too. When you plan a commercial bathroom remodel, it is the perfect time to add the necessary changes for ADA-compatible spaces.
Conclusion
Minor commercial bathroom renovations like repainting or hardware replacement can last a few days, whereas detailed makeovers may take a month or so to finish. Depending on the size of your project and its duration, make sure to hire commercial bathroom remodelers who can work with the least disruption and downtime to your business.
You want to hire professionals who specialize in commercial bathroom projects because they understand the codes and practices applicable here, which will help you transform an old and dull bathroom into a more functional and modern space that goes well with your commercial reputation.