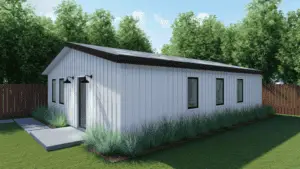 Image credit: Superior ADUs
An accessory dwelling unit (ADU) is an independent structure that can be used as a secondary house in addition to the primary residential building. It is built on the same property as the main house and is often known as a backyard cottage, second unit, or garage apartment – among other synonyms. ADUs make excellent affordable housing units and allow homeowners to enjoy some extra living space by extending their usable square footage. There is no cookie-cutter approach to building ADUs, as they are incredibly versatile units that can be used for multiple applications like Airbnb, home offices, studios, guest houses, rental spaces, special needs accommodations, and so on.
For this reason, the ADU cost per square foot will vary according to the specific design and amenities of your structure. Here is what you need to know about accessory dwelling units, their costs, and some associated factors to make the best decisions for your property as a homeowner.
Types of ADUs
ADUs are standalone housing units – typically between 600 to 1200 square feet in size – and they have a separate entrance and include most interior essentials like a bedroom, a kitchen, a bathroom, etc. along with all the required MEP utilities.
Since this creates a habitable living space, all ADUs require permits from local authorities before being built. There are different types of ADUs you can build depending on where you want them on your property:
Detached ADUs. The external ADU is built away from the main residential unit.
Attached ADUs. They are connected to the main house and share a common wall with it, but they still remain an external structure.
Interior upper ADUs. These are mostly attic conversions, so the ADU is an internal structure in this case.
Interior lower ADUs. Also known as basement ADUs, these are internal structures too as they are built inside the main house.
Above-garage ADUs. As the name suggests, the ADU sits on top of the existing garage.
Garage conversion. This is where you convert your whole garage into an ADU.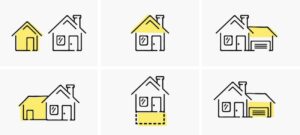 Different types of ADUs via Wake County
Regardless of their types, all ADUs have similar, tell-tale features. They have a much smaller footprint than the main housing unit and are built on the same property, usually next to the primary house or in the backyard if they are external structures. They all have the same Airbnb vibes and usually host one bedroom in addition to a default kitchen and bathroom. ADUs are also pretty much self-sufficient in terms of utilities and amenities – everything you need such as lighting will come pre-installed within the unit. Various zoning regulations apply to ADUs which can limit the way you build or use them, so it is important to get the right permits first.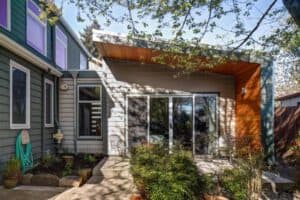 An attached ADU by Hammer & Hand Construction
ADU cost per square foot
Average costs
On average, ADUs can cost between $150 to $300 per square foot with basic amenities, and high-end unit costs can sometimes exceed $600 per square foot as well. At the same square footage, an ADU with more bedrooms and high-end features will cost more per square foot than one with a simple 1-bedroom layout. The actual costs will also vary based on where you live, as different states have different laws that apply to ADU construction projects, so this affects the overall prices across regions. Since the general size of an ADU is around 900 square feet on average, you can expect to pay between $135,000 to $270,000 in total as construction costs alone.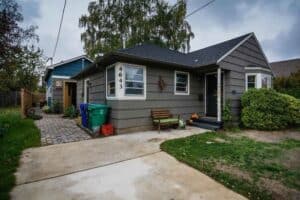 An ADU structure by Building An ADU
However, ADU costs are not just construction or remodeling costs. They also include a range of other associated costs for elements like:
Plans: $2,000 – $40,000+
Designs: up to $30,000 or more
Utilities: up to $20,000
Permits: $2,000 – $8,000+ (differs across cities)
So, the final costs per square foot are usually higher than the stated range after counting in the above aspects of ADU construction. For this reason, it is important to ask your ADU contractor to give an itemized quote that accounts for all key elements beforehand to eliminate surprises later on.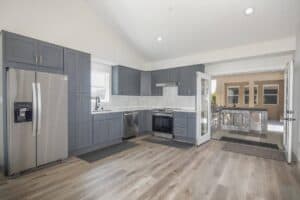 ADU kitchen design by Superior ADUs
Costs by type
For better comparison, here is how the numbers look for the 3 main types of accessory dwelling units:
Detached ADUs. With detached ADUs, your units can be between 350 to 1200 square feet in size. They are mostly ground-up construction projects (and hence more expensive) that offer more room for extending the overall living space you require. Building a detached ADU can cost around $200 to $300 for basic finishes and go up to $800 for high-end improvements. Detached units make the best choice for private accommodations like Airbnb's and guest houses as their occupants would prefer their own access to the building and have some privacy.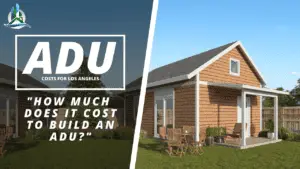 A detached ADU by Bay Cities Construction
Attached ADUs. Unlike detached units, attached ADUs can only be around 800 square feet in size for most dwellings, so they are not as big or expensive and offer a more affordable housing alternative. While they share a wall with the main house, they have their own access and offer a private space to live in. The cost to build an attached ADU is around $225 to $275 per square foot and can reach $300 for most projects.
Garage conversions. Since garage conversion is a remodeling project rather than ground-up construction, this category of ADUs tends to be the most affordable choice. The main infrastructure is already there, so this gives you a good head start while cutting major ground-up expenses. Garage ADUs are around 500 square feet in size, costing between $150 to $250 per square foot with most of the technical redo focused on adding a kitchen and a bathroom in the given space.
Factors that affect ADU costs
Plans and permits
Building an ADU on your existing property requires conformance to applicable codes, so you need to get the relevant permits before any work begins.
This involves submitting plans and construction documents for approval, which comes with application and permit fees that differ between states. You can expect to pay up to $10,000 or more for permits and approval. Your contractor and designer will help you with this stage. In general, the tougher the codes, the costlier it is to build an ADU.
Site prep work
Detached and attached ADUs have their own footprints as they are standalone units, so this calls for new excavation and foundation to support the structures – which adds to the final costs per square foot. Complications from underground utilities can increase the amount of work to be done, and this makes the project even more expensive compared to building internal units. In some cases, existing garages require some foundational reinforcement as well to support the added weight of a finished ADU, making the project a lot more expensive than the initial estimates.
Level of finishes
High-end materials and finishes can bump up your ADU cost per square foot, especially for projects that have more customizations and focus on design details. If you want to prioritize aesthetics over functionality, make sure to set a well-planned budget early on.
Structural complexities
ADUs with more than one bedroom, kitchen, and bathroom cost more per square foot because of the added labor, materials, and project complexity. This also applies to garage conversions and garage-top or overhang additions. If the existing structure needs improvement before the main work begins, it will be more expensive to build the ADU as the garage should first be equipped to support the transformation – whether it is within the garage space or on top of it.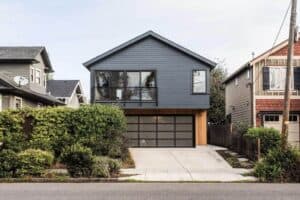 A garage-top/overhang ADU via Propel Studio
Technical adjustments
Depending on the amenities you want to add, the existing MEP infrastructure might need to be updated for better technical compatibility. You should have clear answers to questions like:
Do you want shared or separate utilities for your ADU?
What kind of appliances (dishwasher, oven, fridge, washing machine, etc.) will you use?
Do you require smart integrations?
Technically challenging ADU construction costs a lot more per square foot compared to basic units.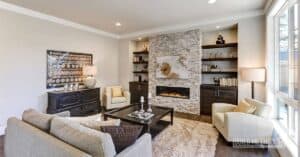 ADU interior by Build Method Construction
A truly humble abode
Accessory dwelling units offer homeowners a range of both short-term and long-term benefits. They can be built in just a few months thanks to their small footprint and minimalistic design. Also, the land costs have already been covered by the main residential building, so you do not have to worry about land development costs anymore. In fact, building an ADU adds value to your property for every square foot of improvement you make. With the right contractor and design team, you will be able to maximize both the habitable square footage and your property's resale value. Depending on your local codes, you can add up to 1200 square feet of extra living space to your property and bump up its value to $400,000 and even more. Finally, if you use the ADU as a rental unit to generate income, keep in mind that you saved a fortune on land costs and are now enjoying direct returns on your ADU investment – it can't get any better than that!