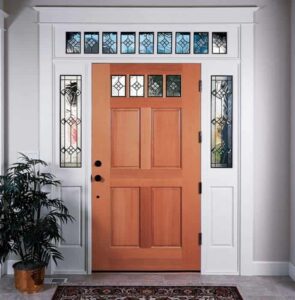 Image source: Chapman Windows Doors & Siding
There are several reasons why people choose specialty doors for both residential and commercial spaces. Unlike standard doors, specialty doors are designed to suit the available space with functionality and good aesthetics. They come in different materials and designs, including glass, wood, sliding, and hinged styles. If you are planning to upgrade your interior or exterior spaces, installing a specialty door enhances the overall décor. It adds to the visual interest of any room, optimizes existing layouts, and increases the curb appeal when used as a front door. Compared to traditional doors, you have more options to customize the look and feel of your home by using specialty doors that work just the way you want.
For example, pocket doors are designed to slide into the narrow, recessed gaps in walls for space-saving efficiency. They work best when swinging doors would be difficult to install in cramped areas like closets or pantries. Barn doors also have a rich reputation for versatile uses in interior design. Most contemporary home designs feature a statement wall that creates the focal point of the room – like a dining area or sitting lounge. Specialty barn doors are popularly used to contribute to such focal points, so they have a double role to play in terms of functionality and creativity. You can also choose materials like reclaimed wood or chalkboard as the door slab.
Various bi-folding porch doors and accordion doors are available for dividing shared spaces. Homeowners often use specialty designs with sidelights for front door aesthetics. Depending on the type of door you like, the relevant specialty door hardware will be included, featuring different finishes to complete the desired look – as discussed below.
Specialty door types and hardware
Residential and commercial contexts use all kinds of specialty doors for interior and exterior uses. Revolving doors and custom stage doors are purpose-built for commercial buildings, and the spectrum for residential uses is quite broad. This is because specialty doors allow homeowners to think outside the box and work with their available space instead of planning hefty demolitions. Sliding doors are quite popular for this reason. With no more cookie-cutter approach limiting your options, you can install something new and something different to give your home a timeless charm. Here are 3 specialty door types with associated hardware to help you reimagine your existing spaces.
French doors or swinging doors
French doors are designed as double doors or swinging doors. They are commonly used to divide the interior and exterior spaces, as the glass panels invite more natural light into your home. You can install them to access your patio or home garden. French doors make a warm addition to any interior design, allowing nature's color palettes to blend with your home's décor.
The hardware for these specialty doors depends on the swinging orientation, door size, frame or jamb layout, and pintle type. You would require heavy-duty door hinges with more weight capacity for large swinging doors, and they need ideal coating and finishing against the elements. This ensures the durability of your doors and keeps them functional in the long run. Strap hinge hardware generally features different thicknesses for wall-mountable as well as frame-mountable designs. The door jambs are made of steel, concrete, wood, or brick depending on your chosen door style. Hinge back plates will be installed to reinforce the setup and keep the swinging doors safe to use.
Sliding doors
Sliding doors are also famous in the French door category – apart from countless others! Their sliding orientation helps you optimize the available space and add contemporary vibes to any setting. These specialty doors slide open on a track and are quite versatile in their applications. You can use them as patio glass doors for space-saving transitions between the indoors and outdoors. Bifold designs incorporate hinged panels into the door system, so they can "fold" open as they slide out of the way. Pocket doors also slide open by disappearing into their wall "pockets", and these take the concept of sliding doors to a whole new level. They allow you to install a door in your reading nook, isolate your storage clutter from the living room, and create proper access to the kitchen pantry. All kinds of sliding doors help you work around obstacles like furniture or limited space.
To support this spatial improvisation, you will require suitable sliding door hardware and accessories. Sliding tracks are installed at the access point to allow these specialty doors to slide open or close. Hanger assemblies can be mounted as well to prolong the lifespan of the whole track system. The hardware would depend on the sliding orientation; you can install single or bi-parting doors according to the available scope for sliding.
Barn doors
Barn doors make up the elite category in specialty doors for the customizable range and spatial diversity they add to any room. Although barn doors are also sliding doors in most cases, we have listed them separately for their individual spotlight. They add a rustic charm to your home's interior design – nothing like the countryside vibes for a dynamic focal point! For this reason, a barn door makes the perfect divider for open floor spaces like dining and living rooms. It is also a versatile addition to various nooks around your home, such as a cozy home office, Airbnb room, laundry room, closet, etc.
You have several choices to match the barn doors with their specialty hardware, including pulls, latches, and hinges to customize the design. These doors are wall-mountable and can be single-sliding as well as bi-parting. They glide on wheels along a rail or track for smooth functionality. The overall setup relies on features like the type of track, its weight capacity, hardware hangers, and the type of mounting brackets.
There are different styles of barn door hangers to support the specialty door installation. These include traditional, top-mount, arrowhead, and horseshoe hangers. The sliding system would also need end blinds, guide roller strips, and handle accessories according to your custom selection.
Let your doors move in style
Specialty doors bring in a lot of creative elements to your home décor. They act as life-sized focal points that match your intended look, so you no longer need expensive wall paint or artwork to do the job! You can pick from a whole variety of door slabs, including mirrored/frosted versions and even chalkboard pantry doors to write your grocery lists. Commercial applications also require custom doors for various uses. Theaters and studios often need large acoustical specialty doors for stage doors – or "elephant doors" – that help with controlling sound and dividing large areas.
You can buy specialty door hardware from online stores like Specialty Doors, as these stores offer custom solutions and accessories. Specialty Doors is famous for its elephant doors, operable walls, acoustic accordion doors, and other varieties. It has the relevant hardware for complete installations such as flat track hardware, sliding shower hardware, and modern barn door hardware. By purchasing quality hardware and door slabs, you can ensure the longevity of your door installations – and enjoy the creative freedom they open up!