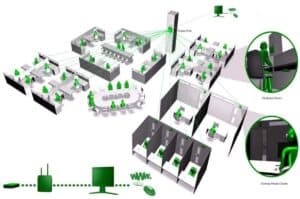 Image source: Open Sourced Workplace
Businesses face an emerging need to update their office seating plans for various reasons, including hybrid working patterns. A well-structured arrangement optimizes the available space, creates a neat layout, and considers uninterrupted passage around these workplace "islands". Companies frequently use an office seating plan software to automate the process and make it as customizable as possible. This allows them to collaborate on interactive floor plans and easily decide both permanent and flexible seating options. The online, cloud-based plans accommodate the needs of regular as well as remote employees, so the seating map can display all occupied and vacant areas in your building. You can quickly locate an available room for impromptu conferences, find where your teams are at a glance, and select offices for new employees. Compared to manually finding out everything, a software app brings all the information to you on your computer screen.
It is a great way to streamline relocation aspects within the same building or a new one. The clickable features of the seating plan let you drag and drop various elements, so you can arrange your employees' workstations based on department proximity, individual preferences, and collaborative needs. Modern workplaces often feature open floor plans with no enclosed offices. This inspires a very dynamic coworking atmosphere, full of collaborative potential. Your software will help you experiment with different layouts without ever moving the physical furniture.
Various corporate catalysts can drive the need to change your existing floor plan – business downsizing, rebranding, social distancing, improved desking concepts, and décor upgrades are some examples. A seating plan software gives you a bird's-eye view of the existing floor plan for quick navigation. From that vantage point, you get a clear idea of which areas can be decluttered and revamped. Three such software apps are discussed in this article with customer reviews making an insightful buying guide.
Office seating plan software reviews
The main benefit of using a software app is that it brings all the seating arrangements throughout your building on the same page. An exhaustive alternative would be to use spreadsheets – or worse, a pen and paper – to keep track of each layout. Office seating plans that are managed online can help you organize both hot desks (equipped and ready to use) and spare desks (vacant and extra). All kinds of seating and space management software add cohesiveness to your office layout by preventing overcrowded or underutilized plans. They optimize the total square footage, promote new desking concepts, consider your workspace challenges, and distribute employees efficiently. This can easily speed up your space allocation needs as a manager and comes in handy during relocation aspects. The following office seating plan software apps primarily support mapping out desk locations and include other related management solutions.
1. Wisp by Gensler
Workplace occupancy
Gensler provides a host of design and planning solutions, one of which is the cloud-based Wisp office seating plan software. The Workplace Information Solutions Platform (Wisp) enables spatial visualization for your office, so you can determine occupancy, vacancy, and square footage allocation goals. By automating your workplace occupancy, you can track each seating plan and assign permanent/temporary desks to employees. The software lets you alter the seating scenarios in real-time, making the plans accessible to all stakeholders for collaborative ease. This also streamlines office observation tasks for surveyors and managers to follow up on employee activity. You can integrate your floor plans with the occupancy data using interactive tools to manage the workflow and decide the best work settings preferred by everyone.
Space management
Wisp offers dynamic solutions to help you reimagine your seating arrangements. Space management, move management, wayfinding, desk reservations, reporting and analytics, and software integrations are just some of the services you can use. Employees can reserve their favorite desk spots from their own devices, which makes a smart self-service idea. Since all the seating plans are available online, wayfinding becomes quite simple when you want to locate an employee or an empty conference room on the grid. Wisp is compatible with various office systems to enable data integrations across platforms. This simply adds to how you can visualize a new plan using employee data you already have on another software. It is a quick option to generate interactive seating maps with drag-and-drop icons, allowing you to track everyday moves as well. The occupied to vacant ratios deliver good workplace insights for enhanced space management.
Software reviews
The good:
Wisp makes it easy to find both space and head counts in just a few minutes.
It provides a transparent way to charge departmental rents based on space usage.
The real-time seating plan exports and reporting keep all the stakeholders on the same page. Wisp uses a ticketing system to keep track of each report.
You can add unlimited users without any license fees.
The ongoing CAD service upgrades mean that the system is always on the mend to accommodate emerging technologies.
The software is quite straightforward to use. In case of any problems, the Wisp customer support team has its own set of positive reviews that speak for themselves! The team also helps you customize the implementation, so the subscription meets your office scope.
Wisp makes a great tool for administrative control and management aspects.
If you have multiple office locations, you can track their individual seating plans without ever having to leave your own desk. You might not have visited the other premises, but you will still know what their arrangements look like.
It is a very portfolio-friendly software, with all the color-coded tracking and reporting data just a click away.
The bad:
A supported mobile version would make the software better accessible on tablets and smartphones.
There are issues with reconfiguring the furniture layer of the app.
The initial installation and setup can be time-consuming.
The supported integrations can be improved to automatically update the seating plan when an employee leaves or joins the office – for example, by pairing it up with your office's HR systems.
2. SpaceIQ
Workplace operations platform
SpaceIQ is a popular workplace management tool used by businesses that are reopening their doors. Its actionable data features support ideal real estate planning to determine occupancy statistics. Some of the app's services include space planning, workplace management, space inventory tracking, and move management. They allow you to stack plans and explore multiple office desking concepts, including reshuffled floors with incredible convenience. You can relocate employees and equipment seamlessly throughout the office, and this also contributes to efficient accounting based on square footage use. SpaceIQ addresses your agile workplace goals by providing customizable plans for hoteling purposes – which refers to temporary offices assigned to visitors and short-term employees. You can rearrange hot and spare desks and alter their ratio as needed. The online seating plans provide insightful space forecasting ideas to utilize the given floor plan effectively, predict future scenarios, make quick head counts, and enhance task allocation. Your employees can navigate the workplace better and book available rooms from their mobile devices.
SiQ space planning
SiQ is one of the facility management products from SpaceIQ. It focuses on space and move management goals using visual representations of your office floor plans. SiQ is compatible with HR, ERP, and IT systems, which is a great advantage for real-time integrations. You can plan moves between office buildings, floors, and departments and maximize space allocation on the screen. All of these features help you borrow relevant data from external sources for the seating layouts.
This enables seamless transitions for your workforce, as employees will relocate to fully equipped desks based on seating availability. There are drag-and-drop features to help you test different scenarios until you make up your mind. Moreover, SiQ's real estate dashboard gives you a centralized platform for real-time office visibility to analyze updates, reports, seating densities, cost statistics, etc. You can also export these features to a suitable format on your computer.
Software reviews
The good:
SpaceIQ solutions save a lot of time when you want to look for peers or available conference rooms.
The software is simple to use and provides detailed dashboard results to keep all your seating information on the same page.
You can experiment with new layouts while planning future moves, which makes it easy to relocate employees and assets.
SpaceIQ is designed to adapt to your office's needs and grow with them. It can support multiple office seating plans online where you can make changes without losing the current configurations. The multiple support also allows you to track a large number of employees from your own office desk.
The software is available as both web and mobile versions, featuring simple user interfaces.
Integrations with HR and ERP systems go the extra mile when you want to incorporate real-time data from existing software.
The bad:
Room labels on the printed seating plans can be difficult to read.
SpaceIQ can have delays in updates which may slow you down if your office technologies are already moving ahead. Also, the incoming new app features can congest and disrupt the existing functions, so product testing areas still have a lot of room to improve. Compared to other software apps, this limits the user-friendliness of SpaceIQ.
3. OfficeSpace
Hybrid workplace management
OfficeSpace is a very innovative solution for managing seating plans, office moves, desking concepts, and employee requests. It includes all the tools you need to embrace hybrid working patterns for full-time and flexible employees. Flexible working is now a corporate trend, and OfficeSpace allows you to create productive neighborhoods throughout the floor. The all-in-one platform can be used on any computer and mobile device, so employees will no longer have to waste their break in finding an available conference room. They can easily book desks, make check-ins, use different seating strategies, and pick their favorite neighborhoods (assigned, hoteling, hot desking, etc.). Open seating neighborhoods have become quite popular, and activity-based neighborhoods are equipped with the necessary hardware ready to use. You can choose casual ad-hoc meeting and coworking environments for creative collaborations.
Distancing management
OfficeSpace has intelligent tools and trackers to streamline move communications. Scenario and distancing planners generate socially distanced seating plans and help you reorganize teams accordingly. They speed up the distancing requirements in offices by keeping every change synchronized and reflected throughout the floor. It is an efficient way to discover underutilized areas that can accommodate the expanded layouts. Returning employees can fill in COVID-19 wellness checks, screen for potential risks, and confirm their distanced seating on their own devices. In this way, the OfficeSpace platform keeps your environment COVID-proof by automating various protocols – taking away the managerial load off your shoulders. Using real-time scenarios, your office teams can view different seating possibilities. They can also replicate the same seating plans on multiple floors and use block and stack technologies for large-scale changes. OfficeSpace enables data-driven improvements to keep up with your company's emerging needs.
Reporting
Out-of-the-box reports from the software offer detailed insights into your space utilization. This sheds light on your employees' requirements to perform better – for example, with proper access to amenities and departmental allocations. These analytical reports display the occupancy and vacancy aspects, so you can visualize improvements in real-time.
They also reveal any wasted space and how it affects your overall costs. The result is that you can make more informed decisions on optimizing the layout for a better financial outlook. Office space relies on system integrations to gather data and can work with platforms already used by your employees – such as Zoom, Microsoft Teams, HR Software, etc. Such time-saving integrations enable peers to communicate effectively and track seating changes as they happen. Real-time visibility through automatic reporting and integrations is a great way to future-proof your office and welcome technological evolutions.
Software reviews
The good:
OfficeSpace is very easy to use and caters to the growing corporate needs of every business.
It is compatible with all web and mobile devices, so your employees can access changes from wherever they are. All you have to do is put the new office seating plan on the cloud, and let your teams view it instantly.
The support team is always responsive and ready to help.
OfficeSpace releases new upgrades regularly to follow the latest trends and keep businesses focused, driven, and fast-tracked.
Integrations with popular software apps make the job even easier. Employees frequently use your company's installed systems, so a lot of data is readily available to transfer to the seating plan software. Some examples could be employee attendance, check-ins, name lists, and associated departments. Based on this information, you can assign relevant seats to your teams to suit their job descriptions.
Its social distancing automation is a definite bonus, as the quicker the seats are distributed, the faster you can reopen your doors.
The bad:
The software lacks a few booking/locating features that are delivered by other apps.
There are also some exporting limitations, for example, you cannot export layouts to PowerPoint.
Navigating between dashboards and platforms is often slow, as the transitions are not always smooth.
Have a seat. The world is your oyster!
A well-defined office seating plan promotes work efficiency to drive your corporate ecosystem. It will focus on mobilizing foot traffic around workstations as well as maximizing productivity within them. Move management is essential to help you relocate your teams and resources around, and a good software app takes care of this nomadic goal. Using the software can be a learning curve for start-up businesses and even established ones that implement the system for the first time. The versatile scope for making changes on the intuitive user interface is very rewarding in the long run. You can experiment with multiple revisions from your own desk, which saves you the need to physically move furniture – only to change your mind all over again! Office seating for spacious arrangements becomes simple; the theoretical effort is handled by the software, and you just have to follow the map.
Software solutions have a great impact on the way offices reopen and resume their work. The essential workplace protocols for COVID-19 set the pace for hybrid working, and now it has become a happy corporate lifestyle. Your teams can simply log in to their software app, view the updated seating, make desk reservations, and book meeting rooms – all with proper screening checklists covered by the system. This prevents bottleneck issues with huge crowds of employees queuing up outside the office – or the bulletin board! You can reconfigure the old seating plan in just a few clicks and focus on the actual work. Social distancing is also one reason why open floor layouts are stealing the show for their safe, collaborative, and creative potential.
Most software apps help you drag and drop the desk icons to fit the missing pieces like a puzzle. In this way, you get to document your office seating plan, and encourage teams to bring their corporate talents to the table!