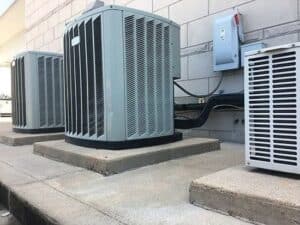 Image credits: Air of Houston
Business owners and property managers rely on scheduled maintenance to ensure the durability of their HVAC systems. This forms a key investment for commercial property owners because commercial HVAC is an expensive undertaking meant to last for a long time, so it is important to keep things checked and well-maintained. Whether you own a retail store, office, or restaurant chain, commercial HVAC maintenance cost estimating will be one of the first things to work on beforehand as part of your facility management program. Here is a look at why this is important and what estimates you might use to set your budget.
Commercial HVAC maintenance benefits
HVAC systems are exposed to various damages from wind, dust, water, debris, storms, etc. throughout the seasons, so there is always some everyday buildup slowly accumulating within the units and ducts. Over time, these damages eat into the efficiency of your commercial HVAC, which creates issues like inconsistent heating/cooling, overworked units, and more frequent breakdowns.
Setting up a commercial HVAC system is a costly investment, so if you do not take timely measures to prevent such issues, you will end up paying a lot more to fix recurring problems – which is a big commercial tragedy considering the fact that once the HVAC system is installed, it should last at least 10 years. To ensure that your units reach this average lifespan, it is important to schedule commercial HVAC maintenance for detecting red flags and addressing failures early on.
Commercial HVAC maintenance companies provide various programs that you can sign up for to receive annual, seasonal, or emergency services for your HVAC systems. Such commercial HVAC maintenance programs include both expert evaluations and repairs that are tailored to the needs of your specific business, including preventive upkeep for maximum efficiency. The costs for such programs will differ according to your chosen services and frequency of maintenance, so this is something you can discuss and finalize in advance with the same contractors who will install your HVAC infrastructure for the first time. Before we dive into the cost estimates, here are some key benefits of investing in commercial HVAC maintenance:
Extended or maximized lifespan for years of repair-free HVAC functions.
Improved unit efficiency and better energy management.
Regular inspections to detect and address problems.
Reduced frequency of repairs equals greater commercial savings.
Reduced chances of total system breakdowns, which also prevents business downtimes.
Healthier and more comfortable indoor air quality for everyone.
Commercial HVAC maintenance cost estimating
Commercial HVAC contractors use different methods to charge their clients for HVAC maintenance. There is always a commercial HVAC maintenance contract when the company installs your units and hardware for the first time, so this is usually the main go-to estimation plan for most businesses looking for proper schedules. HVAC contractors also provide miscellaneous services for minor fixes, emergencies, and similar unexpected issues that fall outside your confirmed maintenance schedule. On average, you can expect to pay between $100 – $140 per hour for commercial HVAC maintenance. In terms of annual or seasonal costs, this can be anything around $75 – $150 for each session depending on what services you have signed up for.
It is common for business owners to pick contracts for better service coverage, as HVAC maintenance contracts provide a more inclusive package of things you can get fixed within the stated cost compared to getting individual services. If you are aiming for contractual HVAC maintenance, remember that the age and condition of your systems will play a huge role. This is because, by definition, if your HVAC system is more than 10 years old, it will be more cost-effective to replace it rather than repair it. Therefore, if the age of your HVAC system multiplied by the maintenance cost exceeds $5000, most commercial HVAC contractors suggest replacement over repair.
Your costs will typically depend on factors like:
Labor rates. Contractors might charge you on an hourly basis, and if this is the case, your estimate will be determined by how long it takes to fix everything and how difficult it is to access your HVAC. You can estimate this by dividing your contractual cost by the hourly rate and then further dividing this by the scheduled number of visits to get the final cost breakdown for each session.
Chosen services. In addition, the labor rates will be influenced by the total number of services offered by your commercial HVAC contractor. This may include changing air filters, cleaning evaporator/condenser coils, updating parts, monitoring refrigerant levels, adjusting blower components, conducting safety tests, checking air flows, recalibrating thermostats, cleaning ducts, and so on. Choosing comprehensive labor plans offers maximum service coverage, so this is a good idea for businesses with older HVAC systems that require more frequent upkeep. In general, you can expect your commercial HVAC contract to cost around $150 – $500 per year based on the type of HVAC you have and your regional rates.
Age and condition. Older HVAC will naturally cost more to maintain and upgrade, so you need to select a more tailored approach for such a system.
Commercial context. Commercial kitchens, warehouses, and hospitals have more heavy-duty HVAC demands, which calls for more custom HVAC maintenance programs at different times of the year. This can typically result in higher cost estimates compared to those for office HVAC maintenance.
The peak seasons for commercial HVAC activity are summer and winter, so if you prefer bi-annual maintenance, consider scheduling your program after these two seasons.
It is the right time for cleaning up after the seasonal challenges, and it will also allow your commercial HVAC to get a thorough upgrade after its peak performance.
Conclusion
That was the end of our commercial HVAC maintenance analysis! Before wrapping up, here is some final advice for all facility managers and business owners reading this. Commercial HVAC will be your key investment, and you want to make this last as much as possible. So, instead of waiting for problems to arise, make sure to keep this aspect at the frontline of your business management strategy – as your operations and employee productivity both depend on fully functional heating, cooling, and ventilation systems. Prevention is better than cure, and the best time to sign up for preventive maintenance is right when you are selecting a contractor to install your system. The same company can provide you with tailored packages, all handled by professionals who know where to look and what to do. Once you set your annual/seasonal schedules, you can focus on your main business better without being slowed down by unexpected unit failures down the road.