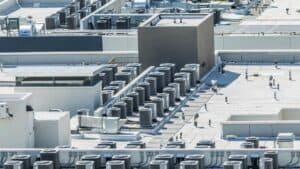 Image credits: Estes Air
Commercial HVAC systems are a crucial part of any business facility. They ensure a comfortable working atmosphere for employees and are also used to regulate temperatures for equipment and machinery. Facility managers have increasingly focused on improved indoor air quality ever since the pandemic began, so the scope for commercial HVAC is on the rise. Most commercial buildings undergo structural updates to make room for the necessary HVAC units. Quite often, existing businesses require HVAC maintenance during different times of the year to keep their units functional and efficient. This divides commercial HVAC costs into 2 main categories of installation and maintenance costs, and in this article, we will take a look at some examples of commercial HVAC cost calculators to understand the numbers better.
Commercial HVAC cost calculator
Average costs
In general, a typical commercial HVAC project could either be a new installation or a maintenance project. The costs for both are driven by various factors that we will visit further below. To make things simple, here are some average numbers you can expect to work with:
Commercial HVAC installation: $7,000 – $35,000
Commercial HVAC replacement: $5,000 – $12,000
Both installation and maintenance project costs depend on the individual complexities of your specific commercial building. The more complex the installation or replacement, the more expensive the overall costs. Commercial buildings use bigger units and larger ductwork than residential buildings, so the associated labor and material costs are proportionally higher. Now that we have some average numbers to shape our budget, here are a few detailed insights into the cost calculation process.
Cost calculators
A commercial HVAC cost calculator will help you receive quick estimates for your specific project. It is the simplest way to break down the total cost and find out what individual elements work behind the scenes. If you are still searching for the right commercial HVAC contractors, you can use online calculator tools to get some initial estimates as a reference point. Here are 2 examples of online commercial HVAC cost calculators that you can use:
HomeGuide HVAC Cost – this provides easy estimates based on your zip code.
Algona Municipal Utilities – this is a set of calculator tools for different purposes like energy tracking, HVAC installation costs, replacement/maintenance costs, etc.
In terms of linear and square footage, you can expect to pay:
$25 – $60 per square foot for HVAC unit replacements
$10 – $25 per linear foot for ductwork replacements
$15 – $20 per square foot for 2-pipe office buildings
around $30 per square foot for 4-pipe office buildings
around $20 per square foot for recreational buildings
A typical cost calculator breakdown should display all the associated costs and tell you clearly how much goes where. You can also ask for detailed breakdowns from potential contractors as part of their bidding stage, as this will help you choose teams that really understand their numbers and can in turn explain them to you. Here is a brief glimpse into a simple commercial HVAC cost calculator:
HVAC unit cost: $4,000 – $8,000
Installation/replacement labor: $75 – $150 per hour
Without ductwork: $5,000 – $10,000
With ductwork: around $15,000
With add-ons like zones and humidifiers: up to $20,000
Commercial HVAC replacement costs depend entirely on the type of unit you are replacing, so the costs can differ significantly based on your choice of equipment. For example, replacing a central air conditioner may cost you between $3,000 – $8,000 in general, whereas geothermal heat pump replacements cost up to $35,000.
Factors that drive these costs
A commercial HVAC cost calculator is based on a number of influencing factors that all work behind the scenes to bring you the most accurate quotes. The overall costs can be easily influenced by factors like labor charges, material costs by region, the size of your commercial building, HVAC permit fees, demolitions, removal of old units, asbestos removal, building age, and so on. HVAC projects with more complexities will naturally have a bigger budget because of the time and effort it takes to work around the given obstacles. Here are some of the main factors you might come across while using online calculators or looking at cost breakdowns from commercial teams.
HVAC brand
The installation costs for commercial HVAC systems are largely determined by your choice of brand. Leading brands such as Lennox and Carrier can be quite expensive, however, top quality and durability are hard-to-ignore benefits for a commercial business looking to invest in long-term products. Commercial HVAC companies might also collaborate with these brands to outsource the energy efficiency aspects of their projects, so this checks a lot of boxes for professional installation and future maintenance.
HVAC unit type
As we saw earlier, the type of HVAC unit you are installing or replacing can also drive the costs either way. Depending on the rooftop units and heating/cooling systems you want, the total cost will vary mostly due to the capacities and coverage offered by those units. Equipment cost can be broken down into the unit type as well as the number of units needed for your building, so this is a very business-specific factor, and it is highly recommended to get some licensed commercial HVAC expertise on board.
You might have to pay higher upfront costs for energy-efficient systems, but the good news is that these initial expenses translate into greater energy savings down the road. For example, heat pumps are generally more expensive to install compared to central air conditioning units and furnaces. However, they also have the benefit of increased savings in the long run.
Ductwork and piping
For commercial HVAC replacements, the relevant ductwork and piping are crucial factors for ideal air and water distribution. Commercial buildings might require updated ductwork in order to accommodate new HVAC units. Likewise, ductwork and pipe replacement can be a part of scheduled maintenance to make sure that all the connecting hardware is functional and in optimal condition. Damaged ductwork can cause HVAC units to overwork themselves to the point of just increasing your bills and not achieving any significant temperature changes. So, if your commercial building is quite old and you want to install some new units, make sure to first assess the condition of your existing ductwork and piping with an expert. If this seasonal maintenance coincides with your office hours, you might need to extend your budget to accommodate the labor challenges involved in working parallel to your business operations. Depending on the total layout that needs to be replaced and the insulation level for each duct/pipe, you can expect to pay more to cover this additional pre-installation stage. The upside is that new ductwork easily lasts several years before needing the next replacement, so it really is a long-term investment.
Energy efficiency ratings
Speaking of energy efficiency, HVAC units with higher Seasonal Energy Efficiency Ratio (SEER) ratings indicate better energy efficiency and environmental friendliness. The higher the rating, the higher the HVAC installation costs, and the more you save the planet! As a result, these ratings are important factors for any commercial HVAC cost calculator designed to target energy-efficient heating and cooling systems. They should be prioritized depending on the green initiatives you wish to take as a business owner – such as energy tracking and reduced consumption for each of your commercial buildings.
HVAC thermostats
Commercial buildings might require single or multiple thermostat controls to operate the HVAC units.
This also depends on the size of your commercial building and the number of units you have installed. Thermostats can be basic, programmable control panels, or they can be smart thermostats used for automation purposes – and these tend to be more expensive. So, your commercial HVAC cost calculator should also factor in your choice of thermostats. Smart thermostats are popular because of the remote convenience they offer, especially in larger commercial buildings like offices, university campuses, and hospitals. Sometimes businesses can choose to future-proof their commercial buildings by leaving smart gaps that can be filled later on in case they wish to automate their HVAC systems. An example would be adding HVAC zones to the building. This requires a number of thermostat connection points, sensors, and motorized dampers to create an isolated HVAC zone. Businesses can benefit immensely from such automation and zoning systems because they offer features like energy monitoring, waste management, alarm setting, and preventive maintenance alerts. Once again, the higher upfront costs will pay for themselves down the road, considering the reduced technical work in the future.
Commercial building complexities
Commercial HVAC costs can increase based on the level of project complexity your commercial building offers. Older buildings might need infrastructural updates and various technical additions before installing HVAC units and ductwork. Quite often, a lot of demolition is needed so that the old and damaged utility frameworks can be replaced. This opens up a whole new range of the necessary permits to be covered before your commercial HVAC project gets its green light. If your HVAC installation includes rooftop systems, you will also have to pay for a crane to move the equipment. The average commercial HVAC costs can easily rise in response to how difficult it is to get the job done.
Commercial context
Different commercial contexts have different HVAC requirements, so commercial buildings with the same square footage will often have very different HVAC statistics. Your building's occupancy, commercial activity, and HVAC insulation can heavily influence your overall costs, especially if you intend to keep the work hours on during installation/maintenance. In general, HVAC systems for offices tend to be less demanding than the fast-paced restaurant or hospital environments that rely on specialized units running 24/7. So, your commercial HVAC cost calculator would display different results based on your commercial settings.
Startup costs
Once your commercial HVAC system is in place, your installation team will take care of what is known as the "system startup" – which refers to everything needed to test the installations for safe and successful usage. Your commercial HVAC teams should include this factor in their quotes so that you will know early on just how much you will be paying for system testing and startup. The cost will vary based on the number of HVAC units you have installed, including any ductwork replacements or building retrofits carried out. Due to the technical nature of this stage, your teams might also need to cover the associated permits and inspections for the final time to make sure that everything meets the codes and is good to go.
Conclusion
That was the end of our commercial HVAC cost calculator guide. Commercial HVAC projects are very business-specific and should be customized accordingly. This includes receiving custom quotes that cater to your specific commercial scope for HVAC installation or maintenance. Always remember to ask for comprehensive cost breakdowns so that you can understand each cost distribution. Usually, the factors discussed in this article are also individual components of a commercial HVAC cost, so ask for tailored advice and quotes based on specific details like your building type, existing ductwork, startup fees, energy efficiency needs, and automation scope.
Another important reminder is to schedule preventive maintenance with your chosen commercial HVAC company. This will allow your units and ductwork to perform efficiently and also help you catch problems as they arise. Businesses choose to replace their systems if they become more than 10 years old and are frequently falling apart, causing disruption, or not performing as intended. Preventive maintenance is the best way to keep an eye on your building's HVAC framework and determine if any parts/units need to be replaced entirely. It takes care of both minor and major issues because your professional teams step in at least twice a year for scheduled maintenance, which helps reveal potential red flags and lets you take the necessary steps just in time.
Since commercial HVAC costs make a hefty investment, it is worth planning regular maintenance programs so that minor, hidden issues do not get a chance to grow and cause business downtimes later on.
A licensed, professional company should help you explore all these options beforehand, so always keep such contractors at the top of your list, as HVAC maintenance is a very inherent part of all commercial HVAC projects.