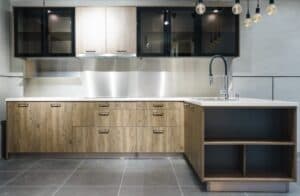 Whether you are building a new home or remodeling an old one, unless you are refinishing your existing cabinets you will need to procure new kitchen cabinets. Obtaining kitchen cabinets direct from manufacturer can help you save some money and time. They are the same cabinets that you will find in retail stores and will be available in similar design and finishes.
Why Buying Kitchen Cabinets Direct From Manufacturers Is Cheaper
Manufacturers make cabinets and supply them to retail stores and franchise outlets. These stores and outlets add their markup to the manufacturer's price before selling the goods to the consumers. The markup can be quite significant. Some manufacturers sell the same cabinets directly to consumers as well. However, they don't need to add the same markup to their products as retail stores and outlets.
Let's say that a manufacturer supplies a particular set of kitchen cabinets to retail stores and outlets for $1,000. These outlets have to cover their expenses, which may include employee salaries, rent, electricity, and utility bills, to name a few. They may also have to cover the cost of transporting the cabinets from the manufacturer to the store, and from the store to the consumer. The store may sell the same cabinets to the consumers for $2,000 to make a profit.
The same manufacturer might sell the same set of cabinets directly to consumers for $1,300. As stores give bulk orders, the manufacturer may give them a discount which might not apply to individual consumers. The manufacturer still makes a decent profit when including the cost of transporting the goods to the consumers. However, the consumers also save money as they don't have to pay the markup established by retail stores. Therefore, you get the same product at a lower price.
Advantages Of Buying Kitchen Cabinets Direct From Manufacturers
There are a few advantages of buying kitchen cabinets direct from manufacturers:
Lower Cost
We have already established that buying kitchen cabinets direct from manufacturers is cheaper. You can divert the cost savings to other aspects of your home construction.
Reduced Shipping Time
When you order kitchen cabinets at a retail store, the store will forward the order to the manufacturer. The manufacturer will then transport the cabinets to the store which will then send the cabinets to you. When you buy kitchen cabinets direct from manufacturers, they will ship straight to your address. It will take longer to ship the kitchen cabinets across two locations than one. You will save shipping time and ensure that your construction is completed faster.
Better Customization Options
When you buy kitchen cabinets from a store, they will already be finished. In most cases, it won't be possible to customize them. However, when you buy kitchen cabinets direct from manufacturers, you may have the freedom to customize them. As most manufacturers sell their kitchen cabinets at the same place they make them, you can ask for alterations. They can also make cabinets customized to your requirements.
How To Buy Kitchen Cabinets Direct From Manufacturers?
There are a few ways that you can buy kitchen cabinets direct from manufacturers. Keep in mind one little factoid about kitchen manufacturers: most kitchen cabinet manufacturers count on "retail" sellers, local distributors, or retail locations to run their sales and to run their customer service. Most cabinet companies just want to be able to get accurate orders for their cabinets, make them, and ship them out. The general public is not great at ordering custom or pre-built cabinets exactly right and with all of the correct accessories. However, we have found a few different ways to purchase the cabinets more cheaply through a few channels that don't include heading to a kitchen showroom or Lowe's and picking cabinets out. Just to note, there is nothing wrong with going into a Lowe's to purchase cabinets, there is just a 10-20% (at least?) markup that you are going to pay for those same cabinets that you may not need to if you are getting kitchen cabinets direct from the manufacturer. Here are the best options we found:
1. Order Kitchen Cabinets Online
If you live in an area which doesn't have a kitchen cabinet manufacturer close by, or want to see exactly what you are ordering, then you can order cabinets online. Many websites sell kitchen cabinets direct from manufacturers. These websites will charge a small fee for their services. You will still save quite a bit of money compared to retail stores. Some cabinet manufacturers also sell on their own websites. TheRTAstore.com is one such website.
TheRTAstore.com is a nice place to shop for kitchen cabinets because they sell both RTA or "ready to assemble" cabinets (think IKEA furniture) and they sell "pre-assembled" cabinets as well. Many online stores like to sell RTA cabinets because they can keep an RTA cabinet flattened and that allows them to keep the packages smaller and keep freight costs down. If you don't want to deal with assembling everything at home or at a project site then you do have the option of paying a little more but getting a pre-built cabinet. In addition, TheRTAstore.com has some pretty easy to use "design tools" that allow you to create your own kitchen before putting your order together.
Always research the quality of each kitchen cabinets before your purchase kitchen cabinets direct from manufacturer. Ask for detailed product descriptions and warranty information before committing to a purchase, or better yet, so see a sample installed in a showroom first before making a purchase.
2. Contact Manufacturers in Your Local Area
You can visit cabinet manufacturers in your vicinity. Most of them will be located on the outskirts of cities. Local directories and online searches can assist you in finding kitchen cabinet manufacturers in your area.
One of the longstanding associations in the US that you can use as a resource is the Kitchen Cabinet Manufacturers Association (KCMA). If a cabinet manufacturer is certified by the KCMA you can trust that they are meeting a high level of quality. In addition, they have a list of manufacturers in each state through their website located at:
https://www.kcma.org/company/manufacturer
IKEA is probably not the first store you would think of when it comes to kitchen cabinets, but IKEA kitchen cabinets are stylish, sleek, and contemporary. There are a couple of disadvantages to ordering cabinets from IKEA: they require assembly, you need to pick up and deliver the flat boxes of cabinets yourself, and the cabinets are largely made with particleboard. However, if you are willing to live with those items then IKEA is certainly a good option for you. In addition (for a fee of course) you can have outside contractors deliver and assemble the cabinets for you.
I just ordered IKEA cabinets for both our living room and our dining room, and must say that I was pleasantly surprised with the results. The ones we installed in the dining room were used for more like a buffet, and they definitely fit more of the "IKEA" mold being more like a particle board, and a little more plain than a standard fully raised kitchen door panel. However, IKEA sells plastic laminate tops and we are planning on putting one on top and we also swapped out the cabinet hardware to class it up a bit.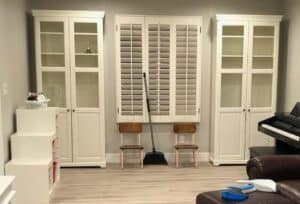 What really surprised us was the quality of the living room cabinets. These were the Brimnes series and after finding these in the Centennial, CO IKEA showroom they didn't actually seem like an IKEA cabinet. They felt more like a "real" cabinet with real wood in the front door with a factory finish, the color of the cabinets were an off-white instead of the standard bright white that we are used to seeing at IKEA, and the cabinet hardware that came with the set were "soft-close". Sure it took us like 3 hours to put everything together but at the end of the day it was super worth it. Now I can't actually tell you that IKEA has the same kitchen cabinets but after seeing these my perception of IKEA has certainly changed and I will definitely give their showroom a chance when we decide to refresh our kitchen in the future.
4. Order Cabinets from Costco
Costco wholesale is another avenue for low-priced kitchen cabinets.  Sure, they are not technically a "manufacturer" of kitchen cabinets but they do only have one supplier who supplies their cabinets and so technically they are pretty much the same as a manufacturer. I know from first hand experience as well that they pressure their suppliers for the best pricing in the country so there are definitely some advantages to purchasing cabinets. First, this can be all-wood cabinetry. Second, Costco kitchen cabinet styles tend to be more diverse, including traditional and Euro-modern or contemporary looks. Third, although you have to be a member of Costco to take advantage of their pricing, when you purchase a high dollar item such as cabinets you can purchase an annual member for peanuts (usually $60 or less) compared to the money you would save purchasing cabinets. If Costco has buying power and is able to work their suppliers' wholesale pricing down by 15%, 20%, etc… then at some point you just can't beat their pricing anywhere else. We always say in our family if they sell anything at Costco try and buy it because you know that it's high quality and they are giving you the best price they can.
Other leading kitchen cabinet manufacturers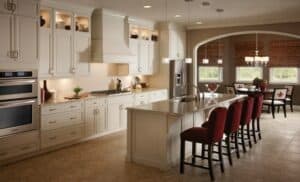 Headquartered in Middlefield, Ohio, KraftMaid manufactures its kitchen cabinets in ISO-14001-certified facilities. The cabinetmakers deliver quality craftsmanship and use traditional woodworking skills to build each cabinet. You can trust the manufacturer's top-grade materials and durable construction to actually last a lifetime. These cabinets can be ordered online or purchased from your local KraftMaid store. The website offers a free kitchen remodel visualizer tool that you can use to simulate designs and see what options work best for you.
KraftMaid lets you order by door style – slab door, Shaker style, raised panel, etc. It has a range of designs to support traditional, transitional, modern, contemporary, and rustic kitchens. You can accessorize your cabinets with decorative molding, under and in-cabinet lighting, glass doors, finished pulls/knobs/handles, and other shelving hardware. So, as discussed earlier, there is a huge scope for customization when you order kitchen cabinets direct from manufacturers. Also, KraftMaid has versatile and truly innovative storage options to maximize every nook and cranny. These include roll-out trays, cutlery divider kits, spice drawers, pegged organizers, tiered drawer storage, corner solutions, pantry storage, wire tray divider, reverse-a-shelf kit, multi-storage swinging shelves, and countless other possibilities to match your space!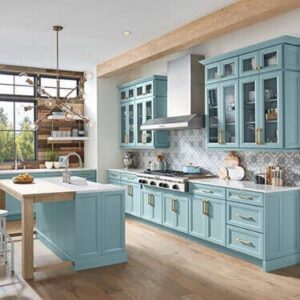 Operating from Ashland, Alabama, Wellborn is one of the leading manufacturers of quality kitchen cabinets. It is certified by the Kitchen Cabinet Manufacturers Association (KCMA) and has earned the KCMA Environmental Stewardship Program recognition. This speaks volumes about the quality as well as the sustainability of each cabinet that arrives on your doorstep. You can order semi-custom, Shaker, frame, or frameless cabinets that are built to last. They are available in multiple wood options and finishes, including cherry, maple, oak, hickory, thermofoil, MDF, and laminate. Wellborn's generous color palette and door/drawer style range can easily accommodate your remodeling plans.
The company excels in custom storage accessories to help you organize utensils, cookware, dishes, and spices – which makes all the hard-to-reach areas easily accessible. There are other customization features in the form of decorative hardware like corbels, moldings, styled doors, ornamental knobs and pulls, cabinet lighting, etc. Wellborn's You Draw It program allows you to bring it all together in your virtual kitchen before you can confirm the order.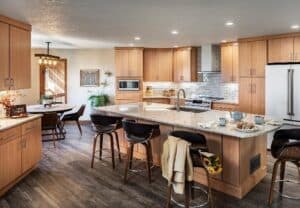 Bertch operates from Waterloo, Iowa, and has a reputation in the cabinetmaking industry, particularly for its environmentally-aware practices. It is certified by KCMA's Environmental Stewardship Program and is committed to reforestation, recycling, and resource management strategies. Also, Bertch products do not emit Volatile Organic Compounds (VOC) into the air – ticking all the boxes for a satisfied homeowner. All the more reason to order directly from this manufacturer!
Kitchen cabinets from Bertch are manufactured using the finest wood, cabinet hardware, and durable finishes.
You can choose from alder, ash, cherry, hickory, maple, walnut, 3D laminate, stain, glaze, and other options. The doors are available in different styles including Shaker, slab, flat panel, raised panel, specialty, and colored glass.
We were also impressed by the custom storage designs that solve the problem of space and accessibility – so your spices and utensils come to you instead! You can select drawers with built-in cutlery trays, drawers with sliding tops, lazy Suzan cabinets, wastebasket cabinets, pull-out organizers, integrated cutting board drawers, cutlery dividers, slide-out storage, lid storage, pullout spice racks, and several other specialty cabinets.
How to Buy Kitchen Cabinets Direct From Manufacturer?
After doing our research for the best kitchen cabinets direct from manufacturer we have come to a final conclusion. The best way to buy kitchen cabinets direct from a manufacturer is by buying through through a 3rd party website such as theRTAStore.com or by establishing a relationship with a local cabinet manufacturer near you. However, it is worth pursuing some known companies like IKEA, Costco, Home Depot, or Lowe's because they purchase a lot of quality cabinets, they can assist you in the process before you order thousands of dollars worth of product, and they have buying power because of how many cabinets they purchase in order to give you better or equal pricing compared to you just buying everything yourself directly.