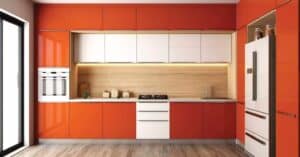 Acrylic kitchen cabinets have a glossy finishing that gives them a stronger "stage presence" in contemporary kitchens. The synthetic, non-toxic coating creates a mirror effect, and this also contributes to the material's shiny appeal. Most homeowners prefer the effortless style of acrylic cabinets, as they are so easy to clean and maintain. Kitchen remodeling projects often include acrylic installations for the same reason. The cabinets add a warm personality to your kitchen, and they make a more confident upgrade to wood or laminate. With aesthetics and durability checked off your list, you enjoy the freedom of playing with vibrant colors – and backsplash combinations meet a whole new creative scope.
The high-gloss appearance from acrylic's reflective finish gives any kitchen layout a quick facelift. Installing acrylic kitchen cabinets is a clever way to plan an effective makeover. They are resistant to scratches, moisture, and UV light – and so own your kitchen space for a comfortably long time. Since they are available in vivid color swatches, there is more room for customization. The glossy surface makes even small kitchens appear brighter and more spacious. It adds modern vibes and blends well with your remodeled spectrum of colors – allowing the turquoise backsplash, copper pendant lights, and orange chairs to bask in reflected glory.
Why choose acrylic?
Visual aesthetics
Acrylic kitchen cabinets steal the spotlight for their décor contribution. Their dynamic colors stand out even more with the reflective, mirror-glazed effect. This offers greater freedom with your backsplash possibilities, as the glossy cabinet doors add textural contrast to the backsplash material. You can choose from a variety of colors and personalize the interior design. Compared to wooden and laminate cabinetry, this delivers exactly what you need for a kitchen renovation project: a striking difference from your old kitchen.
Easy cleaning
Even though acrylic catches fingerprints and stains, the surface can be cleaned easily with a wipe cloth. All you need to do is wipe away the stains using soap water or glass cleaners – and the spotless results simply soothe your inner neat-freak! Acrylic is a synthetic material. It can be maintained much better compared to its wooden and laminate counterparts. Once your cleaning is over, it is very satisfying to stand back and watch your flawless kitchen sparkle and shine in the light.
Long-term investment
Acrylic cabinets do not fade, break, or chip easily. They are scratch-resistant and stay free from blemishes in the long run. Therefore, wear-and-tear issues are not a problem, and you just need to clean the surface to get rid of fingerprints and stains. The coating retains its finishing without getting chipped, which also enhances the glazed appearance and makes your cabinets look as good as new anytime.
Durability also comes from the UV resistance, warp resistance, and waterproof features of acrylic. They help increase the lifespan of your kitchen cabinetry and improve its cosmetic appeal. These features make acrylic a versatile choice for your kitchen projects. Lightweight properties and impact strength further reinforce any application you have in mind, including various cabinet thicknesses and glossy fronts. You know it is an investment well done when your kitchen cabinets refuse to look their age down the road!
Bespoke ideas
Versatility also takes the form of customizable ideas. Acrylic kitchen cabinets can be designed and shaped to suit your Pinterest-friendly vision. They allow for impeccable attention to detail, and you get to enjoy the creative flair of planning your kitchen's new look. Since acrylic is so easy to work with, it supports bespoke craftsmanship for all kinds of projects. Acrylic sheets can be drilled, formed, painted, cemented, etc. to suit your cabinetry ideas. They are predrilled to accommodate cabinet fixtures like hinges and handles – and you can always customize the final results.
Mix-and-match options
Acrylic makes a smart choice for upper cabinets in particular. Paired with the backsplash and cabinet lighting, your upper cabinets finally have their time to shine! It is a budget-friendly approach if you want to revamp your old kitchen but still wish to keep the lower cabinetry with countertops. The clear sheen on the top cabinets catches the light and makes your kitchen feel more inviting.
By installing acrylic cabinets only on the walls, the glossy update makes an attractive addition to your space. It gives the impression of a full makeover, as the shiny acrylic draws your eyes upwards to the walls. This is also an efficient way to balance between laminate and acrylic. You can still keep the lower laminate cabinets and plan a bold contrast using acrylic on the upper units. The textural freedom is often explored in high-end kitchens and is a clever way to reimagine a small space.
Kitchen islands and peninsulas
Acrylic cabinets for islands and peninsulas are popular high-gloss elements in a modern kitchen. They make a compelling focal point for breakfast nooks and dining areas in your kitchen. The acrylic finishing adds a decorative aspect to your island or peninsula. This synchronizes perfectly with your choice of pendant lights and chairs to complete the artistic image.
Types of acrylic cabinets
Styles
In general, homeowners have two acrylic cabinet options to choose from: acrylic-faced doors and solid acrylic doors.
Solid acrylic doors are made of pure acrylic. These high-gloss doors can be quite expensive, as they lack the addition of bonded layers in between. They are undoubtedly durable and have greater vibrancy than acrylic-faced doors.
Acrylic-faced cabinet doors are less expensive than solid acrylic doors. The plain acrylic sheets have a layer of Medium-Density Fireboard (MDF) underneath. The bonded layers are coated for protective finishing and sealed ends. This type of acrylic kitchen cabinets offers the same quality and durability as a solid acrylic door – just at a more affordable price.
Finishing
Acrylic kitchen cabinet doors come in a variety of finishing styles. High-gloss, matte, and wooden tones are a few examples. There are metal acrylic finishes for luxury designs. Decorative patterns include various prints to enhance the reflective glaze. Since the material is so lightweight and durable, all finishing results stand the test of time.
Your knight in shining acrylic
Kitchen remodeling ideas hit a new stratosphere when it comes to acrylic cabinets. They redefine your existing kitchen effortlessly if you are aiming for cosmetic upgrades. This is because when you install acrylic cabinets, the glossy contrast immediately highlights the empty space between your cabinets and countertops. You become more aware of color coordination scopes, and so a new backsplash fills those gaps easily. Then comes the inspiration for some under-cabinet LEDs. Add in some bright island stools, and you finally have a functional kitchen with a dining space! If your kitchen is the heart of your home, then it is time to give it a beat with color splashes – and acrylic is a good way to begin.