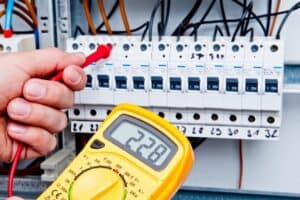 Image source: Everon Electrical
All residential, commercial, and industrial applications rely on electricity to keep their appliances and equipment up and running. Any length of electrical downtimes will disrupt the operational flow of a business, and prolonged delays can easily fracture the company's reputation. To prevent unexpected system failures, both homeowners and businesses need to plan electrical maintenance services. They are provided by maintenance companies who specialize in electrical applications and help you address faulty power systems, red flag issues, and equipment downtimes. Most of these services enable preventive maintenance programs where you can proactively identify issues and take measures on time. Routine checks on the electrical framework of your building and equipment help you add extra years to their operational life. This saves you a lot of costly repairs down the road – and you will have one less thing to worry about!
Preventive maintenance for electrical systems includes inspections, equipment upgrades, essential retrofits, and other improvements. These services ensure a thorough upkeep of your building, paying special attention to tip-of-the-iceberg problems. By enlisting professional support, you can eliminate the risk of potential hazards and ensure human and resource safety. Since amateur users can be at imminent risk of fires/electrocution, these projects should only be handled by experts who know what they are doing. Licensed electricians will step in at this point to assess the current status and make sure that everything meets their safety checklist.
A comprehensive plan can be tailored to your specific requirements for revamping the electrical infrastructure, accommodating new technologies, and future-proofing the building. The main benefit of consulting licensed teams is that they can unearth hidden problems which you might have ignored – or not even noticed. There is a vast range of services you can request, as discussed in this article.
Electrical maintenance services
Early detection and aversion of problems is the main goal of a preventive electrical maintenance service. After conducting the electrical diagnosis of your building, the technician can decide on relevant solutions – for example, using a backup generator, rewiring the framework, installing new switches, and using the right appliances. The intricate network of wires and connections can often make it difficult to isolate the source of concern. For this reason, thermal imaging cameras are popularly used for scanning buildings and machinery to reveal hot spots, improper connections, damaged insulation, etc. They speed up the diagnostic hunt for dangers and play an important role in avoiding power surges to protect the equipment and its vicinity. Here are some examples of electrical maintenance for both residential and commercial contexts.
Residential services:
Landscape lighting – outdoor electrical maintenance commonly includes lighting aspects for improved aesthetics, energy efficiency, and ideal ambience levels. You can choose from a variety of lights including recessed, smart, security, and LED types. This form of service should address outdoor safety by insulating any exposed wires and checking for electrical hazards due to rain, heat, placement, etc.
Appliance installation – home appliances like heaters, air conditioners, microwaves, ovens, washing machines, desktop computers, and refrigerators have specific electrical requirements. If your existing electrical framework cannot support such appliances, it is important to fine-tune the wiring before installing anything. Power-hungry appliances may require their own electrical source to isolate them from the rest of your home's wiring. This ensures maximum protection and independent functionality for each appliance.
Smart integrations – your maintenance team can upgrade your home's power outlets and help you configure smart technologies.
Accessible outlets at strategic points around your home enable easy plug-ins for various home automation products. You can then use smart lights/dimmers, smart switches, and smart plugs for increased versatility and remote access.
System inspection – having a licensed team inspect your electrical wiring, panels, transformers, and regulators will help you discover faults and hidden damages. Full-scale inspections often shed light on hazards like blown fuses and excessively hot wiring. If ignored, these electrical symptoms can lead to irreversible consequences. An upgraded framework will handle your power requirements smoothly and keep every appliance on the grid safe to use.
Commercial services:
Equipment safety – businesses rely on seasonal maintenance programs to boost the functionality of their machinery and equipment. Well-maintained hardware and connections ensure the longevity of your assets and allow them to operate without chronic problems. This also strikes off repair costs from your business's expenditure, letting you focus on operations instead of obstacles.
Energy efficiency – installing energy-saving lights in commercial buildings is a great way to save on electricity. Businesses can switch to various smart technologies as well to keep an eye on their carbon footprint and adopt greener practices. Also, since serviced equipment performs better, your machines will consume less energy for greater throughput than before.
Digital maintenance – with computers driving the massive digital workforce for businesses, it is important to plan routine system maintenance. This includes installing standby power generators for seamless work transitions. Surge protection is another crucial service, as it ensures safe operations throughout your building and reduces downtimes. If too many devices draw power from the same source, the resulting overload increases fire risks. Your service program should definitely focus on circuit overload detection and protection. Electrical maintenance takes care of your valuable commercial data because all the networks rely on electricity – the loss of which can start a domino effect throughout the grid! Businesses cannot afford their systems collapsing every now and then, and so scheduled maintenance should be a priority.
Alarm and sensor maintenance – fire alarms, motion detectors, and other sensors need to be checked for responsiveness and proper functioning. This is particularly useful in COVID-proofing your premises through the use of contact-free technologies like touchless faucets, automated doors, and smart switches.
Rewiring applications – businesses frequently move their computers and other equipment to establish socially distanced environments, for example. This calls for professional rewiring services, as only electrical compatibility will help you resume your work. Relocating to new premises also depends on rewiring efficiency when you are using the same hardware. Before installing the systems, it helps to first make sure that they can adapt to the new electrical climate and conform to that building's safety codes.
Electrical maintenance companies
Muth Electric Inc.
A leading electrical contractor
Muth Electric was founded in the year 1970 and offers competitive electrical maintenance services throughout South Dakota and Nebraska. The licensed contractor has various specializations in this field to help you plan the necessary electrical upkeeps for your residential or commercial building. As a result, its truly electrifying portfolio is charged with some of the best maintenance projects. Muth Electric provides services to hospitals, water treatment facilities, airport runway lighting, industrial plants, schools, offices, retail stores, and several other audiences. Its serviced buildings include Williston Area Recreation Center, Hilton Garden Inn, Cedar Shore Resort Oacoma, Black Hills Corporation Headquarters, and SDSU Performing Arts Center Brookings.
Electrical maintenance services
Muth Electric has a team of licensed electricians who cater to the needs of both businesspeople and homeowners. You can schedule various electrical renovations around your building and address issues in breakers, fixtures, fuses, etc. The company has a rich source of preventive maintenance expertise to ensure code-compliant and fully functional wiring systems. Its quality workmanship is backed by a 2-year warranty, which is an added bonus on top of the budget-friendly services you will find.
Electrical maintenance is a very building-specific project, and Muth Electric works on delivering tailored services. For example, it meets the technological demands of schools and universities to provide them with accessible electrical solutions. These enable a high-tech learning environment for multimedia classrooms, laboratories, auditoriums, conference rooms, etc.
Kirby Electric
Full-service electrical maintenance
Kirby Electric is a specialized electrical contractor across Seattle, Bellevue, and western Washington, operating since 1990. It offers commercial and industrial services from experienced electricians and low-voltage technicians. The company's portfolio features various lighting, repair, showroom renovation, electrical construction, electrical maintenance, and fire alarm projects. Some of Kirby Electric's clients include Auburn Retail, Good Samaritan Medical, Seattle Mini, Cheesecake Factory, Doxon Toyota, FedEx – Fife, and Amazon Fulfillment Center.
Electrical maintenance services
The company provides all kinds of electrical and emergency services that keep your business up and running. You will have qualified electricians leading your project with tailored commercial solutions that suit your business. This sets the benchmark for commercial maintenance as opposed to residential maintenance, and Kirby Electric's teams know where to draw the line. With comprehensive preventive maintenance services, you can safeguard your building against elemental damages, restore outdated frameworks, and keep up with the latest electrical codes. Kirby Electric can arrange detailed inspection services to evaluate your equipment status and building safety. Furthermore, its customized lighting retrofits make a great energy-efficient alternative that promotes both ideal ambience and aesthetics.
Kolb Electric
A family-owned service provider
Kolb Electric has been around since 1925 and offers electrical services throughout Maryland, Virginia, and Washington, DC. The family-owned company specializes in all residential, commercial, and industrial applications, helping homeowners and businesses round the clock, round the year!
Its teams address various problems like circuit breaker issues, panel replacements, ceiling fan installations, appliance wiring, parking lot lighting, generator installation, ballast replacement, and electrical code corrections. You can book detailed consultation services and call in the bucket truck when needed; teams are always ready to be dispatched to the clients' locations.
Electrical maintenance services
Kolb Electric delivers infrared thermography inspections to monitor what goes on behind the scenes. Various preventive maintenance services are available for all the necessary electrical upkeeps, allowing you to catch emerging issues and resolve them immediately. The contractor also offers primary services and distribution solutions to protect your building from overcurrent and power surge hazards. You can set up sensor-controlled atmospheres throughout your building by installing motion detection systems, fire alarms, and smart lights. The serviced systems will greatly facilitate all telecommunication contexts and daily operations, with backup power sources on standby ready to take over.
Dubak Electrical Group
A national electrical leader
Dubak Electrical Group was established in the year 1988. Headquartered in LaGrange, Illinois, the company has nationwide coverage for its electrical services. Professional expertise and competitive pricing define its portfolio, which features electrical contracting, maintenance, integration, electrical CAD, industrial installations, custom repairs, and even more full-scale services. Most of these projects focus on aspects like automation, fiber optics, and emergency protocols to help businesses respond to technological progress and emerging issues. So, there are both preventive and reactive maintenance options to choose from.
Electrical maintenance services
The licensed contractor specializes in various industrial scopes to provide design services and installation advice that fit your business context. You can enlist the help of electrical distribution teams to assess and upgrade your building's wiring configuration. With virtual design and detailed electrical audits, Dubak Electrical Group can conduct thorough electrical investigations and locate potential red flags in a facility.
Once the root cause of an issue is confirmed, you will receive professional follow-ups to ensure safe and functioning systems. This includes utility service coordination and other distributive aspects to keep your resources thriving on the given electrical grid.
Tweaking a building's central nervous system
Businesspeople and homeowners need to make sure that their electrical systems and all the connected equipment actually stay awake on this radar. Building codes keep updating based on new standards, and emerging technologies demand compatible integrations. For this reason, planning regular upkeeps with a licensed contractor gives your electrical framework a valuable stitch in time. From emergency power restoration and wiring distribution to basic troubleshooting and fault detection, companies like those mentioned above know exactly where to begin. The key objective is to create a reliable working and living environment to promote the safety of people, resources, and property.
Electrical maintenance varies between residential and commercial examples, as the level of difficulty naturally shifts across small and large-scale projects. Regardless of the project size, the level of danger remains the same when we deal with flowing charges – let all the yellow caution signs flash as one giant reminder! With the help of professional electricians, you can rely on well-serviced equipment and technologies to carry on smoothly – as this is what it all comes down to: the binary 0 and 1.