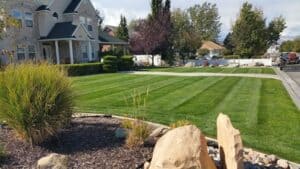 Image source: SLC Lawn Services
Homeowners often invest in residential property maintenance services at strategic times of the year. These services are offered by various property maintenance companies and are useful in maintaining the look of your home sweet home. If you own a large property and have a landscaped exterior, it is important to plan regular upkeeps to preserve both the appearance and value of your property. You can enlist the help of contractors who specialize in landscape maintenance, garden cleaning, lawn mowing, and other improvement services. Contractors can also help you customize the maintenance scope to address various problems and bring out the best aesthetics or functionalities. Grounds maintenance technicians usually come on board to provide the necessary solutions. Residential property maintenance can be a very homeowner-specific project that relies on the topographic makeup of the land. With a mix of both organic and artificial structures, the amount of work that goes into maintaining them will differ.
Companies also offer service packages to cover your seasonal requirements. The changing seasons always leave a mark in their wake, and as much as we love the crisp sound of autumn leaves, it helps to take care of any organic leftovers before it is too late! For this reason, debris cleaning makes a crucial maintenance service. Apart from such landscaping and cleaning aspects, companies may also provide miscellaneous repairs like fixing a roof leak or installing a new door. You can choose the company that fits your maintenance plan and includes add-on services in its package.
Residential property owners often decide on full-scale services to revamp the building as well as the immediate landscape. This is particularly useful when you do not have the time or resources to do all the work by yourself – a large property always benefits from a professional touch rather than DIY approaches. The service company will handle all kinds of damages and restore your property to its optimum condition, letting it embrace a new lease of life.
Residential property maintenance services
Why do you need them?
The key incentive behind this project is the value it adds to your residential property. Beyond the impressive curb appeal, your home will also stand out in its improved functionality. Maintenance services help you optimize your HVAC infrastructure, update appliances, renovate old roofs or floors, schedule routine safety checks, and plan essential replacements throughout your property. Most of these services allow you to anticipate the needs of your home and take precautions on time. This eliminates a lot of expensive repairs down the road. You might also choose maintenance options in response to current, emerging problems like clogged drains or flood damages. A well-maintained property is less vulnerable to fire damages and elemental despair, keeping you safe from accidents and emergencies. As a building owner, you can ensure the safety of your renters and increase your chances of swift move-ins. As a homeowner, you can enjoy the extended lifespan of your property by saying goodbye to otherwise recurring issues.
What do they include?
Residential property maintenance has a wide spectrum of services. They range from all minor upkeeps and technical repairs to exterior maintenance and landscape upgrades. Here is a glimpse of some standard services you will find in a residential contractor's portfolio:
internal and external cleaning
pest control
landscaping and lawn maintenance with sidewalk repairs
garbage disposal
infrastructural repairs
HVAC, mechanical, and electrical replacements
safety inspections
general cleaning, power washing, and disinfection
snow, leaves, and debris removal
graffiti removal
pool maintenance and repair
fire safety inspections and alarm control
appliance repairs for dishwashers, heaters, etc.
storm clean-up
roof maintenance, gutter repairs, and deck upgrades
energy-efficient installations and insulation
automation choices for smart technologies, self-cleaning roof gutters, and sensor control
How do they work?
It is important to hire licensed and reputable contractors for the job. Service compatibility is crucial, as it decides what areas of the property you can revamp. When we talk about extended lifespan, professional caliber definitely walks the extra mile, and your property receives a quality facelift. You can collaborate with the company and find out what type of maintenance your residential property needs. Predictive maintenance services rely on sensors and inspections to predict and create a timeline for the required actions. Preventive maintenance is more diagnostic in nature and focuses on regular inspections to discover red flags and prevent potential problems. Reactive maintenance includes services that cover the aftermath of an event, like emergencies and natural disasters. Depending on your property's existing condition, you can organize a relevant service plan that is both feasible and versatile enough for your expectations.
Changing with the seasons
Residential property maintenance should adapt to the seasonal setting, so you can pay for services that actually benefit you in the current season. Maintenance companies specialize in different services and can help you compile a list for your seasonal pursuit. The following services are categorized into a seasonal walk-through and make a helpful guide for what to expect.
Spring maintenance services:
recovering from winter's elemental damages, including those from snow buildup and heavy rains
exterior painting and renovation
inspecting the roof and gutters for potential leaks
checking and maintaining heaters, HVAC ducts, vents, air filters, etc.
getting rid of any mold and mildew problems
planting new spring flowers in your garden
Summer maintenance services:
repairing the air conditioning units, vents, and ductwork
updating the fire alarm systems and fire emergency precautions
exterminating pests and ensuring thorough clean-ups
refreshing the landscape by trimming, watering, and cleaning regularly
installing solar technologies for better energy efficiency, especially with the increased use of air conditioners
Fall maintenance services:
bracing for the upcoming winter season by updating the heaters, fireplace, and chimney
inspecting the roofs and gutters for leaks, debris, or clogged leaves
property cleaning and power washing
Winter maintenance services:
maintaining the HVAC and fireplace throughout the season
planning snow removal for the driveway, sidewalk, etc.
inspecting all the plumbing pipes for any damage – and insulating the exterior pipes against the cold
securing your property against winter storms by maintaining the surrounding trees
protecting and closing the swimming pools efficiently
Using online tools
Most residential property management companies allow building owners and homeowners to book an appointment online. Various management software apps are available to send online requests and collaborate with your chosen contractors. They also help you track the status of your request and schedule the maintenance services accordingly. Online collaborations are an efficient way to streamline the whole process and receive productive feedback – compared to making lengthy phone calls.
The website of your maintenance company will be a good place to start. Websites that integrate management software help companies automate their work, process client requests faster, and stay organized. Self-serve online support also allows applicants to handle the specification stage on their own and get in touch with a specialized service provider quickly. It is a smart way to receive tailored service advice for your residential property, as the company can troubleshoot relevant problems and dispatch associated teams to your location. This is quite useful in the face of disaster remedy and preventive aspects. Your service request will be accessible to all the property maintenance stakeholders, including project managers, specialized technicians, inspection teams, and landscape architects – so most of your application process will be handled online.
Leaving a neat residential footprint
A regularly maintained property makes your humble abode look elegant and inviting. Maintenance services at different times of the year cater to the seasonal impact on your property. They give your home a picture-perfect charm that can finally rival your Pinterest boards. The improved curb appeal is very reassuring, and you can always relax knowing that no accidents and injuries will occur due to property negligence. If lack of maintenance around your property leads to bigger hazards for yourself and others, the domino effect will be unstoppable – as will the resulting lawsuits! This is especially true in terms of pandemic aspects, life safety, and wildfire issues. A spark is all it takes to start a wildfire, and the scorching summer heat adds to the fuel. Homeowners who live near the greens have to be even more cautious about routine upkeeps as a result. Planning regular sanitization and disinfection services are also important elements of this checklist.
Hiring a licensed maintenance company gives you a full-service scope that is compatible with your specific property. The specialists can handle various issues like cleaning your HVAC filters, installing new hardware, maintaining your lawn, and winterizing outdoor structures. Scheduling frequent repairs and improvements for your landscape will keep it resilient and fresh against any seasonal changes. It is also a great chance to let the experts come in when you do not have the time to cut and trim away – precise attention to details is a definite bonus. The contractors can organize property inspections to shed light on issues you might have missed. A spruced-up outdoor experience is definitely something to look forward to during the pandemic. With banned dine-in restaurants and cafes, it is time to welcome the alfresco vibes to your own home!