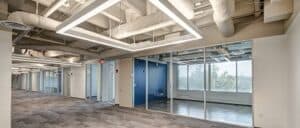 Image source: Aquila Commercial
Tenant improvements are the physical changes made to a leased commercial space so that it meets the tenant's requirements. They are also known as leasehold improvements, and as a tenant, you can define the scope for these customized upgrades in your lease agreement. Building owners are responsible for adding the necessary retrofits and making the premises optimized for their tenants' businesses. The lease agreement is an important starting point, as all the negotiations for tenant improvement construction revolve around it. Property configurations may include renovating the walls, ceilings, floors, HVAC systems, etc., and so the final agreement must suit both parties for the construction to begin. This allows you to navigate within the lease boundaries and plan an effective buildout to support your commercial operations.
A good incentive for an owner to agree to such modifications is that most of the structural improvements can be used by the next tenant, so there are better chances to rent the space immediately when the current lease expires. This divides tenant improvements into two types of commercial spaces: first generation and second generation. First-generation spaces exist as a blank shell with no alterations, allowing you to configure them the way you like. Second-generation spaces are already rented in the past, so some improvements made by the previous tenants still remain – such as new lighting, walls, tiles, and utilities.
Depending on the size of your tenant improvement construction, you can plan such a project for various commercial needs. These may include office buildouts, shopping mall stores, facility improvements, and other applications. A well-organized construction process caters to your business's specific needs for better spatial benefits. It helps you focus on the necessary infrastructural changes to accommodate electrical, mechanical, and technological additions – always remembering to leave some room for future-proofing ideas. The complete tenant improvement timeline can vary considerably based on your construction scope, as discussed in this article.
Tenant improvement construction types
Tenant improvements in a new commercial space
If you are leasing a new commercial space, or a first-generation space, then the improvement process will begin from scratch. The shell condition has only the bare minimum interior with unfinished layouts, making it easy for you to customize the space as you like. You can add the required infrastructure, amenities, and décor to suit your commercial goal. This blank canvas interior exists as two different shell spaces, so you can decide which one is more feasible for your first-generation pursuit:
Grey shell or cold shell spaces have unfinished walls and floors, with no electrical, plumbing, or HVAC frameworks. Improving a grey shell space naturally takes more time and expenses to bring the empty interior up to a workable standard.
Plain vanilla shell or white box spaces are partially finished and include completed ceilings, floors, and utility frameworks. They offer the basic functionality you can add upon, and so the construction process has a shorter timeline.
Tenant improvements in an existing commercial space
Leasing an existing commercial space – a second-generation space – is the best choice if you are planning for quick occupancy. With most of the previous upgrades already in place, you only need to add the required elements for your business. This creates several options to reuse the existing improvements and incorporate any cosmetic changes for better aesthetics. Tenants often prefer renting a second-generation building that checks most of the boxes for their commercial use.
There is more repurposed potential compared to leasing brand new premises, especially if you are on a tight budget. By reconfiguring a used space, you can improvise with what is available at hand and focus on how to make the area more functional/creative for your business.
Tenant improvement construction process
Lease negotiation
Building owners offer some tenant improvement allowance to fund the construction process. The amount is agreed in your lease, and it is important to organize the project accordingly. Negotiating the lease terms and allowance effectively will help you get the best out of the agreement. You can have your commercial space configured to your expectations without paying any additional amount – if you do manage to negotiate successfully. This financial concession allows you to lease the space with improved finishes that will help your business in the long run. Your building owner might agree to pay only for the improvements made to the property and not the furniture/fixtures/equipment aspects. The amount is paid either as one lump sum when the buildout is complete or as installments throughout the construction.
The lease negotiation should also include the actual construction process. This highlights the owner's financial contribution to the project, letting you know how much coverage the allowance provides. Discussing an itemized breakdown is always helpful while negotiating your expected changes. The lease should specify the required construction features like demolitions, flooring, HVAC upgrades, new technologies, etc. You can finalize the completion date and mutually agree on any additional costs for the tenant improvement construction. This clarifies the general timeline and helps you confirm who will pay for unexpected overheads if they arise.
Design, planning, and construction
The actual construction process is divided into various parts, typically the permit, design, estimation, and planning stages. Once you sign the lease with the owner, it is time to pick the right construction team for your project. Choosing an experienced, licensed, and qualified contractor helps you leverage the process remarkably well. The company will tackle all the permit paperwork and ensure that your tenant improvements are built to the relevant building codes and regulations.
The contractor will also help you confirm the final crew for construction, including architects, designers, electricians, plumbers, etc. Working with a reputable contracting company takes away the "resource hunting" headache from you, as all the materials and construction experts will be provided by the contractor. You can collaborate with architects during the design and planning stages to receive cost estimations for the whole construction timeline.
Building owners can even recommend their own construction companies for tenant improvement. Depending on your lease flexibility, it is important to plan your own consultations as well to receive expert advice and prevent project delays. This includes procuring the required documents and plans, getting them approved on time, constructing the required improvements, and ensuring regular inspections throughout the project. Good management and supervision from the company will enable a streamlined project that meets deadlines and avoids problems from underestimated budgets.
Tenant walkthrough
Your building owner will handle the payment process as discussed in the lease – payments are usually made at the end of each milestone or after the whole construction. Once the tenant improvement process is over, you will get the first look and feel of your commercial space during the tenant walkthrough. This is the perfect time to compile punch list items that need more attention, such as cosmetic flaws or insufficient lighting. When these additional elements are reviewed and updated – and the final inspection from authorities ends in a green light – the construction process is officially complete.
Certificate of occupancy
You will receive a certificate of occupancy once the tenant improvement construction is over. This document verifies that all the improvements you have made to the commercial space are inspected, tested, and approved by relevant authorities. It is a confirmation that the environment is safe to occupy and you are allowed to run your business operations. When you receive the certificate, you can move in as the new tenant and finally bring your commercial dream to life!
From blank canvas to corporate colors
Tenant improvement construction has a pivotal role in building the commercial footprint and identity for your business. For this reason, choosing reputable construction companies always pays off. They help you fuel your project's timeline with the best resources and expertise, so you can make the most of your lease negotiations – and literally coax your business out of its shell!