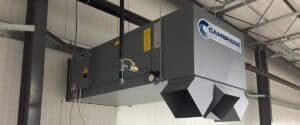 Image credit: Cambridge Air Solutions
Commercial heating systems are some of the major operational investments for business organizations. They directly impact the energy efficiency and utility aspects of buildings, so it is important to install a system that works right for your property. Medical spaces, corporate buildings, commercial kitchens, equipment rooms, and labs have different heating requirements for their indoor climates, and a team of commercial heating specialists and technicians can help you decide which systems will be consistent with your building's HVAC goals. The most common heating options for commercial spaces are discussed in this article.
Commercial heating systems
Before buying and installing a heating system, your HVAC advisors will conduct a thorough heating assessment to determine the right type of solution for your property. This helps them understand whether you need a brand new system installed for the first time, seasonal maintenance to gear up for winter, or a partial/full replacement. Commercial heating contributes to significant energy usage for all establishments – even more so for spaces like warehouses, hospitals, distribution centers, malls, and restaurants. The general installation options for such systems include:
Rooftop configuration
Under-roof
Through-wall
Vertical
Horizontal
The following are some of the main commercial heating systems used by different organizations – depending on their individual space, heating goals, interior layout, and energy efficiency potential.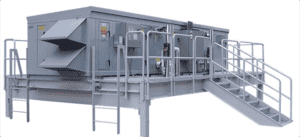 Daikin heating and cooling installation services by H&H Commercial Services
Rooftop units
Rooftop units are also called packaged units because they house all the HVAC components into one unit and connect it to the ductwork. They are popular for their space-saving and easy installation benefits, which is great for commercial rooftops also because future repairs can be done without disrupting work on the main floors. These units are lifted by cranes onto rooftops and do not require as much labor as other heating systems. You can choose from gas, electric, single/multi-zone, and custom options within rooftop categories. With rooftop heating systems, you can heat your total square footage using customized unit configurations that work for your building. The only downside is that their external location makes them more vulnerable to the elements, which calls for more frequent and often costly maintenance.
Forced air
Forced air systems use furnaces to heat air before sending it to the ductwork via blowers for heating up indoor spaces. They are common commercial heating systems that are both easy to install and affordable for most businesses.
The furnace your system uses can be fuel-burning or electric-powered depending on your building's existing infrastructure and your overall budget to choose gas or electric options. Fuel-burning furnaces rely on oil or gas for the combustion process, whereas electrical furnaces generally use heat pumps for powering up forced air heating systems – we will visit heat pumps in detail below.
Heat pumps
In commercial heating systems, heat pumps use pressure to pull heated air from outside into the building, so – unlike combustion – heat is only transferred and not generated. They are quite flexible for different heating configurations based on what the building requires. For example, heat pumps facilitate zoning to help different areas control their heating needs independently, which is excellent for occupancy-driven usage in commercial settings as it boosts efficiency and reduces bills.
In addition, heat pumps can combine both heating and cooling in the same system by reversing the direction of heat, so this is again very cost-effective for commercial properties as there is no need to install and maintain two separate heating and cooling systems. There is no combustion or smoke, making things very safe and efficient for a business.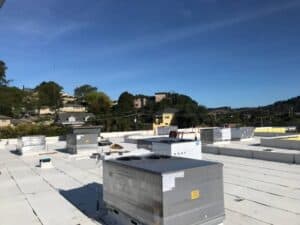 Commercial heating services by Simpson Sheet Metal Heating & Air Conditioning
There are different heat pump options to choose from, including:
Air-source heating that pulls heated air indoors.
Water-source heating via boilers to circulate hot water within radiators for in-wall and in-floor heating.
Ground-source or geothermal heating that pulls natural heat from the ground for indoor heating applications.
The right system checks major boxes for geographical compatibility, correct sizing, energy efficiency, infrastructural match, and so on – which is why you should consult a commercial HVAC advisor to go through different considerations. For example, water-source heat pumps are quite common and energy-saving for older commercial buildings, so they might not work as well for ductwork configurations. Similarly, geothermal heat pumps require excavations to set up the heating system, and not all properties will have the permits to allow that. Also, there is only so much heat that can be drawn from the ground during winters, so geothermal works best in regions that have moderate winters.
Commercial boilers
Boiler commercial heating systems circulate heated water throughout the commercial building, and the heat from this gets radiated indoors with the help of radiators on the wall. In terms of longevity, maintenance, and costs, boilers are a better choice than most heating systems. At the same time, they can be very challenging to integrate into newer buildings.
Radiant heating
Radiant commercial heating systems are mostly in-floor configurations that generate heat and let it rise up and into the building to slowly warm it up. Like geothermal heating, this is all about the laws of heat transfer where heat naturally moves towards colder areas on its own, allowing your commercial space to absorb ground-based heat slowly and consistently. By installing such a system, you are tapping into thermodynamic benefits to let heat do most of the work – which is as energy efficient as it gets. There is no need to use ducts or worry about energy losses. In fact, radiant floor heating can also support heated zones to let you control heat separately for each room. The major downside to using radiant floors is that heat can be compromised by thick flooring or carpeting.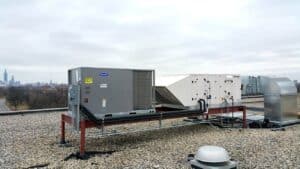 Commercial heating and cooling systems installation by 1 Source Mechanical
Solar panels
Commercial building owners can install solar panels to power up their heating systems and save electrical expenses down the road. This can be expensive in terms of upfront costs for both equipment and installation, especially if you need multiple panels for a larger establishment. Solar panels also need sufficient rooftop space to support large-scale commercial heating systems, so this calls for expert advice to ensure business feasibility before any work begins.
Split systems
A commercial split heating system is "split" into two separate units – an outdoor cabinet and an indoor cabinet. These systems are available in different configurations such as single-split (ideal for small interiors like offices, classrooms, and cafés) and multi-split (ideal for multi-floor corporations). With proper sizing and installation, split systems can be quite efficient for heating commercial buildings.
High temperature heating and ventilation (HTHV)
HTHV is a gas-based commercial heating system designed to heat and ventilate commercial and industrial buildings. It focuses on increasing energy efficiency aspects of the heating units as well as the building and is great for larger establishments like warehouses or open-concept offices.
HTHV units ensure optimum indoor air quality as well because they rely on 100% fresh outdoor air recycling, so apart from their cost-saving appeal, these systems are also very conducive to workplace comfort and employee wellbeing.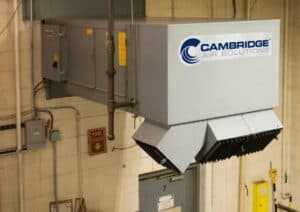 Commercial HTHV systems by Cambridge Air Solutions
Conclusion
Commercial heating systems take up a huge part of a building's operational expenses, so it is important to get the sizing, configuration, network, and type correct. This ensures maximum energy efficiency each time you switch on your heating units. HVAC professionals will first assess your building to decide whether it needs structural and technical retrofits to accommodate a new system, so all of this pre-installation phase is as important as having a fully functional heating solution in your space. Outdated units can eat into your commercial savings because they malfunction repeatedly, can be costly to update every time, and are very wasteful utility-wise. By working with commercial heating experts, you can work out possible solutions for your existing systems and maximize returns on your investment.