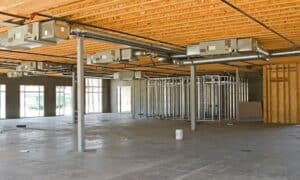 Image credits: Abel Complete Construction
Leased commercial spaces are available to tenants either in their original shell condition (the first-generation space) or a previously finished building (a second-generation space). In both cases, you will want to customize the existing area so that it matches your business type, style, and preferences. The process of converting a leased commercial property into a tenant-friendly and fully optimized business space is referred to as a build out. Although the general build out construction definition is the same for all project types, the actual improvements can vary depending on your specific commercial context – as we will see below.
Build Out Construction Definition
What It Means
In commercial real estate, a build out refers to all the improvements requested by a specific tenant for making the leased property better configured for their business needs. This includes various transformations that do not just add functionality to the given area but also build its commercial personality that highlights your business goals. You can start with a blank shell or an already improved, previously occupied building. In either case, you might want to introduce your own set of upgrades such as custom lighting, paintwork, reimagined floor plans, and so on in order to have a more brand-conscious interior that reflects your business.
For this reason, build out construction is also called tenant improvements and tenant fit outs, as the available space undergoes customizations that appeal to a specific tenant.
What It Includes
Since commercial projects differ based on the type of building that is being constructed or updated, build out construction also varies accordingly. Typical commercial build out projects include office expansions, healthcare improvements, retail build outs, and restaurant/cafe build outs. Regardless of the build out type, the general sequence of events remains the same, and you can expect your project to undergo stages like planning, design, permits and approvals, vendor selection, budgeting, scheduling, and inspections. The actual improvements you want to add may include:
Structural demolitions
Updated framing
Ceiling acoustics
Custom flooring and millwork
HVAC and utility improvement
Addition of extra rooms
Technology future proofing
Building sustainability and energy efficiency
Exterior upgrades like landscaping and parking lot construction
How It Is Done
Build out construction is usually divided into two types: a tenant improvement build out and a turnkey build out. A tenant improvement build out – as the name suggests – is controlled and driven by tenants themselves, so you remain in charge of the entire process. This includes selecting your own contractors, architects, designers, project managers, etc. There is more freedom of customization in a tenant improvement build out because it keeps you at the frontline of the whole construction. To support such a project, your building owner can offer you a tenant improvement allowance to finance either a part of the build out or the whole process. Since a tenant improvement build out is so carefully planned and customized, it is usually carried out by tenants who are willing to stay for longer leases and have a major focus on building their brand identity.
In comparison, a turnkey build out is overseen by the building owner, and though you might have a say in the overall expectations for the place, the actual construction will be covered by the owner's choice of build out teams – which also means that only basic or standard finishes and materials will be used. Turnkey build outs are preferred by tenants who want to move in quickly and do not worry about the design and aesthetic elements. They might not have a sufficient budget to fund a tenant improvement build out, or they are simply in need of temporary premises before relocating to a permanent space.
Build Out Construction Examples
Office Build Outs
Office build outs have a primary focus on designing ideal workspaces that promote employee productivity and represent the company's collaborative zeal. While open workspaces have taken the commercial real estate by storm, there is still more interest in hybrid designs that feature both enclosed workstations and open layouts within the same floor plan. A build out is an excellent opportunity to design a workspace that stands out and inspires creativity, so you might want to think about incorporating natural references, using wall-length windows, and simply creating a visually interesting area. Other aspects involved in an office build out may include:
Construction of private offices and conference rooms.
Construction of recreational areas such as break rooms, employee lounges, cafes, office gyms, rooftop patios, etc.
Lobby or reception updates for improved foot traffic and décor.
LEED-Certified materials and construction activities.
Office acoustics.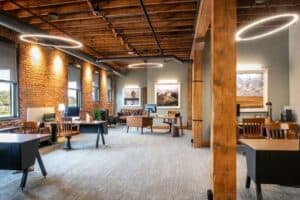 A visually dynamic office build out by PureAlchemy Design
Medical Office/Healthcare Build Outs
For medical offices and other healthcare build outs, there is more emphasis on code compliance and approval from health authorities because of the specific nature of medical functions. It is also important to build a space that helps patients feel at ease, which is why both functionality and aesthetics play a huge role in such projects. You might want to invest in the following build out areas as a medical tenant:
Working on space optimization to manage the foot traffic, organize staff workflow, and create a clutter-free outlook.
Adding technologies for the required computer systems, self-check-in kiosks, and department-specific rooms.
Constructing nurse stations, clinics, examination rooms, ADA-compliant restrooms, waiting areas, optimized flooring and walls, retractable divider panels, and so on.
Getting the required permits for the medical services you provide – this will ensure a strictly code-compliant build out construction that is safe for people and your work.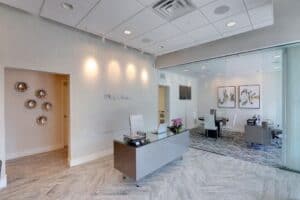 Clinic Femina's calming interior aesthetics by Diversified Construction
Restaurant/Café Build Outs
Restaurants and cafes also have strict building codes to follow because of reasons like human safety and food hygiene. The sky is the limit when it comes to design aesthetics for restaurants and cafes, and you can get as creative as you like while painting your brand image as well as your culinary canvas. Some of the main restaurant and café build outs feature improvements like:
Brand-inspired paintwork and décor.
Matching interior and exterior aesthetics – especially if you have an alfresco dining area.
Custom lighting based on your preference for a bright or cozy ambiance.
Well thought-out façades.
Code-compliant commercial kitchens with proper ventilation, refrigeration, and storage.
Non-porous walls and flooring to ensure food as well as structural integrity.
Landscaping aesthetics and parking lots.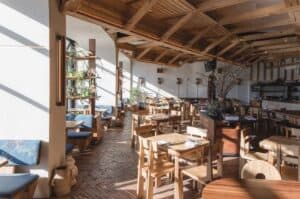 The picture-perfect Sooki & Mimi restaurant by Diversified Construction
Conclusion
While build out construction definitions may differ from tenant to tenant, the core idea of creating a customized space remains the same. It is important to work with contractors and architects who understand code compliance thoroughly so that you can have a successful and safe build out that will not put you at litigious risks. When it comes to design and creativity, you will be surprised at how sensory elements interact with the human mind to boost productivity and inspire calmness. Therefore, do not be scared to incorporate visual shoutouts to nature and have a more diverse color palette for your company.