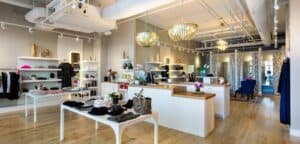 Image credits: Jordy Construction and Perch Denver
Retail build-outs are important commercial projects to help business owners find and create the best retail spaces for their products. Each retail store has its own commercial vibe, and so every build-out process is tailored to establish unique results. As a business owner, the time you spend planning and organizing your retail build-out is very crucial because this is when you get to visualize your specific brand – and turn it into a reality. Updating an existing building into your dream retail store involves adding all the required physical changes you have planned, so the transition from blueprints to brick-and-mortar finally begins at this stage. Since such a project is very brand-specific, different businesses will look at different budgets to fuel the build-out – and the retail build-out cost per square foot is a key starting point.
What is a retail build-out?
Definition
In commercial real estate, build-outs are also known as fit-outs and tenant improvements because they are strictly tenant-specific projects. They refer to transforming an existing building in a way that completely suits your retail business in terms of layouts, foot traffic, displays, décor, and brand aesthetics. Your chosen space will usually be available in a blank shell condition, allowing you to customize every improvement aspect right from its inception.
In some cases, you might choose to lease a partially finished space with most of the required amenities already installed. This is more time-saving and budget-friendlier, and it all depends on how lucky you get in your hunt for the right retail building. It is tough to find a mostly finished space that meets ALL of your expectations, which is why you need to invest in a well-thought-out project. The changes could be as simple as repainting the walls or as detailed as adding an extra changing room, installing custom cabinetry, or revamping the display area. Some other examples of retail build-out include:
Floor expansions
Exterior facelifts
Demolitions for spatial upgrades
Lighting installation
New wiring and plumbing frameworks
Break room additions
Rebranding
Bespoke storage options
Flooring and carpeting
Drywall updates
You can enlist the help of professional retail build-out contractors to fully understand your project scope. It is the perfect opportunity to get some expert advice on space optimization, display ideas, and creative focal points to showcase your product range. You want to build a store that both highlights your retail identity and draws customers to your products. With the right expertise, you can plan your retail build-out cost per square foot and define your retail landscape as creatively as possible. This also depends on the type of retail store you have in mind – such as clothing, boutique, supermarket, big box, and convenience stores.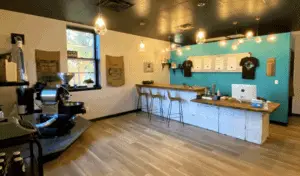 Image credits: Honeycomb Credit and Scoot! Cold Brew
Build-out stages
Retail build-out costs per square foot can be broken down into specific stages of the project. Cost allocations are important to understand because they tell you how much money goes into each stage. This is where your build-out teams can help you the most, and getting the right breakdowns will also come in handy during negotiations with your building owner. In general, you can expect your retail build-out costs to be split into:
Planning – comprehensive project planning includes deciding on schedules, budgets, and backup plans and finalizing your build-out teams (contractors, project managers, designers, architects, technicians, HVAC installers, space planners, etc.). This will mostly be a pre-build-out stage where you will collaborate with your chosen company over how the project will unfold along its timeline.
Permits – retail spaces come with a set of zoning requirements and safety codes that all tenants must follow. So, hiring experienced contractors will help you get the required permits early on and schedule timely inspections to keep the project streamlined and code-complaint.
Procurement – this includes material and labor availability and should be covered in advance during the planning stage itself. If your retail build-out requires imported materials that are hard to source, you should first confirm potential local alternatives in case of bans, material shortages, and soaring prices. A good build-out company will know exactly where to look, so issues from labor unavailability and material shortages can be resolved on time without delaying the project. If everything goes as planned, you will hopefully not incur the price of delayed deliveries or reorders, and the initial budget for material and labor charges will stick to the plan.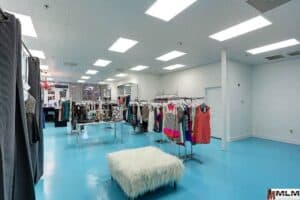 Image credits: MLM Incorporated
Retail build-out cost per square foot
Average numbers
Retail stores generally measure 1,000 to 5,000 square feet for average-sized buildings. It will cost you between $50 – $200 per square foot to build out a given retail space depending on applicable factors like your location and project complexities – we will visit individual cost factors in detail below. On average, a retail build-out cost per square foot would be around $55 – $65 assuming that you use basic finishes. Since retail spaces do not use any particular specialized technologies, they are less expensive to build out compared to hospitals and other commercial structures. Using these square footage rates, an average retail build-out might cost you anywhere from $50,000 to $250,000 and above in total. Small-scale projects that require simple painting or shelving installations can cost even less than $10,000, so it all depends on your project's specifications and finishes.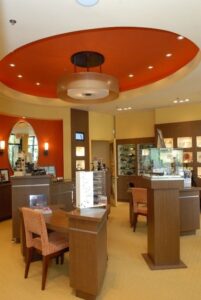 Image credits: Store Tech Co.
Here is a typical breakdown of retail build-out costs in terms of the improvements you might add:
Flooring and ceiling: between $2 – $3 per square foot
HVAC: around $2.5 per square foot
Millwork: $10 per square foot
Window display: up to $12 per square foot
Signage and branding: around $1.5 per square foot
In terms of retail building types, cost variations depend on the size and condition of your leased space. For example, building out a first-generation space is more expensive compared to second-generation spaces. This is because a first-generation building is just a blank shell space without any functional amenities that you can use. So, your retail build-out project would first involve bringing such a bare-minimum building up to inhabitable standards before any tenant improvements can be added. This extra work increases the overall costs, stretching your budget to $65 and above per square foot. On the other hand, second-generation buildings already have some of the basic requirements in place, so all you need to do is incorporate custom changes like décor. This cuts down your retail build-out cost per square foot to nearly half the number, and you would pay up to $30 instead of $65 per square foot.
To summarize, retail build-out cost breakdowns include elements like demolitions, electrical works, plumbing, millwork, flooring, HVAC, signage, and so on – all of which are individual changes you have chosen for the build-out. This makes a general checklist you can ask from your contractors, as it will give you a clear financial standpoint regarding individual costs per square foot that add up to the final amount.
Soft costs
So far all of these costs are hard costs covering various tangible improvements for your retail footprint. If you want to fully understand your cost breakdowns, make sure to also ask your contractors for a list of the associated soft costs in your build-out. These soft costs focus on different paperwork aspects related to legal protocols, inspection fees, permits, approvals, and management charges. Instead of square footage, these costs are based on hourly fees and fixed charges that drive managerial and approval processes. They can take up to 30% of your total budget, so it is worth knowing how much you are going to pay for these black-and-white elements. Soft costs often include:
Legal fees going up to $2,000 depending on your build-out complexity. This can have real estate fees, licensing fees, inspection charges, and permitting costs all combined in the same value.
Designer and architect fees taking up around 20% of the total costs. This covers feasibility plans and drawings that first need to pass approvals for code compliance before any construction can begin.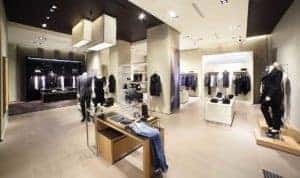 Image credits: South Shore Construction Services, Inc.
Cost-influencing factors
Building type
As we saw earlier, retail build-out costs per square foot differ between first-generation and second-generation spaces, mainly due to the amount of work required before you can move in. Since first-generation buildings first need to be brought to a blank canvas state before you can add your retail colors, they are much costlier to build out than second-generation spaces. Similarly, buildings that were previously occupied for similar retail purposes as your business will require fewer changes – and are more affordable as a result. If the space you are leasing was already a store before, it will be equipped with relevant improvements installed by the previous tenant, so you might just have to pay for minor updates like lighting or paintwork. In comparison, if the building was used as a medical office before, most of the existing features will have to be revamped. This includes slimming down the technical details, changing the clinical layouts to free up space, updating the reception, adding retail-appropriate lighting and flooring, and so on. The cost per square foot to build out such a space will be significantly higher than moving into a previously finished retail store.
Build-out options and TI allowance
There are generally 2 types of retail build-outs you can choose from. Turn-key buildouts are landlord-controlled projects where they are in charge of paying for and adding all the improvements – so yes, quality and finesse are often compromised. This makes turn-key build-outs convenient choices only when you are not worried about micromanaging every aspect – you just want a suitable space to occupy quickly and open your store. However, if you have bespoke requirements in mind, it will be better to invest in tenant-controlled retail build-outs – or simply tenant improvements. These projects put you at the frontline of your retail build-out, so you are directly involved with contractor selection and every stage of the project life cycle.
It is very costly to build out your leased space in this way, which is why you should thoroughly consider your budget and time. If your added improvements increase the property's value, then this is good news for your building owner. Usually, physical improvements like lighting, HVAC, check-out terminals, and changing rooms can be retained by the owner based on lease agreements.
This increases the chances of consecutive move-ins from potential retail tenants who will also benefit from the improvements you made to the space – which is a huge incentive for a building owner to agree to your proposed alterations. Quite often, they will be motivated to cover some of your retail build-out costs if they feel that the added value can future-proof their prospective leases. This opens up the room for discussing tenant improvement (TI) allowances for your project, which is a cost per square foot that your building owner will pay for. Generally, you might be expected to pay upfront costs for the build-out, and the owner will reimburse the agreed allowance once the project is complete. Your new budget would then be a subtracted value: [The initial retail build-out cost per square foot] – [The TI allowance]. With longer lease durations, you can negotiate higher allowances, which will reduce your overall build-out costs per square foot. Here are some of the questions you should discuss during lease negotiations with the building owner in order to secure a good allowance and have everything in black and white:
What is the lease duration?
Which of your proposed improvements can be added to the space?
Who will cover the retail build-out costs?
What is the scope of your TI allowance – which of your required changes will it cover?
Can you choose your own build-out teams?
Which of your added improvements will be retained by the owner?
Do you need to have the upfront cash to fund the project?
When and how will the owner provide the allowance – as upfront cash, milestone payments, or a final lump-sum figure?
Location
Another important factor that drives up build-out costs is your location. Southern regions often have a more affordable retail build-out scope compared to other areas because of better material and labor availabilities. If your location is more logistically challenged, problems like material shortages and costly procurements can increase your budget. Inflation and supply chain disruptions have become quite prevalent, so most retail build-outs experience hefty material and labor rates. Apart from regional complexities, foot traffic and customer demographics are equally important factors when choosing a suitable location. Retail stores like boutiques should ideally be located in areas that are more frequented by their specific target audiences.
So, if you choose high-end locations that have the right customer potential, you will also require high-end finishes to make your store stand out. This adds to your overall costs per square foot, as high-quality finishes are expensive and often need to be imported if local options are scarce.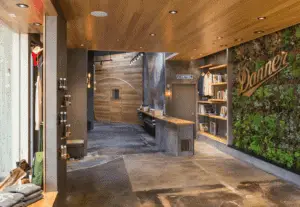 Image credits: Hammer & Hand
Conclusion
Retail tenants primarily look for retail-sufficient spaces that will accommodate minor renovations down the road to keep up with a growing business – which saves the need to relocate, especially if you have a longer lease. This creates a win-win situation for both the building owner and tenants. Longer occupancy means regular rents for the owner – and continued business for the tenant without the hassle of finding a new place. So, most owners want to build flexible spaces that will be rented quickly, and if you have set the retail bar quite high by adding your improvements, the owner will gladly welcome retail clients in the long run. It helps to hire retail contractors who have diverse tenant improvement portfolios to back their services. They will help you find the best retail scope by combining visual merchandising ideas with your retail brick-and-mortar – which effectively adds value to each square foot of your business.
FAQs
How Much Does A Commercial Fit-Out Cost Per SF?
Commercial fit-out costs can vary according to your specific requirements, location, property condition, and material/labor rates. In general, a commercial fit-out can cost between $50 to $200 per square foot depending on the type of commercial space you want to customize – such as a restaurant interior, an office, or a retail store. For most fit-outs with standard finishes, the average cost is $65 per square foot, and the cost gradually goes up to $200 as you add more and more executive finishes to project. First-generation commercial buildings cost higher, as these buildings have never been built out before, which increases the amount of work to be done from scratch. Also, if you require high-end amenities like a gym inside the building, your fit-out costs can increase to $250 per square foot.
What Is Retail Fit-Out?
Retail fit-out refers to the improvements made to a leased space in order to make it better equipped for the needs of its customers and employees. This can include both interior and exterior modifications, and the process is also known as a retail buildout. It differs based on the type of retail space you have leased, such as a convenience store, a clothing store, a shopping mall, a boutique store, or a big box store. Businesses require such a project for having a customized space that promotes their retail scope and comes with all the necessary additions that make the store functional and appealing.
So, the primary goals for retail fit-outs include installing visual merchandizing features, rebranding, improving the store layout, and maximizing storage – which creates a mix of both technical and aesthetic requirements. All in all, a well-executed retail fit-out should help customers have a pleasant shopping experience and allow the brand to showcase its products and creativity in the best way.
Most retail fit-outs include the following features:
Suspended ceiling
Addition of mezzanine floors
Addition of changing rooms
Updated flooring
Custom lighting
HVAC
Signage
Millwork
Repainting
Display area
Exterior facelifts
Storage
What is included in a fit-out?
A fit-out involves various customizations like installing new floors, adding custom lighting, improving utilities, and installing new technologies, so such a project includes different technical and aesthetic additions that make a commercial space tenant-ready. Both hard costs for physical improvements and soft costs for permits and paperwork are included in a fit-out. The work required to complete a fit-out project will differ based on factors like how you intend to use the space or how outdated the building is. In general, the following features are a part of most commercial fit-outs:
Interior walls
Mechanical, electrical, and plumbing (MEP) features
Flooring upgrades
HVAC installation
Fire protection
Window treatments
Repainting
Carpeting
Signage
Exterior facelifts
Floor expansions
Custom storage
Millwork
Retail fit-outs also include creating display areas, changing rooms, storage rooms, and mezzanine floors for better space optimization. In older and outdated buildings, the main interior customizations will have to wait until the infrastructure is revamped to ensure project compatibility as well as code compliance. So, various demolitions, removals, and replacements will precede the required customizations, and all of this together will form the fit-out scope.