Real estate and tenant improvement construction is it's own world and with our world of TI construction comes a language that may seem a little foreign to others if you are a potential tenant looking at spaces or if you are just starting to perform tenant build outs as a general contractor. In this article we review what actually makes up a "white box" in real estate within new or existing buildings and some other types of spaces that you may run into while looking to lease an interior space within a building.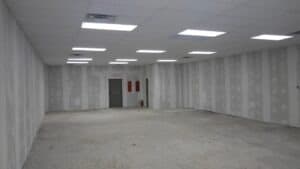 What is a White Box in Construction?
A white box in construction or real estate is the condition of a core and shell building space, typically available for leasing, that already has heating, venting, air conditioning (HVAC), a finished ceiling, lights, and painted walls or walls that are ready to be painted.  The most common color of finishes in this case are white, so it is typically called a "white box" because the space is usually devoid of features other than everything being white.  Flooring is not usually installed yet unless it is left over by a previous tenant since flooring can vary so much depending on what a tenant is looking for.
What is a White Box vs. a Cold Dark Shell?
A white box is advantageous for potential tenants because if a potential tenant is happy with the finishes then the work required to "build out" the space is minimal compared to a core and shell space in varying conditions. This means that a potential client can move in significantly faster then if the leasable space were in a "less complete" condition, and the costs to prepare the space will be less than if custom finishes were required. Some examples of other "conditions" of a core and shell space that is not yet leased by a tenant are listed below.
Disadvantages of a White Box in Real Estate
A white box condition would be disadvantageous to a potential tenant if the tenant doesn't like the finishes or if the tenant has some very specific requirements or custom finishes for their space. Since the landlord has hypothetically already spent money installing the ceiling and utilities (lights, HVAC, plumbing, etc) they would have to spend more money removing the finishes first and then installing new finishes. 
What is a White Box in Retail?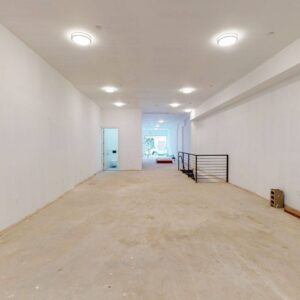 White boxes are popular for landlords to build in a retail setting because retail space (especially in the smaller range, say under 10,000 sf or 5,000 sf) do not require a lot of customization in their layout, walls, restrooms, or employee spaces. Typically it is pretty safe to say that a small retail space is going to require a large front room for customers, and a smaller back area for employees to include restrooms, storage, and a breakroom. For this reason a landlord can usually predict that a large percent of their potential tenants will be happy with a wide open space that that can then customize with their own "FF&E" or furniture, fixtures, and equipment.
Vanilla Box Construction
Vanilla box construction is another way of saying "white box construction". It is kind of an "in-between" step that takes a cold gray shell – which is basically a building that has the "shell" completed – roof, walls, windows, windows, doors, and the skin of the building, and makes it into a "finished" or at least close to finished space. Vanilla box construction demises each leasable space into its own area and gives a potential tenant the "basic necessities" needed to occupy a space and begin conducting business including HVAC, electrical, lighting, and plain finishes to finish a space out.
This white box or vanilla box in construction is different than a few other conditions including:
What is a Warm Gray Box in Construction?
A warm gray box in construction or real estate is when heating, venting, and air Conditioning (HVAC) is in place including all of the plumbing and electrical required, but the ceiling is not installed yet and usually that means that permanent lighting is not installed yet. This is usually common in climates that go below freezing during the winter because the space is required to be heated so that any fire suppression system (usually required by building code for most buildings now) located within the space will not freeze and cause a flood. Typically minimal lighting and fire alarm protection will be in place as well as required per most jurisdictions nowadays.
What is a Cold Gray Box in Construction?
A "Cold Gray Box" in construction is a space within a building (the building has roof, walls, skin, doors, and windows) that has no permanent HVAC, no finishes.  Pretty much as "incomplete" of a core and shell as you can get.  Basically a weathertight roof and perimeter walls are in place, and the space is ready to be built out nearly however a tenant or landlord would like it to be built. Another way of saying this is that it's an unfinished space within a core and shell building. Sometimes the slab on grade is completed, sometimes it is not so it's really important to dig into the plans or landlord work letter to see what state the building will be in when a tenant or a tenant improvement contractor accepts the space for a TI project.
What is a Fully Finished Space in Real Estate?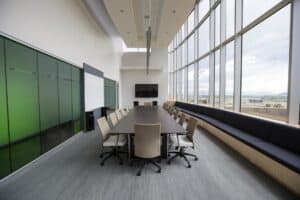 A fully furnished space in real estate means that the space has all of the finishes of the previous tenant or a new space is fully built out with all finishes (flooring, ceiling, paint, doors, cabinetry, etc…) completed before a tenant is signed up. This is pretty common in existing buildings if a tenant has recently moved out and if the landlord believes that another potential tenant would like to take the space "as-is" and move in without major modifications to the space. This arrangement is typically a "win-win" as long as the tenant likes the finishes and layout of the space as it saves in construction costs and time needed to prepare the space but the risks in this approach are that it may turn away potential tenants who may not like the space or a tenant may have to sacrifice in the layout or finishes that are already selected when they move in.
Tenant Fit Out Conditions
Each space that you look at as a tenant or a tenant improvement general contractor is going to be slightly different.  The work that is required of the landlord and work that is required of a tenant is always defined in the Landlord Work Letter or Tenant Work Letter– I usually see the landlord work letter as the "Exhibit C" in a lease.  Read this landlord work letter VERY carefully as single sentences in the lease can cost a tenant or landlord tens of thousands of dollars of work in tenant buildout costs!
Tenant improvement allowance (TIA)
What Makes White Box Buildouts Budget-Friendly?
To summarize, a white box is just the bare-minimum, blank canvas space available to be leased for commercial use. It comes with basic features such as walls, doors, windows, roof, HVAC components, concrete floors, stairs, and simple lights. This gives tenants all the freedom to add upon the partially-finished interior and customize it the way they like. Since the main infrastructure is ready, you can make the required improvements and only pay for your customizations.
White box construction costs are usually split into licensing, permitting, demolition, construction, and inspection costs. Your building owner has already paid for these beforehand, so you should only worry about the changes needed to run your business. This makes white box buildouts quite budget-friendly and time-saving, as you can transform the available space to fit your commercial goal and move in quickly – compared to starting from scratch.
How To Finalize Your Customizations?
White box spaces are not move-in-ready, and this is their defining feature. They have plenty of room for improvement because everything that is missing is for the tenant to fill out. This brings us to lease agreements. Both the landlord/landlady and tenant must have their requirements clearly stated in black and white. Your lease agreement is going to show all the tenant improvements needed before moving in, so it is important to be crystal clear about what you want. Based on your commercial operations, workforce size, and specific needs, the scope of customization will vary. Discuss with your teams and general contractor to get the details right and work out the overall costs for your white box buildout.
Will You Pay All Of These Costs?
Improvements on white box spaces are very tenant-specific, as each tenant will have different expectations for the given area in terms of commercial identity, workplace décor, operational use, etc. An improved space will be occupied faster because now it is ready to run the tenant's business. And quite often, some of the changes a tenant adds might be approved by the next tenant, securing a consecutive lease agreement for the building owner. So, it only makes sense for owners to seek these win-win possibilities. They do this by offering a tenant improvement allowance (TIA) calculated per square foot to cover some of the total buildout cost. This allowance addresses the building's functionality and technicality as opposed to aesthetics or décor. For example, TIAs will include various hard costs and space planning aspects, but they will exclude any costs for paint, wallpaper, and furniture, fixtures, and equipment (FFE).  The main idea is that such an allowance helps tenants finish the white box space quickly and cost-effectively – and makes the key component of any lease agreement.
Why Are Lease Negotiations Important?
Strong negotiation skills are always important in real estate. Although building owners might not offer 100% of the total improvement costs, a good negotiation can bring you to a closer value. Depending on your level of customization and specialty upgrades, you can negotiate the allowance amount by also considering the lease term and improvements that the owner gets to retain at the end of your lease. The physical changes you wish to add to the white box space and the mutually agreed TI allowance should be covered by your lease agreement in generous detail. Well-established lease terms are crucial for 2 main reasons: securing the owner's investment and avoiding legal implications for both parties.
My construction group has performed many white box "build outs" over the past couple of decades. Please feel free to contact me at dan@danspros.com or call me at 720-432-6002 if you have any questions or need assistance budgeting or remodels/build outs in Denver, Los Angeles, Chicago, Phoenix, Tucson, Nashville, San Diego, or really anywhere in the US!
FAQs
What Does White Box In Construction Mean?
White box in construction refers to one of the various building conditions in which a commercial property is delivered for leasing, so it is the original condition before occupancy. Vanilla shell is another commonly used synonym for a white box. It is rendered in a white, blank-canvas state that lies halfway between a gray shell and a fully finished building, offering basic essentials and amenities that every tenant wants – such as doors and windows. The minimal white interior helps tenants visualize the space better for their needs.
Using this approach, it becomes easier for building owners to secure leases if their target audiences do not care much about in-depth customization – like retail and office tenants. With most of the functionalities already present, tenants can instead focus on aesthetics and layout to customize some of the interior to reflect their brands.
Depending on the lease agreement, the term white box can mean different things to different people, so it is important to have a mutual understanding of what such space will include before signing the papers. In general, a white box comes with the following features:
Dropped ceiling
Roofing
Lighting
HVAC systems
Finished or partially finished walls and floors
Major MEP utilities
ADA-compliant restrooms
Doors and windows
Elevators
Stairs
Fire suppression
What Does White Boxing Mean?
White boxing refers to presenting a residential or commercial property in a minimal, blank-canvas state with only the basic features installed – such as lighting. Unlike home staging where the interior is furnished and accessorized to present the picture, white boxing takes away all the clutter and lets the viewers decide how their canvas will look. The neat and toned-down setting gives tenants a chance to visualize the interior more easily, especially if they want to customize their décor without worrying about functionality – which is already in place. Depending on the specifics for each owner – and the real estate definitions for residential and commercial buildings – this process can mean delivering a white box either with basic amenities or with zero installations to leave more scope for custom finishes.
What Is White Box Level Of Finish?
A white box is the mid-level between a gray shell building and a completed space. This is the level of finishes just before occupancy, so anything that comes next is the tenant's own customization. A white box finish generally includes features like exterior walls, partially finished interior walls, dropped ceilings, HVAC, doors, windows, stairs, elevators, fire protection, restrooms, and various MEP utilities. It is not yet ready for moving in but still one step closer to occupancy considering the features already installed – which gives tenants more freedom to plan their layout, décor, and other aesthetics.
White box definitions differ between real estate audiences, so it is important to find out and write down what a white box level of finish means to the involved parties before signing the lease. Compared to the raw and unfinished gray shell, this level of finishes makes it easy to both present the space as an owner and visualize it as a tenant. Since most of the functional aspects are in place, white boxes enable quicker completions, faster move-ins, and fewer expenses on the tenant's part – so they are a top choice for tenants with strict budgets and schedules.
What Is A White Box Specification In Construction?
White box specifications are a part of commercial leases and are included to make it crystal clear what the building owner should provide within the space. These specifications may differ between tenants based on their expectations for the leased building, so they are written to clarify how the tenant would like to receive the space before adding their own customizations.
Likewise, white box specifications for owner-controlled construction clearly state the condition in which the owner delivers the building, so it is important to read this part carefully and make sure that both parties share the same perspectives for a white box. Some examples of white box specifications include:
A dropped ceiling with white tiles
Code-compliant electrical outlets
One ADA-compliant restroom
Sheetrock walls ready to be painted
HVAC systems with ductwork and controls
A fully installed sprinkler system
Owner-selected wall materials
An exterior storefront glass
Vinyl tiles for restroom floors
Does White Box Include HVAC?
A white box is also known as a warm vanilla shell, with the "warm" referring to the building's heating feature. The partially finished space comes with key mechanical, electrical, and plumbing utilities for features like lighting and fire protection, and these MEP installations also help basic HVAC systems to be fully functional. So, yes, a white box does include HVAC for most applications. The only difference could be regarding ductwork, as some specifications require HVAC to be installed with both ductwork and controls, while others provide only basic HVAC setup – leaving ductwork as a future expense. Moreover, modifications to the existing HVAC system layout depend on lease agreements and applicable codes, so although most white boxes come with an HVAC system, not all of them deliver HVAC layout upgrades as part of the white-box level of finish. Tenants can instead include HVAC modifications within their buildout plans.
What Are The 3 Types Of Construction Specifications?
The three types of construction specifications are: prescriptive, performance, and proprietary.
Prescriptive specifications typically "prescribe" materials and strategies for a given project, so they focus more on the approach used to complete the work. They are prepared by architects and engineers to instruct subcontractors on how to finish their jobs.
Prescriptive specifications can be divided into 3 phases:
General – includes code requirements for quality control, design, and product handling.
Products – includes details for all the products or materials required as well as their performance levels for each task.
Execution – includes instructions for preparing materials, installing them correctly, and testing for quality.
Performance specifications are the second type of construction specifications. They are generally created by architects and designers to explain how the final product should "perform" once completed. So, this is all about operational requirements letting the contractor know WHAT the product should do – the HOW is for the contractor to decide using their experience. This also means that the contractor gets to select the required materials and installation procedures for the project. Since performance specifications are so result-oriented, they require a lot of testing to ensure the quality and success of the operations.
Lastly, proprietary specifications are used when the project owner already has certain materials, equipment, or products to use in the project – or simply has a special preference for what goes into the work. These specifications are more common in projects that involve the use of existing equipment/resources to ensure consistency, like when some of the installations or milestones are already finished, and the remaining work needs to resume seamlessly. Architects and engineers are more careful with such specifications because they should avoid biases while recommending suppliers. So, they instead share a list of trusted suppliers for the contractor to choose from, and the work resumes accordingly.
What Is A White Box Apartment?
Apartments are made available to buyers either as white box apartments or repaired apartments. In a white box apartment, the interior is toned down to its bare-minimum features, creating a blank slate and allowing you (the buyer) to decide your own repairs and customizations. With such an interior, it becomes easy to get creative with your apartment's design – compared to limiting your options out of "peer pressure" from installed furnishings and décor. White box apartments are generally cheaper to buy because of their bare-minimum outlook.
This also ensures faster move-ins, and you get to choose the required renovations to personalize your space. By white boxing apartments, owners or sellers can help potential buyers walk through different virtual-reality tours and explore multiple ways to furnish the interior. In most cases, customization freedom is exactly what long-term buyers look for, and white boxing is the best way to go.