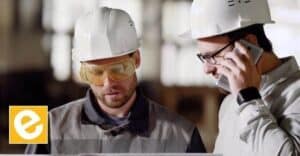 Image credits: eSUB
When construction companies post job openings for a construction superintendent, they all have varying definitions for the ideal candidate. Some firms might require vast jobsite experience, while others may prefer competitive software skills in multiple areas. Construction superintendents have the primary role of supervising and managing onsite activities, so if you are applying for this job, your field awareness will be a pivotal point during the interview. However, your knowledge and skills need to be as multifaceted as the job itself, which is why you can expect to be interviewed on both onsite and offsite experiences. Winning an interview is all about giving your portfolio a voice that the hiring team wants to hear, since you will be assessed based on the answers you give. To help you prepare for such an interview, we have compiled some important construction superintendent interview questions and our sample answers in this article.
Construction superintendent interview questions related to certifications
Did you enroll in any construction certification as an add-on program to your degree?
Your interviewers will surely be interested in finding out about your ongoing certifications, as these represent extra commitment to keep learning new things. Certifications that offer continuing education opportunities are the best way to refresh your skills and acquire new ones.
Even if you have a degree in construction management, civil engineering, architecture, or similar majors, receiving ongoing training is always a plus because it shows that you are keeping up with the ever-changing construction industry – and your acquired knowledge is not getting stagnant. If do not have any extra certifications yet, you can still back up your answer with relevant work experience that counts towards an actual certification itself.
Examples of a good answer:
"I enrolled in an online Construction Management Certificate program from the University of Houston right after my first year as a superintendent. The certification focused on key technical skills in construction, so I had generous access to materials on cost management, project scheduling, construction documents, and contracts. In addition, I had lots of hands-on assignments using estimating and scheduling software."
"I did not apply for any ongoing superintendent certifications. However, I had more onsite opportunities to take on in the form of workshops arranged by my previous company. Through these workshops, I was able to learn more about proper equipment handling and site safety."
What kind of training programs did you participate in until now?
Certifications can be both academic-based and experience-based, so construction superintendents are expected to prove their commitment in either way. You do not simply start off as a superintendent right from the beginning – the career path is a whole learning curve before you get to this level. So, you can talk about your internships as a student and the opportunities you received to work with other experts. This is also a good chance to share all your "watch-and-learn" opportunities, so if you were a part of your university's apprenticeship program, go ahead and talk about it. If you recently participated in your previous company's software training, now is the time to showcase your skills.
Example of a good answer:
"I was mentored by construction superintendents during my apprenticeship programs, which taught me a lot about the tasks and responsibilities of these experts. It gave me a better understanding of how to manage multiple construction departments such as excavation, land permits, and safety compliance. The need for improved software management was clear, so I pursued a construction superintendent software training program right after graduating."
Construction superintendent interview questions related to job interests
What inspired you to become a construction superintendent?
Construction firms want to be sure that they hire the right people who choose their profession because they enjoy it or have a passion for it. So, it is very common to be asked about your inspirations for picking this specific construction job role. Usually, jobsite superintendents are driven by their strong leadership skills and have an affinity for management aspects. You can talk about your career path so far and mention qualities that make you a good leader – which in turn forms a great construction superintendent.
Examples of a good answer:
"During my construction projects so far, I was the clear leader for teamwork, the error finder, as well as the solution finder. I then realized that I was able to play to my strengths even better onsite rather than offsite, hence the inspiration for choosing this particular path."
"What started as a childhood hobby of building things – a snowman, a treehouse, a pillow fortress, a racetrack puzzle – later turned into my main career focus. I knew that I was good at connecting dots, at building something, so that was my inspiration for joining the construction industry. The transition from Lego houses to real houses has been eye-opening, and I am here to keep building!"
What are the main roles and responsibilities of a construction superintendent?
Another key question during such an interview will be about the duties of a construction superintendent. This question addresses your jobsite experience and knowledge about what you are expected to do during a typical workday. You could either reflect on your own work experience while answering this question or simply state generic details – though shifting the spotlight to your work experience will definitely turn the odds in your favor.
Examples of a good answer:
"Superintendents have to oversee a jobsite project throughout its lifecycle. During my experience as a construction superintendent, my daily responsibilities included meeting various stakeholders, ensuring site and personnel safety, tracking schedules, reporting progress, addressing red flags, managing inventories, and delegating key tasks."
"During my time as a commercial construction superintendent, I had to make sure that all phases of the construction process were strictly code-compliant, as not all building types can be used for commercial purposes. So, from hiring the right employees and procuring the best materials to offering relevant training, my main role was to ensure the safety and success of a well-executed commercial project."
What makes you the best candidate for our job opening?
This is probably when the "Why should we hire you?" pressure will begin to kick in, so it is best to keep calm and remember that you are here because you already (hopefully) read the company's job descriptions. If you did read them, you should know what they are looking for, and you can tailor your answer accordingly. You can talk about all the qualities and skills you have that make you a good construction superintendent. While you should demonstrate knowledge and experiences relevant to the job, you will certainly not be expected to know EVERYTHING because being a superintendent is also a learning curve. The interviewers are not waiting for lengthy construction stories – they already have your resume and portfolio for this purpose. You should rather talk about skills that keep you prepared for the frontline responsibility of a construction superintendent.
Example of a good answer:
"You mentioned in your job description that you want someone who is capable of accepting feedback and can thrive under pressure. I know that I meet those conditions because I always take my teams' ideas on board to address issues as they arise, resolve conflicts, and ensure a productive working atmosphere. In addition, I have dealt with major bottlenecks in my past projects using software tools, outsourcing options, and task delegations, so I am familiar with bringing a dispersed project back on track. I like to be at the eye of the storm, which is exactly what this profession is about."
Where do you see yourself in the future?
Ah yes, the classic "Where do you see yourself in 5 years' time?". There are so many ways you could answer this question, and exploring your career path is the best way to go. From the construction superintendent standpoint, you could advance your career to a general superintendent, a construction manager, a senior project manager, an engineering manager, a director, and so on. Make sure to set realistic career routes that make sense for a construction superintendent. Usually, when interviewers ask this question, they want to check if you have any plans for career advancement – which in turn indicates a willingness to train, learn, and grow – or if you simply intend to continue as a superintendent only.
Example of a good answer:
"I am very optimistic about my career as a construction professional, and I intend to establish a powerful superintendent standpoint before launching into management roles. My previous work experiences as a carpenter, a roofer, a field inspector, and an assistant superintendent gave me lots of transferable jobsite skills that shaped my role as a construction superintendent now. So, I am confident about my career trajectory and cannot wait to view projects from a manager's perspective."
Bonus example of a bad (as in abort-mission-bad) answer:
"In 5 years' time, I will probably be sitting in your chair as the manager, asking a future superintendent the exact same question!"
If we hire you, which of our construction jobsites would you like to manage?
This is one of the most important construction superintendent interview questions. It actually hints at your own awareness about the interviewing company and shows how much research you have already done before walking in for the interview. So, take the time beforehand to explore the company's portfolio and browse the ongoing and future projects. In this way, you will be able to talk about the projects that have caught your attention.
Example of a good answer:
"I am particularly interested in your historic building restoration projects. I love history and architectural diversity, so bringing old and forgotten structures back to life holds all the charm for me."
Construction superintendent interview questions related to skills
According to you, what is the one key construction skill that every superintendent should have?
The answer to this question can obviously vary depending on your experiences with the role. You might want to talk about one major skill you felt you needed to work on and improve as a superintendent. You can anchor your response with challenges you faced during your past experiences, and this is also a good time to bring up any special training you might have acquired to build that skill. Some of the main construction superintendent skills include good communication, strong leadership, problem solving, management and organization, and multitasking.
Example of a good answer:
"For me, communication skills are crucial as a construction superintendent. Throughout the project lifecycle, I will collaborate with stakeholders, supervise the jobsite workforce, report to managers, ensure worker safety, train employees, resolve worker conflicts, contact vendors, etc. So, "people" form the common denominator for every jobsite management aspect, and I think it is absolutely important to be a good communicator who leaves little to no room for guesswork. This includes both verbal and written communication, which also means that language barriers need to be addressed. I can speak 5 languages, so being a multilingual superintendent was really helpful during my past experiences when it came to building international vendor networks or simply making sure that everyone in my team was on the same page."
How would you hire construction employees for your project?
A key role in the daily schedule of a superintendent is to meet and hire suitable construction workers for the project, especially to address issues with limited workforce and delayed timelines. So, yes, you will also be conducting interviews of your own, and the more you know about your project, the better you can assess its workforce requirements.
Example of a good answer:
"My first priority is to shortlist candidates according to milestone relevance and passion for the job. If their resume checks most or all of the boxes, they are eligible for the interview, during which they should be able to demonstrate some jobsite expertise as well. If none of the potential candidates have prior work experience, I will organize training sessions to raise their jobsite caliber so that once they officially join the team, they will know what to do. Similarly, I will offer software training to bridge technological gaps among new workers. For employees who are responsible for handling and operating equipment/machinery, I will also check whether they are familiar with the processes or not and provide safety training accordingly."
How would you fire someone who is clearly not up to the mark?
Sadly, a construction superintendent also has the daunting responsibility of saying "You're fired!" when needed, especially if the employee is affecting the project and people negatively. Your interviewers will be interested in knowing how you would handle such a situation, and if you have already fired someone in the past, make sure to speak about it honestly and professionally.
Example of a good answer:
"I firmly believe in giving employees the best resources possible to make their work and environment more productive and uplifting. This includes taking the time to host relevant training programs and investing in the right tools (both physical and digital) so that everyone can perform to the best of their potential. However – and while I hate using the term "bad worker" – if there is a bad workman choosing to only blame his tools as the saying goes, then that is my final limit. In the past, I chose to fire employees who refused to attend training programs, blatantly ignored safety protocols, did not respond to emails, failed to report issues, or never turned up for Zoom meetings. After repeated warnings that were of no use, I decided to formally say goodbye for their lack of professionalism and zero concern for safety."
Construction superintendent interview questions related to software tools
How much experience do you have with construction software apps?
The construction industry has been on a software evolution, effectively reshaping the learning curve for new employees. Demonstrating key software skills will quickly put you in the interviewer's good books, as digital proficiency is a major checkbox for ideal candidates.
Examples of a good answer:
"In the past, I have worked with construction management software apps like Procore, eSUB, and Fieldwire. I have also used superintendent-specific apps like Raken for everyday tasks such as payroll processing, reporting, and scheduling. My teams use the same apps as I do, which allows our communications and updates to be more synchronized in real-time. I prefer working with a construction management app because it streamlines my job as a superintendent without requiring me to be everywhere at once."
"As a construction superintendent, I had the chance to use Viewpoint software for various costing and accounting areas of my projects. Combined with ClockShark's payroll support, I was able to manage my jobsite workforce numbers more efficiently compared to using pen and paper."
What new technologies did you have to adopt and implement as a superintendent?
This is where you can actually share your challenges during the pandemic and how technologies helped to bridge some of the gaps. You can talk about the changes you faced, the digital tools that worked for you, and the opportunities created by this unexpected, COVID-driven learning curve.
Example of a good answer:
"During the pandemic when we had to move most things online, I worked with HoloBuilder app to support remote jobsite supervision using 360° cameras. All of our office meetings were held on Zoom, and we shared documents/updates/reports via company apps. If I was working with limited teams on a jobsite and had to supervise restricted areas, I used drones for remote monitoring, and we were able to align our jobsite roles with COVID safety protocols as best as possible."
Construction superintendent interview questions related to work experiences
What are your main construction experiences that make you suitable for this job?
We have always used the quote "Experience is the best teacher" to describe the world of construction. The time slot for this question is actually quite significant because this is your best opportunity to prove your potential. You can talk about relevant training, internships, and actual field experiences to back your answer. All of your major jobsite achievements in different projects can be explored here, as they are the best proof of your aptitude for the role of a construction superintendent.
Examples of a good answer:
"During my 10 years in the construction industry, I have worked both as a jobsite worker for different trades and a supervisor, so this has given me maximum exposure to various construction aspects. Combining my hands-on expertise with supervisory roles, I was able to get some head start into my career as a superintendent and have progressed uphill from there."
"I have overseen commercial projects throughout my superintendent career. So far, my projects include various new construction for corporate offices, hospitals, and medical offices. In the past 2 years, I received more opportunities for supervising the construction of socially distanced workspaces or open workspaces, and so my company had a lot of commercial renovation projects in the pipeline. Since we were required to limit our jobsite presence, I got ample chances to work with prefab modular projects that made it easy to build a structure without the ground-up hassle."
"I started out as a superintendent only 2 years ago, before which I was a full-time civil engineer. A pandemic was not even on my list of worries, but it did strike, and I must say, the added complexity became a learning curve that I never thought to climb before. When import bans added to the challenges, I was able to contact local options and realign schedules to everybody's favor. Timely procurement during the pandemic is probably the biggest challenge I faced as a new construction superintendent, but it has also helped me prove that I can thrive under pressure."
What safety gear should be worn by jobsite employees? How would you enforce such safety practices?
This question can be phrased in different ways to assess your safety knowledge in terms of COVID, protective clothing, and site safety protocols. You will be expected to talk about how important it is to implement such safety aspects, including ways to reinforce the rules among employees.
Example of a good answer:
"All jobsite workers must wear hard hats according to their trade colors so that it is easy and quick to tell apart a technician and a fire hazard personnel. Depending on their individual jobsite roles, the workers should also wear relevant personal protective equipment (PPE) such as safety-rated boots, gloves, goggles, face shields, respiratory gear, hearing protection, and high-visibility vests. As a construction superintendent, I have enforced such protocols through regular safety meetings, follow-ups, and camera supervision. If anyone does not wear the required equipment, he or she cannot begin their work. All the equipment and safety gear has to be ordered and ready to use before the project begins, so this becomes a part of my preconstruction responsibilities."
How would you schedule project inspections along a timeline?
Construction superintendents are responsible for quality assurance aspects that range from good finishes to strict code compliance. Therefore, regular inspections should be conducted after each milestone so that any potential red flags can be noted early on. Your answer to such a question can be project-specific if you are referring to your past experiences. It is important to remember that the interviewers are looking for your familiarity with code-compliant projects and approval processes, so you really cannot get away with simple, generic answers.
Examples of a good answer:
"I would schedule inspections at the end of each milestone for framing, utility installation, flooring, HVAC installation, etc. This will help us address code compliance issues after each stage so that we have enough time to solve the problem before the next stage begins. In this way, red flags from the previous stages will not factor into the consecutive stages. I also prefer maintaining a digital checklist on my app to record an inspection history of permits and approvals done so far.
Such a record makes it easy to work with future inspection authorities by showing all the documented inspections and approvals for the project."
"I always check the updated building codes that apply to my current project before any work begins. My teams also refer to them, and once we are all on the same page, we can start each milestone already knowing which features are acceptable and which ones should be avoided. This streamlines my inspection process – as scheduled by the app – so if any problems do arise, they are usually minor ones that can be fixed quickly without any significant disruption to the timeline."
Our company focuses on using environmentally friendly materials and processes. How do you think you can benefit our approach to sustainable practices in construction?
Questions based on sustainability are an excellent chance to talk about your experience with green strategies. This includes using recyclable construction materials, planning waste reduction options, and effectively reducing the construction carbon footprint.
Example of a good answer:
"I have supervised and managed various prefab modular projects that shaped my understanding of sustainability in construction. During my time with the previous company, I also worked on fully solar-powered buildings and oversaw adaptable building designs that encourage room for changes without major renovations in the future – which cuts down waste efficiently."
Need experience for the job. Need the job for experience.
That was the end of our exhaustive interview questions list! Be prepared for a visit around the company's jobsite as part of your interviewing process, as the hiring team will evaluate your field awareness and familiarity too. A final reminder: it is called a learning curve and not a learning cliff, so your knowledge will not suddenly end somewhere. You will be expected to pursue continuous training to stay updated, so don't be afraid to go off the beaten career path and meet new opportunities along the way!