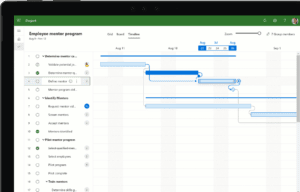 Image credits: Microsoft
Microsoft Project is one of the most highly-used construction software applications. It makes a resourceful project management platform that construction experts rely on for budgeting, scheduling, and project tracking purposes. The platform helps you manage multiple projects with either built-in templates or custom schedules that you can create by yourself. A well-executed Microsoft Project construction schedule captures your entire project between rows and columns – allowing you to view the breakdown as a list, a Gantt chart, a timeline, and a visual roadmap. Here are some key insights into how MS Project benefits the construction teams – including a few schedule and template examples for construction projects.
Microsoft Project in the world of construction
Its purpose
MS Project is an ideal construction management tool used to create schedules, budgets, plans, resource lists, and other reports. It helps construction professionals like project managers, contractors, and architects monitor progress for each construction phase and keep an eye on important aspects like milestone deadlines. Apart from scheduling, the software also facilitates cost and resource management. So, it is a versatile platform that brings all your construction management areas under one roof. Using MS Project, you can create a schedule that expands from pre-construction stages all the way to the final close-out.
This lets you set durations for each stage, identify overlapping milestones, allocate stakeholders, and mark a finish line for the project.
Its features
You can create a Microsoft Project construction schedule using features like project calendars, built-in templates, visual Roadmaps, Gantt charts, and Kanban boards. The platform also supports SharePoint integrations for team collaborations. You can display schedules in different visual layouts such as Timeline View and Grid View to look at the details from a different perspective. The software helps you customize schedules, use filters, and update entries to streamline data access and progress tracking.
Its benefits
MS Project comes with a range of benefits that make it the top choice for construction scheduling, such as:
Interface familiarity. MS project's interface matches other Microsoft apps like Word and Excel, so the initial learning curve flattens considerably for construction employees.
Collaborative potential. SharePoint integrations with MS Project enable a co-authoring environment in which team members can collaborate over a construction schedule and make changes to it in real-time. You can also connect to MS Teams to combine Project's scheduling features with real-time communications by sharing files, reporting, and chatting.
Automation. You can automate your scheduling, reporting, budgeting, and tracking needs for each file.
Better features than MS Excel. As discussed above, MS Project offers a whole spectrum of schedule-ready features like automatic Gantt charts, construction-based templates, portfolio management, team collaborations, and timelines. While Excel is another popular scheduling tool under the Microsoft umbrella, it lacks most of these time-saving features offered by Project. The built-in capabilities of Project make it more suitable for construction scheduling, whereas Excel requires more guesswork and improvisation.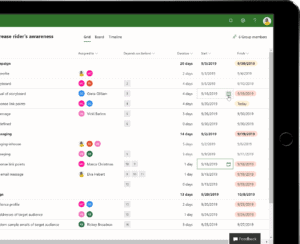 Image credits: Microsoft
Steps to create a Microsoft Project construction schedule
1. Launch a schedule project
To create a construction schedule, you can either pick an existing construction-based template or begin a blank project from scratch. You can also download readymade templates available online (from reliable sources), and open these files to customize your schedule. It saves time to work with templates instead of designing everything on your own, especially if you are not sure which technical MS Project tools you should use – or how to break down construction activities without missing any stage.
2. Add construction tasks and durations
If you are starting a blank schedule project, you can add construction tasks one by one. If you are using a template, you just have to update the given entries to match your construction project. You can then set durations for each stage in terms of its start and end dates.
The schedule should also include the required stakeholders for each task, so you can allocate contractors, subcontractors, inspectors, roofers, HVAC installers, and other experts accordingly. MS Project also enables Excel imports, which lets you conveniently import relevant data instead of typing everything one by one. After you have added all the tasks, you can choose to inactivate certain tasks instead of permanently deleting them so that you will still be able to access them if needed.
3. Organize your schedule
MS Project lets you organize your created schedule so that you can break down tasks more efficiently. For example, you can link related construction activities, split milestones, view task dependencies, mark completed tasks, and so on. The Timeline view allows you to simply drag task connectors/bars to indicate the start and end points. With the Kanban board view, you can organize your schedule as cards if you do not want a tabulated result. Finally, the Roadmap feature can be used to display connected projects in a portfolio, giving you a visual dashboard that indicates the current status for each project, as shown below.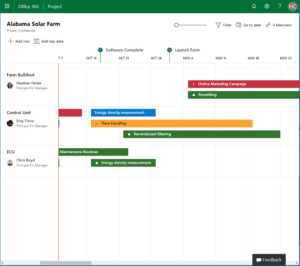 Image credits: Microsoft
4. Create a construction calendar
With a mostly finished and organized Microsoft Project construction schedule by this point, you can go a step ahead and create calendars to mark important dates.
A calendar will simply give you a quick view of start and end dates, milestone deadlines, holidays, etc. depending on your specific construction project. You can also type key tasks to be performed on specific days. Instead of scanning through a detailed schedule, you can easily pick important dates from a calendar and refer back to the schedule for tracking – so both a schedule and a calendar go hand in hand.
5. Publish your construction schedule
Finally, you can now save all your changes before publishing the schedule for the first time. This can be done both as a native file like PDF and an online, cloud-based file that your teams can access and update.
Examples of Microsoft Project construction schedules
Construction schedules differ between project types, as the size and details of your specific project will decide how simple or comprehensive your schedule will be. The following schedules are good examples from different sources to represent what a construction schedule can look like.
According to Ten Six Consulting, MS Project makes it easy to add milestones to your construction schedule. Milestones are crucial elements for any schedule because they indicate major events along the timeline. They can be used to identify key dates and indicate progress and completion. On MS Project, each milestone event is located at the top of the schedule with a tiny black diamond indicator. You can only see this if your schedule is displayed in a Work Plan view. You can also filter the schedule to show only milestone tasks throughout your construction project. In the following image, End Construction and Project Complete are two milestone events.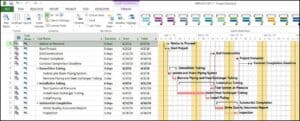 Image credits: Ten Six Consulting
MS Project can be used to create full-scale construction schedules that include everything from project contracts, blueprints, and permits to material procurement, site preparation, construction, and client walkthrough. Each stage is accompanied by its respective subtasks so that you do not miss any important process from the final timeline. With an easy-to-use interface and maximum compatibilities, you can focus on building a construction schedule that is actually usable, shareable, and editable by all stakeholders. Apart from integrations like SharePoint and MS Teams, it is also possible to upgrade to the web solutions for MS Project. This will help you and your teams synchronize schedules more productively.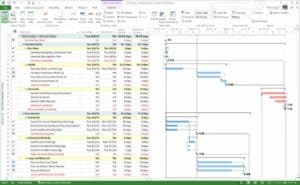 Image credits: Microsoft CORE Construction
According to EPM Partners, MS Project tools can be used to alter task durations without affecting the %Work Complete columns. You can also choose which stakeholders will work for each task duration – indicating how long each stakeholder will be expected to work on that specific task.

Image credits: EPM Partners
You can update your whole project to reschedule it based on new dates and durations. This is done by simply clicking on "Update Project" and entering the new reschedule date for incomplete tasks. So, all Microsoft Project construction schedules can be updated accordingly without disrupting the rest of the project tasks.

Image credits: EPM Partners
Templates for Microsoft Project construction schedules
MS Project already has a library of built-in construction schedule templates that you can use. However, if you are looking for more optimized templates with integrated functionalities, you can download various templates available online from reliable websites. It can be difficult to find efficient and trade-specific templates for free, as most free templates are pretty basic and straightforward. So, you might need to purchase purpose-built construction schedule templates that have all the required features you need.
Construction Scheduling by BuildWare.net, LLC is one example. The company provides a host of construction-based scheduling templates for residential, commercial, industrial, contractor-specific, and general projects – all at different prices. You can save valuable scheduling time by removing guesswork using applicable templates that are already equipped with the right functions, chart settings, displays, task dependencies, automation, and so on. Most of the main schedule inputs are taken care of by anticipating the requirements of a construction expert, so each template is ready to use and update. If needed, you can also buy the given schedule companion guides to access step-by-step instructions on how to make the best out of your chosen templates.
Conclusion
For beginners, the MS interface might be the only thing they are familiar with, as the learning curve for the actual scheduling process can be tough to climb. This is where YouTube tutorials and custom templates come in handy. They will help you bridge some major gaps in the way you use the platform and work with more complex features. Quite often, construction companies offer Microsoft training to address platform difficulties among workers. Based on the construction schedule examples discussed in this article, it is clear that MS Project is a one-stop tool for scheduling and management tasks that apply to both jobsites and offices. So, make sure to first learn the ropes as best as you can to be able to connect your construction dots more confidently.