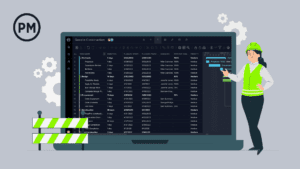 Image credits: ProjectManager
Before beginning a commercial construction project, it is important to first work out a reasonable schedule that the crews and managers can follow as their guide. A well-planned commercial construction schedule both presents the big picture and zooms in on key details that need to be highlighted along the timeline. It also factors in surprises and delays that can extend the project's duration, as construction stakeholders come together early on and combine their individual deadlines to create a more realistic schedule – one that is already equipped with timely predictions. Here is an analysis of why such a document is important, including what it focuses on and how you can build a customized version for each project.
Commercial Construction Schedule: The Why
A construction schedule describes the timeline of a commercial project by listing out all the involved elements and their respective durations. It provides both the main milestone as well as the subtasks under each milestone, so this allows project managers and construction superintendents to track the progress better. Professionals also rely on digital schedules because they combine features like Gantt charts that offer more detailed perspectives. Commercial construction schedules are important for the project visualization scope they build, and here are some key reasons why they form the first major step for any project:
They list the chronological order of construction events and break down each main event or milestone into smaller tasks. This creates both the big picture for at-a-glance convenience as well as a zoomed-in outlook to track associated activities, allowing commercial experts to connect the dots more easily.
They support effective communication between all the involved parties, as the timeline and work scope for each department are consolidated within the same document. This helps managers and supers track the flow, highlight overlapping tasks, address delays, and find gaps by getting in touch with the required department – so everyone stays on the same page. Also, such a collaborative potential lets managers alert clients about potential setbacks down the road, which makes a timely heads-up compared to suddenly encountering the actual surprise.
They enable more productive project tracking as details like deliverables, assigned departments, cost allocations, and priorities can be incorporated into the schedule. Moreover, commercial teams can work with weekly and monthly schedules depending on the stage of the project they are in. All in all, this combines key elements like resource allocations, budgets, critical paths, and timeframes to enable a more efficient project management effort.
Commercial Construction Schedule: The What
Your typical construction schedule will be broken down into some major events and sub-events depending on the type of project you are working on. It basically adds durations and other details to each stage of the commercial project lifecycle – which is made up of individual phases like planning and design. Here is what you will find in a typical commercial construction schedule:
1. The Planning Stage
The first stage in commercial construction is the planning stage, so this tops the scheduled list of events. Planning includes various sub-tasks like finding the right location, creating budgets, finding a commercial contractor, getting your commercial zoning right, and so on. By hiring a good commercial contractor at this early stage, you can have a project leader who knows where to look and what to do for each stage of the project.
Right now, this would mean helping you find a good GPS location pin that checks all the boxes for code compliance, soil compatibility, and business favorability.
2. The Pre-Design Stage
Pre-design is all about determining the feasibility aspects of your commercial construction. This is where your contractor, architect, engineer, and designer will decide which construction features meet the building codes and budget requirements, so they will narrow down the events to build a more tailored schedule. Other key sub-tasks under pre-design will include contract creation, cost estimation, material selection, and equipment selection for the project.
3. The Design Stage
With the results of the pre-design stage, your commercial team will get down to the actual design of the project. This will take contributions from various construction experts like MEP engineers, civil engineers, designers, and vendors. Blueprints and other relevant drawings like schematic and conceptual plans will be drawn at this point and checked for code compliance, budget relevance, and schedule compatibility. These drawings provide different angles to view your commercial building's representation, making it easy for experts to spot gaps in the initial discussions and refine the plans accordingly.
4. The Pre-Construction Stage
The next event on your commercial schedule is pre-construction, and this stage takes the plans, drawings, blueprints, and contracts from the previous stages for the permit and approval process. Your commercial contractor will be a great help here, so you will not have to tackle this paperwork on your own. Once the permits and insurance aspects are confirmed, you can finalize your construction team and mark the procurement schedule too so that the required materials and equipment arrive on time for each stage of the project. Your procurement schedule should line up with your construction schedule to ensure timely deliveries, which is why this aspect gets covered under pre-construction.
5. The Construction Stage
The construction stage on your schedule will mark the activities and durations covering the actual site work for your project.
You can expect to find elements like site preparation, excavation, inspection, foundation, landscaping, MEP installation, roofing, HVAC installation, insulation, etc. This is where your commercial building will take its official shape and footprint, so the schedule will be all about bringing the drawings to life. At the end of the construction stage, you will be able to pair your GPS location pin with a physical commercial establishment, ready to run your business.
6. The Post-Construction Stage
Your commercial construction schedule will end with the post-construction deliverables to cover the final, closing aspects. These may include general elements such as the client walkthrough date, punch-list items, inspections, and occupancy certificate. The end date in this part of the schedule will also be your project's completion date, as you now have official permission to occupy the building and run your commercial activities.
Commercial Construction Schedule: The How
Various factors affect the flow of a commercial project, so it is important to plan ahead and incorporate them into your schedule. To understand how to create a good schedule, you have to be realistic about your project, and this requires considering the applicable, influencing factors that can disrupt the original plan. In addition to the above construction stages, you should discuss possible factors that can slow down your project with your teams. This will help you build a schedule with more flexibility to accommodate delays and extensions down the road. Make sure to consider factors like weather, storms, natural disasters (especially in high-risk locations), material shortages, permit delays, etc. while creating your commercial schedule. By catering for possible delays and arranging timely backups, you can buffer your schedule against major impacts that will otherwise sabotage your whole project.
You can use Excel or online tools to design your schedule. Most websites offer downloadable and customizable schedule templates that save a lot of time and effort. They come with key scheduling features like Gantt charts, Kanban views, calendar views, task allocation, editable dates, color coding, and real-time collaboration – so you can easily share schedules with your team or conduct live discussions. Here are two great sources for downloading schedule templates based on the type of project you have:
Not all commercial schedules are the same, so editable templates offer the added benefit of customizing the schedule based on your specific project using built-in formats. This is also helpful for remembering to add major events like an inspection. If you are not sure how to create a schedule from scratch, you can use relevant templates like those mentioned above and simply add or remove elements depending on what you need. Formatted schedules already take care of the appearance and setting of the timeline, which is a great relief if you struggle with this aspect, as ready-made templates enhance the readability of the document. Make sure to get your commercial team on board so that everyone agrees on the choice of template/schedule. It is equally important for everyone working on the project to be familiar with the scheduling tool – this enables easy communication and better collaboration on such a crucial construction document.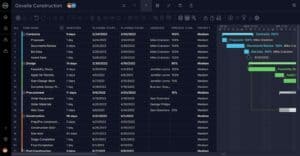 Image credits: ProjectManager
Conclusion
The benefit of using a digital tool like Smartsheet and ProjectManager is that you can use the available features to track your project better – much better than you would on Excel, or worse, on paper. These online schedules can be edited in real time by all the associated departments, so it becomes easier to stay updated without having to follow up individually.
The schedule dashboards offer at-a-glance convenience to track the overall flow using graphical representations for each event, giving your commercial project better visibility and adaptability. In addition, by using the available templates, you can reduce errors, add essential items, factor in possible delays, and set realistic deadlines. Lastly, a good commercial construction schedule should be readable and professional-looking with all the right formats and construction terms. This enables clear communication with construction experts, so unless you are confident about making your own schedules, stick to the simplicity and convenience of a good, reusable construction template to speed up your work.