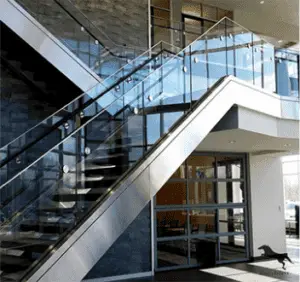 Image credit: Rider Glass
Professional glass-cutting services charge different rates depending on the type of glass you want and its intended use. You will require the help of glass experts if you need products like glass doors, panels, shower enclosures, and similar pieces for both residential and commercial contexts. The cost of glass per square foot varies between projects, determined by factors such as glass thickness. Here is a breakdown of different glass costs along with the applications where you can use each type of glass.
Cost Of Glass Per Square Foot
Glass Thickness
On average, a glass panel can cost between $10 to $55 per square foot depending on its applications and thickness – including any other customizations you need for its shape and edgework. Thicker panels are more difficult to cut and shape, so they cost more per square foot. The following is a typical breakdown of glass thickness with associated costs and applications.
1/8″ – glasses with this thickness cost around $10 per square foot and are used for small photo frames, windows, and other basic uses.
3/16″ – these glasses can cost you around $15 per square foot for applications like tabletops, bigger picture frames, small shelves, tempered refrigerator shelves, etc.
1/4″ – at this thickness, a glass panel can cost $15 per square foot for furniture pieces like tabletops as well as shower enclosures, glass doors, and windows.
5/16″ – these glasses cost $15+ per square foot in general and can be used as different glass furniture pieces.
3/8″ – at this thickness, your glass panels are suitable for heavy-duty uses like shower doors, medium-sized tabletops, heavy shelves, etc., costing around $20 per square foot.
1/2″ – costing around $30 per square foot, these glass panels have enough thickness for commercial applications like heavy shower doors, glass railing panels, room dividers, and so on.
5/8″ – glass panels with this thickness cost around $40 to $45 per square foot and are best used in large glass tables and other heavy-duty commercial purposes.
3/4″ – these are the thickest glasses costing around $50 per square foot for most commercial applications that require tough and durable glass panels.
Glass Types
Annealed Glass
Annealed glass is the most basic glass type that is only heated without any other treatments to make it strong or durable. It is quite cheap – costing around $5 per square foot or even less – and breaks into shards on impact. For this reason, annealed glass is not the best choice for home or office use if safety is your main concern, though it is commonly used in furniture pieces and different installations where the price is an issue.
Tempered Glass
Tempered glass or toughened glass is a step up from the annealed glass. It is reinforced for more strength and durability. So, it costs more than normal glasses and can range between $10 to $40 per square foot for just clear-cut glass sheets. Customizations and thicker sheets will cost you even more per project. For example, you can expect to add $1 to $4 extra dollars per square foot for tinted panels. Also, tempered glass is the hardest glass type which requires extra fees for enhancing its edgework.
It is used in cellphone screens, window panes, skylights, glass shelves, shower panels, display cases, storefronts, and a variety of other residential and commercial applications. Depending on the brand that is selling these glass sheets, you will have varying costs for different applications – often by a huge margin. Tempered glass does not shatter into sharp fragments like annealed glass. Instead – thanks to its strengthening process – the sheet breaks into small, dull pieces that do not cut on contact. This makes tempered glass ideal for applications where safety is your priority.
Laminated Glass
Laminated glass is a safety glass that includes a vinyl inner layer sandwiched by two outer layers of annealed or tempered glass. It does not shatter like annealed or tempered sheets. Instead, laminated glass retains its shape on impact even after breaking, which makes it ideal for applications like windshields, storefronts, windows, display cases, and soundproofing uses. Since laminated glass has double layers of glass to form an insulated unit, it costs up to 40% more per square foot than annealed or tempered alternatives.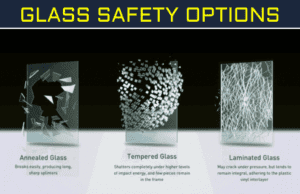 Annealed, Tempered, And Laminated Glass Comparison
Window Glass Options
For window-specific glasses, the costs can differ depending on the type of window pane you are using. Here is a simple breakdown of the cost of glass per square foot for different window options, according to HomeGuide:
Single-glazed/plate glass: $2 to $7
Double-glazed: up to $12
Triple-pane: $20 to $70
Tempered: up to $30
Laminated/Insulated:  $10 to $25
Thermopane/Thermal: up to $50
Acrylic: up to $40
Double-glazed glass panels are popular for home windows, offering both cost and functionality benefits. For superior insulation, sound reduction, and energy efficiency, you can use triple-pane glass windows at home. Laminated window glass offers additional benefits like protection from UV rays and break-ins, so they can be used for both home and office security applications – if your budget allows it.
Glass Cost Calculator
Crystal Glass & Mirror Corp. glass cost calculator is a convenient cost calculator from the company, helping customers receive the total price after customizing their specifications for the project. This glass contractor offers different options for both residential and commercial clients to choose from. You can walk through the given options to pick a glass shape, size, thickness, glass type, edgework, and other custom details before getting an instant final cost. You can also add your glass products to your cart and confirm the order for delivery.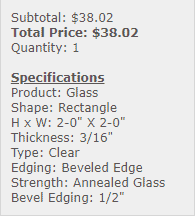 Conclusion
You can work with your local glass shops and glass contractors for finding and installing the right type of glass depending on its intended application. Professional installation is recommended for shower enclosures, doors, windows, shelving, storefronts, etc. where safety and durability are crucial. You will have to pay additional installation charges as they are not included in the final cost of glass per square foot, but it is absolutely worth paying for installing your glass pieces because one mistake can cause the whole panel to shatter, and there is also the risk of faulty assembling loosening up over time. Glass experts can install panels safely in a way that is compatible with your building codes and infrastructure, with special attention to detail, so the results are always reliable and flawless – and definitely worth every penny.