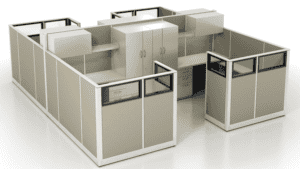 Image credits: Reimagine Office Furnishings
Office planning is made easier and more efficient with the use of a good layout or design tool. Organizing a smart floor plan enables a smooth workflow, supports foot traffic, leaves space for accessible storage, and simply creates an overall productive workspace. This includes getting the cubicle layout right, as the workstations make up the busiest areas within an office. In order to design and build an effective cubicle "cluster" in your office, you can take the help of cubicle layout tools to view different possibilities on the screen before they meet the real floor plan. Here are some popular examples of such software tools, and they can be used for all types of office planning applications.
Cubicle layout tools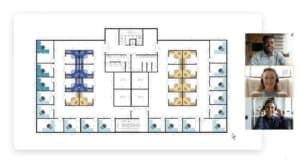 This is a customizable online tool by SmartDraw. It can be used for designing various office floor plans based on your specific configurations, including cubicle styles and distributions within the given space. There are built-in templates that you can pick and customize accordingly. You can also start fresh and create your own cubicle layouts. The tool includes drag-and-drop symbols to represent a complete cubicle setting, so you only need to align the graphics to figure out the right spatial arrangement. Some visuals are also textured to create more realistic layouts. SmartDraw supports team collaborations on your cubicle plans, which makes it easy to share your drawings on SharePoint, OneDrive, DropBox, and GoogleDrive. In addition, you can export your layouts to MS Office, MS Teams, and Google Workspace – the tool also enables PDF file sharing.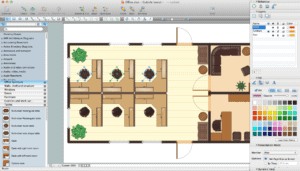 ConceptDraw is another excellent cubicle layout tool. It is available as a downloadable app and offers different office planning solutions for floor layouts, space optimization, furniture placement, office designs, and so on. You can choose from a range of built-in templates and office plan samples – the app includes a generous template library of cubicles, office equipment, and furniture. These vector graphics libraries are convenient, quick-start options for customizing existing layouts if you want to save time and effort. You can always create your own cubicle layouts as well. The ConceptDraw tool editor has grids, rules, guides, multiple fonts/colors, and other features to make your diagram more personalized and scalable. Once you are satisfied with the layout, you can share it with your teams for instant feedback through multiple formats – including image, PDF, MS PowerPoint presentation, MS Visio, and Adobe Flash.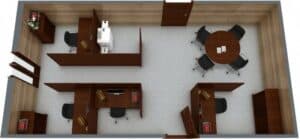 RoomSketcher also offers a downloadable office layout tool with a variety of features and visuals that help with productive brainstorming. It has existing templates that you can reuse and update for your own office cubicle settings by adding, removing, or resizing wall partitions and other graphics – all of which are readily available in the RoomSketcher library of symbols. The tool supports creative workspace arrangements in terms of both cost and floor efficiency, so you will be able to incorporate details like neighboring meeting rooms, private offices, lounges, etc. It is a great app for exploring creative cubicle choices like low-partition settings for better employee interaction – if team collaboration is your office priority and you still want employees to have their individual workstations.
Tips for getting the right cubicle layout
Encourage workspace coexistence
Office floor plans should include a mix of cubicles and separate meeting spaces – like a lounge – so that employees can both work individually and collaborate together. A good cubicle layout tool will help you incorporate both settings into the same floor plan, so this makes it easy to maximize the available space that streamlines workflow and allows smooth foot traffic around the office. Depending on your office square footage, you might want to create low-partition cubicles if there is not much space to include a lounge. Similarly, if the floor plan is open and spacious, you want to avoid turning it into a messy cluster of workstations and instead utilize half the space for a meeting area. Such arrangements work well for offices that require frequent teamwork and employee interaction – it should be a relief to be able to think outside the cubicle!
Focus on space optimization
The individual cubicles themselves need to be carefully planned so that employees can move around better, have their office supplies within accessible reach, and enjoy a generous desk space. Usually, cubicles can be quite cramped and offer a limited work area as most of the given desk is allocated for a computer, and there is also little to no navigation within the layout. By working with different space options and measurements on a cubicle layout tool, you can design a more efficient workstation that meets the needs of your employees. This includes using sliding panels if there is no room for a door, adding furniture that is compatible with the given setting, installing wall-mounted storage, and incorporating similar functional elements that do not get in your way but simply enhance the overall layout.
Leave some room for breaks
Lastly, a truly thoughtful and effective office floor should have at least a break nook incorporated into the given layout. By separating the break area from the actual cubicle "network", you can help your employees step away from their workstation during the break – which also prevents accidental spills in the main work area and keeps papers, equipment, and furniture safe from such damage.
Celebrate some cubicle geometry
New cubicle trends have shifted away from traditional box-like structures, so now there is more freedom of style for designing cubicles, and it all comes from a need for hybrid, collaborative, and open workspaces. So, do not hesitate to literally think outside the box and explore different cubicle shapes, partition designs, and overall layout settings. Software tools like RoomSketcher offer realistic design features, so this makes it easy to visualize new options better, especially if you are trying out new trends for the first time.
Conclusion
Efficient cubicle layouts are important for ensuring employee motivation and productivity. No one likes to be squeezed into dull, cookie-cutter workspaces and spend their work hours cramped within a box. Offices can use cubicle layout tools to focus on both functionality and flexibility within the available space, and this also helps with brainstorming creative ideas for modern cubicle designs – so you can work on features like accessible amenities, technologies, and creativity for each cubicle and provide a more welcoming environment for each employee.