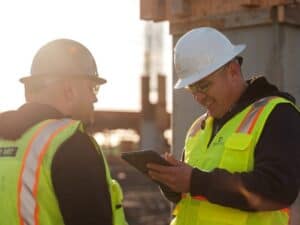 Image credits: Procore
Construction superintendents have the primary responsibility of site supervision. The job requires you to be out there on the construction site and keep an eye on employees, project schedules, operations, equipment, and safety – leaving no stone unturned as you supervise and lead everyone. Construction supervision and management are also frontline duties, so this makes you the main point of contact for everyone in and out of a construction site.
Your job as a superintendent involves frequent stakeholder and client interactions, project tracking, material follow-ups, etc., which is basically everything from the beginning of a project till its finish line. This demands a well-rounded personality that can help you stand up to the ever-changing roles of a superintendent and climb the construction ladder to meet new opportunities. This article zooms in on the construction superintendent career path as a roadmap between entry-level jobs and advanced prospects for those aiming to become successful superintendents.
How to become a construction superintendent?
Pursue the required education
Before launching a successful construction superintendent career path, you need to cover the necessary academics to check the first box for construction qualification. This includes getting the right degree in relevant fields.
Although a high school diploma with significant work experience is often enough, having a 2-year associate degree or a 4-year bachelor's degree increases your chances of a better-paid job and opens doors for career advancements. Without a degree, you will need to fill the void with at least 5 years of work experience, depending on the hiring company. Some of the top construction majors you can choose for this field include:
Construction management
Construction science
Civil engineering
Business
Architecture
Building science
Since site supervision and management are both based on engineering skills, mathematics, and software proficiency, earning a degree validates your technical caliber for the job. It proves that you have worked hard towards educating yourself before diving into some hands-on experience. Degree holders are also prioritized by construction companies during their recruitment process. This is because, by the time you graduate with an associate or bachelor's degree, you are already armed with key skills that would otherwise require months of training before you get the job. Some of these skills include project management, estimation, OSHA compliance, stakeholder interaction, conflict resolution, familiarity with construction software apps, blueprint reading, and so on. Since bachelor's degrees often include mandatory jobsite internships, your work credits can actually count as completed work experience for the job – which is very resume-promising as it brings you a step closer to becoming a superintendent.
Very few construction superintendents acquire a master's degree, particularly those who aim to reach top-tier roles in this industry. People often combine graduate studies with their current construction job so that by the time they finish their degree, they will be more eligible for promotions and pay raises. This allows them to fast-forward their career path from an assistant superintendent to the lead or general superintendent.
Apply for certifications
Construction certifications are preferable add-ons to your resume. Not all construction companies require superintendents to own certifications, however, like college degrees, these certifications make you more eligible for competitive job prospects. Some examples include the Certified Construction Manager (CCM) certification and the Certified Professional Constructor certification. It is common for beginner superintendents to complement their degrees and career with relevant certifications down the road. This shows that you are willing to learn something new in order to bridge your career gaps. To get a construction certification, you might need to meet its educational pre-requisite (like having a bachelor's degree), pass an official examination, and prove some verifiable onsite experience.
Build your experience portfolio
Coming to the actual work experience, it is important to dive right into some hands-on work opportunities – either along with your studies or once you graduate. Experience is always the best teacher and an absolute necessity for any construction superintendent career path. Quite often, bachelor's degree programs include internship opportunities that offer valuable on-the-job experiences. These internships are important for getting some initial exposure to the construction world, allowing you to learn the ropes by finally going out there.
Aspiring construction superintendents might also gain work experience by applying to entry-level trades as full-time jobs. This eventually puts them on the threshold to superintendent roles, starting from assistant or project superintendents. If you already have a construction job as a carpenter, technician, estimator, or assistant manager, you can apply to your company's training or apprenticeship programs for superintendents. Most companies provide such training opportunities throughout the year to encourage growth within the existing workforce. It is a smart way to get the look and feel for your dream job while still working in a specific trade. The construction superintendent career has lots of branches that allow potential candidates to become a superintendent using different work experiences. You could start out as an entry-level project manager, an assistant supervisor, or a civil engineer and still be eligible for the role of a construction superintendent – all because of the transferable construction skills you acquire from your previous jobs.
Now that we know the importance of both education and experience, here are some examples of qualification requirements and responsibilities that you will find in job openings for construction and assistant superintendents. This will give a brief glimpse into the overall career path in terms of what you are expected to achieve as a superintendent.
Qualification requirements:
High school diploma, preferably with a bachelor's degree in construction majors.
Up to 10 years of verifiable onsite experience – as a commercial assistant superintendent, a multi-contract inspector, a tenant improvement supervisor, and so on.
Familiarity with pre-construction and contract management.
Experience in most or all of the general construction trades.
Understanding of OSHA safety rules.
Certification for first aid and CPR training.
Current Safety Trained Supervisor (STS) certification.
Proficiency in basic computer and software skills – including Microsoft Office, AutoCAD, and construction management software.
Experience with LEED projects.
Job responsibilities:
Coordinate stakeholder tasks.
Communicate effectively with all the involved parties.
Enforce site and personnel safety rules.
Conduct safety audits as needed.
Organize meetings throughout the project.
Manage and track construction progress.
Resolve conflicts.
Supervise budgets and schedules.
Implement quality assurance.
Track procurements, labor availability, and delays.
Ensure proper equipment handling.
Work with CAD files.
Follow up on punch-list items and RFIs.
Schedule site inspections.
Conduct and supervise client walkthroughs.
Construction superintendent career path
What is a construction superintendent career path?
A career path refers to all the possible job titles you can have within a specific field, starting from where you are right now. It can be represented as a simple flow diagram branching out from your current job, so this is what you want to look at while planning your career advancement. For a construction superintendent, this would mean starting as an assistant superintendent and progressing upwards. Since a career path aligns all the relevant jobs you can pursue, it makes an excellent guide for switching between compatible jobs. According to Zippia, a construction superintendent career path would look something like this.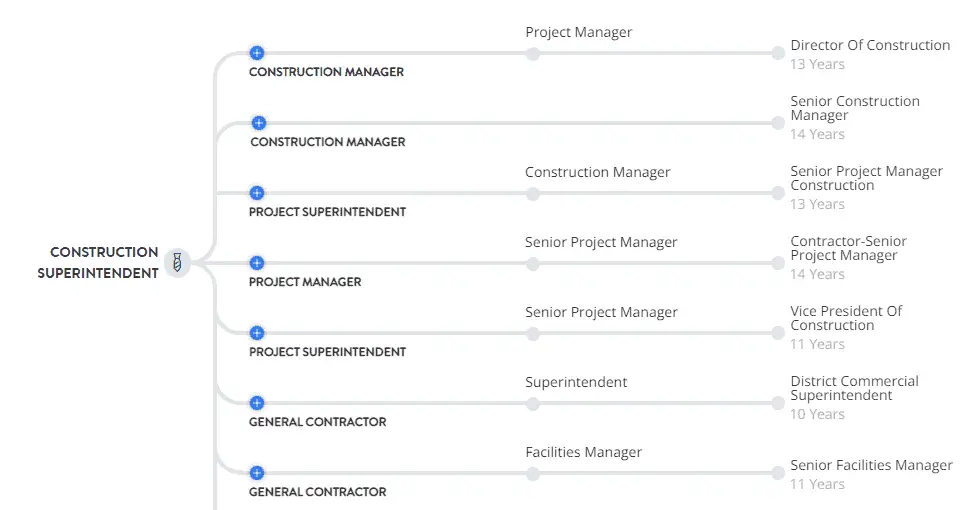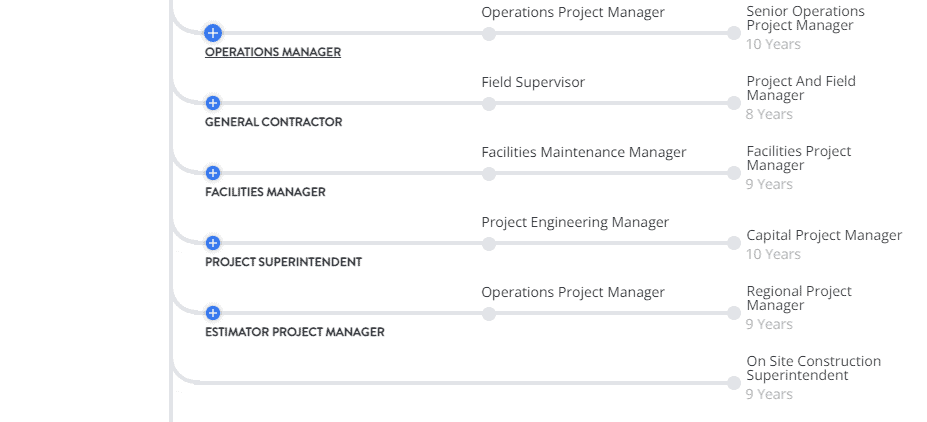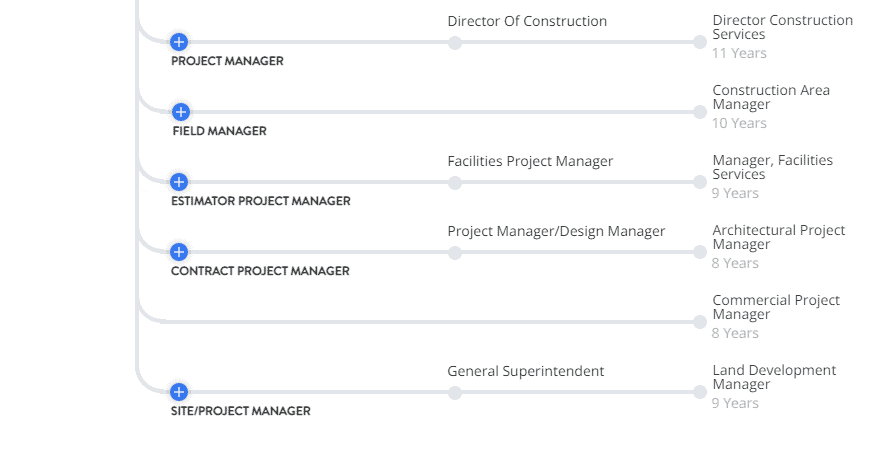 Image credits: Zippia
Based on Zippia's career path, you have the following job options within the superintendent scope:
Project superintendent > construction manager > senior project manager construction
Project superintendent > senior project manager > vice president of construction
General contractor > superintendent > district commercial superintendent
Project superintendent > project engineering manager > capital project manager
Long-term onsite construction superintendent
Site/project manager > general superintendent > land development manager
You could also start off as an assistant superintendent, project manager, foreman, carpenter, supervisor, or field engineer and then progress to roles like construction superintendent, construction manager, quality control manager, and so on. The above career path by Zippia shows that it is possible to switch job titles outside the line of construction superintendents. Your career will not stop at the superintendent level, so if you are wondering, "What's next from here?", we are excited to tell you that the sky's the limit!
You could become a project manager and move from the strictly outdoor job of a superintendent into an office-based setting. Project management is all about the project as a whole and not just the jobsite activities. So, it opens up new doors and gives you a chance to work with different audiences and take up multiple projects at a time. Within the project management route, you could advance to the positions of senior project manager, vice president, and construction director.
Similarly, you can opt for the role of a construction estimator and bring along your superintendent knowledge of project estimations. The transition from jobsites to offices might feel abrupt, but once you warm up to the role, you can own it easily. This is also because estimators collaborate frequently with architects, engineers, and subcontractors – and you have already done that a lot as a superintendent! With similar skillsets in a different setting, you can make massive career progress by adopting senior roles down the road.
The following construction career path infographic by Hays shows another possible route for superintendent job titles. You would move up from the position of an assistant superintendent all the way to CEO by advancing to the next job titles in the following sequence:
Assistant superintendent > superintendent/project superintendent > lead superintendent > general superintendent > VP construction > CEO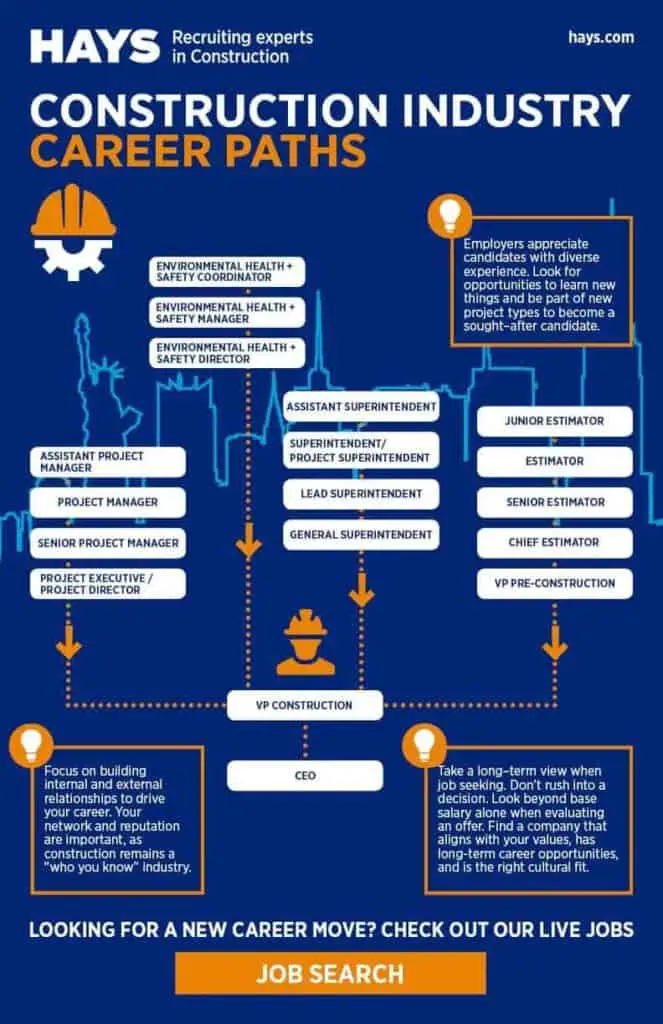 Image credits: Hays
How can you advance your superintendent career?
As expressed in the career paths above, you will have a series of other construction-based jobs before becoming eligible for the role of a superintendent. This means that you need between 5-10 years of construction experience for a company to hire you as its main construction superintendent. When you start as an entry-level construction superintendent, you will have to complete at least 2 years at this position before being promoted to the senior level. For example, starting out as the assistant superintendent, you will be expected to finish a minimum of 2 years in order to qualify for the role of a construction superintendent. Then, you have to spend another 2 years at this level before getting promoted to the lead superintendent position, and so on. Each advancement level requires a certain duration if you want to keep moving forward.
For this reason, as we discussed earlier, some construction superintendents choose to pursue a master's degree with relevant add-on certifications to update their portfolios. The field of construction keeps evolving to make room for new technologies, practices, and software solutions. So, there is always scope for improvement as a construction professional, and certifications help bridge most of the technical gaps. They allow superintendents to, for example, learn a new software, update their site safety awareness, implement advanced technologies or equipment, and get in touch with the latest construction laws. While it is not mandatory to acquire a master's degree or extra certifications, working towards them has a huge self-appraisal benefit for someone aiming to go further.
Another key benefit of taking ongoing certifications and in-house training is that you can apply for higher-paid jobs and be considered a potential candidate for career growth. Having a master's degree in any relevant field will be your fast ticket to the company's top-tier jobs. Superintendents with a master's degree are more likely to earn $120,000 and above per year, whereas those without a master's degree earn between $50,000 – $80,000 per year. Therefore, advancing your education can easily boost your construction superintendent career path.
Conclusion
Our final advice to aspiring construction superintendents is to take the scenic route on their career paths. By working a little in every department early on, you can diversify your portfolio and collect key experiences from each trade.
Look for new construction opportunities and sign up for relevant training programs to adapt your skillset. Superintendents have a very nomadic job role where they switch between jobsites and offices depending on the task at hand. So, it only makes sense to acquaint yourself with as many construction facets as possible right from your first entry-level job. You should not overwork yourself or reach a burnout stage by doing too much at once. You just need to keep an eye out for opportunities to maximize your jobsite experience at different times of the year – so you will have a portfolio-rich decade to speak for itself on your first official superintendent job interview!