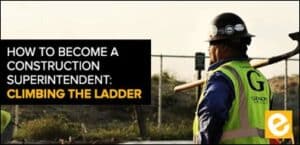 Hi all, let me first start with a disclaimer: I am not a superintendent. I have never been a superintendent. However, I have spent my entire career working under, working with, and then supervising superintendents (among others). I would like to think that although I have never been a superintendent, having been around probably 40 or 50 over my career, I hope I can try and summarize what makes a superintendent a successful superintendent, or how any superintendent can become a better superintendent. I have thinking about this topic a lot lately after I decided to write about it, as I believe that answering this question well can have a tremendous effect on how well a commercial construction project can go. In addition, if every construction project that a commercial general contractor runs goes just a little bit better based on this blog post then you have the opportunity to improve your entire commercial construction company since you as a superintendents are a key player at any company in the commercial construction world.
What is a Construction Superintendent?
A construction superintendent is an employee of a general contractor who is typically responsible for the daily supervision and coordination of all trades and activities on a jobsite. They are always stationed on the jobsite itself and is usually part of a larger team for larger projects and are in control of the schedule, quality control, and safety of a project.
Construction Superintendents Control the Entire Jobsite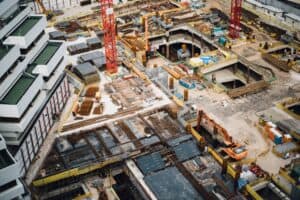 Construction superintendents have a bird's eye view of the entire commercial, residential, or industrial project. From the inception of each stage until the final punchlist item gets completed on a project, superintendents are responsible for every single activity that takes places during a commercial construction project. the workflow. They form the human resource backbone for construction projects: hiring employees, conducting training programs, supervising the on-field tasks and safety compliance, approving timesheets and payrolls, finalizing job rotations and allocations, etc. Construction superintendents get in touch with all the stakeholders involved to streamline communication through each construction activity. They anticipate the opportunities and deal with inherent risks that come with construction within clearly defined budget constraints. They are basically the North pole of a vast construction compass; all permissions and approvals point to them. Please read our following tips on how to be a successful construction superintendent.
Construction Superintendents are the Most Critical Team Member
As I mentioned before I have been in this industry for nearly 20 years, and usually the difference between a successful project (from all of the stakeholders' perspectives including general contractor (GC), owner (client), and design team) and an unsuccessful project is how the construction superintendent performed on a project. Now sure, I have been a part of a few projects where the project manager was really screwing things up by not buying subcontractors in a timely manner, or when they did they forgot to buy a complete piece of the scope that they were supposed to.  I do understand there are a lot of things that go into a construction project including the initial estimate, the design, the subcontractors chosen (I can go on for ages), but from my perspective the superintendent's role is the most important on a project.  If a strong superintendent is on the project who is paying attention to the jobsite and to the rest of the team, then he or she will be my most trusted partner in knowing how well a project is being run.
A Superintendent is the Toughest Job in Construction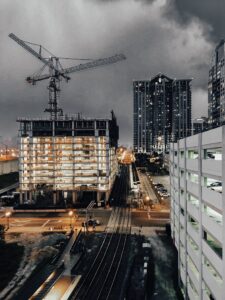 It is the most difficult to fill from a general contractor's perspective and once a superintendent is in place on a project I fully get how difficult it is to BE a superintendent.  Heck, I wouldn't be one, and there obviously aren't a lot of superintendent out there considering the company I work for receives approximately AT LEAST 20 resumes for a project engineer or project manager for every ONE resume for a superintendent.  Without further ado, here my list of how to be a good construction superintendent:
Skills and Traits of a Successful Construction Superintendent
Education and sufficient on-site experience are both imperative to fuel your career as a successful construction superintendent. Every worker brings in a unique set of abilities and potential to the field. It is important to realize and optimize those strengths to let them translate into a tangible reality.
1. Pursue a College Degree and Field Experience
The first step in becoming a good superintendent is to get the right background first. I have seen only ONE person come straight out of school ready to become a superintendent, and that person turned around the next year and become a Navy SEAL! So sure, it's possible, but 9 times out of 10 a person usually needs to get an education AND some good field experience before becoming a superintendent. Many recruiters or managers look for candidates with a degree in construction management, architecture, or engineering for superintendent vacancies. You do not necessarily need a bachelor's degree, although it definitely shows well on a resume, and it proves that you can achieve a long term goal that you set out to achieve. A relevant trade school or associates degree can also increase your chances of landing a permanent job. Years of hands-on, verifiable experience in the field are crucial in either case. One step you can take to gain some experience is to enroll in various industry internship programs during or at the end of your studies. This brings you to the threshold of new opportunities as you get exposed to the necessary experiences required to become a successful construction superintendent.
The best way to learn how to become a successful superintendent is to witness a successful superintendent in action. There is no substitute for experience and you can usually learn best by taking on habits and getting mentored by someone else who has already figured out how to be a good superintendent.
2. Do Your Research and Understand the Project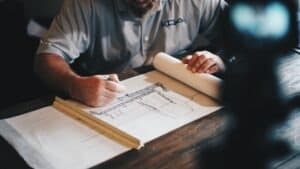 You need to understand all major aspects of a project before you begin and always understand any changes in scope as they occur.
Understand the Project Design
Step one is the obvious one but one that an inexperienced one (or honestly some experienced ones) sometimes skip. That is to understand all of the contract documents. If you don't fully understand the design of what you are building then it will only hurt you along the way. Sometimes superintendents can get a lot done understanding how things are built but you have to keep in mind that every single project is unique and every architect or designer has their own way of wanting to get something built. I have seen some senior superintendents fall into the trap of thinking that their current project is going to be built the same as their last 20 projects and that is a slippery slope to go down.
Understand Your Client and the Project Stakeholders
After doing your research on the design itself the really good superintendents I know succeed as a construction superintendent by putting effort into into understanding their clients and their expectations. We work with a number of different client types on all of our projects and they vary just as much as the projects we work on. Is your client a private developer who is flipping the project the day that you are done or are they a public entity facilities manager who gets called every day to deal issues that arise with their building? We always strive to meet our client's goals in terms of price, quality, schedule, and safety (as all general contractors always do), but your client's specific situation, motivations, and goals for every project will be a little nuanced every time depending on their perspective. In that regard efficient collaboration with the project stakeholders will help you streamline every process, so it always helps to adapts to their requirements, restraints, and challenges specific to every project. Potential stakeholders for each project include your client, contractors, architects, engineers, managers, end users, the project financial backer (usually a bank) and various other professionals that have "skin in the game" as we like to say.
Good Superintendents Dig Into the Project Details Because They are Passionate About Construction
The good superintendents I know are passionate about their project and dig right in.  As soon as I tell them that they are going to be on another project they will want a set of plans as soon as possible, and are going to spend a lot of their time researching and finding out as much as they can before they step foot on the jobsite.  The guys who really love what they are doing with ask for a half-sized set to take home with them or nowadays (now that hard copies are less and less common) are making sure that they are setup electronically on Plangrid software or similar so they can take them along on their ipad or tablet.  Does knowing the project mean only knowing the plans and specs?  That's a great start, but here are some of the other things that I mean when I say, "know the project".
Examples of Knowing the Project
As I mentioned above understanding the plans and specifications (contract documents) is a good start to knowing the project, but in order to be fully engaged you can take this one a step further.  Here are some examples of what you can do to fully understand the project both while you are just starting up and while activities start heating up and you are getting things done onsite.
Understand Existing Conditions – If it's a remodel project you should get out there, take a look, understand what you are about to start ripping out.  If it's a new build or addition?  Still get out there.  Even if it's currently a patch of dirt, getting out there so you can then picture (or dare I say "envision") what you are about to build where it's going to be built provides you with an advantage.
Know Your Estimator's Approach – If you are on the operations side then half of the work has already been done for you.  Someone in your company had to understand the project well enough to put a budget together (usually to the dollar) in order to build that project.  He or she usually builds a "bid summary", "budget summary", and/or a set of "scope sheets" or "leveling sheets" in order to put a full budget together.  From my perspective a well put-together bid summary with a nice set of scope sheets is like scoring with "Cliff Notes" or a cheat sheet for the project.  I like to think of it like this:  If something on the project is big enough to identify and set aside money toward it then it's big enough for you to worry about when you start building the project.  I understand that not all estimates are correct and maybe your estimator took a different approach on something that you would but wow, to have 90% (or hopefully more like 99%) of the project put on a silver platter for you before you start?  Take advantage of it!  To tell the truth I don't know of a lot of superintendents who ask for and read through all these scope sheets and I have no idea why!  There is so much information in these documents that someone in your company just spent 2 weeks, 2 months, or a year compiling depending on the project size!  Take advantage of these for crying out loud!
Participate in and Know Your Project Manager's Approach – So after telling you how good it is to understand and learn from estimating's approach, I still want to make sure you that you figure out how your operations team (usually at least yourself and the project manager) are going to get the project done.  This ought to be pretty similar to how estimating came up with the budget but there are always more than one way to skin a cat so if you can find a better way to install door frames, get cabinets hung, or buyout fire alarm systems, work closely with your project manager to A) figure out a game plan and B) figure out what the project manager is including in each subcontractor's scope.  After the dust settles and contracts go out the door make sure you are familiar with the final, executed version of each subcontract.  More on that later!
Work With Your Team to Help You Fill in The Gaps – You can't know everything about the project.  Sure, if it's a small, slow, easy project you can get dang close to knowing all of the project, but even the small, slow projects have 500-page specifications.  So, unless you have a photographic memory AND can speed read you aren't going to get through all the contract documents, especially when you are given about only a week or so between wrapping up your last project and starting your next one!  That's where your team comes in.  The superintendent is going to be slammed as soon as the first subcontractor shows up onsite, but you are not the only member of the team!  Remember that you have a project engineer who, only one, two, or five years ago was memorizing a whole bunch of nonsense to pass his or her "Calculus 3" exam!  Use that wonderful studying ability by not being afraid to ask your project engineer questions!  They are typically in the office (or at least field office) in front of the plans all day while they are processing submittals and RFI's so it's pretty standard that you can assume your project engineer will be totally knowledgeable or can figure out pretty quickly where to find the information when asked a question.  Don't feel like you need to know everything about the project, as the more you can lean on your project engineer or project manager (with success) the more you can focus on the more important task of maintaining progress in the field!
3. Know Your Team and Come Up With a Game Plan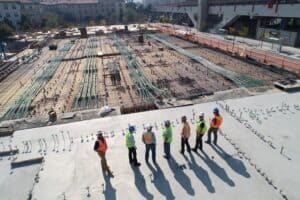 When you begin a new project it usually means that you will be working with a new team or at least some new team members. Even if you struck gold and are bringing your entire project team with you to your next project there will inevitably be some differences in how the construction team will be operating. Sometimes the difference between how a good superintendent operates compared to an average superintendent or even more likely a great superintendent operates compared to a good superintendent comes down to how well he or she can lead or work together with a team. There are plenty of opinions and an unlimited amount of books about how to lead as a team, how to function as a team, how to motivate a team, etc.. A construction teams looks and feels different than a "corporate" team but it is certainly worth mentioning that even at a small size of construction project – heck even as small as $50,000 – you are always going to be operating within team. Even if you are a TI contractor and your PM is planning on spending about 4 hours a week on a project, you still have a team member who you depend on doing their part and vice versa – they are depending on you doing your part. When your project size starts growing – $100,000, $1,000,000, $5,000,000, $10,000,000, $20,000,000, etc… The ability for you to work with a team, motivate a team, and keep your team accountable for their responsibilities on the project become more and more important for each step up that you take. I could speak for pages about how to be a good team leader but in the spirit of trying to help you become a better superintendent but not having to spend hours reading this article I will try and break teamwork to a few points specific to construction:
Set Expectations for Each Team Member
Check In at Least Weekly to Make Sure Everyone is Keeping Their Commitments
Accept and Respect Feedback from Other Team Members
Raise Your Hand If Something (or Someone) Isn't Working
1. Set Expectations for Each Team Member
When we start a new project we usually always have a sit down to go over team responsibilities. Now we aren't re-creating the wheel every time but as I mentioned above every team on every project is a little different so it's always a good idea to sit down with all of your team members to figure out two key details:
Who is doing what?
How quickly can they do it?
There you go, only two easy questions that you need to answer! Now the answers may get a little more complicated but at the end of the day you need to figure out who can get the project kicked off properly, but more importantly you need to come up with a plan to sustainably keep everything going (i.e. keep subcontractors signed up, change orders coming, submittals approved, and questions anwered). I want to give an example just so I am not staying "hypothetical" on this one because it's really easy (and not helpful) for me to just say "figure it out". No project ever has had the entire team available at the exact right time so for instance I am currently kicking a project off right now. The project manager is slammed buying out another project, and the superintendent is wrapping up his current project (sound familiar?). So we have asked another project manager to help buy out "some" of the trades, while our main project manager can get caught back up. Then we are asking our super (who has some capacity) to write a few big RFI's and review the structural submittals come in. THEN when our main PM frees back up she will take all of the "normal" project manager stuff back over. The second question that you always need to ask is "when?" Great, you can do these six contracts…. "OK, when?" Our industry is run on "time" and every project is dependent on when things can get taken care of, so it's a question that needs to be asked. You will see as the project picks up and keeps going that that question is going to need to be asked again and again on pretty much a daily basis.
2. Check In at Least Weekly to Make Sure Everyone is Keeping Their Commitments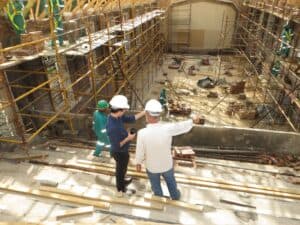 The first kickoff meeting for a project is great. Everyone is excited and ready to jump in. If you have your act together then responsibilities are split, assignments are made, and everyone is ready to hit the ground running. I hate using a cliché but a construction project is more a marathon than a sprint. As long as we are on this cliché then it's worth describing it more like a marathon with a bunch of hills, blind curves, boody traps, and someone trying to block you every step of the way. I don't know how many times we have come up with an outstanding plan for the plan to get turned upside down when something comes along unexpectedly. Here is a quick tip for construction: nothing will EVER go as you plan it.
If you want to learn how to be a successful superintendent then having a regular huddle meeting for both your internal project team and your overall subcontractor team, at a weekly basis at a minimum, is critical to your project's success.
So back to the weekly meetings – you need to keep track of your schedule every day of every week, AND you can't do everything yourself on the project. So it is very important that you confirm that each team member is successfully completing their responsibilities on a regular basis. We have established weekly internal "huddles" for every single one of our projects since it is so critical that team members are pulling their own weight. It is not meant to micromanage team members but it is a timeslot that is set aside during each week to ensure that the team is working on the right issues at hand to make sure that the project stays on track.
3. Accept and Respect Feedback from Other Team Members
Always be open and welcoming to your team members' opinions and feedback. They are the ones who will witness the on-site experience firsthand, and so it is very important to stimulate a friendly and collaborative working environment. As you assign the rules and coordinate activities, make sure to avoid triggering the Hawthorne Effect among your employees. They should feel transparent and honest in their work, rather than forced to perform differently under observation. Every time I hear a superintendent or a subcontractor say "I have been doing this for 30 years" it is a red flag for me because it typically means that the person is trying to pull the "trump card" out and that means one of a few things that cause me to heed caution. When a person says that comment he or she is either 1) unwilling to listen to someone else's perspective or 2) unwilling to read the specific plans or specifications for the project to understand the project properly. I certainly appreciate experience in our industry, but you have to have the desire to learn the unique aspects of every project that you join. As your projects grow and get more complicate you will realize that you can no longer know every little detail on a project. There will come a time when you as a successful superintendent will have to trust and rely on a project engineer or team of project engineers to know the Contract Documents inside and out and help you to figure problems out in the field.
4. Raise Your Hand If Something (or Someone) Isn't Working
When I hire employees and I manage teams, I usually take the position that everyone is in it for the long haul. Our projects are so fast and furious that if we need to make a change it is sometimes difficult and many times we need to just get through a project before assessing how a team (or individual team members) did. However, I have found over my years that some people that I have hired just aren't a good fit for the organization. Now, I am very cognizant of the fact that there are strong personalities in this business (dare I say especially with superintendents?) so I recognize that two people who are driven and passionate about their careers may come into conflict with each other, but I really try and keep an eye out for the following situation: The worst position you can get a team into is when one of the teammates isn't pulling their own weight. When that happens and that person gets away with it for a long time then the frustration of the other team members grows and it's a very hard thing to get over. You actually can't and shouldn't get over it. It is a de-motivator to have them on your team and if they have a negative attitude or bad habits that come along with their lack of drive then it's a double whammy that can really hurt the other team members and the organization.
The best feedback that I have gotten from a project team before is when a member of the team really wasn't passionate about what he was doing and it showed in his work. Now I am not one to encourage "snitches" or whiners but when I have a trusted team in place and they are able to self manage and make it very obvious to me when another member is not cutting it. When people in our organization are passionate and driven enough to make it known that a person is not at a position for the right reasons then I consider it be a very driven organization with a strong culture. Now it takes a lot of hard work and trust to get to this point but once you are there it's a great place to be.
If you want to be a successful superintendent it's important that you make every one of your team members better by taking them under your wing but also allowing them to contribute the best way that you can but you also need the ability to access yourself and your teammates at the end of the project or if someone is just not cut out to be doing what they are supposed to be doing.
4. Plan and Manage the Project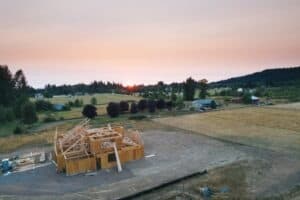 Planning is the most crucial step prior to each stage for breaking down the complex project into a series of manageable modules and operational budgets. You can employ the help of enterprise resource planning (ERP) systems for construction and labor management, specific to your company, or invest in off-the-shelf software apps. Some examples are Penta, Procore, CMIC, and Viewpoint solutions. In addition, you should utilize a modern software to build a full "critical path method (CPM) schedule for your project well before you step foot on the project. You should always be able to track progress and isolate bottlenecks for efficient recovery times, but all of the scheduling software in the world can't help you put together a plan if you haven't put enough forethought into your approach for the project.
I am sure you guys have heard this already (and most likely rolled your eyes as I am doing right now) but as the saying goes "failing to plan is planning to fail."  I know, it's cheesy and overused, but I don't know how many times I can count in the past when a superintendent is being "reactive" instead of "proactive" and fails to look for "future" events that may derail the project.  Then he is "surprised" when he is unable to line up sub labor forces as necessary for a success project and can't wait to complain to me about "how his sub sucks".  Here are a few steps to take to plan your project out the right way, in order from the most basic to advanced:.
Logistics Plan
Now, your project COULD be pretty straight forward and not really need a logistics plan, but it's been a LONG time since I have seen a project that doesn't need a nice, published logistics plan.  A nice clean TI in a new space probably doesn't need a logistics plan but any other remodels need logistics plans because they are always guaranteed to be occurring while other "groups" are still utilizing the office and so our job is to make sure that the building occupants are completely safe.  A new ground-up project or addition to an existing building will need one as well as you are going to need to show contractor parking, a storage yard, crane pick locations, field office location, storage location, porta-potties, etc….  Don't let lack of technology slow you down!  Sometimes the best plans are written with pen and paper.  Better yet, grab your millennial OR GEN-Z project engineer, explain to them what you are looking for, and they should be able to give you a nice printed 2d site logistics plan, or even a 3D BIM (Building Information Model) logistics plan, pretty much in real time!  At the end of the day, you are going to need SOMETHING for a logistics plan in 90% of your projects.  If you aren't doing them on a consistent basic, and want to be a good construction superintendent, start doing logistics plans for every project.
CPM Schedule
The CPM (or master) schedule is not something to be taken lightly.  After coming up with a logistics plan then you need to add some "4D" to it by creating a full master CPM (critical path method) schedule.  I THINK this should be a given at this point but please make sure that you are using a software specifically made for schedules.  I personally use Microsoft Project but there are more robust options out there in Primavera P6 and ASTA Powerproject, and probably another 6 that I don't know about.  It doesn't matter which one you use as long as you are using one of them!  I personally haven't run into a lot of projects when Microsoft Project doesn't work as it is very user friendly and has most of the capabilities of the other software out there.  Creating, maintaining, and staying engaged with a master schedule is probably the biggest hurdle that I have seen for superintendents who I have worked with.  My guess is that guys get hung up with the software aspect.  Heck even with the whole concept of creating a nice "forward pass", "backward pass" scheduling method seems to be lost on a bunch of superintendents as well.  This section of the article merits its own article in itself, but until then just know that this is an area where A LOT of supers struggle.  If you are in that boat, then I have three tips for you on how to become a good superintendent NOW and later: 1) Take advantage of any opportunity that your company presents to learn the software that your company uses.  2) until you can learn how to do it by yourself lean heavily on your team members to help you with it.  3) Even if you don't know how the schedule works you STILL must understand and own the schedule, or you are missing out on one of the most critical aspects of your job.
Look Ahead Schedule
After you put your CPM together then it's time to put your look ahead schedule together.  Now, you may ask – why did I just spend dozens of hours putting together a 250+ item schedule to "not use" it except for updating it once a month?  Here's why – even though the CPM schedule is awesome, can help you forecast the completion of the project, and you can use it as a tool to predict what effects changes to the project will cause, it will be difficult to keep it detailed and/or updated enough to use it as a daily or weekly tool to help influence what activities you need to plan for and perform in order to maintain your critical path schedule.  A look ahead schedule gives you those capabilities and having a nice CPM schedule is still very useful because you can still link the look ahead to the overall CPM schedule to ensure that your entire project is still on track.  I purposely didn't say "3 week", "4 week", or "6 week" because it's up to you on what you use.  I have seen all three, and as long and you follow a few "best practices" then I don't think it matters too much what you use.  Here are a few tips when building a look-ahead schedule for your project:
Build enough detail to track your schedule – my rule of thumb is to keep every activity under one week.  If you can't track whether something is being completed between subcontractor meetings, then it gets really tough to confirm whether you are on schedule or not.  For example – say you're supposed to install all the storefront windows in the building in 3 weeks?  Break this activity up however it makes sense so you can track it well.  If your sub is trying to do it elevation by elevation then you can split it into 4 activities for about 3.5 days each.  Do this with everything, but make sure that the activities are tracking exactly how the construction is planned for.  The closer your schedule resembles what is actually happening in the field the more the schedule will be useful for your. 
Get buy-in from your subcontractors.  A schedule that works well on paper is OK, but make sure that your subs are bought in as well.  If you try and cram activities on your schedule that are either too stacked or too short to be realistic, then you are just too kidding yourself and screwing up your subcontractors.  Say you tell your drywaller to be wrapped up with his drywall by Friday so the painter will start on Monday.  Well if the drywaller can't complete by Friday then you just screwed up the painter.  He is either going to show up and you are not going to be ready for him or you are going to have to cancel him last minute (and still screw him).  There is a fine line though, as all of your subcontractors have made a commitment to you as the general contractor.  So if there are subs who are not holding up to the commitment they made to you then by all means take action (usually with the assistance of your project teammates) to get the subs to correct the schedule and get back on track.  When your schedule is realistic and there are no issues holding your subcontractor up then typically that's when you "find you groove" and start kicking butt on your schedule. 
Pull Planning – This is basically taking "scheduling" to the next level.  Rather than creating a schedule, and getting buy-in from the subcontractors, pull planning is a process where you actually build the schedule with the subcontractors.  It takes it to the next level because each subcontractor is involved, they create their own durations for each activity, and everyone creates the sequencing of the schedule as an entire project team.  As a result you get a very detailed, realistic, and accurate schedule that everyone had a part in creating and so everyone on the team is completely "bought-in".  In addition, with pull planning you actually track the progress of the overall schedule on a weekly basis and "grade" how you did on the project to track how efficiently the project is running.  The process takes a lot of planning up front and "maintenance" on a weekly basis, but if you get really focused and get momentum on a tough project there is nothing like it.  If you want to learn more about pull planning head on over to "leadconstruction.org" for more information.  
Documentation Control
This is a big one and it's probably the most nebulous. I really should break it into a 5 point sub-topic but I just want get it in here so you don't forget about it. The Contract Documents (plan, specifications, etc…) will be added to, they will be changed, and they will be done in the field a little bit different. You need to keep all of the changes, and all of the cost changes that go along with them organized, and quickly modified and agreed upon. Again, these can be changes from RFI's, submittal reviews, CCD's, ASI's, bulletins, …and on and on.
The end game is that you need to keep the "current" design organized and published to all of your subcontractors. If all project designs stayed the same construction would be easy but as you know nothing ever stays the same in construction so your (and your team's) ability to keep the information straight is critical for the success of the project. What does a successful superintendent and his team do to keep project information available and organized? I have two major points that are critical to the success of documentation control:
You Need A Consistent Project Management System – Now I have seen this done with spreadsheets, plain text documents, DOS (any millennials know what that is) programs, and all hard copies of plans. On the other end of the spectrum our company currently uses CMIC as our project management software and that is coupled with Plangrid paperless plans software. Others use Procore and although I haven't personally used it I have hear that it is just as power if not more powerful than CMIC. Whatever tool or process you are using make sure that you are using it correctly and consistently or your head will start spinning with the amount of information that has be be defined and distributed throughout a project.
It is Always a Team Effort – The documentation control needed for any project is a beast of a task and there are always many facets that you have to deal with. The field conditions changes alone are sometimes found and driven by the superintendent, RFI's and submittals are sometimes tackled by project engineers, and usually I see project managers deal with the financial implications of any of these changes that arise. If one person tried to deal with all of these changes then it would not be a fun project. As I stated previously make sure you know who is doing what and make sure they are doing it well and quickly. When you mobilize and start hitting stride on a project it's like a freight train – it's hard to turn, it's hard to stop, and it's hard to start back up again. When your projects are all based on the time that you expect to spend onsite then suddenly documenting all project changes and keeping everything straight becomes one of the most important tasks for a successful superintendent and his or her team members.
5. Multi-task and thrive under pressure
As a successful and efficient construction superintendent, you need to be a reliable multi-tasker who is not intimidated by work. This does not mean that you should overwork yourself; you just need to work smart. It is a multi-faceted profession that involves site supervision, labor assignment, reading blueprints, accounting and finance control, risk management, safety regulations, and a lot more. You will be ambushed by several responsibilities at the same time, but this is exactly what you need to embrace and handle like a true leader. Delegating tasks, using management apps, promoting employees, and regular performance appraisals are excellent choices. You cannot be everywhere at once, but you can still ensure a promising workflow in this way. Keep a high level of communication with your team members who are helping you get work done in the field and they will help you to keep the information straight and get it done.
6. Provide Effective Communication and Documentation
Your technical reporting must adhere to industry-standard terminologies for the relevant audiences. Make sure that you are familiar with Microsoft Office Suite for creating documents, presentations, and spreadsheets. It is highly likely that you will have people from diverse cultures in your team; this introduces language barriers. You must take care to bridge all such communication and documentation gaps so that your protocols and procedures are clearly understood by everyone. Be inclusive and considerate; no member should feel marginalized. It is an added benefit to know more than one language. Apart from face-to-face interactions, you will increasingly depend on communication via emails, Skype, Microsoft Teams, or WhatsApp. Being a little tech-savvy walks the extra mile. You will need to be able to communicate with everyone from a laborer onsite all the way up to your client's main project manager or point of contact so understand who you are talking to and keep your communication professional and clear at all times.
7. Be professional
Your team will look at you and look up to you for directions and inspiration. You should be respectful and approachable and keep calm under all circumstances. Take initiative for improvements with calculated risks and confidence. Shoulder the responsibility for major and minor setbacks instead of polarizing the blame so it points away from you. If you are unsure of what to wear on a daily basis please be sure to check on our article on superintendent attire.
8. Have Contingency Plans
As a dependable construction superintendent, be prepared for potential risks and failures that may result in unplanned downtime. You should be able to deal with changes in the work environment to prevent delays and workforce inefficiency. Again, there are several construction-specific software and tools to maximize productivity and supervision. Not everything will go according to plan, and your ability to foresee a potential issue, and take action BEFORE a road block occurs so you can pivot with minimal impact to the project is truly what separates a good or average superintendent from a great superintendent. On critical projects there is always what we call a "point of no return" so when you are able to successful identify those milestones and make sure that you have properly prepared for them then that is truly when you as a superintendent are managing a construct rather than just reacting to occurrences when it's too late to minimize damage. You can always appoint a second-in-command to take over when you are not available as you might need to travel between sites but at the end of the day you are accountable for the success of the project onsite so you need to pay attention and plan ahead so you and your team don't get burnt. Moreover, conducting regular audits and outsourcing the site maintenance and cleaning to reliable companies will make sure that all operations run smoothly.
Advice On Success During The Pandemic
Yes, we have all been there. Yes, we have all done that. And yes, we are all tired of hearing it. The pandemic has brought things to a halt, and experienced professionals are struggling as much as beginners. It is particularly discouraging to see a roadblock ahead just when you thought you had started. If things did not go as planned pre-pandemic, then they are sure to go downhill even more now. So, if you do keep up with all the market trends and adjust your sails in time, there will still be something unexpected lurking on the horizon – like Omicron, to begin with.
A smooth sea never made a skilled sailor, and since the construction compass points to you, your best option is to rise to the challenge. And most of the time, this will include abandoning your comfort zone in search of something new. You might need to rebuild your portfolio and make it more adaptable based on COVID limitations. You might end up using technologies that you have never used before. While all of this may seem intimidating, it also means more chances to expand your construction radar and welcome new skills on board. I have some advice to share for both beginners and professionals on how to be a successful construction superintendent – despite the pandemic.
For Beginners
As an aspiring superintendent, you must aim to get more and more experience in the field – because after all, experience is the best teacher. While there is a very stubborn ceiling on job opportunities during the pandemic, you can still find ways to gather valuable experience as a beginner. Some construction companies offer apprenticeship programs that you can enroll in even in the middle of your study. Try to sign up for facility tours and online training when possible – like OSHA and other construction-related classes. Any off-time during your career can be reinvested in practicing current construction software apps to build a tech-savvy profile – as the need for software proficiency is at its peak with more office work moving online.
For Professionals
If you have an established superintendent career, staying successful during the pandemic can be challenging to say the least. You will know from experience how the construction world is the perfect representation of Murphy's Law: "Anything that can go wrong will go wrong." Bring in a pandemic, and anything that can go wrong already has! The following are some struggles the construction industry continues to face in the wake of COVID-19:
international business shutdowns and travel bans
barriers to jobsites due to lockdowns and quarantines
delayed and canceled projects
costly imports and exports
resource and labor unavailability
logistical challenges
recurring disruptions caused by the new variants
Considering these issues, my advice on how to remain a successful construction superintendent is as follows.
Don't Put All Your Eggs In One Basket
Since procurement and logistics are crucial to any project, it will be smart to expand your distributor options instead of relying on just one distributor. Travel restrictions, bans on imports/exports, and material unavailability will make it impossible to get your resources delivered on time. This can push your schedules past the deadline and will severely impact your budgets. As a superintendent, make sure that you reach out to different distributors and providers, especially the local ones, to avoid the problem of delayed deliveries and canceled orders.
Closed Jobsite? Go Offsite!
Modular buildings are a great solution for construction companies. Construction jobsites need to comply with various protocols and restrictions – such as the total number of available workers. For this reason, offsite modular construction allows companies to fabricate units elsewhere and have them delivered to the site for assembly – using considerably less workforce. You can revamp your superintendent portfolio around these skills for offsite management and onsite assembly.
Modular projects easily tick all the boxes for OSHA compliance, social distancing, worker safety, reasonable timeframes, and friendlier budgets. They help you streamline your work and actually get things done on time. Even if the original deadlines are exceeded, modular construction offers a middle ground to have everything ready within a revised and reasonable date for all stakeholders.
A point to note: whether you work onsite or offsite, make sure to always implement social distancing, mandatory masks, sanitization, etc. to keep the environment COVID-proof. Your teams will only follow your lead, so set a good example!
Join The Virtual Wave
We discussed that communication is key. Since meeting face to face will not always be convenient – or safe – during the pandemic, you can always connect with your teams online. And this also extends to your daily responsibilities on the jobsite. You can use drone camera technologies and various construction-based apps to take all your supervision and inspection online – from wherever you are. Conduct Zoom meetings for regular discussions and follow-ups and make virtual collaborations your daily priority. Take your time off during lockdowns and quarantines to actually learn new software skills. In this way, when you resume work, you can bring some game-changing improvements for everyone on board.
Tech-savvy skills are your ticket to advancement opportunities, so even as an experienced construction superintendent, there are always technological gaps you can work on. In addition to the software solutions discussed so far, here are 3 more apps to add to your digital toolbox. They will allow you to move the office part of your superintendent job online, so that is a huge silver lining for any construction career.
Fieldwire is a jobsite management software designed for real-time communication, reporting, and tracking. You can use it to assign tasks, manage both the site and the office, create schedules, and digitize all construction documents.
Raken is another great construction project management software app. It helps you synchronize field data and use powerful analytics to back your decisions. The app automates payroll tasks for each employee. You can also store digital signatures to keep your communications and approvals streamlined and verified in every virtual meeting.
DEWALT Tool Connect is one of the best inventory management apps for superintendents, especially if you already use DEWALT tools and equipment. You can scan the QR codes using the app to track inventories from anywhere. The Tool Connect tags and chips can also be attached to your tools and materials for real-time updates. The app works with Bluetooth-enabled DEWALT products as well. It is a very efficient way to receive quick insights at home all the way from the field. Furthermore, DEWALT's Construction Asset Gateway system can pair up with Tool Connect to provide automated audits for vehicles, tool rooms, and other resources.
How to Be a Good Construction Superintendent?
If you are determined to tread over the learning curve, nothing can obscure your chances of becoming a successful construction superintendent. Every thousand-mile journey begins with a single step. Once you spend enough time supporting superintendents as a project engineer or project manager and you are ready to take the lead if you abide to the steps above you will understand how to be a successful construction superintendent.
FAQs
What Makes A Successful Construction Superintendent?
To become a successful construction superintendent, you need:
1. A willingness to learn. This includes everything from getting the right construction degree to receiving ongoing training throughout your career in order to bridge technological gaps, learn about the latest practices, and keep up with this fast-paced industry.
2. Good communication skills. Construction superintendents work with multiple audiences and require strong written and verbal communication, so your success depends largely on your ability to connect with people. Language strengths are a huge plus because they allow you to connect with international clients and vendors, which will help you enrich your network in construction.
3. A thirst for details. A successful construction superintendent is always ready for a thorough project research before any work begins. You need to dive right into the details to plan the timeline, anticipate challenges, and get familiar with all your construction documents. This gives a valuable head start on the project, making you better prepared for what lies ahead.
4. Openness to teamwork. Successful construction superintendents always acknowledge their projects as teamwork and help members play to their strengths. This opens the scope for task delegation, which is imperative during the project's "peak hours". Teamwork and delegation also facilitate multitasking aspects. Supers who take inputs from their estimators, engineers, architects, etc. build a broad perspective that is backed by firsthand information. This simplifies research areas, not to mention the gaps it closes within your own expertise. Be as willing to sit with a Gen-Z engineer who has spot-on digital flair as you would for a boomer estimator who is quick with numbers.
5. A backup plan. Resourcefulness and backup plans help construction superintendents bounce back and succeed at their work. This includes anticipating roadblocks early on and planning for backups to ensure timely procurement and project completion.