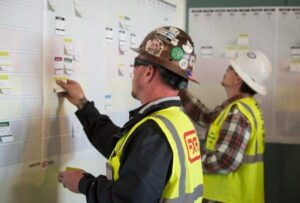 Image credits: The Lean Builder
Pull planning is an effective scheduling technique used by construction experts as a part of their project management strategy. When done right, good pull planning can help stakeholders increase the value and quality of their projects. It is implemented to streamline construction stages, minimize the risk of errors within a project, and reduce waste overall. In this article, we will discuss some pull planning tips that you can use to make the best out of this strategy.
What Is Pull Planning In Construction?
Definition
To begin with, pull planning is a collaborative technique used for scheduling and management purposes in construction. It makes use of whiteboards and sticky notes – much like a Kanban board – to visualize the project's flow with color-coded details. Instead of the regular start-to-finish planning, this process goes in reverse order, starting from the key milestones and working its way backward. With such a strategy, construction experts are able to procure details, objectives, specifications, and other information for exactly what is needed right now. This reduces waste and chances of rework, enabling the project to move forward much better than before.
Process
Pull planning is all about teamwork. It is primarily a collaborative strategy, so it involves various stakeholders coming together and working as a team. The meeting is often started by the general contractor. It includes identifying milestones, isolating key aspects, and working backward to extract relevant details for each milestone. The team usually works on whiteboards or charts using sticky notes for a more organized, color-coded visualization of what lies ahead. You can also work with pull planning software tools. The key focus here is to include the project's last planners, who are all the construction professionals in charge of supervising the project. This could be the superintendent, general contractor, and project manager – all of whom will be required to join the meeting. For this reason, pull planning goes side by side with the Last Planner System, as the contribution of these key experts is crucial.
Once assembled, the stakeholders work backward from the deadline and build a breadcrumb trail of events back to the start date. So, they keep the end result at the forefront and collaborate on how to complete the immediate events with the best value. Trade representatives then write down their respective milestone tasks and add their sticky notes to the whiteboard – or the timeline. As the timeline begins to fill up, it becomes easier for the pull planning team to visualize the workflow, identify key milestones, spot dependencies, rearrange tasks, and so on. This creates a collaborative roadmap for the team to work with and make the best out of this reverse approach to construction scheduling.
Benefits
There are several benefits of using such an approach. Pull planning is very effective for streamlining construction stages and ensuring realistic workflow down the timeline. The technique helps experts highlight what is needed right now, so this allows them to break down work into more achievable modules. With a smaller workload and just-in-time deliveries, the overall efficiency and value of the project increase. In addition, this eliminates waste, rework frequency, and delays from the timeline because you work from milestone to milestone. The pull planning Kanban board also paints the big picture for everyone to see, which makes it easy to detect errors and plan timely revisions.
Another main benefit of pull planning is its collaborative scope. All key stakeholders (especially the last planners) get to join the meeting room, so this keeps everyone on the same page – and the same whiteboard! They work towards mutual goals in one direction and keep each other informed about their respective progress and expectations. With such a high level of teamwork, you get to save time and money by identifying issues early on, eliminating waste, and taking timely precautions.
Effective Pull Planning Tips
Get Prepared
Before starting the pull planning session, you need some prep work done beforehand to ensure a more organized and productive meeting. Think about how you can structure the meeting to make it streamlined. Consider which trades will be involved, when the session will start, what discussions are needed, and so on. You can also notify each stakeholder via email or group chats regarding the pull planning date, attendee list, expectations for the meeting, etc. This will also give the recipients some time to prepare for the session and get all the information they need. Don't forget to restock your sticky notes in advance! You can also divide them by color for each trade – so everyone knows which one to pick – and have the stationery section ready to use before the meeting.
Invite Relevant Stakeholders
The next important pull planning tip is to have only the key and relevant stakeholders involved in the meeting. This includes the last planners – those who have supervisory and managerial roles. So, you want your construction supers, trade contractors, and project managers to join in for sure. These are professionals with firsthand experience and understanding of the project, and good pull planning relies on their expertise. Generally, only the leaders are required to attend such a meeting to avoid redundancy in ideas and help the session be more manageable – there is only so much you can add to the whiteboards!
Set Realistic Scopes
During pull planning, it is important to identify the core project scope that everyone needs to focus on, so each trade should come up with their respective inputs on this.
The participants should all know what they have to do right now during this phase of construction, and thanks to the collaborative nature of pull planning, everyone can provide their updates on the work. Pull planning is most effective when you use short-term scopes, so you want to break down phases into achievable, critical milestones – and then work on one milestone at a time. With big batches of work, you can easily miss the mark because too much load can be overwhelming for your team, and the purpose of pull planning will be defeated. Realistic milestones in turn support realistic schedules, delivery dates, and allocations, making it possible to reach the deadline successfully.
Avoid Polarities In Discussions
Pull planning is a team effort and requires everyone involved to actively participate in the meeting. It simply works on the basis of good collaboration, that's the rule. If someone is doing all the talking and stealing every discussion, you have a problem. If the last planners – the supers and leaders – are not giving their ideas, you have a bigger problem! So, you need to be prepared in advance (hence our first tip on prep work) and build a structured meeting that effortlessly involves everyone present. You might want to assign a facilitator to manage discussions, keep the conversations flowing, engage everyone involved, and ask smart questions.
Document Everything
If you are using manual whiteboards and handwritten sticky notes, make sure to take photos of the final pull planning timeline once the session is over. It will help you document the meeting's outcome and share this with the required audiences. Documentation for pull planning is also important when it comes to updating construction schedules, so with everything captured in images, you can create and revise your weekly schedules more easily. Apart from taking photos, remember to record observations, meeting highlights, or similar critical aspects that do not make it to the board – you might want to share these later as reminders.
Use BIM Tools
One of the most effective pull planning tips is to include your BIM tools and experts in the meeting. Quite often, pull planning teams need to refer to their 3D models and make relevant decisions for schedules, so it will be smart to include this as part of your pull planning.
It is also helpful to compare discussions with the actual models and work on feasibilities, alternatives, and different scenarios for the project. So, remember to include your BIM specialists or keep a screen ready to display 3D models if needed.
Conclusion
To sum up, pull planning aims to make a project more productive and streamlined by changing the way you plan the flow. Because you are moving backward this time from the finish date, you get to focus on "backbone" events that are critical to the project. This allows you to work with smaller milestones that are easier to manage, which in turn cuts down errors, delays, reworks, and waste. It is common to use manual whiteboards and sticky notes, but some construction teams also work on pull planning software tools like Hoylu. Digital tools do make it simple to synchronize your Kanban boards with your construction schedules, which improves documentation, enables real-time sharing, and supports quicker tracking.
In either case, pull planning helps stakeholders visualize their workflow better by viewing all color-coded trade assignments on the same panel. It shows who does what and when, so everyone gets a clear idea of their individual roles in the project. When done right, pull planning can prove to be the best construction management and scheduling technique that gets the work done and adds value to the project. The worst thing that can happen is you run out of sticky notes!