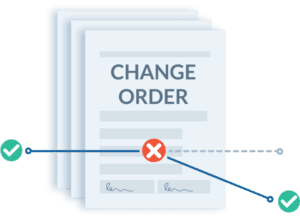 Image credits: Levelset
Construction projects do not always go as expected and will often have to deviate from the original plan. This is because nearly all construction activities are unpredictable and prone to errors, so whenever something goes wrong, the initial project scope has to be altered accordingly to accommodate new alternatives. A change order is used to document these changes, and it is one of the main formal documents used in construction – among others such as contracts and RFIs. It allows construction experts to manage their change order process efficiently by keeping a better track of everything that needs to be updated. However, there are both right and wrong ways of working on change orders, so your approach to change order management can easily make or break your project's standpoint. Here are the best tips on change order in construction to help you get the best out of this key construction process.
What is a change order in construction?
Definition
Construction activities are subjected to unexpected changes down the timeline, and it is important to document the new course of action so that all the involved teams stay on the same page. This is covered by a change order, which is primarily a formal and mutual agreement between all the relevant stakeholders of the project.
It acknowledges that there is a need to change the initial plan and reflects all the proposed alternatives for the revised project scope. In general, such a document should define construction project changes as clearly and simply as possible to include the new expectations for the timeline. By getting all of these changes signed and approved in black and white, construction professionals like contractors, subcontractors, asset owners, etc. will have a written proof of the altered course of action – so in case of any disputes, you can simply bring out the signed papers.
The change order written document mentions details like the problem source, suggested changes to the original contract, revised associated costs and schedules, signatures of the involved parties, and so on. In this way, the document creates a responsibility and accountability for the contractors to work on the updated scope and the owners to pay accordingly – so it really consolidates the interests of everyone involved in the project, and both the issuer and recipients of the change order should mutually agree on the given terms. Change orders in construction can include two main alterations:
Addition of new work – in which case the original timeline, schedule, resources, finances, and labor hours will increase.
Removal of initial work – in which case the overall project duration and finances will be reduced.
Causes
Change orders in construction can be caused by several reasons. This is mostly because construction itself is a volatile industry, always caught in a swirl of changing economies. Change orders also arise from mistakes in the construction project and offer a way to bypass the damage and prevent an otherwise unstoppable domino effect of errors down the timeline. Here are some of the main causes of change orders in construction:
Unforeseen challenges like storms, site hazards, and similar obstacles that create delays.
Unrealistic and inaccurate schedules, budgets, building plans, and estimates, leading to costly reworks ahead.
Procurement delays caused by labor and material shortages.
Additional work arising from inspection results, client requests, and construction complexities.
Site errors and accidents caused by workforce incompetence as well as non-adherence to safety rules.
Best tips on change order in construction
Based on the above definitions and causes, here are some key tips for effective change order management.
Know your contract like the back of your hand
A change order is just an add-on document to the main construction contract, so everything starts with what your contract actually says. Apart from the original project scope, the contract also includes clauses and references to potential change order scenarios along with guidelines on how to initiate a change order, fund the whole process, gather approvals, extend the timeline, and so on. By fully understanding the terms of your construction contract, you can be better prepared early on for changes down the road. This includes storing and organizing all change-order-related evidence, documents, emails, etc. separately for when the need arises. It is also a more professional approach to preventing project setbacks, especially those from lawsuits, as you are literally following the contract terms.
Since it all begins at the contract itself, you need to look ahead and anticipate possible causes of change within your project so that you can account for these alternatives in the contract. In this way, you can plan timely backups to buffer your project against the impact, which will also reduce the number of change orders to tackle. No construction project is fully change-proof, so there will always be something to alter as the project moves. By acknowledging this possibility early on, you can make sure that the relevant stakeholders are informed about it before they sign the papers – and no one can hunt for excuses later to shift the blame to someone else.
Understand your building plans and specifications
Once you are well acquainted with your contract terms, the next most important thing to do is visit all blueprints and other construction drawings. Whether you are a contractor, subcontractor, engineer, or project owner, reviewing key construction drawings and specifications will help you identify red flags before the project even begins.
So, this gives you a chance to revise the contractual agreement and update the scope of work which would otherwise greet you as a change order later on. Reviewing and updating construction plans along with the contract is an important tip for successful change order management because it allows you to synchronize changes in both aspects simultaneously. Furthermore, this helps you set realistic schedules and estimates with enough room to accommodate changes – so you really are setting the tone and dynamics for how your project unfolds up ahead.
Build a competent workforce
If you are responsible for hiring your construction employees, it is important to find professionals with relevant project skills, knowledge, and past experiences. Contractors and subcontractors who are professionally trained and certified will already be aware of key aspects like site safety, equipment handling, procurement, reporting, construction technologies, and so on. This checks a major box for construction success: competence. Without it, your workforce will only increase risks, mistakes, accidents, and delays in the project, opening all the doors for recurring change orders down the timeline.
Be crystal clear about the proposed changes
While writing a construction change order, make sure to clarify the change details so that the recipients know exactly what to do. This includes clearly stating the revised project scope and the effect this will have on budgets, schedules, material quantities, labor hours, etc. Will there be additional/reduced work in response to the change order? How is this going to impact the original plan and timeline? Do you need to hire more workers and buy extra resources to implement the changes? What is the new finish date for the project? These are some of the questions you should ask yourself and clarify in the written document.
Make change orders a top priority
Once a change order is issued, it is absolutely crucial to take immediate action and respond accordingly. This includes communicating with all the involved stakeholders and clarifying whether or not the project is equipped to deal with the proposed changes. You will have to set new schedules and budgets, revise the project milestones, confirm the project feasibility, and take the necessary precautions for the updated route.
A timely action will enable the project to resume as seamlessly as possible from where it stopped and get back on track to meet the revised deadline. This is because the moment a change order is issued, every subsequent project activity from this point forward needs to be revised so that it can change its path immediately. Otherwise, a lot of time and money will be wasted doing something that was supposed to be updated, resulting in costly reworks and total construction sabotage. This can also trigger a domino effect throughout the project, as the mistake keeps carrying forward because of the communication gap left by a pending change order.
Use software tools to document the process
Construction management software apps can be used to track and manage change orders effectively. You can also download online templates to create standardized, consistent, and professional-looking change orders that include key details to reflect the proposed changes. Both technology and templates will help with a productive and streamlined documentation process, as it is important to keep a record of change orders to prevent potential liabilities and legal setbacks ahead. You want to digitize the whole process and not just rely on papers, so make sure to file your change orders either on your computer or online through a management software like Fieldwire.
Such platforms offer quick-access dashboards that tell you the status of each change order. They also let you upload site images, reports, RFIs, and other relevant documents for visual proof to back the change order, which makes it easy to assemble a chronological history of associated, change-driven events. In addition, you can quickly share these documents with your teams and avoid communication gaps in something as time-dependent as a change order. Here is an example of a template designed for change orders in construction: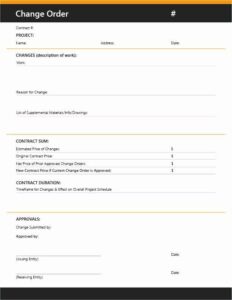 Image credits: myComply
Don't begin any work until everything is in black and white
Change orders reflect updates that fall outside the scope of the original plans and contracts. Once a change order is issued, it means that the document is simply an extension to the main contract, which is why it necessitates mutual agreement and signatures. It is common for construction professionals to verbally discuss and share project updates. Instead of relying on word of mouth, make sure to procure a signed written document to mark the official thumbs-up for resuming construction activities under the new guidelines. Otherwise, both the completed tasks and possible errors will unleash a series of lawsuits for everyone involved.
Conclusion
In this industry, it all really comes down to Murphy's Law and its affinity for all things construction. Your projects can have complex, interconnected elements, making the probability of errors that much higher. No project can be completed free of mistakes or accidents, so it is important to acknowledge and accept this possibility as a construction expert – and that includes being open to changes and preparing for effective change order strategies. By doing so, contractors can limit the number of change orders the project will face and be more prepared to handle the impact when they do occur – after all, anything that can go wrong most certainly will!