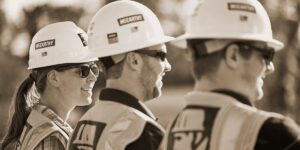 Image credits: McCarthy Building Companies, Inc.
The construction industry is always moving, changing, and adapting to keep up with the latest trends and techniques. Its recruitment "conveyor belt" also keeps moving, and you will find new job openings almost every day. To connect the two worlds of job seekers and job providers, different employment platforms or marketplaces are used where construction companies can post their job offers and applicants can search for the available options in their area. Since I live and work in Denver, CO, I will be sharing some high-demand construction jobs in Denver itself to help you understand the work scope here. This article includes job opportunities available to the Denver people as of January 2023, according to the latest postings on recruitment platforms such as:
You will find opportunities from various companies like W.E. O'Neil Construction, McCarthy Building, M. A. Mortenson Company, Hensel Phelps, Shea Properties, American West Construction, LLC, and Hamilton Builders Contracting – to name a few! You might want to sign up on these platforms to receive tailored job updates and apply to your dream companies accordingly.
The following jobs have a high priority for multiple firms, so if you are a Denver resident, read along to find out popular construction roles (both for offices and jobsites) along with key hiring criteria to get started.
Construction Jobs In Denver
Construction Laborer ($17 – $24 per hour)
A construction laborer or worker does all the physical work on jobsites. The key responsibilities will differ between companies. In general, you will be expected to maintain site cleanliness, use hand tools and equipment, work on scaffoldings, load/unload vehicles, control traffic, help tradespeople, etc. Since this is a physically demanding job, you need to meet certain physical criteria like being able to lift up to 50 pounds of weight and climbing. The outdoor work environment can be noisy and have unpredictable weather, so if you are applying for this job, you should be comfortable working in these conditions. You need at least a high school diploma and a good understanding of OSHA safety rules. Knowledge of first aid/CPR is a plus, and material/equipment handling is a must-have requirement.
Carpenter ($20 – $30 per hour)
Carpentry is another in-demand construction job in Denver. Depending on the company you are applying to, you will be responsible for key carpentry tasks that involve building structures and frameworks. This includes doorframes, rafters, siding, drywall, cabinets, and more. As a carpenter, you require an eye for detail and should have the right knowledge and skills to work with wood, concrete, and metal structures to ensure building compatibility. Most construction companies in Denver have the following expectations from their carpenters:
Familiarity with hand tools and power tools.
Skills in building and installing millwork.
Ability to create and check leveled layouts.
Ability to read blueprints and drawings.
Competence in working out material quantities.
Carpenters may require a high school diploma, and it is crucial to pass the OSHA 10, CPR, and first aid certifications.
In addition, basic software proficiency is important, so you should know how to work with MS Word and Excel as well as construction apps like Plan Grid.
Project Administrator/Coordinator ($20 – $30 per hour)
Project administration or coordination is not a high-priority job among construction companies in Denver, so not many firms have openings for this role. If you do want to apply for this position, you might have the option to work remotely or from the field office depending on the hiring company. As a project administrator, you will work closely with the project management team, so this requires managing communications, anticipating stakeholder needs, allocating resources, coordinating field and office teams, and so on. In addition, you will be expected to join meetings and work on various reporting and documentation aspects.
The minimum educational requirement here is also a high school diploma. You do need up to 4 years of relevant experience as an administrator to qualify for the job, including skills in MS Office tools and applicable construction software.
Construction Estimator ($40,000 – $80,000 per year)
Estimation has a considerably higher job scope in Denver, with several companies looking for the services of a competent estimator. You will be closely involved with the bidding process as an estimator, so this makes you responsible for:
Quantity take-offs
Stakeholder collaboration
Estimate/cost tracking
Permitting
Construction companies prefer hiring estimators who have a bachelor's degree in relevant fields like building construction – although you can still qualify for the job with sufficient experience after a high school diploma. Since this is a more collaborative role, you must have good communication skills and be able to work with construction documents. It is also an office-based job, which necessitates proficiency in MS Office tools and estimation software.
Construction Inspector ($55,000 – $84,000 per year)
Construction inspectors have an onsite job that focuses on observing and assessing the construction work for quality assurance and quality control purposes. You will find a huge scope for this job here in Denver. It includes major responsibilities like:
Inspecting tasks and structures for code compliance.
Monitoring progress.
Maintaining inspection logs.
Coordinating change orders.
Communicating inspection results with stakeholders.
Taking photos for documentation
Most construction firms in Denver ask for at least 3 years of inspection experience in civil or commercial projects. It is also preferable to get the CDOT Inspector Certification or have verifiable experience in inspecting federal projects to increase your chances of getting hired.
Construction Superintendent ($60,000 – $150,000 per year)
Superintendents have a tremendous job scope in Denver, with multiple opportunities for both assistant and site supers in residential and commercial settings. This is a primarily jobsite-oriented role and may require the superintendent to work in offices too. Your responsibilities as a superintendent will be huge – it is a multifaceted job, after all. Depending on the hiring company, you will be expected to do the following tasks (and a lot more):
Supervise the site activities.
Coordinate site-to-office transitions and keep everyone updated.
Plan, schedule, and track.
Build vendor networks.
Ensure quality control aspects.
Implement site safety.
Enforce code compliance.
Manage procurement aspects.
Organize trainings and meetings.
Mentor assistants and new employees.
Interview and hire suitable workers.
Manage construction documents.
Ensure safe and proper tool/equipment handling.
Since superintendents work with nearly every construction department, it is important to have powerful interpersonal skills to be able to build connections and rely on good networking. This often necessitates extra language skills as well, so if you speak Spanish – for example – you can communicate with a much wider audience, which makes you a great superintendent. Ideally, you need around 10 years of field experience to be eligible for the role of a super. Having an associate or a bachelor's degree in relevant majors like construction management or engineering is a key requirement for most Denver companies. You also need impeccable multitasking skills to keep up with this fast-paced job, which also requires working well under pressure. In addition, familiarity with construction management software and MS tools is crucial.
Sometimes, construction firms might ask their supers to travel to other locations as part of the project, so consider your options for traveling out of Denver before you apply.
Construction Manager ($75,000 – $90,000 per year)
Construction management is another high-demand job with multiple openings in Denver. It connects both the field and project management aspects of construction, so it does offer more work diversity to keep you busy. In general, construction firms have the following expectations from construction managers:
Ensuring field and crew safety.
Applying quality control.
Managing fleet, equipment, tools, etc.
Managing crews.
Allocating tasks and resources.
Assigning vehicles and equipment.
Conducting follow-up meetings.
Conducting equipment and inventory inspections.
Addressing staffing needs.
Managing payrolls.
Training new employees.
Candidates with an associate or bachelor's degree in construction management, horticulture, and similar majors are preferred for this role, as are those with sufficient experience. Like superintendents, construction managers also have a very people-oriented job, so it will be great if you are bilingual – or better, multilingual!
Construction Project Manager (around $110,000 per year)
In comparison, construction project management is more about the office-based, behind-the-scenes areas of construction – and there is generally no direct site presence involved (you have the supers for that). You will interact frequently with contractors, subcontractors, superintendents, vendors, and the clients themselves. Project management requires documentation and tracking skills to keep the project well-monitored and geared toward the deadline. You will handle the reporting aspects and make sure that the right stakeholders receive the right updates. Occasionally, you might be called to visit the site to make a firsthand assessment of the construction activities. All in all, you will guide the project from planning to closeout and track each stage accordingly to meet deadlines.
Project managers should have relevant associate or bachelor's degrees in construction, with a minimum of 2 years of managing construction projects. They need to be familiar with Denver's codes and permit laws to be able to lead the project better. Proficiency with management tools and other software is essential. It is also important to have impactful teamworking and leadership skills, considering the collaborative nature of this role.
"All that you are seeking is also seeking you"
That was the end of our guide on Denver construction jobs! The above job openings and pay ranges are based on current employment opportunities in January 2023. Whether you are starting out or have a vast construction background, there is always something you can find – from apprentice offerings and assistant roles to professional leadership and management opportunities. Make sure to create an account on reliable recruitment platforms like Glassdoor and set up an updated LinkedIn profile for quick sharing.
Use the right keywords within your profiles and applications to optimize both your searches and your chances of getting noticed by the employer, especially if you are relying on online tools for employment.