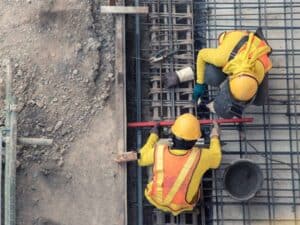 Image credits: BigRentz
A construction superintendent is a major link between project contractors and workforce teams. To become a successful construction superintendent, you have to undergo some training in terms of both academics and on-site experiences. For this reason, a construction superintendent test can be taken to prove your skills and expertise in the industry. These tests can be of different kinds depending on your regional requirements and the objectives of the certification authority. For example, pre-employment tests are conducted to evaluate potential construction superintendent candidates based on their skillset. Companies will look for candidates with good management skills, leadership ability, field competence, conflict resolution, and various other professional metrics. So, comprehensive testing allows companies to assess individuals for their personality and professional aptitude.
These tests also reveal the mental preparedness of a candidate to tackle jobsite challenges as well as human relations. By signing up for verified and certified testing programs, construction superintendents can prove their caliber for the job. It is the best and the most reliable way of having your expertise officially recognized, as this opens doors to job opportunities. In this article, we have explored two main examples of construction superintendent tests to give you an idea of what to expect and how to prepare for such an assessment.
Construction superintendent tests
What is evaluated?
As someone standing at the threshold of their career, you need some strong knowledge to back your skills in this industry. Construction superintendent tests measure features like field competence, information relevance, legal awareness, and safety compliance. Different testing strategies are used to analyze your exam performance and determine where you rank as a professional. No two testing systems are exactly the same, so it all depends on your chosen training center and regional specifications. Usually, these tests are conducted by hiring companies who want to select potential candidates based on how well they understand the role of a construction superintendent. A typical test will be divided into a number of sections that evaluate different areas. These sections often include personality-related and construction management questions, so they measure your aptitude from the smallest to the largest detail.
What is required?
You might come across generic topics that are easy to answer. You might as well find complex questions related to construction lawsuits, specific jobsite scenarios, and software applications that you might have never used before. This is why having some prior field experience gives you a good head start, as you are more likely to use digital tools or address legal challenges out there on the jobsite. Candidates who make the best out of their jobsite opportunities even as students will be more aware of the current complications caused by inflation, procurement delays, and material shortages. As a result, they can connect the dots better than someone with no field experience. After all, experience is the best teacher!
Who can apply?
That said, it does not mean that only experienced candidates can apply for a test. You might be a complete beginner with a mostly theoretical standpoint, and this is where you need the right training certification to progress in your career. Construction superintendent tests are also designed to recommend the best training certification for a particular candidate based on the achieved score. With progressive training and successful jobs being the main focus, here are two of the best testing systems designed for construction superintendents.
On-demand testing materials
Construction companies looking to hire superintendents can purchase on-demand tests from Resource Associates. It provides a host of pre-employment construction superintendent tests that can be customized to suit a company's hiring goals. These tests focus on personality dimensions and aptitude levels, so you can expect a well-rounded assessment up ahead as someone applying to the firm. In general, a company can purchase the required test and then receive candidates' usernames, passcodes, and login instructions via email. These details will allow the visiting construction superintendent candidates to log in to the testing site – so this is a computer-based online exam. Once the test is completed, the reports will also be sent back via email and provide results on personality traits, strengths, weaknesses, developmental concerns, interview responses, and so on.
Construction manager superintendent test
This particular construction manager superintendent test is an untimed test that you can complete in around 2 hours. It has five major sections:
Mechanical reasoning
3-D reasoning
Untimed personality inventory (mental strength, verbal, numerical, and abstract reasoning)
Open-ended statements/short answers
The test focuses on leadership skills, emotional stability, professional integrity, and other key construction areas. So, it is basically an evaluation of various personality strengths and weaknesses as well as jobsite-ready skills. You will be required to demonstrate your understanding and experience with teamwork and collaborative potential. We found this test from Resource Associates to be a good example of a well-rounded assessment that covers everything from behavior and personality to construction management and problem-solving.
Report analysis
The test report will be a graphical display of all examinable areas, clearly representing your strengths and weaknesses based on how you performed.
You will also have a list of developmental concerns in the report to address any room for improvement. Since this test is a mix of MCQs and short answers, you will be evaluated on the way you respond to open-ended questions. Companies who might use this report will be able to decide if hiring you is a good idea. This is because the test report offers a good insight into your construction superintendent profile by pointing out desirable and undesirable qualities. For example, desirable behaviors under Leadership Skills include being comfortable leading a team, whereas undesirable behaviors would include a lack of proper management strategies (and feeling intimidated by the role). Similarly, having a collaborative zeal is a desirable quality, as construction superintendents are the main communication link to all stakeholders and clients. If the test determines that you prefer working alone based on your answers, your aptitude for the role of a construction superintendent will naturally decrease.
The online personality test provides immediate report results and makes a resourceful guide to understand if you would do just the bare-minimum task or go the extra mile – which is something any hiring company needs to know. Your report from Resource Associates would look something like this sample provided by the website: Resource Associates sample report. Make sure to browse the website for more resources and clarification on the testing procedure, especially if you are applying for such a test for the first time.
Standardized testing
The NCCER was organized by different associations and academic experts who designed a standardized testing and credential program for this industry. The program aims to acknowledge and certify deserving candidates who can make a dynamic construction workforce. It is divided into various curriculum goals for different construction trades, offering assessments to more than 6,000 NCCER-accredited centers throughout the United States. The benefit of taking an NCCER construction superintendent test is that it is a recognized system based on professionally curated credentials that are also tracked by the NCCER Registry System. This allows construction companies to track qualifications and verify credentials for superintendent interview candidates. The Registry System is in fact a secure database of certification records for anyone who passes the tests, so this helps construction superintendents keep their records in a safe and professionally accessible place.
The NCCER focuses on workforce development through metrics like accreditation, testing, and aptitude for certification. It also provides standard guidelines for enhanced recruitment criteria that encourage the best candidates to move forward in their fields.
Construction superintendent assessment
You need a supervisory experience of at least 3 years to be eligible for the NCCER construction superintendent assessment. This proof of experience will be verified by the test center. You do not require NCCER-specific training to take the exam, though a relevant course will definitely help you get the best results. The NCCER Project Superintendent Specifications Sheet offers guidelines for the assessment objectives that can be followed as a curriculum. If you do not have a curriculum at hand, you can always refer to this specifications sheet and get some idea. The NCCER also recommends a list of reference books such as:
NCCER Construction Workforce Development Professional
NCCER Project Supervision
NCCER Project Management
Construction Project Administration
These book titles are also topics that can be covered in any construction superintendent test. The closed-book test has a duration of 2 hours for a total of 90 questions. The minimum passing score is 75. It is mostly a knowledge-based assessment with highly examinable topics/questions like:
Leadership and management: What is the role of a construction superintendent? List some construction business functions. What are some ideal leadership traits in a construction superintendent?
Safety: What are the key safety training aspects? Explain why a safety training program is important. How should a construction superintendent implement site safety? Why are site inspections and employee observations essential? Describe OSHA requirements and emergency response strategies. What is the best way of communicating jobsite safety rules to everyone?
Human relations: List the kinds of people a construction superintendent is expected to meet. How would you handle a job orientation checklist? Explain how you would resolve employee conflicts and diversity challenges around a jobsite. How can a construction superintendent identify skills gaps and deal with a workforce shortage? Is it the role of a construction superintendent to organize training programs to address such gaps? Explain what is meant by workers' compensation. If a worker causes accidental property damage, what insurance policies will provide coverage? How would you evaluate a worker's ability to operate specialized equipment?
Construction documents: What are the different types of construction contracts? How should a construction superintendent bid on contracts? List the main types of construction documents and manuals used in projects. What are punch lists? Explain how construction documents serve as evidence in claims.
Construction management: Describe the different phases of a construction project lifecycle. How should a construction superintendent address material procurement and labor challenges? What is meant by critical path?
Resource control: List some ways to manage material and labor productivity. Explain why project management applications like BIM are important. Describe a construction superintendent's role in quality control. What are the main elements of a good quality assurance program? Explain how you should monitor rework after quality testing.
Test report
The reporting criteria for this knowledge assessment are based on NCCER credentials and also get stored on the NCCER Registry System. Your score will determine the recommended training you need to advance in your career. The NCCER Registry keeps a record of all your credentials, so this is an organized and accessible way of maintaining a portable record system that you can "carry" anywhere.
How to prepare
Construction superintendent tests are often conducted online in different testing centers. You can find local centers on the website of your training institute – or refer to the options mentioned by Resource Associates and the NCCER. Various online prep tests are also available for practice, and you can find several sample tests based on the course you are following. Some of these practice tools simulate the real assessment environment to give you the look and feel of the actual exam. By trying out as many questions as possible, you can have a better grasp of what lies ahead.
It will also help you complete the given set of questions within the required durations, which is usually between 2 – 4 hours depending on the center's rules. Here are 2 sample online construction superintendent tests that cover areas like interview questions and jobsite evaluation:
As you can probably tell by now, the test questions are divided into jobsite work along with some interview-based questions. So, you can expect some face-to-face meetings apart from taking the online test. Practice samples give you good exposure to examinable content for MCQs, short answers, and even interview assessments. It is recommended to use resources and study guides provided by your training institute. Even if you have not enrolled in a training program, you can always find quality materials online to prepare for your test and increase your chances of a high score. Some certification companies set a minimum number of years for jobsite experience as the main prerequisite for taking their tests. So, it really depends on your current standpoint in this industry and what your institute offers.