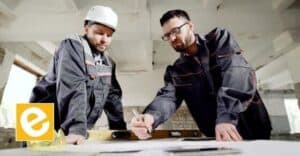 Image credits: eSUB
It takes years of education, training, and field experience to become a construction superintendent, and there are several credentials to choose from depending on your career route. As a construction superintendent, you will be in charge of various specialized roles while working onsite – which is one reason why supers need to enrich their training status even after becoming a professional. If you are an assistant superintendent, a first-time field superintendent, or are headed toward this role, chances are that you will come across some standard construction superintendent training programs shared by so many others in this industry. We have compiled the top, highly recognized training certifications below, and they all apply to different construction roles including superintendents.
Construction superintendent training programs
Apart from the minimum degree requirement in a construction-related field, superintendents are required to sign up for various training programs to bridge potential gaps in their knowledge and experience. These certifications allow both beginner and professional supers to acquire specialized skills that solely focus on field management areas. Such programs are organized and accredited by leading associations in the US, so getting certified by one or more of these institutes will help you enrich your superintendent profile. The courses focus on the ins and outs of jobsite management, which means that you will get to both study the materials and take that knowledge to the field through workshops and similar hands-on opportunities.
The following are some of the main construction superintendent training options.
The Occupational Health and Safety Administration (OSHA) provides different options for construction professionals to enroll in. These courses are designed to primarily address jobsite and human safety, which is a key responsibility for a construction superintendent. You can acquire an OSHA training certification depending on your job's requirements – all OSHA certificates are valid throughout the US, so that is a huge plus for career advancement plans. Here are 2 major OSHA safety training programs that you can sign up for as a construction superintendent:
OSHA Outreach Training Program (OSHA 10-Hour & 30-Hour Cards). In the OSHA Outreach Training Program, you will receive both basic and advanced training for safety and health hazard aspects. This is all about workplace/jobsite safety, so the training helps you learn about worker rights, legal implications, and site responsibilities. Though the Outreach Training Program is not a mandatory OSHA requirement, it does make a good starting point for beginners trying to understand more about jobsite hazards and their rights. You will receive the OSHA 10-hour or 30-hour course completion cards once you finish the training, but neither of these will be counted as a proper certification.
OSHA Safety & Health Fundamentals Certificate Program for Construction. This is a more comprehensive training program, broken down into Required Courses and Elective Courses. You need to complete a minimum total of 68 contact hours of training to earn this certification. The program includes various study materials, interactive assignments, and workshops that help you become better prepared for your supervisory role. Some of the courses you will study include OSHA #510 Occupational Safety and Health Standards for the Construction Industry, OSHA #7505 Introduction to Incident (Accident) Investigation, OSHA #521 OSHA Guide to Industrial Hygiene, OSHA #2255 Principles of Ergonomics, OSHA #2264 Permit-Required Confined Space Entry, OSHA #3085 Principles of Scaffolding, OSHA #7105 Evacuation and Emergency Planning, OSHA #7400 Occupational Noise Exposure, OSHA #3015 Excavation, Trenching and Soil Mechanics, and many more. With such a specialized focus on core construction aspects, you can build just the right roadmap for your job skills and apply them to the field when needed.
The Certified Construction Manager (CCM) training program is another important certification for construction superintendents. It is accredited by the American National Standards Institute (ANSI) National Accreditation Board (ANAB) and offered by the Construction Management Association of America (CCMA). The program focuses on construction management and acknowledges the skills, education, and experiences of potential candidates in this industry. As a super, this would mean getting a certificate that proves your competence in capital programs and construction management. The credential boosts your career marketability, makes you a top job candidate, and helps you showcase relevant skills as a super. You will work on 10 key practice areas that include time management, technology, cost management, sustainability, and other topics. As a CCM, you will be expected to recertify every 3 years to prove your efforts in continued career development.
The Certified Safety Professional (CSP) program is organized and offered by the Board of Certified Safety Professionals (BCSP). It is a safety-oriented training program that recognizes and certifies your aptitude for safety, health, and environmental (SH&E) credentials. You will acquire skills for safety management, risk assessment, hazard control, accident investigation, emergency response planning, environmental management, and other site-based aspects. It makes a key construction superintendent training option for those looking to excel at their site safety responsibilities, as this program takes you through all the main deliverables of construction safety and hazard control. Again, this is something you will need to renew every year to keep your knowledge and expertise updated.
The National Center for Construction Education & Research offers a Superintendent Certification Program to train and acknowledge the emerging workforce in this industry. It has a standardized curriculum for construction and comes with portable credentials that are tracked via the NCCER registry. In this way, construction companies can track their employees' profiles and also shortlist new candidates based on their qualifications – so getting NCCER-certified streamlines your super journey by both giving you the skills and making you accessible to potential companies.
Curated by industry experts, the NCCER program's curriculum addresses supervisory and management roles for construction projects, so you can expect to work with courses like construction workforce development, project supervision, administration, and field leadership.
The Associated General Contractors of America (AGC) has a competitive Supervisory Training Program (STP) in its nationwide construction network. The comprehensive, field-tested, and updated program has been designed by contractors, so it really is a rich collaboration of construction experts who have built a training course from their field experiences. As a superintendent, you can sign up for in-person or virtual classes, and the AGC also supports in-house training for companies choosing to organize such a program. You will study a total of 6 courses that focus on time management, equipment handling, material management/tracking, and people management. Here are the individual units within the training:
Unit 1 Leadership and Motivation
Unit 2 Communication
Unit 3 Planning and Scheduling
Unit 4 Contract Documents
Unit 5 Improving Productivity and Managing Project Costs
Unit 6 Risk Management and Problem Solving
From Units 1-6, the program covers almost everything you will need for effective jobsite management. It makes an ideal one-stop training option if you want to acquire everything from soft skills to technologies used in construction.
On a lighter note, the AGC also has a separate, smaller-scale training program for entry-level construction management. The CSF is an interactive course (both in-person and virtual) that offers construction supers a key first step to launch their training in effective supervision. You will receive firsthand opportunities and various skills building in this 25-hour program that includes a total of 9 sessions:
Session 1: Team Management
Session 2: Project and Team Leadership
Session 3: Communication Skills
Session 4: Time Management and Project Scheduling
Session 5: Risk Management
Session 6: Construction Law and Contract Documents
Session 7: Problem Resolution
Session 8: Productivity and Cost Control
Session 9: Skills Development
Again, the AGC makes it easy to sign up for this course by delivering a range of enrolment options. You can join a local AGC Chapter, your own firm's in-house training, a local college, or an apprenticeship program to earn this certification. Both individual and group training are supported.
The United Brotherhood of Carpenters and Joiners of America (UBC) has a versatile Superintendent Career Training (SCT) program. This is an 18-month undertaking, available as both in-class and on-the-job opportunities. The training program is a massive collaboration of mentors, industry experts, and professors, allowing candidates to watch and learn the secrets to effective site management. The sessions can be company-sponsored if you are a part of your firm's in-house training, in which case, you will receive more customized and tailored learning opportunities. OSHA 30 Construction is a key prerequisite for this course. Throughout the 18 months, you will attend workshops, get mentored onsite, study lessons, and engage in hands-on work. Both individual and group settings are supported for the curriculum – which includes topics like technical aspects, management, software skills, communication, leadership, and so on.
The final train of thought
Certifications are important add-ons to your qualifications as a construction super, and nearly every superintendent job opening will include at least one of the above certifications as a qualification requirement. They fill a lot of skill and career gaps that are otherwise left open if you walk into the field with no prior training.
Good training programs cover every aspect of site supervision and management, and by signing up for accredited courses like those we saw above, you can get certified for the time you spend studying and training – which always equals personal and professional development.
Training is the best way to understand what you are expected to do as a super and what challenges you might need to overcome. Construction superintendent training is also a great way to engage with other professionals in this industry, especially if you are participating in mentorship classes. The best part about receiving training is the "certificate portability" it opens for you as the trainee. You can always transfer your certification ahead when applying to new firms and job roles. Since the construction industry keeps changing, all major certifications also reflect these changes, which is why your skillset can run out of fuel in a couple of years. As a result, you might need to refuel your train of thought every few years – so brace yourself for a very ongoing career improvement journey ahead!