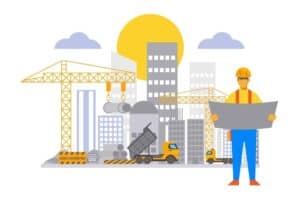 Image credit: Bridgit
Construction activities are divided into 3 main stages: pre-construction, construction, and post-construction. Each stage breaks down the project into specific, manageable tasks that keep the work streamlined and easier to achieve. They set the general order of events that will occur from start to finish. In this article, we will zoom in on the pre-construction process itself, which covers all the activities before the main construction begins – with the primary focus to determine and establish the feasibility and flow of your construction project.
The pre-construction process
In general, the pre-construction process is all about building a roadmap for the main construction ahead and handling all the important aspects that go behind the scenes so that the actual work can take off smoothly. This includes planning, scheduling, budgeting, and evaluation services that will help you fully understand your project's needs. Here are the main elements of a well-planned pre-construction process.
Building Your Team
The first thing you need is a team of the right experts to help you with your project. This is typically done through bidding and shortlisting potential companies or individuals with relevant expertise. Some of the key stakeholders you will work with include:
Project managers
Contractors
Subcontractors
Vendors
Real estate consultants
Architects
Engineers
Site experts
Designers
Your chosen general contractor (GC) will be the one who checks and evaluates bids before finalizing your construction crew, so one of the first decisions you will make is to hire a reputable general contractor with the right skills and experience for your specific project type.
Collaborating With Stakeholders
Once your team is assembled and ready to work, the next part of this pre-construction process will be to conduct initial meetings with everyone. You will start off by meeting your general contractor to discuss your expectations for the project, clarify goals, ask questions, get initial estimates and timelines, and so on. The GC is responsible for determining your project's feasibility, and this stage often requires brainstorming ideas with all the stakeholders involved so that everyone stays on the same page and offers instant feedback to refine the project goals until they are truly achievable. With the input of your architect, engineer, designer, etc., it becomes easier to move from ideas to written notes to checklists and proper drawings, and this transition helps experts visualize the scope better and work out feasibility aspects as a team.
For example, after you explain what you want out of the project, your crew members will be able to tell you whether or not your goals meet the applicable building codes and local laws.
They will then restructure and narrow down your specifications until they check major boxes for code compliance, initial budgets, timelines, and so on. At the end of such meetings (which can take between a few hours to multiple sessions depending on the size of your project), your team will have a crystal-clear understanding of your project's requirements, its scope of work, its size and complexity, and other key considerations to keep the events streamlined.
Evaluating The Site
Site evaluation and inspection are an important part of the pre-construction process. During this stage, your contractor, land surveyors, and other site experts will visit the site to evaluate its current status and match it with your project scope. This is a crucial step that reveals key topographic clues, soil details, drainage aspects, existing utilities, etc. It also helps construction crews decide what kind of foundation and construction activities are compatible with the given land – and whether or not this should work for the type of structure you want to build or renovate.
Site evaluation allows teams to work out various functional aspects for installing or updating MEP and HVAC systems. It highlights the applicable codes that are attached to your property and require strict compliance, so if any of the original project requirements needs to be changed, now is the perfect time to do it. This also eliminates the risk of future reworks and helps you invest your time and money efficiently.
Setting Budgets
With a more refined project scope following the site inspection, your construction team can estimate the project's costs and set realistic budgets for each stage. The estimation and budgeting stages focus on collecting potential bids from vendors and subcontractors, comparing material costs, understanding labor fees, determining site preparation costs, and so on to come up with a ballpark figure and help you decide if it is worth investing in this project. To prevent the risk of under or over-budgeted numbers, it is important to work with reliable and professional companies who know their job – which is why you need to select the right team early on.
Good budgeting will keep your project fueled till the deadline, whereas poor budgeting results will create unforeseen expenses and even halt your project halfway. A good GC can both review and finalize promising bids and guide you on reallocating funds to more important aspects, so you can choose to either set a strict budget or explore flexible alternatives for an overall successful project.
Finalizing Designs
Now that your project goals and budgets are confirmed – and you have narrowed down your initial ideas vs achievable targets – it is time to refine and finalize your construction designs. This part of the pre-construction process requires your architects, engineers, and designers to work together and build official floor plans, 3D drawings, and other construction documents. So, this is all about giving your project its complete blueprint from where your actual building will come to life. All the documents procured during the design phase will be submitted for approval and permits. Once they pass safety checks and code compliance (which may require revisions until improved), these drawings and documentation will be used for all future references and the main construction activities.
Getting Permits
Building permits are the essential green light for construction, and they need to be obtained during the pre-construction process. Your contractor will take care of this stage and gather all the applicable permits your project requires to begin. It can take a long time to cover all the permits, which is why this step is tackled as soon as your project scope and documentation are finalized. You might require multiple permits for your building, MEP features, fire protection, and so on depending on your local laws and the type of structure you are building.
Creating Schedules
Construction scheduling is another key step of the pre-construction process. It requires the skills of a good project manager for creating the right breakdowns, assigning proper timeframes, keeping material deliveries and labor availability aligned with each stage, and ensuring enough buffer to accommodate surprises. All of this creates a well-considered schedule that will keep your project headed to its finish line. It also lets your team members know when to turn up for work, how many hours to finish per milestone, how the tasks are sequenced, and so on.
Procuring Materials
Construction tasks cannot begin without the required materials, which is why planning your procurement aspects falls under pre-construction.
It ensures that the materials required for each milestone arrive exactly when they are needed – not too early (which will require storage overheads and might result in wasted material) and not too late (which will simply ruin the whole timeline). This stage also includes planning and ordering the right equipment you need for the project. Since you have a budget and a schedule to follow by now, you can select vendors based on your budget allocations for procurement as well as the order in which the materials are supposed to be delivered. Managing procurement early on is essential because a single delay can quickly trigger a domino effect down the timeline, forming a chain of pending events that are waiting for the previous tasks to be completed.
Conclusion
Pre-construction gives you an early-bird perspective of your whole project and is a crucial stage for many reasons. It offers a chance for all the stakeholders to assemble sooner and collaborate before any work begins, which combines their individual strengths for building a clear image. It also clarifies your own doubts and confusion as the property owner and allows you to reconsider your goals and priorities. If there is room for savings, pre-construction is the best opportunity for deciding this and planning a more efficient budget allocation. The process allows experts to look ahead and detect potential roadblocks that can harm the project. This helps with taking precautions early on and building resilient schedules that can bounce back from complications and surprises.
A lot of trial and error can be tolerated during pre-construction until you find the best alternative to work with – which is not possible once construction begins. With pre-construction activities, you get to build a strong runway on which the main construction will take off. Various construction management software like Procore can be used to plan and organize this valuable process without the risk of any detail slipping through the cracks. Finally, pre-construction is important for ensuring the safety and success of a project by reinforcing code compliance and having timely backup plans to keep things going.