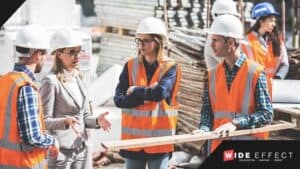 Image credits: Wide Effect
Women in construction are creating some massive waves in this industry, especially in the past few years during which they demolished old statistics and reshaped the career horizon for female roles. You will see women in nearly all aspects of construction these days – from administrative and management roles to frontline field supervision and company leadership. This article will focus on women construction superintendents, and instead of bringing in old, gender-biased cliches, we will simply sit back and let the success of female superintendents do all the talking.
Successful Women Construction Superintendents
If you sit down with female supers for an interview, you will find that at least 99% of them will give answers with the words "stereotype", "male-dominated", "gender gap", and "lack of diversity" wedged somewhere in their stories. We did say that we will not be touching these cliches, however, in our hunt for successful women construction superintendents, it was next to impossible to find someone who was not doubted for her gender when applying for this role. Keeping that in mind, here is a list of women with groundbreaking success stories in the world of construction, with a singular message to future female supers: "Yes, you can!"
1. Kasie Bowden
A project superintendent at Hensel Phelps, Kasie started out as a field and project engineer before taking the roles of an area superintendent, a design manager, and eventually, a project superintendent. She earned a degree in civil engineering and pursued additional certifications in LEED AP, Safety Trained Supervisor, and OSHA programs. Her career trajectory was driven by key superintendent collaborations and mentorships that shaped her own perspective as a construction super and bolstered her chances of getting this job. In addition, choosing frontline roles early on in her career helped Kasie gather the right experiences and skills for becoming a project superintendent. Apart from relevant construction education and experiences, Kasie credits her "super" success to two things: (1) key mentors in the field who guided her and (2) construction software for jobsite management.
2. Kaitlin Frank
Kaitlin is the CEO at eMOD and was a former superintendent at Dome Construction. She started her construction journey as an assistant superintendent and traversed the roles of a project manager and super before co-founding and owning eMOD – which is a construction safety app. Kaitlin has a bachelor's degree in architecture and a master's degree in construction management. Apart from getting relevant degrees, she also invested valuable time in gathering onsite experiences to become better equipped for the role of a construction superintendent. Thanks to Kaitlin's affinity for field technology, she combined her skills and onsite caliber to not just supervise a construction field but also build a safety app that makes this an easy task for everyone involved. As a result, her career path did not stop at the role of a construction super; it also extended to executive positions. The bottom line: playing to your personal strengths will go a long way in construction!
3. Stacey Harris
Stacey Harris is a general superintendent at Consigli Construction Co., Inc. She pursued a BS degree in civil and environmental engineering as well as an MBA in global enterprise management. Her add-on certifications include Turner Certified Compliance Inspector of Stormwater and LEED Green Associate, with a host of other workshop courses like financial management, macroeconomics, project management, soil mechanics, etc.
This is a glimpse into her impressive construction career path: field engineer > project engineer > assistant superintendent > cost engineer > superintendent > board of directors > project superintendent > senior superintendent > general superintendent. With a self-starter approach, Stacey relies on technologies like databases and automation tools to streamline her onsite work. She also mentors women construction superintendents and other female professionals in their respective fields, encouraging them to acquire the right education and invest their time in STEM opportunities.
4. Victoria Julian
A superintendent at DPR Construction, Inc., Victoria's starting point in this industry was as a carpentry apprentice. She eventually worked as a foreman and an assistant superintendent before becoming the first-ever female superintendent at DPR construction – talk about blazing the trail as you go! Victoria focuses on managing and supervising ground-up projects, so her key strengths include working with large-scale and technical structures. She keeps construction technologies at the frontline of her job, including mobile apps and drones for better efficiency in supervising the entire jobsite.
5. Jennifer Vides
Jennifer Vides is another great inspiration for women construction superintendents. She has a BS degree in civil engineering and was first a superintendent intern before becoming an assistant superintendent and eventually a project superintendent. Jennifer speaks both English and Spanish and always had a special affinity for onsite projects – so language skills and field awareness were her two key ingredients for success in construction. She also relies on various technologies and software tools for effective construction management – which is another reminder of the importance of tech-savviness in this industry.
6. Dana Haase
If you are doubtful about getting a superintendent role as a woman, Dana Haase is here to tell you that she was the first female assistant superintendent at Nabholz – and this marked a turning point for women in the field, as the company already had female managers, leaders, and engineers but no female supers before Dana.
Her interest in the construction sector began in high school where she studied pre-engineering and design courses, eventually moving to construction degrees in environmental engineering and civil engineering. Dana reinforced her educational skills with relevant internships like concrete testing and inspection, after which she landed her initial job as a project engineer. This opened the door to her superintendent route, and she discovered her passion for being out there in the field – thanks to the senior supers who offered to mentor her. As both a newcomer and a woman in construction, Dana quickly realized that in order to succeed, she had to acknowledge her beginner standpoint, communicate clearly, be open to advice, and ask questions confidently without hesitation. This helped her bridge a lot of gaps between being a newbie and being the only woman on site, as she accepted and owned the fact that there is no harm in making mistakes as long as you ask and learn. The key takeaway? A journey of a thousand miles begins with a single step!
7. Kabri Lehrman-Schmid
Kabri is a project superintendent at Hensel Phelps. She has a BS degree in civil engineering along with certifications like Safety Trained Supervisor (STS), Design-Build Institute of America, and LEED AP BD+C. There are two things that potential women construction superintendents should learn from Kabri: (1) the ability to recognize their areas of interest in construction and (2) the confidence to ask before it is too late. Kabri observed the Pentagon renovation project one day and immediately knew that she wanted to join. Therefore, she simply asked the onsite superintendent for an internship, and this paved the way for her construction career. Kabri always keeps a Day-Timer leather folio at a mentor's recommendation – so no, pen and paper do not necessarily go out of fashion in the construction world. Kabri is also an active speaker and an advocate for women's conferences such as those organized by the National Association of Women in Construction (NAWIC), Procore's Groundbreaking Women in Construction, Sawhorse Revolution, Women Leaders in Construction, the Construction Management Association of America, and the Associated General Contractors of America.
8. Carla Gallardo
Carla is currently a senior project manager at Consigli Construction Co., Inc. Ever since her first internships in construction, Carla noticed the visible gender divide when it came to onsite job opportunities.
There was just one female assistant super at that time – who herself started out as a laborer, a leadman, and a foreman before getting promoted to the role of an assistant superintendent. She also became Carla's only female mentor in the field apart from male mentors who offered their advice and feedback from time to time. For Carla, field mentorship was crucial to her career launch as a super, and she was grateful to work with mentors from all tiers of the construction hierarchy. Eventually, there was an opening for the position of assistant superintendent at McCarthy Building. Thanks to the relevant experiences in housing projects Carla had gathered, she was the top candidate choice and got the job of an assistant super – which was rarely given to women. In addition, Carla's bilingual skills in English and Spanish paid off brilliantly in interacting with the whole workforce – so not only did she close the gender gap but also bridged communication gaps for her company! She was always willing to learn and did not hesitate to ask questions from experts in the field who already had tons of knowledge to share. A quick side note: communication is key!
For Women Supers, By Women Supers
From the above stories, here are the main success tips for women construction superintendents standing at the threshold of their careers:
Get a degree and go beyond it. Don't just stop at getting a bachelor's degree – which is the minimum educational requirement. Aim for a master's degree if you intend to get into management and executive roles someday. In addition, opt for construction certifications like OSHA, Certified Construction Manager (CCM), National Association of Safety Professionals' Certified Environmental Manager, and LEED. Building your educational strengths will not just teach you key construction skills but also provide next-generation awareness in terms of automation, artificial intelligence, and software solutions.
Apply for training early on. Always keep an eye out for internship or apprenticeship programs that will give you the onsite exposure you need to shape your vision. This includes collaborating with mentors, looking for jobsite opportunities, and signing up for training programs to accumulate as much field experience as you can.
Don't be afraid of asking questions. As we saw earlier, successful women construction superintendents have never been afraid of asking questions. You will not always remain a newbie, so the only way to move forward is to find out, learn, and adapt. It takes self-acknowledgement and respect to be able to say, "Yes, I am still new here, but I am willing to learn and improve."
Be an excellent communicator. This is definitely a crucial success tip for someone who acts as the main communication point to the jobsite. If you have bilingual – or better, multilingual – skills, you can easily establish strong communication grounds with both your own workforce and potential vendors for your project. Language barriers can be a huge obstacle for construction companies, so if you have what it takes to overcome them, go ahead and carpe diem!
Join women's construction networks. Various organizations like the Women Construction Owners and Executives (WCOE) and the National Association of Women in Construction (NAWIC) exist to help women join in and be a part of valuable networks. These sources open doors to learning opportunities, mentorship options, and work experiences for women supers and other female professionals in this industry. In addition, you can join forums, workshops, conferences, and training programs organized by these associations to learn more as a beginner and even provide advice as an expert. Such organizations and networking platforms are excellent opportunities for women to address gender biases and the accompanying challenges in the world of construction. They also help women be a part of the actual impact by recognizing their potential and bridging career gaps with the support of key mentors – who, by the way, will always be your biggest fans cheering in the audience!
I Came, I Saw, I Supervised!
Before we go, we will emphasize again on the importance of joining reputable women's networks. Construction associations that are organized specifically for women in construction have become a huge catalyst in boosting female contributions within this industry. It is thanks to these collaborations and efforts – for women, by women – that companies are increasingly updating their hiring criteria and rooting for female supers to be a part of their teams. The construction industry today is significantly different from what it was a decade ago, and this is mainly due to the impact of technology.
Since the fast-paced construction world always reflects technological changes to keep up with the flow, jobsite activities have also changed correspondingly.
For example, technologies like automation, software control, and drones have redefined the construction scope, becoming the key factors in the rise of women as field experts and not just office employees. So, to all the new women supers reading this, make sure to look forward to each day at the jobsite because once the project is over and you drive by the place later on, it will be worth everything to say, "Yes, I did it!".