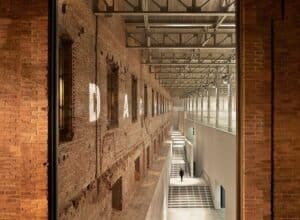 Image credits: Alfonso Quiroga via ArchDaily
Industrial buildings have some of the most diverse project landscapes in the world of construction. There is a growing trend for changing former, abandoned industrial buildings into residential and commercial spaces while keeping the architectural story intact, which is what makes these projects so popular. Giving the industrial canvas an urban image has become the core of most industrial building renovation projects these days, inspiring creative ways to transform the existing space – and that is what we will explore in this article below.
Industrial building renovation process
What it means
Industrial building renovations involve updating an existing space to change its design, improve the infrastructure, add new technical frameworks, or repurpose the area for a different use. These changes can be made to processing plants, warehouses, factories, distribution facilities, etc. Whether you already own an industrial property or intend to occupy one, planning the right renovation scope is important – especially if you want to convert the area into a residential or a commercial setting.
How it is done
Renovating your industrial building is the perfect opportunity to cover everything from minor touch-ups to complex upgrades. Here are the general steps you would follow while organizing such a project.
1. Planning
The first stage is always about planning, so this is your time to assess your specific project requirements, set initial budgets and schedules, and hire a licensed industrial contractor who can help you out. Make sure to hire a company that has high portfolio compatibility to work on your project.
2. Pre-renovation
Once you hire a renovation company, your teams will evaluate the existing area and check if the utilities, infrastructure, and design elements need attention. They will then determine how feasible your industrial renovation scope is and handle any prerequisites before the main work begins.
3. Code compliance
Industrial buildings come with a set of codes that you have to follow, particularly if the building is going to be used differently from its original purpose. Warehouses and other facilities should meet various codes for fire prevention, personnel safety, technical compliance, storage needs, proper HVAC, and so on. Therefore, when an industrial building steps down from its stringent code compliance rules and turns into an office space, it is important to find out the updated codes that apply now. For example, you might be required to leave the supporting columns and frames inside the building as they are, so there is simply no question of altering them in any way. The result is that you will have to work your way around these forbidden structures. Ignoring relevant building codes during the project counts as criminal negligence on your part, as any code violations can easily put lives and properties at a huge risk. So, always confirm the code compliance stage with your renovation team to make sure that each improvement aligns with your local laws.
4. Renovation
This is where your industrial building will undergo the actual renovations that have been approved in the previous stages. Typical renovations may include:
Roof improvements to prevent leaks and support solar panel installations.
Spatial upgrades through demolitions and expansions as needed.
Floor plan optimization to suit the intended commercial use for offices, restaurants, art galleries, and so on.
Improved storage layouts, spacious aisles, and better shelving access for cramped warehouses.
Updates for flooring, walls, and ceilings to include the required technical and aesthetic elements.
Creation of mezzanine floors.
Addition of prefab modular components for temporary, flexible, and removable walls, panels, and similar structures.
Improvements for production lines and inventory management within a factory.
5. Inspection
Before the renovated industrial space is ready to be occupied, a final inspection is important to make sure that everything passes safety checks. This will be handled by your renovation teams, as they will get in touch with the required authorities to obtain industrial building approvals – after which you can successfully use the area for your intended purpose.
Industrial building renovation project examples
Adaptive reuse
We mentioned renovating an industrial building into an entirely different setting, and the proper term used to describe such a transformation is "adaptive reuse". Construction experts often pick dilapidated and forgotten factories or warehouses for these projects. Repurposing the space gives the otherwise failing industrial building a new lease on life while still preserving its historic integrity. There is something about the history – and the mystery – of old buildings that makes such projects so exciting.
These facilities were once fully operational and now have a chance to open their doors again, so the whole transformation can be a very rewarding process for both the renovation teams and the owners. Also, the industrial property does not have to be a historic structure to undergo adaptive reuse. It could be any outdated or discontinued facility that can benefit from an upgrade and resurface with a fresh start. So, an old factory can turn into a better-equipped factory for a new business, or it can be a custom art gallery – the possibilities are simply endless. Adaptive reuse projects help restore potential buildings while still keeping most of their original aesthetics intact, which creates an interesting mix of urban and rustic designs – as we will see further below.
Here are some of the main benefits of adaptive reuse in industrial building renovations:
It adds value to industrial buildings that are – for all intents and purposes – frozen in time. Admit it, nobody likes to hear the words "abandoned" and "factory" together. So, the sooner it turns into a busy and inviting place, the fewer the nightmares! Another side benefit is that cities no longer have to worry about how to deal with abandoned structures. Tearing them down can be expensive and taxing on the environment, so planning adaptive reuse is a major win-win scenario.
Adaptive reuse allows businesses to improvise with an already constructed building, which cuts down the need for ground-up projects and enables faster move-in times. You already have the outer shell and basic interiors, so adding to this should be relatively simpler and budget-friendlier than starting from scratch.
Factories and warehouses have minimalistic, vast, and open interiors which encourage more spatial diversity for different businesses. This makes it easy to reimagine the available space for art galleries, art studios, open workspace offices, showrooms, cafes, commercial kitchens, event halls, etc.
By stretching the urban fabric to these remote industrial buildings, the real estate value of the land increases, which in turn attracts more investment opportunities.
Transformations for workspaces
Factories and warehouses are popular industrial buildings that can be turned into office workspaces and art workshops. You can convert a former warehouse into a creative workspace hub that inspires coworking opportunities. Most factories in various cities are transformed into unique office designs that walk the fine line between industrial minimalism and urban cool.
They also offer inventive scope for artistic freedom, which is why such industrial buildings make great workshops or studios as well. It is very common for industrial designers and renovators to showcase the brickwork and concrete walls as clever focal points in the interior design.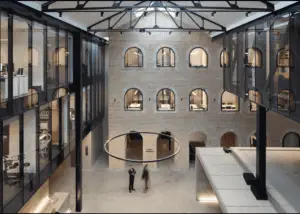 Image credits: Jose Campos via ArchDaily
Warehouses can also be renovated to introduce maximum sunlight into the office or workshop. This can be achieved through large windows, generous skylights, and layouts that preserve the minimalistic feel of an industrial space. If you want the rustic vibes to dominate the interior design, you can install glass partitions instead of wood panels and choose more neutral color palettes so that the brickwork and concrete take the center stage.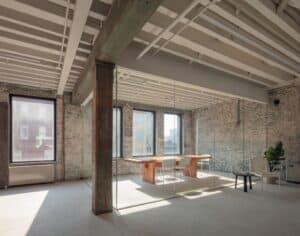 Image credits: Worrell Yeung via Architizer
Transformations for recreational spaces
Industrial buildings can undergo restorative changes to first optimize the existing structure before adding custom amenities for recreation. You can renovate a suitable factory or warehouse for building event halls, car showrooms, community centers, and cultural hubs. In such projects, revamping the exterior façade is equally important because it will determine the first impressions of your business. Quite often, the main outer shell will accommodate different structures inside it if there are multiple floors and you have used prefab modular pieces for each level. The benefit of combining the industrial raw with the urban refined for recreational spaces is that it will give visitors something new and meaningful to remember, especially if it is a historic building. By preserving key features and landmark aesthetics, you can make a forgotten factory truly unforgettable. This is also the kind of project you should invest in if you already love old architecture and value the restorative potential of urban upgrades.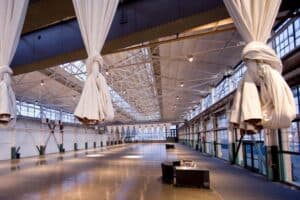 Image credits: Ford Assembly Building – Marcy Wong Donn Logan Architects via Architizer
Transformations for technical spaces
The Carnegie Robotics facility is a great example of adaptive reuse projects. It emerged out of an old and disregarded steel mill that was shut down decades ago. The industrial building renovation for this facility included the addition of research and assembly labs, conference rooms, robotic testing areas, mezzanine storage, etc. So, by recycling the existing building design and functionality, it is possible to convert an old facility into a new one. You already have a compatible building type for your new business, and all you need to do is plan the key retrofits that will make the space truly equipped for new operations.

Image credits: Carnegie Robotics via Metal Architecture
Transformations that retain landmark structures
Industrial buildings are full of architectural secrets that deserve to be captured in any design upgrades. We mentioned earlier about preserving the landmark aesthetics of a building, and here is a good example of a cement factory renovation by Ricardo Bofill. The architect transformed this old factory into his home and head office, making sure to incorporate the wall structures, windows, and equipment into the design. The factory's equipment and mezzanine floor brought the tall and vast space together effectively, allowing the architect to make clever use of all that generous space. Any architectural or mechanical structures that can seamlessly join your new space should be considered in the renovation plan – according to the applicable permits and codes. In this way, you can redefine your interior aesthetics creatively by thinking outside the box and having an eye for architectural details. Such elements also keep the new building type anchored to its original story, so they are a special shout-out to its past life.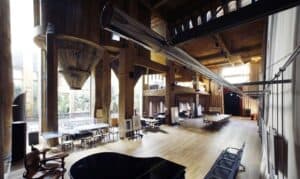 Image credits: Ricardo Bofill via Trendland
Other examples of preserving the landmark structures include keeping the pillars, archways, left-behind vehicles, and specialty doors as part of your interior or exterior design – if the permits allow you to do so! Older industrial buildings will always have such architectural gems hidden somewhere, so keep an eye out for them if you want to showcase the building's origins. A good adaptive reuse plan should carefully highlight the chosen features without going overboard.
This applies to all types of transformation projects – including office workspaces, art studios, event halls, and showrooms. If your industrial building is something more specific like a shipyard, you will have more options to get creative and keep the vibes authentic. By allowing selected building elements to stand out, you can plan the rest of your design around this focal point and trust it to set the dynamics of your space.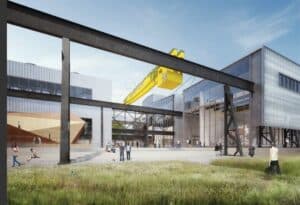 Image credits: WXY Architecture via Design Curial
Connecting history to the future
A region's buildings are some of its main cultural and historical tributes, and if it is an industrial building, then the value increases tenfold. We aimed to capture some of the highest adaptive reuse standards from different projects in this article, and this was to hint at the benchmark for industrial building renovation scopes in today's world. For example, you can take any outdated warehouse and transform it into an entirely different commercial use for a school – which also inspires some of the best Instagram-worthy stories. Efforts to restore a dilapidated warehouse or factory can easily revive a forgotten heritage before it becomes completely extinct. A good renovation project can transform the industrial brick-and-mortar with added gravity that holds the past to the future – and prevents it from going out of sight, out of mind!