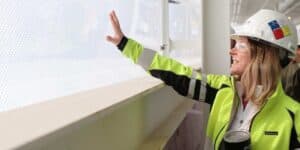 Image credits: Power Construction
Construction superintendents take over the onsite aspects of all projects, so their job keeps them at the outdoor frontline where they manage multiple responsibilities. This is a very fast-paced job that requires laser-sharp focus and leadership skills to ensure that the onsite activities progress smoothly – and the project meets its deadline. The job of a superintendent also overlaps with several construction departments like procurement, logistics, finances, vendor selection, safety, technology, and management. So, after years of leading this busy jobsite orchestra, some supers might opt for a career change to slow things down and focus on a singular role.
Changing careers can be a tough decision for all professionals, however, the good news for someone working with so many departments at the same time is that they get to build a huge range of transferable skills over the years. This makes it more efficient to plan a career change for construction superintendents because they are already geared up for alternative careers thanks to the host of skills that they acquire at the construction jobsite. In this article, we will discuss both the transferable skills that will help you as well as the different career options you can pick.
Super Skills That Will Support Your Career Change
Construction superintendents build various transferable skills during their time at the jobsite, and these can differ based on the projects they are supervising. In general, the following skills have a high demand in several other professions related to both the construction world as well as other industries like IT:
Project management
Cost management and estimation
Business strategy
Inventory control
Engineering, design, and architecture
Vendor selection/networking
Physical strength and equipment handling
Technical maintenance
Mathematics
Safety adherence (through OSHA and similar protocols)
Software proficiency (Microsoft Office, management tools, Zoom, etc.)
Teamwork and leadership
Problem-solving and communication
Multitasking
Risk and error detection
Career Change For Construction Superintendents
Based on the key transferable skills above, you can switch careers and even enter a completely different field of work without getting a new degree or reshaping your skillset – although some upgrades will always be welcome for smooth career transitions. Construction superintendents can choose just one area of construction like logistics management without acquiring any new set of skills – they already have what it takes to manage the flow. Similarly, they can pick an IT-related job such as BIM technician – again without any major skills upgrade because they have been using the software for years.
If you are a construction super aiming for a career change, here are some alternative careers both in construction and IT to choose from:
Construction-Related Careers
Project Manager
As a construction superintendent, you already know the management aspects for jobsites – which means that all the boxes you tick for outdoor management can squeeze into an office setting. This makes you eligible for the office-based role of a project manager. The one major change will be the work environment as you will shift from a busy, demanding jobsite to the much quieter four walls of an office. Another key difference will be the scale of the work you will handle. Compared to the strict focus on every detail as a superintendent, you will now look at the bigger picture while managing projects, so the tone-down will be a refreshing change. You can continue with the same degrees and skills you earned as a super, particularly teamwork and leadership skills as project management is also a people-oriented job. In addition, you might require a Professional Management Professional (PMP) certification if you do not already have one. From the standpoint of a project manager, you can be enroute to executive positions like senior managers and presidents.
Transferable skills that apply here: construction management, leadership, teamwork, budgeting, scheduling, stakeholder communication, milestone supervision, and problem-solving.
Procurement And Logistics Manager
Construction superintendents have a lot of experience in the procurement and logistics aspects of construction. They know the right vendors, have already established reliable networks, and are familiar with the changing construction economy. With these key strengths in managing the movement of materials and resources, you can become a logistics manager both within construction and external industries. If you have a special affinity for locating things and finding solutions, you are fit for the role of procurement and logistics, especially with skills that go around current crises such as inflation and material shortages.
Transferable skills that apply here: pressure management, time management, organization and backup, problem-solving, tracking, and task delegation.
Project Estimator
Project estimation is another potential career change for construction superintendents. This job is also similar to the estimation duties you might have undertaken as a super, so apart from the change of work environment, everything else remains the same. You will simply take your jobsite estimation skills to the office where you will focus on a lot of team building, stakeholder interaction, project feasibility, cost management, and cost negotiation. If, as a super, you realize that you are good at estimation aspects and want to focus on them alone, then project estimation or cost estimation will make an excellent, compatible career.
Transferable skills that apply here: estimation, team building, negotiation, organization, error detection, and cost management.
Reale Estate Agent
After years of developing properties, your experience in supervising and building projects will help you tap into your real estate potential. You can become a real estate agent using your existing degrees, portfolios, and skills – you might need to update your construction license for this career switch. If you managed and supervised specific projects like strictly commercial or residential buildings, you will know your key strengths in these areas, so you can pick your real estate field of interest accordingly and work with relevant audiences. As a super, you might not have interacted much with project clients, but as a real estate agent, you will be in direct contact with both the property owners and interested clients. Therefore, you need to connect the right dots and strike win-win agreements that work for both parties in order to secure successful deals.
Transferable skills that apply here: communication, stakeholder interaction, conflict resolution, time management, negotiation, and scheduling.
IT-Related Careers
Website And App Developer
Web and app development can be a different career change for construction superintendents who are aiming to join the IT sector. This is an excellent career choice for tech-savvy supers who already have good software proficiency to rely on. The construction world stays updated with emerging technologies, so there is always a new construction software making it easy to work in jobsites. Since you have spent a considerable amount of time managing and leading jobsites, you will be aware of the technological gaps that should be addressed. This includes management tools that can be improved, better ways of reporting on apps, synchronizing the jobsite-office duo more effectively, and so on.
Most construction professionals with a tech affinity get into website and app development because they could not find solutions that worked for them, so they decided to create their own. With web and app development, you can build your own solution and be the CEO of your company. This does not just apply to construction solutions – though the knowledge transfer as a super will be a great help. You can also build apps for a host of other problems outside of construction. The only extra training you might need is for coding, so if you are serious about this career switch, make sure to join a relevant coding program and bridge the required gaps.
Transferable skills that apply here: software proficiency, mathematics, and problem-solving.
CAD Or BIM Technician
Construction superintendents use CAD and BIM tools like AutoCAD and Revit nearly every day while working with blueprints and collaborating with architects, engineers, and designers. They know these tools like the back of their hands, so it is easy to get into the more focused role of a full-time technician who excels at digital building representations. You can apply for the job of a CAD or BIM technician depending on your preference and familiarity with the software – both within construction companies and as freelance pursuits.
Transferable skills that apply here: CAD and BIM skills, tech-savviness, problem-solving, and time management.
Conclusion
While planning your career change, make sure to identify your interests, search for alternative careers with skills compatibility, and apply for relevant training to update your expertise. This will ensure a smooth career transition by carrying forward existing strengths and bridging gaps with new training. In most cases, you will not need to earn a new degree if you are moving outside of construction – however, for strict hiring criteria, you can opt for a relevant master's degree to step up your educational qualification.
As we saw above, your transferable skills from construction can be applied to both construction and IT careers, especially considering the versatility of the skills you build as a super.
It is important to highlight your construction achievements, acquired certifications, degrees, and skills in your new resume so that the hiring company will know exactly why you are suitable for the job. Focus on keywords like project management, team building, CAD proficiency, and scheduling to make your transferable skills stand out on your resume. You can use job tools like Glassdoor to find suitable openings that match your expectations. You can also look for job offers in your existing construction firm – there might be several IT openings that interest you, and it will be much more productive to switch careers within a company that is fully aware of your potential.