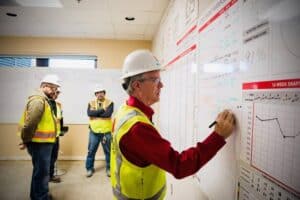 Image credits: The Lean Builder
Construction superintendents have the primary job of supervising and managing on-site activities and teams. Since they are at the frontline of all jobsite processes, they form the key link to the ins and outs of the construction field work. It is a very multifaceted profession that requires a lot of multitasking and relies on strong leadership and management skills. As a construction superintendent, your daily responsibilities will overlap with nearly every construction department, so you will have maximum exposure to various trades, stakeholders, resources, and technologies.
For this reason, planning a career change for construction superintendents can be a very streamlined process fueled by all of your rich skill set and experiences that are easily transferable to different professions. Starting out as a construction superintendent, you can pursue various career paths that are both compatible with your existing skills and receptive to changes – and we will explore some of these possibilities below.
Career Change For Construction Superintendents
Transferable strengths
Let us first talk about qualifications and skills that you can take with you anywhere as a superintendent.
Construction superintendents are required to have an associate degree or a bachelor's degree in any relevant construction major such as civil engineering, construction management, construction sciences, etc. They also need to work on a competitive spectrum of skills that will help them conduct their jobsite responsibilities. These typically include skills for project management, OSHA compliance, construction documents, personnel safety, vendor networking, and more. All of these degree majors and jobsite-related skills can actually be transferred to another compatible profession such as project management – where you are simply taking your skills from the outdoor jobsite to the indoor office environment. This is how your existing strengths can support a variety of career transitions in the world of construction. Here are some other skills and daily responsibilities that facilitate a smooth career change for construction superintendents:
Software proficiency for Microsoft applications, construction management tools, social media apps, video conferences, etc. You can never go wrong with a bit of tech-savviness in your stride, as computer/software proficiency applies to just about any profession out there.
Stakeholder collaboration. Since you are a direct point of contact for all the construction stakeholders, you will constantly have meetings with project managers, engineers, architects, designers, tradespeople, contractors, subcontractors, and so on. Therefore, you end up knowing a bit of everything and can extend your career branches accordingly.
Construction management. With all the jobsite diversity, you acquire experiences in key construction areas like procurement, scheduling, budgeting, resource allocation, contractor selection, permitting and approval, and reporting. This gives you a rich, hands-on skill set that you can conveniently adapt for careers involving estimation, quality assurance, and risk management.
Good leadership. A construction superintendent is definitely a good jobsite leader who knows how to handle conflicts, make lightning-fast decisions, and remain armed with backup plans. With effective leadership skills, you can take on any job that needs you at the frontline – such as a construction director or a regional manager.
These were just some examples of transferable skills, knowledge, and expertise that you can use to realign your career trajectory. The reason why we explored this section first was to make it easy to understand how someone looking for a career change as a construction superintendent can simply pick up from where they left off and have a more seamless career transition ahead.
Potential career options
As we saw earlier, construction superintendents have a lot on their plates, so when it comes to switching careers, it becomes generally easier and more manageable to focus on just one job role. At a glance, here is a list of potential career options that are within your construction superintendent radar:
Engineer
Construction inspector
Project or cost estimator
General contractor
Facilities manager
Operations manager
Project manager
Senior project manager
Construction manager
Construction director
Vice president of construction
If you are enroute to a higher position like that of a construction director/president, you will have various career "rungs" in the middle that you need to climb on your way up the ladder. For example, you can go from the role of a construction superintendent to a project manager and a senior project manager before eventually becoming the vice president. Similarly, you can traverse project supervision, design, and engineering before tapping into capital project management areas. Here are some deeper insights into two key career paths for a construction superintendent.
1. Project manager > senior project manager > vice president of construction > president of construction
Project management is one of the most compatible and relevant career options for construction superintendents. This is because you are applying the same set of skills and expertise to two different work environments: the jobsite and the office. While construction superintendents strictly manage the outdoor jobsite, project managers do the exact same thing in the office setting, so both professions are essentially two sides of the same coin.
You can bring your existing leadership skills, management focus, problem-solving caliber, and collaborative zeal to the table, which is why this career transition is definitely one of the most rewarding options for a super. A key difference would be your approach to handling the project, as you will now focus on the bigger picture instead of intricate, day-to-day activities. From here, you can be enroute to higher roles like a senior project manager and construction president.
2. Project estimator > senior estimator > vice president
This is another potential career path for construction superintendents, seeing how they are regularly involved with jobsite estimation aspects. Project estimation is also an office-based career, so it will be a welcoming change of environment with a more singular focus. It involves teamwork, stakeholder collaboration, and frequent negotiation – all of which are your already accomplished "super" talents. You can choose between construction estimation or cost estimation depending on your stronger affinity. The estimator career can put you on track for senior roles such as a senior estimator, chief estimator, and even vice president.
Conclusion
The role of a construction superintendent is fast-paced and demanding, which is why these professionals consider a career change if they prefer focusing on one thing at a time. Jobsite supervision allows you to build a whole skills landscape that can be adapted to suit various other jobs, as these are all valuable, transferable skills that you can invest anywhere, anytime. For this reason, the scope for growth and new beginnings is simply unending, so once you are sure that it is time to move on, don't let the fear of change – the fear of the unknown – slow you down!